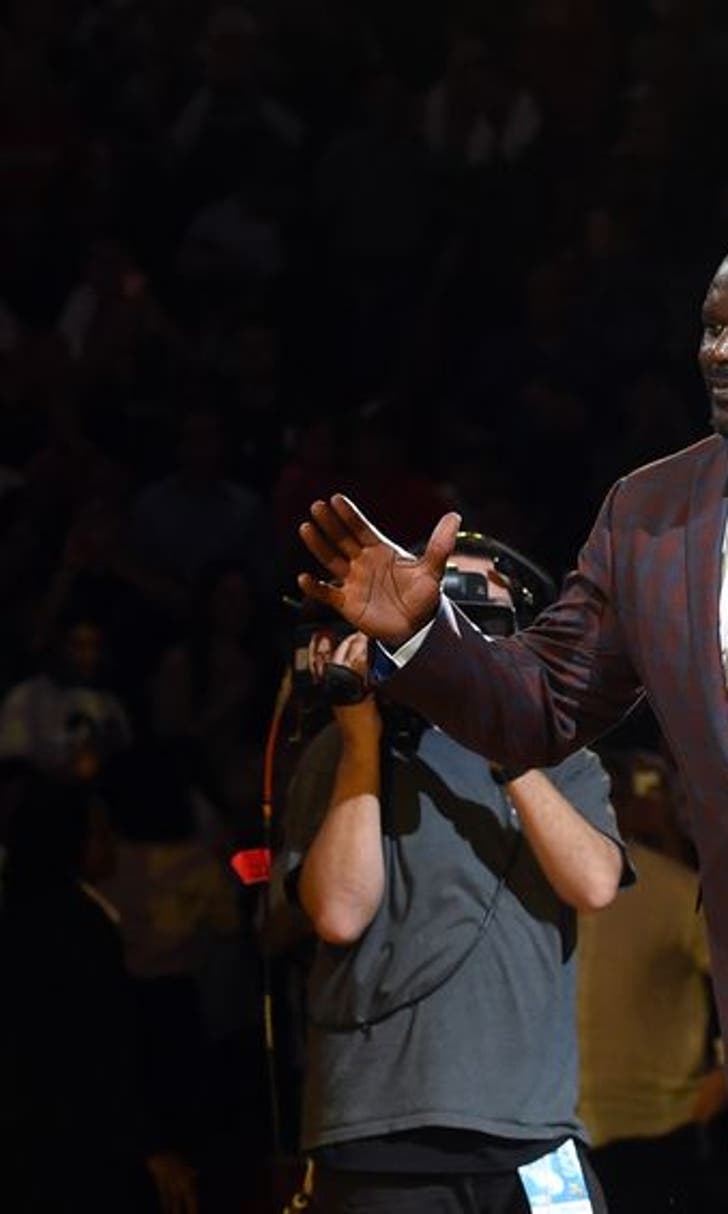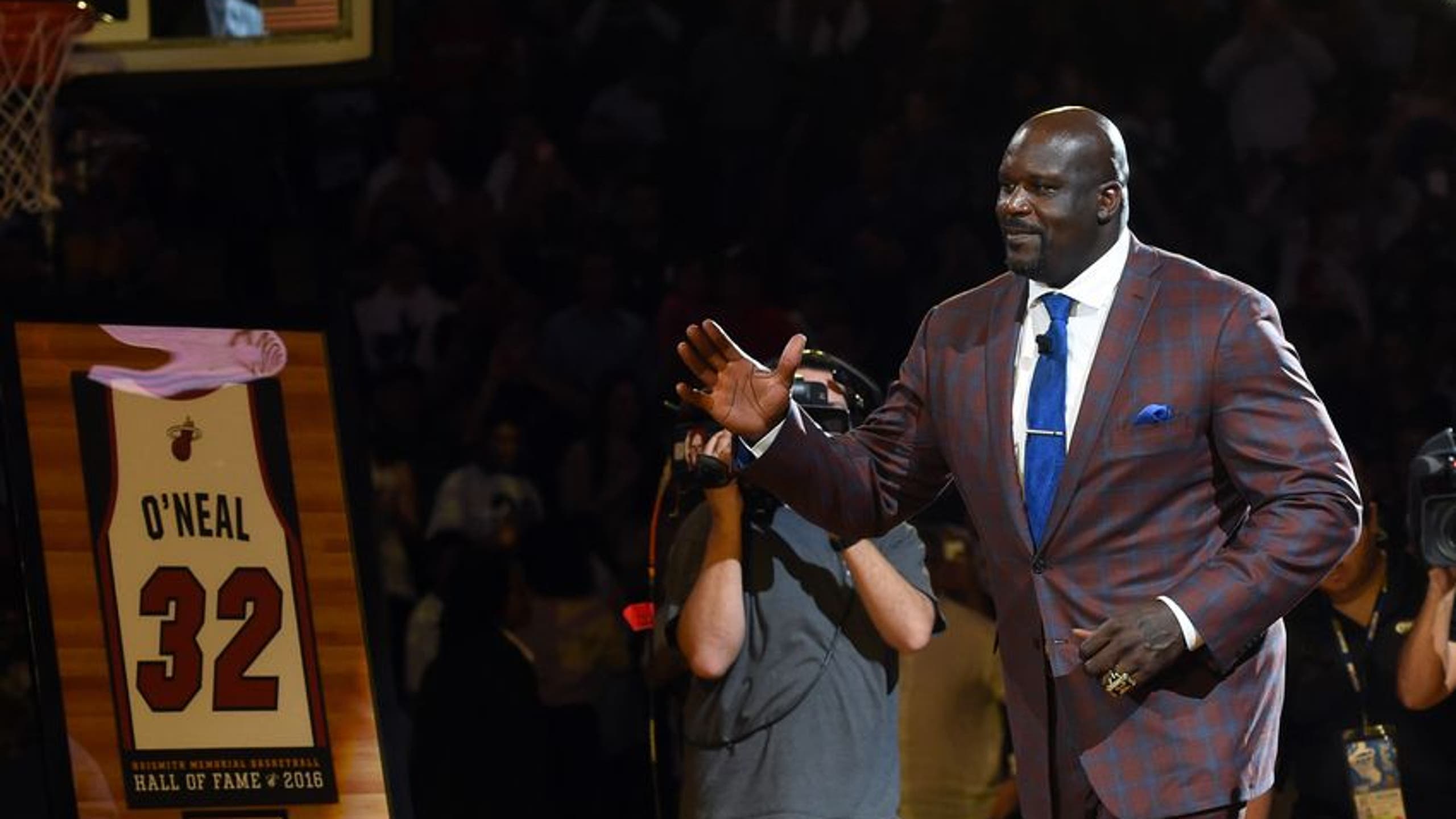 NBA: The 5 Most Random Retired Jerseys Of All-Time
BY Fansided and Ti Windisch/FanSided via Hoops Habit • December 31, 2016
Dec 22, 2016; Miami, FL, USA; Miami Heat former center Shaquille O Neal is having his jersey number (32) retired into the rafters at the American Airlines Arena. O Neal has become the third Heat player to have his jersey retired with former Heat players Alonzo Mourning and Tim Hardaway. Mandatory Credit: Steve Mitchell-USA TODAY Sports
The Miami Heat recently retired Shaquille O'Neal's jersey, in an obvious and logical move. These other five NBA jersey retirements make less sense from the jump.
NBA jersey retirements are weird. Sometimes they're not really retired even if they are — Reggie Jackson is currently playing with Chauncey Billups "retired" number. Bruce Bowen "un-retired" his number so LaMarcus Aldridge can wear it.
The Portland Trail Blazers and New York Knicks have retired the same number twice! Many coaches have gotten their number of wins with the team retired, and broadcasters and owners have had jerseys with no numbers on them retired.
So the rules on jersey retirements aren't real concrete. That allows for some very bizarre jersey retirements to happen. This list will cover five of the weirdest ones, including legends honored by the wrong team, fictional retirements and random players being honored.
Some of the qualifications for making this list were players who really hadn't done much on a team and yet still got their number required. It's worth nothing there are some important exceptions. Some players died during their time with a team and got their numbers retired. That's different from this.
These retirements are just strange. Let's get into it, with the greatest player of all time getting his jersey retired twice — once was the Chicago Bulls, but the other team might be a surprise.
Feb 14, 2016; Toronto, Ontario, CAN; Chairman, Charlotte Hornets Michael Jordan (R) holds a jersey as Chairman of the board, MLSE Larry Tanenbaum (L) looks on during a stoppage in play in the second half during the NBA All Star Game between the Western Conference and the Eastern Conference at Air Canada Centre. Mandatory Credit: Peter Llewellyn-USA TODAY Sports
Michael Jordan's No. 23 Was Retired By The Miami Heat
If you asked an average NBA fan which two teams retired Michael Jordan's number, they would probably go one of two ways with their answer. Obviously one of the options is the Chicago Bulls, who have indeed retired No. 23.
The other spot could be the Washington Wizards, the only other team where Jordan ever played. It could be the Charlotte Hornets, the team Jordan partly owns. It could be the Birmingham Barons, the minor league baseball team he played for. (The Barons have a 43-member hall of fame that somehow does not include MJ.)
Desperation guesses from MJ fans might be other numbers with the Bulls — he wore No. 12 for a game, and No. 45 for his comeback. None of those are the right answer, though.
The Miami Heat are the other team to retire Jordan's jersey. According to this old newspaper article, it was while Jordan was playing for the Wizards. Jordan won the game his jersey was retired at, and seemed happy about the whole thing.
It's still awfully weird. The NBA has not retired Jordan or anybody else's jersey league-wide, and not even the Wizards retired his jersey! Pat Riley works in mysterious ways.
Feb 11, 2015; New Orleans, LA, USA; New Orleans Pelicans forward Anthony Davis (23) holds up his Western Conference All-Star jersey as general manager Dell Demps looks on before a game against the Indiana Pacers at the Smoothie King Center. Mandatory Credit: Derick E. Hingle-USA TODAY Sports
Pete Maravich's No. 7 Was Retired By The New Orleans Pelicans
Pete Maravich is one of the greatest players to ever play basketball in Louisiana. He played for two teams there and was exceptional on both of them. Here's the only problem — neither of those teams was the New Orleans Pelicans.
Pistol Pete played for the LSU Tigers and the New Orleans Jazz, now known as the Utah Jazz. The Jazz retired his number, as did the Pelicans, because of his contributions to basketball in the state.
That makes more sense than the Heat retiring Jordan's number for contributions to basketball in general, but not by too much. This just feel like a desperation move by a team wanting a retired number — it's the only one the Pelicans have ever retired.
The team is too young to have many options. Chris Paul and Anthony Davis are the most likely two, and both of them are still active, although that didn't stop Miami from retiring His Airness' jersey. Do better, NOLA.
Nov 20, 2016; Sacramento, CA, USA; Sacramento Kings fans celebrate during a timeout against the Toronto Raptors in the fourth quarter at Golden 1 Center. The Kings won 102-99. Mandatory Credit: Neville E. Guard-USA TODAY Sports
The Sixth Man Jersey Has Been Retired Twice
Go to basketball-reference.com and try finding statistics for a player named "Sixth Man." There's nothing there. There are no owners, broadcasters, general managers, athletic trainers or even real people named Sixth Man.
It's a fictitious thing, an idea of fan presence. But the sixth man not being real did not stop two actual, real NBA teams from retiring number six in its honor.
The Sacramento Kings and Orlando Magic have both retired the No. 6 jersey in honor of their Sixth Men. Ironically, both of those teams typically end up in the bottom half of the NBA in average attendance.
Petty barbs aside, this is just dumb. Many players got their numbers retired for being around when a team was founded or just staying forever, and that's sort of dumb. But to honor fans for….existing just has a weird feeling.
The Kings at least have some other, more logical retired numbers to sort of hide the No. 6 jersey up in the rafters. The Magic have no other retired numbers. They need to retire Shaq's jersey ASAP.
Apr 29, 2016; Portland, OR, USA; Portland Trail Blazers fans get comfortable before the start of game six of the first round of the NBA Playoffs against the Los Angeles Clippers at Moda Center at the Rose Quarter. Mandatory Credit: Troy Wayrynen-USA TODAY Sports
Four Role Players Are Remembered Forever In Portland
It's tough out here for some teams. The Boston Celtics and Los Angeles Lakers have so many rings, while many franchises have only a few, or one, or even none. The Portland Trail Blazers should probably have more hardware, but the team has won just one title.
The rafters in Portland won't let you forget it, either. The Blazers won the 1977 NBA Championship and got a little jersey retirement-happy afterwards. Portland retired seven numbers of players who were on that team!
Three of them — Bill Walton, Lionel Hollins and Maurice Lucas — absolutely deserved the honor. Four of them probably do not.
Larry Steele, Dave Twardzik, Bob Gross and Lloyd Neal got their numbers retired by the Blazers. Here are their career NBA/ABA statistics — keep in mind that some of these numbers are boosted by stints with other teams.
description of the table for interested parties

| Rk | Player | G | MP | FG | FGA | FG% | eFG% | FTA | FT% | TRB | AST | STL | BLK | TOV | PF | PTS |
| --- | --- | --- | --- | --- | --- | --- | --- | --- | --- | --- | --- | --- | --- | --- | --- | --- |
| 1 | Bob Gross | 513 | 24.5 | 3.6 | 7.1 | .512 | .512 | 2.1 | .798 | 4.4 | 2.9 | 1.2 | 0.7 | 2.1 | 2.9 | 8.9 |
| 2 | Lloyd Neal | 435 | 25.3 | 4.6 | 9.4 | .485 | .485 | 3.0 | .672 | 7.7 | 1.5 | 0.5 | 0.9 | 1.6 | 2.9 | 11.1 |
| 3 | Larry Steele | 610 | 24.2 | 3.3 | 6.9 | .483 | .483 | 2.0 | .796 | 2.9 | 2.8 | 1.8 | 0.2 | 1.3 | 3.0 | 8.2 |
| 4 | Dave Twardzik | 536 | 24.7 | 3.1 | 5.9 | .527 | .529 | 3.8 | .821 | 2.4 | 3.4 | 1.4 | 0.1 | 2.2 | 2.7 | 9.3 |
Role player is sometimes used as a dirty word, and it shouldn't be. Most players are role players, and the elite ones can make the difference between a good and great team. Role players really shouldn't get their jerseys retired, though.
Those four players are fine, but only one of them averaged more than 10 points per game for his career. Jersey retirements are usually thought of as sacred things, reserved for players who made everlasting impacts on a franchise.
Is Dave Twardzik on the same level as Bill Walton in that regard? No offense to Twardzik, but seriously.
Nov 10, 2016; Washington, DC, USA; President Barack Obama (R) is presented a gift jersey by Cleveland Cavaliers forward Kevin Love (L) at an event honoring the 2016 NBA world champion Cavaliers on the South Lawn at the White House. Mandatory Credit: Geoff Burke-USA TODAY NETWORK
Nate Thurmond's No. 42 Was Retired By The Cleveland Cavaliers
Nate Thurmond was an NBA legend. He never won an NBA title, but he came awfully close twice and was one of the better defensive big men to ever grace the association, and was honored as such when he passed away earlier in 2016.
He did not do most of the work to earn that reputation in his days with the Cleveland Cavaliers, though. Nate the Great averaged 5.0 points and 6.3 rebounds a game in just two years with Cleveland. He only played 18.7 minutes per game, and appeared in the Wine and Gold 114 times in his career.
Despite the lack of production or minutes, the Cavaliers retired his jersey (the first one the franchise ever retired!), apparently for contributions to the young team he played on. Veteran presence is a buzzword often thrown around younger teams, and apparently it's real enough to merit a jersey retirement.
I'm very dubious about the concept of a lesser-known role player giving the exact same advice and guidance to the young Cleveland Cavaliers getting his jersey retired.  This smells like a MJ/Bulls and Pistol Pete/Pelicans situation cleverly hidden by two years of bench play.
Thurmond, like LeBron James, was from Akron. That certainly helps things as well. This isn't the most surprising jersey retirement on the list, but it still sticks out as being a little strange.
More from Hoops Habit
This article originally appeared on
---
---