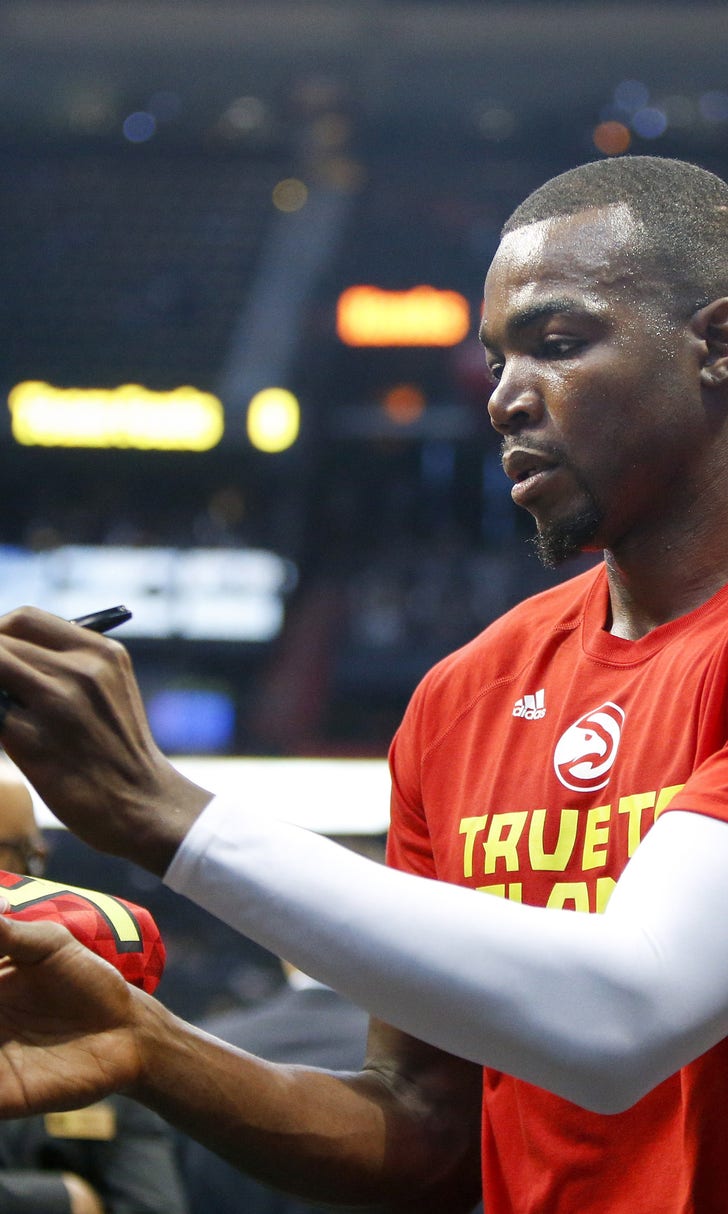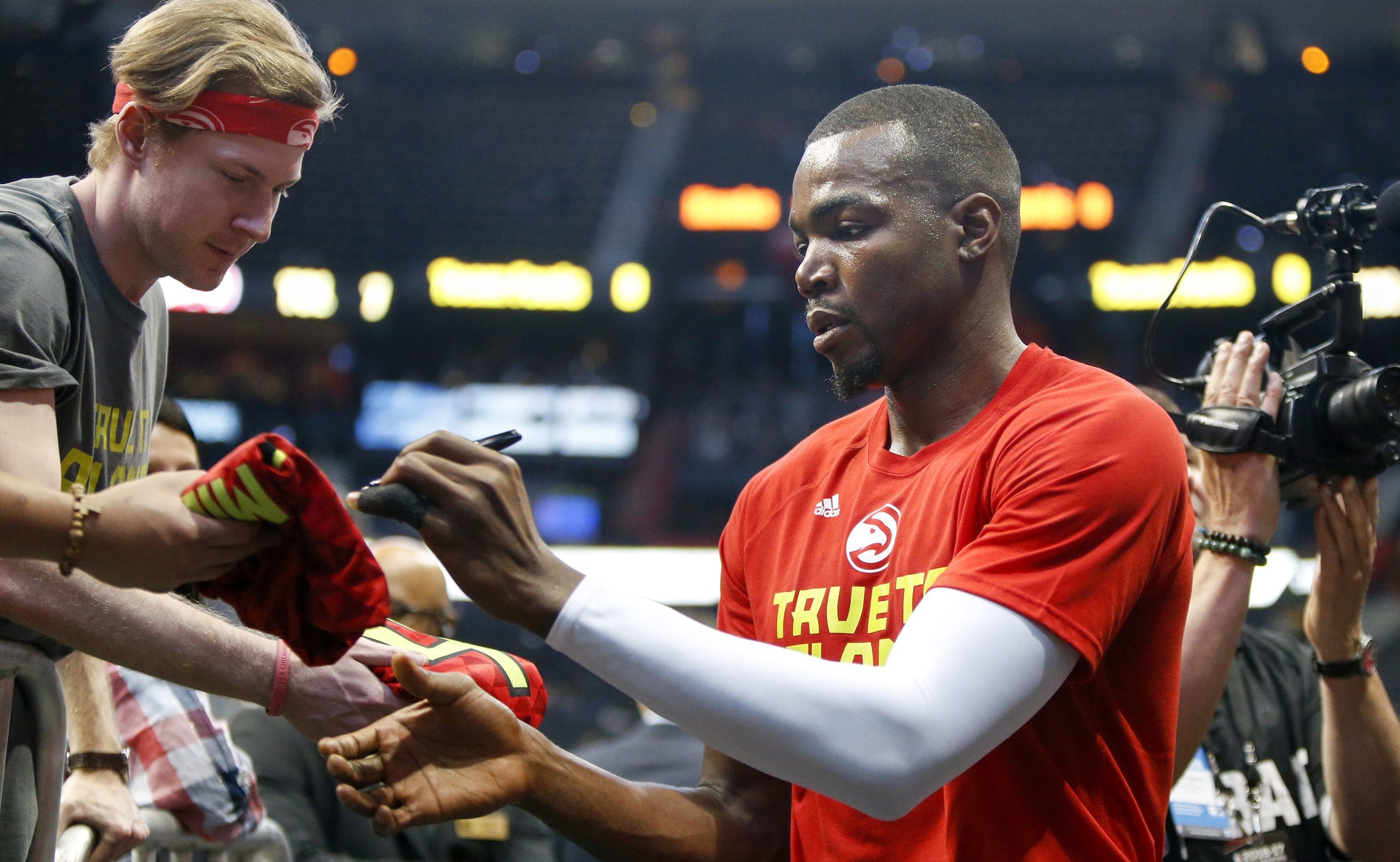 NBA Free Agency: Options for Paul Millsap after Atlanta Hawks' comments
BY Fansided and Maxwell Ogden/FanSided via Hoops Habit • June 30, 2017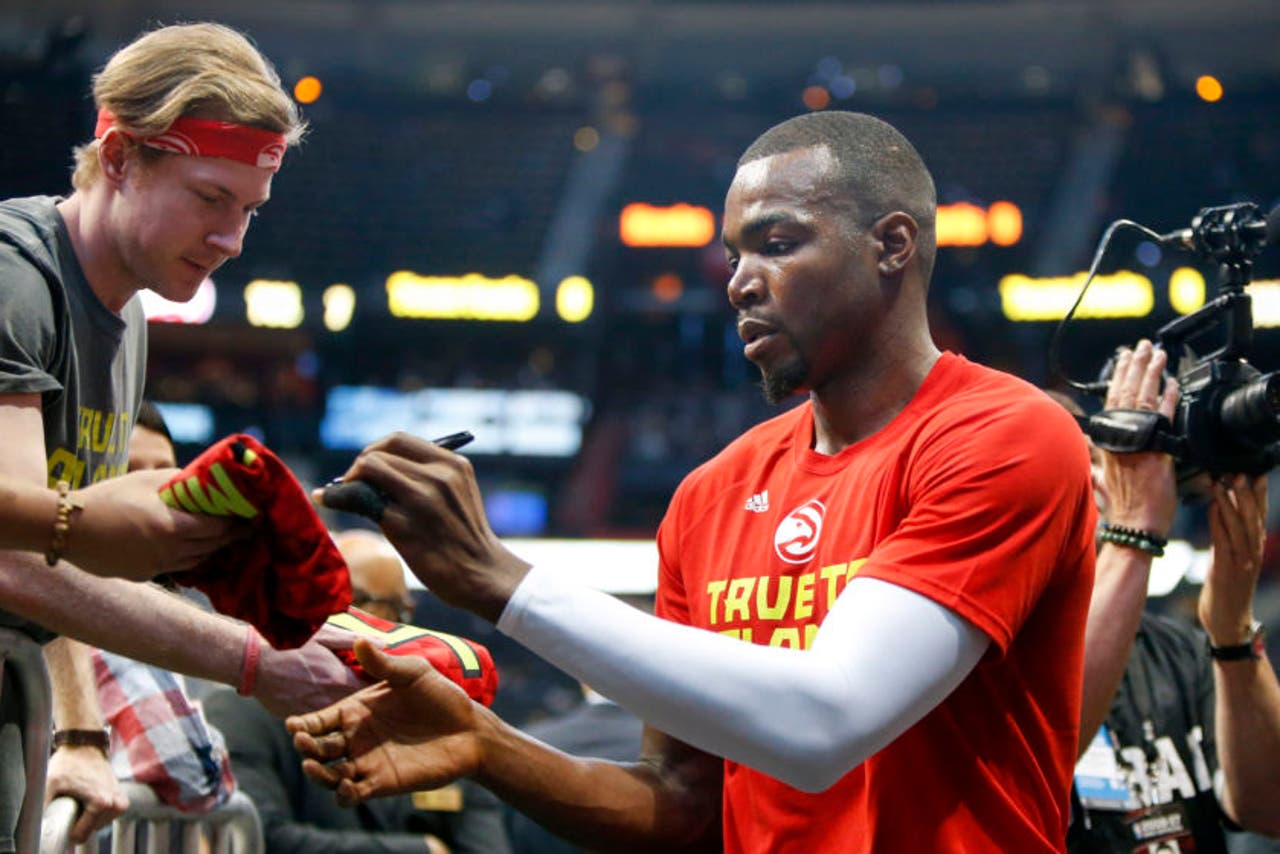 Apr 24, 2017; Atlanta, GA, USA; Atlanta Hawks forward Paul Millsap (4) signs autographs before a game against the Washington Wizards in game four of the first round of the 2017 NBA Playoffs at Philips Arena. Mandatory Credit: Brett Davis-USA TODAY Sports
It doesn't appear as though the Atlanta Hawks are going to offer Paul Millsap a max contract. Which other teams might Millsap consider signing with?
---
At 32 years of age, Atlanta Hawks power forward Paul Millsap is one of the most polarizing pending free agents in the NBA. He's become one of the Association's premier power forwards, but his age has some hesitant to pay him max contract money.
Unfortunately for Millsap, one of the organizations showing signs of uncertainty is the organization he's considering re-signing with.
Millsap has become one of the more appreciated players amongst statisticians and advanced metrics savants. He's a well-rounded offensive player who contributes in every phase of the game, as well as a versatile defender.
Unfortunately, recently hired general manager Travis Schlenk essentially told Chris Vivlamore of The Atlanta Journal-Constitution that the Hawks will not offer Millsap a max contract.
"We are going to make Paul our best offer," Schlenk said. "Will he have better offers? I don't know. Do we want to keep Paul? Sure. I said last week, if you are building a team with all the things I've said, Paul checks all those boxes. He's a hard-worker. He's a good guy. He's high-character. Skilled. He does all that stuff."
That sounds like a ringing endorsement, but here's what matters most:
"We'd like to have him. The reality is, he might get better offers than we can make him."
Millsap should respect the honesty, but it doesn't sound like Schlenk and the Hawks are going to offer him the max contract he could receive elsewhere.
Millsap has become a four-time All-Star and a 2016 All-Defensive Second Team honoree. In 2016-17, he averaged 18.1 points, 7.7 rebounds, 3.7 assists, 1.3 steals, 0.9 blocks, and 1.1 3-point field goals made in 34.0 minutes per game.
Millsap ranked No. 4 amongst power forwards and No. 14 overall in Real Plus-Minus, as well as No. 14 overall and No. 4 amongst power forwards inDefensive RPM.
The question is: Which teams would best fit Paul Millsap as potential free agency destinations?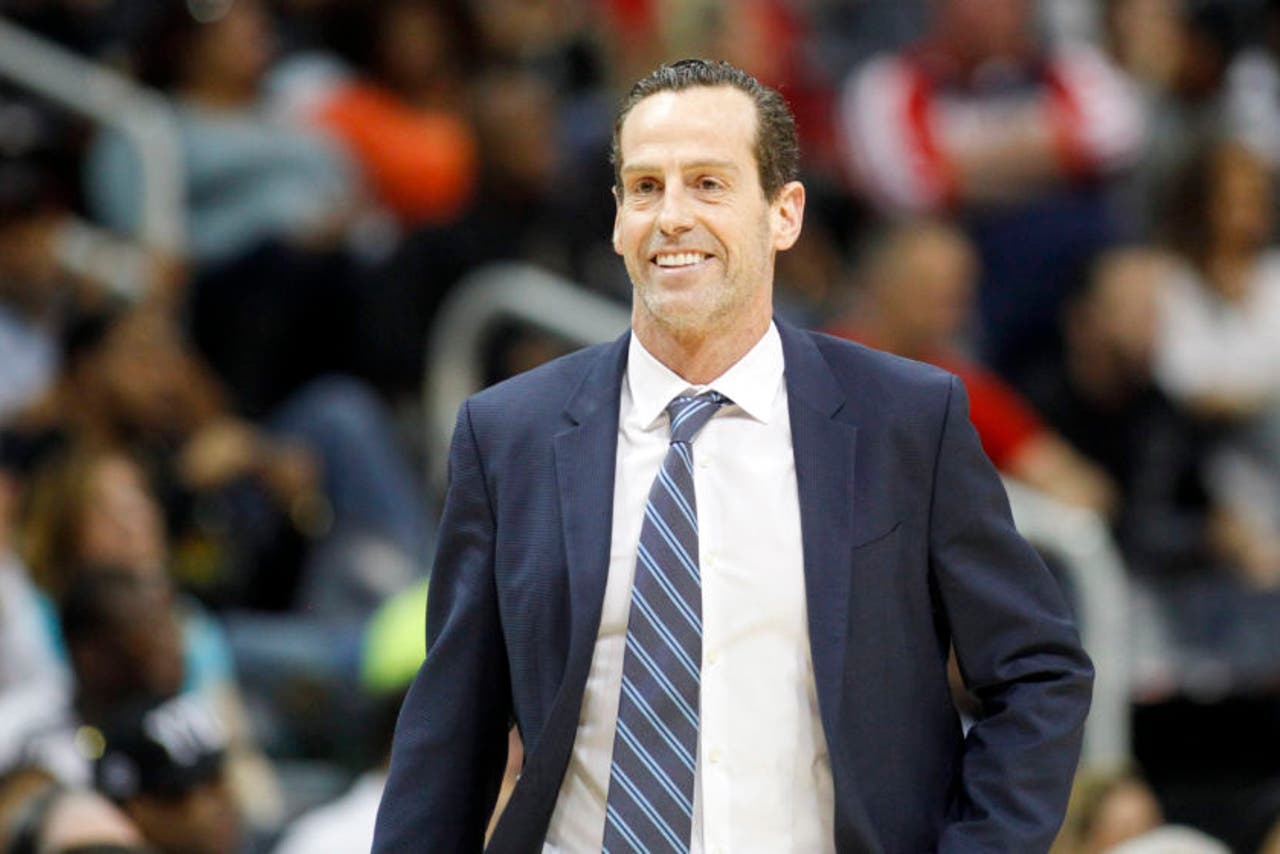 Mar 26, 2017; Atlanta, GA, USA; Brooklyn Nets head coach Kenny Atkinson coaches against the Atlanta Hawks in the third quarter at Philips Arena. The Nets defeated the Hawks 107-92. Mandatory Credit: Brett Davis-USA TODAY Sports
Honorable Mention: Brooklyn Nets
This may be a surprising inclusion, but Paul Millsap has ties to Kenny Atkinson and the Brooklyn Nets are flush with cap space. Even if it were to opt against renouncing its cap holds, Brooklyn would have upwards of $22 million in cap space entering free agency.
If the Nets renounce the cap hold for Randy Foye ($3,000,000) and decline the team option for K.J. McDaniels ($3,476,873), then signing Millsap could be significant progress.
Brooklyn already has an All-Star big man in Brook Lopez, who continues to diversify his offensive game. Millsap and Lopez aren't guaranteed to work well together, but both embody the versatility of the modern NBA big man.
The two could either work in harmony down low, or the Nets could conceivably move Lopez for a perimeter talent—both plausible scenarios.
The reason to believe this is an option is that Atkinson played an instrumental role in player development for the Atlanta Hawks before he took over as head coach of the Nets. Thus, he and Millsap already have a healthy working relationship.
Unfortunately, cap space is about all that the Nets have beyond Lopez and young players, and that makes for an unideal environment for a veteran like Millsap.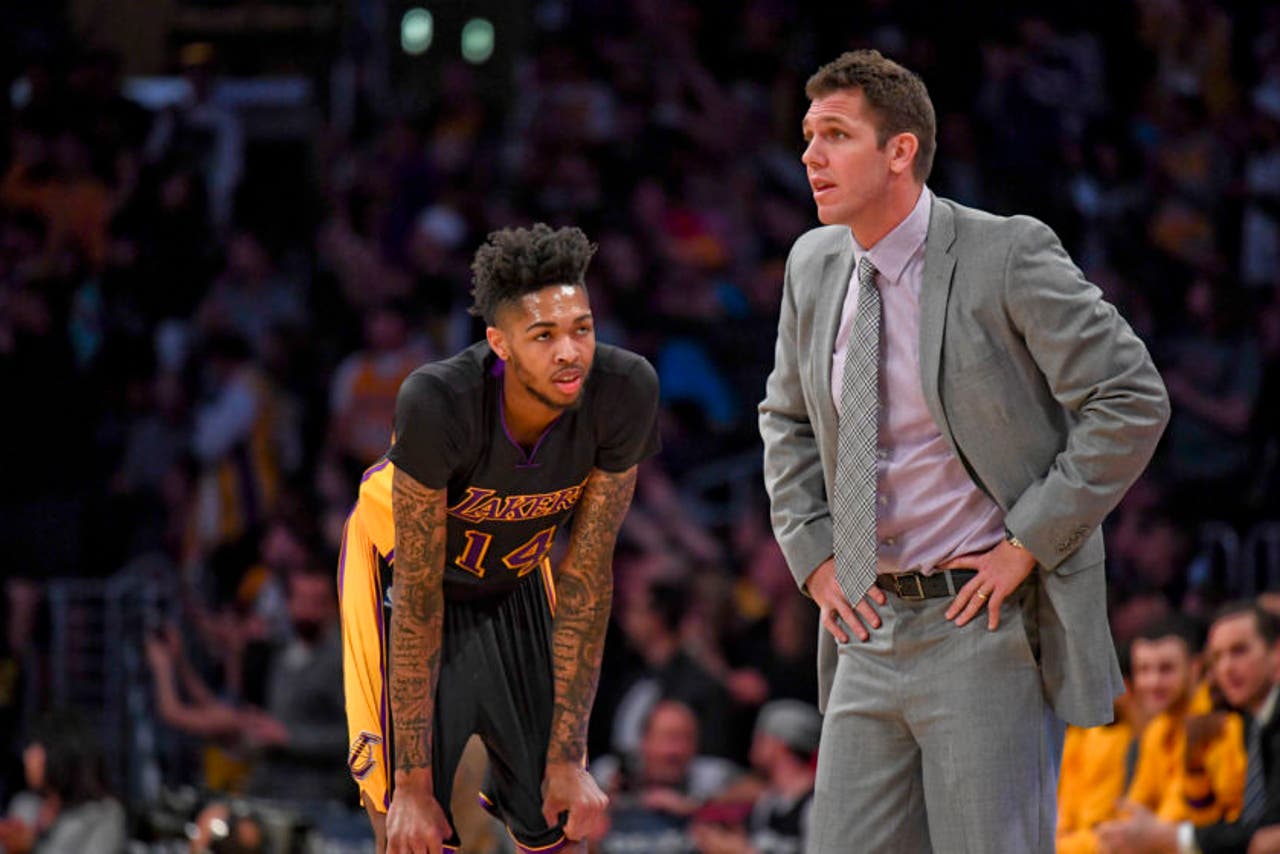 Mar 24, 2017; Los Angeles, CA, USA: Los Angeles Lakers head coach Luke Walton talks with Lakers forward Brandon Ingram (14) during the second half of a NBA game against the Minnesota Timberwolves at the Staples Center. Mandatory Credit: Kirby Lee-USA TODAY Sports
5. Los Angeles Lakers
This would be the ultimate leap of faith from a veteran player. The Los Angeles Lakers have roughly $69.6 million in guaranteed salaries, and will add $5,883,600 to that figure via the contracts handed to the prospects selected at No. 2 and No. 28 in the 2017 NBA Draft.
If the Lakers waive Tarik Black and his non-guaranteed $6,655,325 salary, however, Magic Johnson could make Millsap the first big-name free agent he acquires.
For Millsap, signing with the Lakers would be contingent upon Johnson committing to making a move for another veteran. Los Angeles has a deep and promising core of young players, but it also lacks an identity and is known for its trade savvy.
If the Lakers were to make good on the Jimmy Butler or Paul George rumors, then Millsap would be joining a promising situation that would only be getting better.
Fortunately for Millsap, a potential move for Butler, George, or any other All-Star would likely be made on the night of the 2017 NBA Draft. Thus, if the Lakers retain the cap space to sign the four-time All-Star, a significant splash could be made.
This is a long shot and nothing short of it, which is why it's ranked so low on the list—no matter how intriguing a move it could be.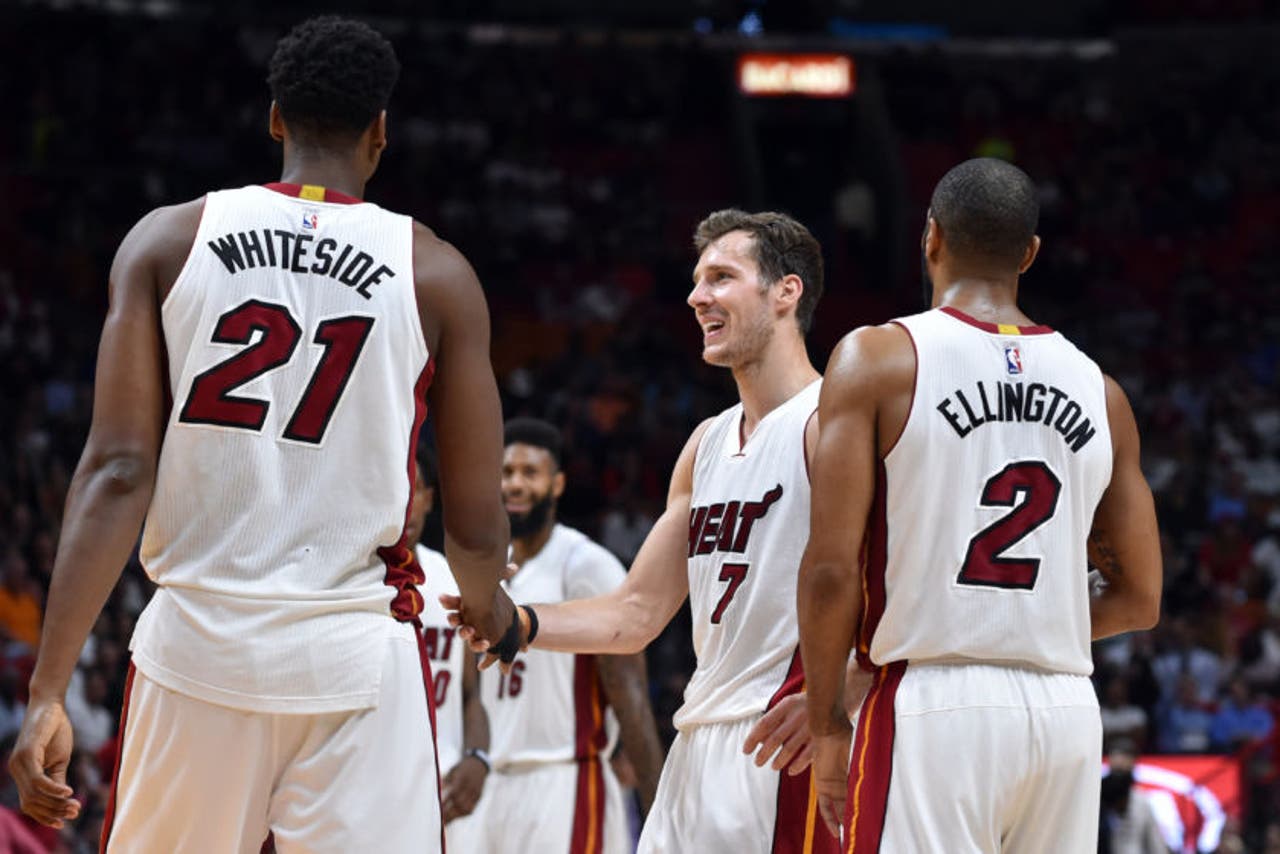 Apr 12, 2017; Miami, FL, USA; Miami Heat guard Goran Dragic (center) greets Heat center Hassan Whiteside (left) and Heat guard Wayne Ellington (right) during a timeout in the second half against the Washington Wizards at American Airlines Arena. The Heat won 110-102. Mandatory Credit: Steve Mitchell-USA TODAY Sports
4. Miami Heat
The Miami Heat have an All-NBA point guard in Goran Dragic and a dominant rim protector in Hassan Whiteside. Dragic specializes in running the pick and roll, and Whiteside is becoming a nightly threat for 20 points, 10 rebounds, and three blocks.
In essence, Paul Millsap signing with Miami would mean facing the pressure of stepping in for Chris Bosh and enjoying the blessing of joining an established culture.
A core of Dragic, Millsap, and Whiteside would give Miami an immediate opportunity to return to the postseason. With the guidance and leadership of head coach Erik Spoelstra, it stands to reason that the Heat could take their success even further.
Spoelstra led a roster flush with players on prove-it deals to 41 wins in 2016-17, and has a strong track record both with and without the Big Three.
In Miami, Millsap would be joining a culture that's about accountability, defense, and teamwork. He'd also be playing with a point guard who can both score and set him up, and a center who can alleviate pressure on both ends of the floor.
If Pat Riley can surround the Dragic, Millsap, and Whiteside trio with the ideal complementary talent, this could be a dangerous team in the Eastern Conference.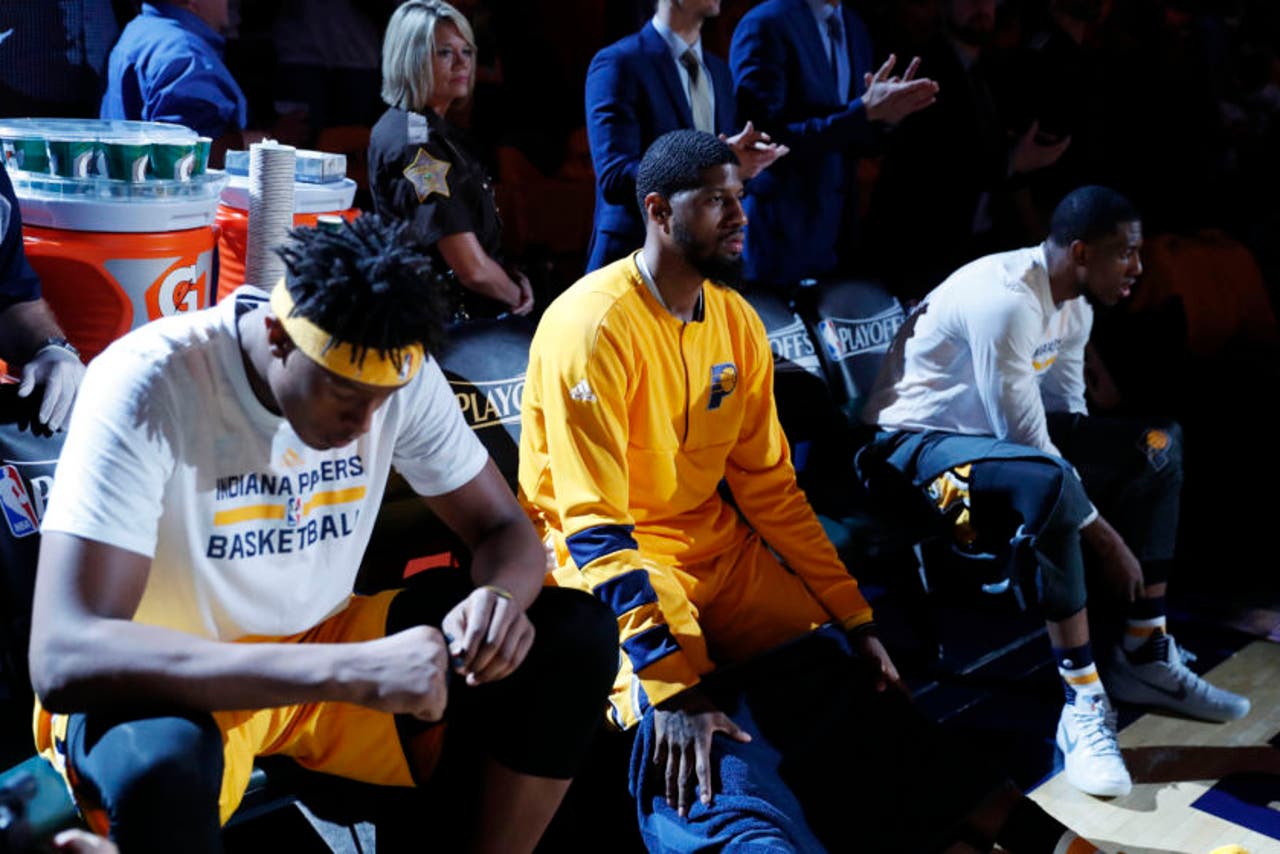 Apr 20, 2017; Indianapolis, IN, USA; From left to right Indiana Pacers center Myles Turner (33) and forward Paul George (13) wait to be introduced before playing against the Cleveland Cavaliers in game three of the first round of the 2017 NBA Playoffs at Bankers Life Fieldhouse. Mandatory Credit: Brian Spurlock-USA TODAY Sports
3. Indiana Pacers
The Indiana Pacers have somewhat tight cap space, but C.J. Miles declining his $4.7 million player option could work in their favor here. Re-signing Jeff Teague is likely to be the top priority, but the Pacers could make this work.
If Indiana plays its cards right, it could construct a starting lineup that features Teague, Paul George, Paul Millsap, and Myles Turner for 2017-18.
This wouldn't be the most appealing of situations for Millsap, but he'd essentially assume the role that David West had in Indiana. He's more than capable, with similar two-way value and, perhaps, a more well-rounded game on both ends of the floor.
No duo is guaranteed to experience success in the NBA, but George and Millsap would be an ideal duo as elite defensive players with versatile offensive games.
Shuffling Turner into the mix would mean giving Millsap a young and athletic shot-blocker to alleviate pressure on defense. It would also give him an understudy who has the tools to become a star on offense and lighten the workload on that end in future seasons.
Signing with the Pacers would carry the risk of ending up in Indiana alone while George moves on in free agency come 2018, however, and that decreases the odds of this transpiring.
Apr 12, 2017; Chicago, IL, USA; Chicago Bulls forward Jimmy Butler (21) dribbles the ball against Brooklyn Nets guard Randy Foye (2) during the second half at the United Center. Chicago defeats Brooklyn 112-73. Mandatory Credit: Mike DiNovo-USA TODAY Sports
2. Chicago Bulls
The Chicago Bulls offer what borders on being the perfect situation for Paul Millsap. Small forward Jimmy Butler is a borderline superstar with immense two-way value, and point guard Rajon Rondo is expected to bring his exceptional facilitating touch back to Chicago.
Millsap being able to sign with the Bulls is contingent upon Dwyane Wade declining his player option, but if that transpires—or if Wade restructures—then this could pay off.
Playing with a star like Butler would give Millsap his most legitimate opportunity yet to compete for an NBA Finals run. Butler would be the best pure talent he's ever been teammates with, and the former Marquette Golden Eagles star has proven capable of shining in the postseason.
Chicago would still need more firepower, but with two Top 20 two-way players, head coach Fred Hoiberg would have the star power he needs to win at a high level.
Although underrated, another appealing aspect of signing with Chicago is the presence of center Robin Lopez. Lopez's game is predicated on energy, defensive intensity, and boxing out opponents so his teammates can pull down rebounds—the type of selfless presence a star would cherish.
This won't work if Wade doesn't opt out or restructure, but Millsap and Butler would be a formidable 1-2 punch in the Eastern Conference.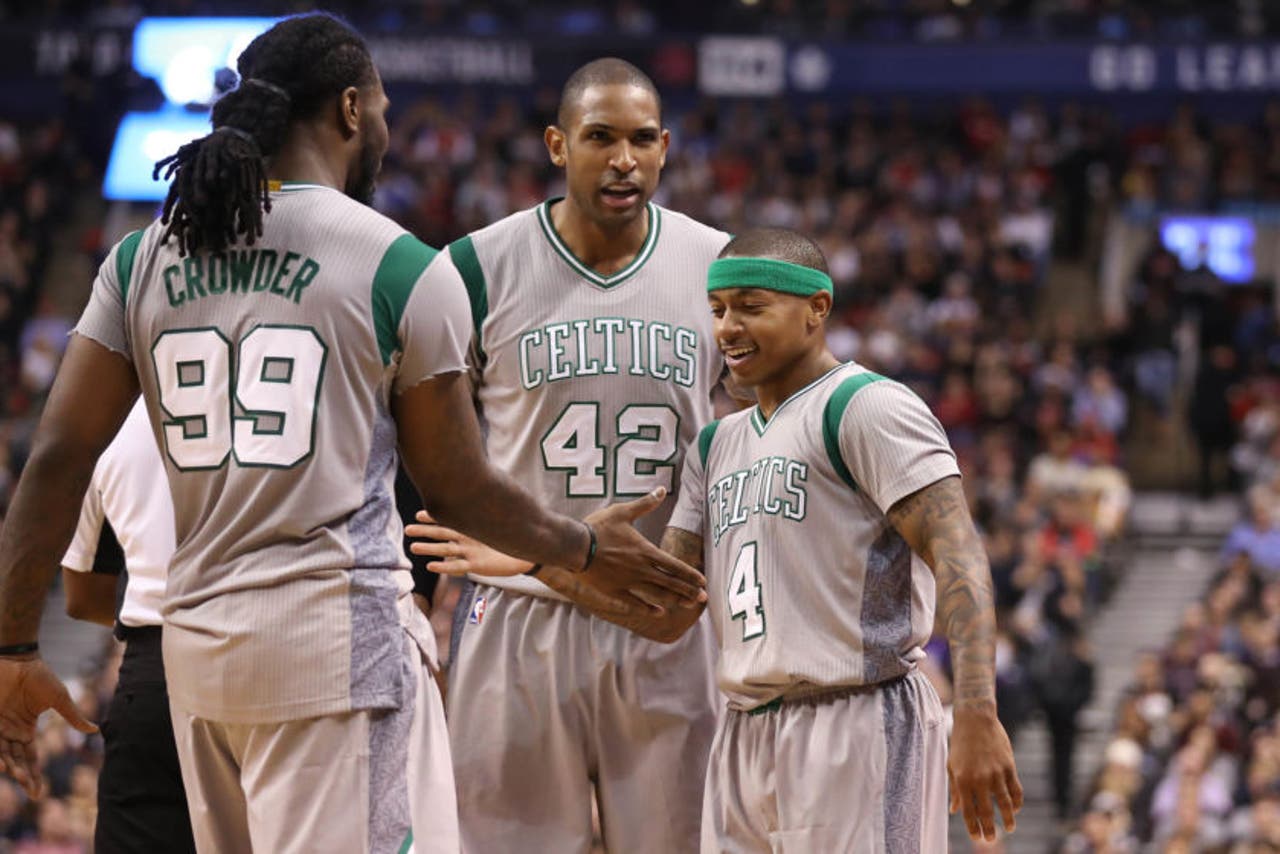 Jan 10, 2017; Toronto, Ontario, CAN; Boston Celtics point guard Isaiah Thomas (4) is congratulated by forward Jae Crowder (99) and forward Al Horford (42) against the Toronto Raptors at Air Canada Centre. The Raptors beat the Celtics 114-106. Mandatory Credit: Tom Szczerbowski-USA TODAY Sports
1. Boston Celtics
In 2016-17, Brad Stevens and the Boston Celtics won 53 games and reached the Eastern Conference Finals. By signing Paul Millsap, general manager Danny Ainge would be bolstering an already tremendous roster by replacing Kelly Olynyk with a four-time All-Star.
Reuniting the Atlanta interior duo of Millsap and Al Horford may or may not be appealing, but this works on too many levels to ignore.
Boston runs a motion offense that enables players to find scoring opportunities both with and without the ball. It also demands a high level of defensive intensity, which Millsap has no problem providing—see: No. 14 in the NBA in Defensive RPM.
It's certainly not a knock against Mike Budenholzer as a head coach, but Millsap and Horford would likely experience superior success with a significantly stronger cast around them.
Isaiah Thomas is a borderline superstar at point guard, Avery Bradley is a lockdown defender who can score at a high level, and Jae Crowder is a valuable two-way player. Boston also has the No. 1 overall selection in the 2017 NBA Draft, which it could either utilize or trade for another star.
In either scenario, the best possible option for Millsap would be to sign with the team that would best utilize his talents: the Boston Celtics.
Re-signing with the Atlanta Hawks remains an option, but if Paul Millsap feels slighted by the front office, these options should be available.
More from Hoops Habit
This article originally appeared on
---
---