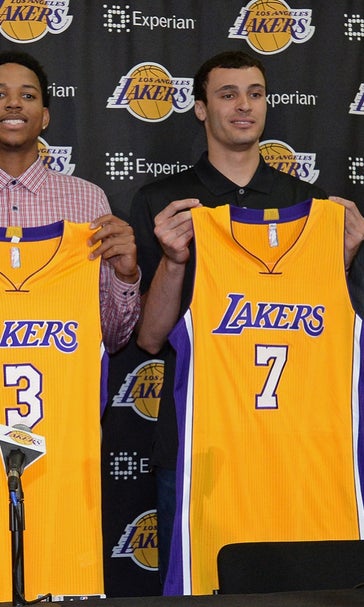 Lakers co-owner reveals the five players he wants to keep for the future
May 4, 2016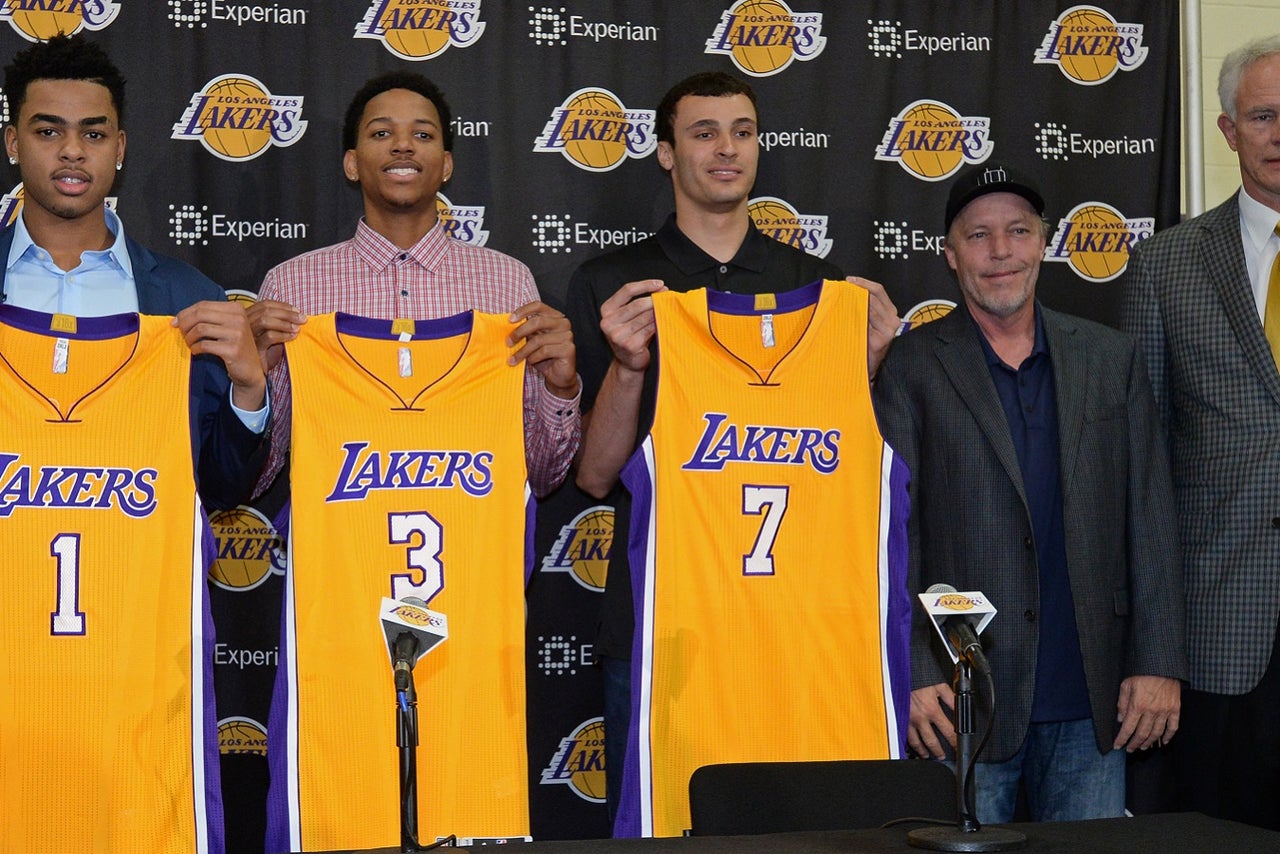 The Los Angeles Lakers of 2016-17 will look very different than the team that won just 17 games this past season.
It starts at the top, of course, where Luke Walton has replaced Byron Scott as head coach. Beyond that, Kobe Bryant's retirement leaves a massive void both on and off the court.
So who will be a part of the future for the Lakers as they strive to get back to their winning ways? Co-owner Jim Buss recently revealed five players he views as building blocks for the team, and at least one name comes as something of a surprise.
Instead, the Lakers have developing prospects D'Angelo Russell, Julius Randle and Jordan Clarkson. Clarkson will be a restricted free agent in July, but the team expects him to re-sign.

Buss also listed forward Larry Nance Jr. and veteran guard Lou Williams as building blocks for the future.

"There's five to me – solid, core players we can work with and build on," said Buss.
Buss also had kind words for Marcelo Huertas, Brandon Bass and Tarik Black, although he stopped short of including that trio in the same class as the likes of D'Angelo Russell, Jordan Clarkson, Julius Randle, Larry Nance Jr. and Lou Williams.
Russell, Clarkson and Randle are very obviously part of the Lakers' plans moving forward. The only thing that might prevent one of those three from staying in Los Angeles would be a big-time trade in exchange for an elite veteran.
Nance Jr. also makes sense for the Lakers. He's already under contract for next season (for the team-friendly amount of $1.2 million) with team options for the following two years, according to Basketball-Reference. Nance averaged just over 20 minutes per game in 63 appearances for the Lakers in 2015-16, showing off his athleticism and solid decision-making. No one expects a late first-round pick like Nance to play perfect basketball, yet he kept his turnovers down, did what he could to operate with an awful defensive system, and tallied 5.5 points and 5.0 rebounds per game.
He's an undersized power forward and will need to work on his 3-point shooting to stick in the league. If he does, the Lakers will have discovered and developed a solid rotation player, which is something worth celebrating these days.
Williams, on the other hand, seems an odd pick as a core player for such a young team. That's not a criticism of Williams; the former Sixth Man of the Year is a sparkplug off the bench who should lead the second unit's offense, and that's undoubtedly a valuable skill to have on your roster. He'll also be 30 years old at the start of the 2016-17 season. Williams is who he is at this point. He's not going to grow with the young guys and be entering his prime as the Lakers get back to contention.
There is potentially one bright side to Buss' appreciation for Williams. Given the five players Buss listed, it seems as if the Lakers are taking a holistic approach to rebuilding their roster. They have two young, dynamic playmakers in Russell and Clarkson. Randle has shown glimpses of positional versatility and a knack for at least trying to move the ball from the elbows; he's never going to be Draymond Green, but in a perfect world, he can do a solid impression of the Warriors' superstar. Nance is the wildcard who could take the team to the next level. And Williams is the steady bench presence who can anchor the reserves.
They're not world-beaters -- not yet, and maybe never. But that's okay. For now, it's all about baby steps with the Lakers.
---
---