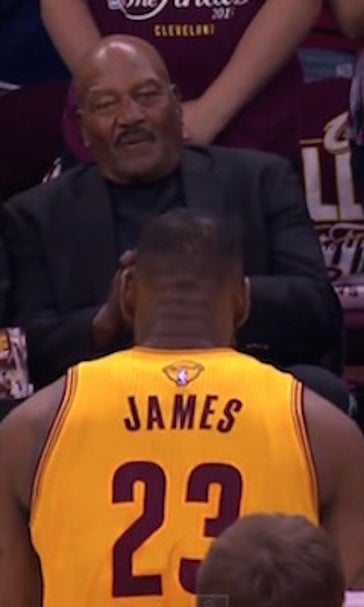 Jim Brown, LeBron James and Cleveland
BY foxsports • June 11, 2015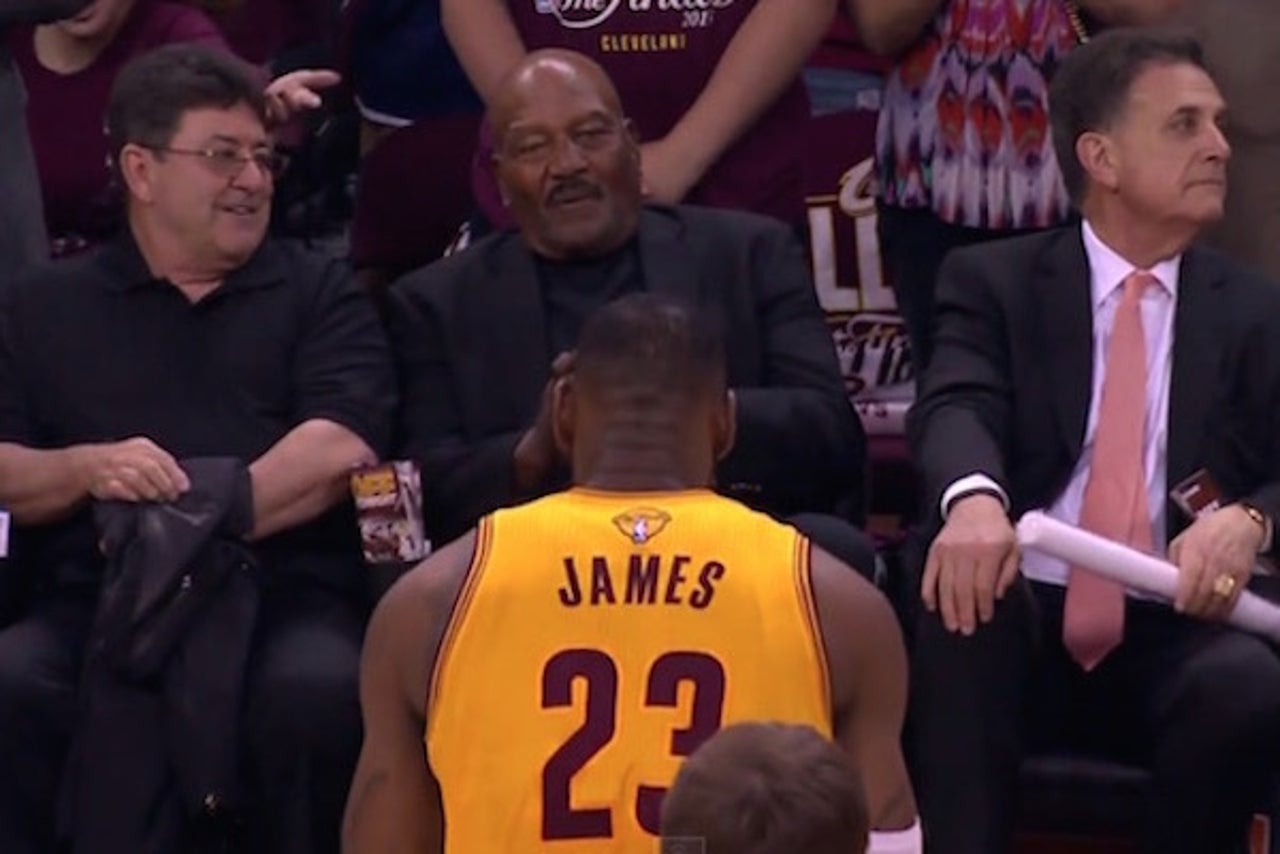 By Richard Pietro
Prior to Game 3 of the NBA Finals on Tuesday night at Quicken Loans Arena, LeBron James, No. 23, walked over and stood in front of Jim Brown, No. 32, who was seated at court-side. James clasped his hands together and bowed in acknowledgement of Brown's transcendent career and, undoubtedly, in recognition of his place as the greatest figure in Cleveland sports history. Jim Brown returned the gesture and later said, "It was an honor for this young man to pay tribute to an old soldier."
The simple and dignified pregame encounter was aptly described by Mary Kay Cabot of the Plain Dealer, as "… one of the most poignant scenes in Cleveland sports history: arguably the greatest basketball player of all time acknowledging arguably the greatest football player of all time."
Some of us can still hear the voice of Gib Shanley calling a running play, "Handoff to Jim Brown, up the middle, breaks a tackle, cuts right, he's to the thirty-five, forty, he's across mid-field …"
That Jim Brown and LeBron James are both in the discussion as the greatest players in the history of their respective sports is no surprise. Their career statistics speak for themselves. In Brown's case, he played only nine years, 1957-65. For the first four years of his career, the NFL was playing only 12 regular season games and in his final five years, it was a 14-game schedule. So even without the benefit of today's 16-game seasons, his statistics still look other-worldly. In nine seasons he rushed for 12,312 yards for a career average of over one-hundred yards per game … a career average of over five yards per carry. He was also a superb receiver out of the backfield, catching 262 passes for 2,499 yards and 20 touchdowns.
Brown was 6-foot-2, 232 pounds. Even today, fifty years later, that would be a very large running back, but in the fifties and sixties it often took nearly half a team's defensive players to drag him down. To go with that imposing size, however, Jim Brown had the speed of a sprinter and was among the most cerebral of professional athletes. In addition, Brown maintained a year-round conditioning regimen that was far beyond what any coach would have demanded of him.
From 1958-1961, Brown's running mate in the Browns' backfield was Bobby Mitchell. Mitchell was the smaller, lighter (6-foot, 192 pounds) speedster who kept defenses against Jim Brown a little more honest. In college at the University of Illinois, Mitchell was not only a star halfback, he was also a track star who hoped to compete in the 1960 Olympics as a hurdler. During the Browns' training camps, however, Jim Brown is said to have actually out-raced Bobby Mitchell in the team's annual sprint competitions.
In 2002, Jim Brown was named by Sporting News as the greatest professional football player ever and, in any discussion about the greatest professional athletes in the history of the world, Jim Brown's name is always in the conversation.
No matter what statistics he amassed, however, no matter what he accomplished on the field, none of it would have been possible without his remarkable durability. And it is that durability which seems most under-appreciated. In his nine-year career he never missed a game. He played 118 regular season games and four post-season games. He averaged twenty carries a game and, almost from the beginning, he was the primary target of every defense that faced the Browns. Opposing defenses tried everything, including every imaginable dirty trick to try to stop him, including going for his eyes at the bottom of the pile of bodies. Brown also played through severe concussions, long before there was any understanding of the seriousness of the problem, long before there were any protocols to protect players. Brown played a long stretch of one season with a severely sprained left wrist and during another with a broken toe.
By his very presence, however, his teammates knew that, with the greatest player in the game on their side, they always had a chance. On countless occasions, when everyone on the planet knew Jim Brown was going to get the ball on the next play, he still, somehow, succeeded. Browns fans who recall that era will remember one game, for example, against the Dallas Cowboys when the Browns had the ball inside the Cowboys' five yard line. Brown got the handoff everyone expected, took it around left end and, surrounded by what seemed like half the Dallas defense, defied gravity, kept his balance and scored the touchdown. You can watch that replay over and over and, after fifty years, it's still hard to understand how he did it.
Such descriptions of the type of athletic brilliance that seems to eclipse mere mortality, are, today, offered by eye-witnesses of another Cleveland athlete, LeBron James. James, at 6-foot-8, 250 pounds, is hardly a giant in the game of giants. But when you add to that size the astonishing foot-speed and lightning-quick reflexes that go with his game, when you add to that physical combination his ability to see the court as if in slow motion from on high, then you can understand why James' name comes up more and more often as among the greatest ever in basketball and in sports history.
You get the feeling, as an NBA analyst recently said, that maybe people just get tired of voting for the same guy (LeBron James) for the MVP award, year after year, even though everyone knows James is the best player on the planet, MVP or not.
When LeBron James has even a narrow opening through the lane to the basket, trying to stop him is, as it's been so often described, like trying to stop a locomotive. And if he is surrounded by defenders in the paint, trying to follow his outlet passes is like trying to follow a speeding bullet. You watch the replay, knowing what will occur, and it's still difficult to see.
Like it was with Jim Brown, the opposition knows James is coming and, still, they can't stop him. They've tried everything, including a wide array of illegal hacks and grabs and muggings, and still he drives at you. Even when the most obvious and egregious of fouls are ignored by the referees, giving the defenders the hope that they can get away with almost anything, still, James doesn't go to the bench to recover, he comes right back at you. And the next game he shows up again and comes at you again and puts another triple-double hurt on you.
In a game against the New York Giants, linebacker Sam Huff was in on a rough gang-tackle of Jim Brown and getting up from the pile, Huff said to Brown, "You stink." On the very next play, number 32 exploded through the Giants' line and ran 65 yards for a touchdown. Walking back, Brown hollered out to Huff, "How do I smell from here?"
When the Browns won the NFL Championship in 1964, they had a great team, lots of talented, intelligent, dedicated players. And, of course, in the quintessential team game that is football, it takes quite a few good players to win anything. But if you've read or heard the comments of those involved with Cleveland's last championship team, you know how often they punctuated their reminiscences with the fact that they all knew they had the best player in the world on their team.
Cleveland doesn't have a great many championship banners hanging from the rafters of its various sports venues, but Cleveland does have an association with two of the greatest players in the history of sports. And we're watching one now.
In the long term, LeBron James' extraordinary durability, like Jim Brown's, is the most devastating of his weapons: strength, consistency, stamina, reliability, grit … a seeming indestructibility. Far be it from me, however, to suggest these qualities reflect something unique to Cleveland. They are not exclusive to any one community or culture. They are, however, universally inspirational. Sure, it's only spectator sports, but those in the generation of Clevelanders who got to watch Jim Brown play for the Browns for nine years and who are now watching LeBron James play for the Cleveland Cavaliers can certainly appreciate the significance of Tuesday's brief meeting between these two greats.
More from Waiting For Next Year:
---
---