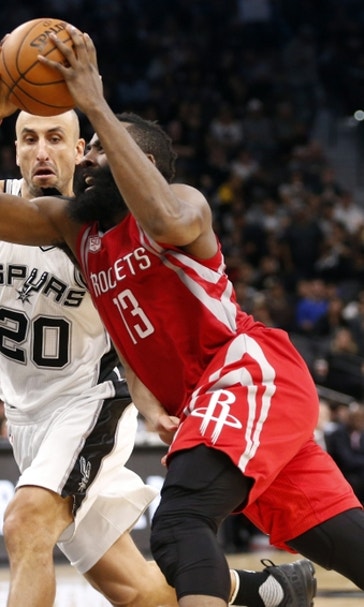 Houston Rockets Fantasy Outlook 11.14.16
BY foxsports • November 15, 2016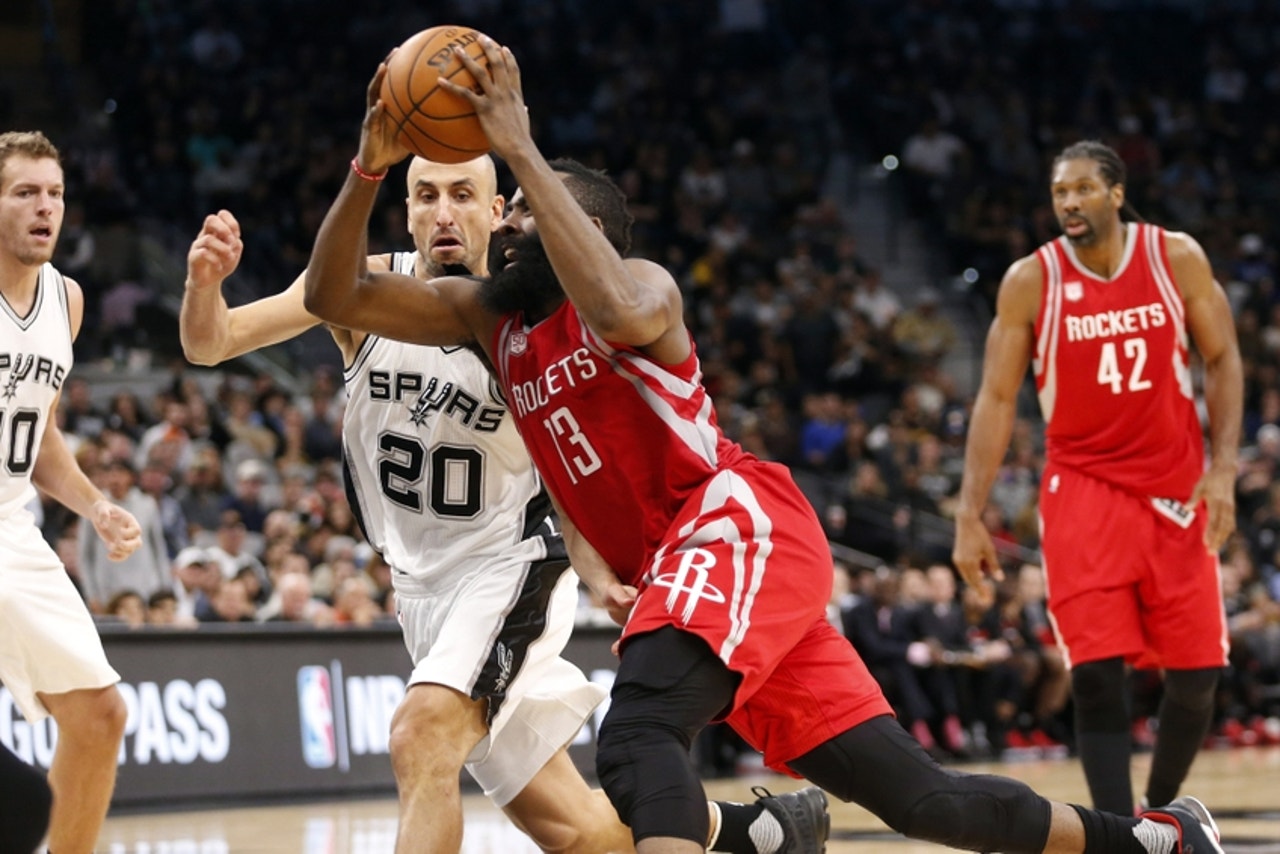 Nov 9, 2016; San Antonio, TX, USA; Houston Rockets shooting guard James Harden (13) drives to the basket while guarded by San Antonio Spurs shooting guard Manu Ginobili (20) during the second half at AT&T Center. Mandatory Credit: Soobum Im-USA TODAY Sports
Analyzing our Houston Rockets and other players around the league, to help make the most of your fantasy team for the week of Nov. 14th
Red Nations Fantasy Summit
This young NBA season is only a few weeks old, but as a Houston Rockets fan, you have to feel as though we are privy to something historic. James Harden is currently averaging 30 points per game, 8.3 boards, 13 assists, and 1 steal. The Beard is currently the only player averaging double digit assists and just dropped back to back triple doubles against the Spurs. Through six straight games, he has put up at least 24 points, 12 assists, and 6 boards-the first in NBA history. Arguably, Harden is the no.1 fantasy player so far. Let that sink in for a moment.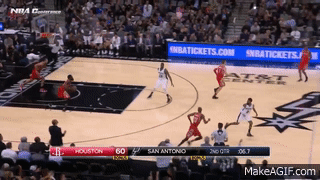 The Rockets play four games this week against Philly, OKC, Blazers, and the Jazz. These games should provide plenty of highlights and hopefully with Patrick Beverley returning, an improvement to team defense. Beverley has stated he plans to return this week and looks to make his season debut against OKC.
Before looking forward to this week's action, let's take a quick glance at which Rockets contributed to the week prior.
Nov 7, 2016; Washington, DC, USA; Houston Rockets forward Ryan Anderson (3) dribbles the ball as Washington Wizards forward Markieff Morris (5) defends in the second quarter at Verizon Center. Mandatory Credit: Geoff Burke-USA TODAY Sports
Ryan Anderson-Rockets "X" factor
Ignoring the dud of a game against the Spurs, Ryno had actually caught fire and seems to be a key factor to the Rockets success. Playing alongside Harden has provided Anderson with consistent open looks, which he was hitting pretty regularly. In fact, he had connected with at least 4 triples in five out of the last six games. Against Washington, Ryno dropped 23 points (5 threes), 7 boards, 2 assists, and 1 steal. I wouldn't expect much in the way of defensive stats, but his offensive production is coming along, and he is averaging 30+ minutes per game. Owned in about 88% of leagues.
Clint Capela-Hou, PF/C
As always, the success of your fantasy season depends on the utilization of the waiver wire. To that end, let's take a look at some of the talent around the league.
Oct 19, 2016; Dallas, TX, USA; Dallas Mavericks center Andrew Bogut (6) looks to drives to the basket as Houston Rockets center Clint Capela (15) defends during the second half at American Airlines Center. Mandatory Credit: Kevin Jairaj-USA TODAY Sports
Andrew Bogut-Dal, C
It's safe to assume Bogut will not play in back to back games, but he is looking for his minutes to increase. Against the Bucks, in 34 minutes of play he was able to pull down 16 boards. Currently averaging 2 points per game, 8 boards, and 2 blocks. If you are in need of defensive stats, you could do no worse. I doubt his minutes will increase to the requested 30 minutes per game, but he is averaging close to this minute limit. Only 51% owned, Bogut is primarily a plug and play, or if in need of boards.
Cody Zeller-Cha, PF/C
Zeller recently signed an extension with the Hornets for a 4 year deal worth $56 million. With Roy Hibbert hurt the last two weeks, he has been able to average 11.7 ppg, 4.7 boards, 2.7 assists, and nearly 1 steal/block per game. Hibbert and Zeller will split minutes, but this isn't expected until Roy gets his conditioning back. However, against the Cavs, Cody put up season lows in minutes per game and his production. The contract extension shows the franchise does believe in the player, but his production is limited with the timeshare Hibbert's health brings. Owned in only 32% of leagues, I am curious to see how the rotation will play out for Cody.
October 2 man. 6, 2016; Los Angeles, CA, USA; Los Angeles Lakers guard Jordan Clarkson (6) celebrates the 120-114 victroy as Houston Rockets guard James Harden (13) walks off the court following the second half at Staples Center. Mandatory Credit: Gary A. Vasquez-USA TODAY Sports
Jordan Clarkson-LAL, PG/SG
Jordan is currently averaging 16.5 points (almost 2 triples), 2.3 boards, 2.3 assists, and 1.5 steals per game. The combo guard dropped 23 points (4 triples) against the Pelicans on Nov. 12th and in the last four games has at least 1 steal. Lou Williams, Nick Young (worth a peek for scoring), and Clarkson are all part of the Lakers offensive plan and the minutes per game are proof of this. Jordan is owned in about 85% of leagues, but really is playing above his mid-round value. At the very least, give him a look if you need steals.
Nikola Mirotic-Chi, SF/PF
If there were ever a player to define the term "streaky", Nikola is that man. With Doug McDermott in concussion protocol, Mirotic will get more burn with the second unit. Against Washington, he dropped 17 points (3 triples), 11 boards, 1 assist, 2 steals, 2 blocks, and zero turnovers. Owned in 80% of leagues, I would have to assume that his owners are ok to ride the "hit or miss" wave.
It's always nice being the owner who finds the hidden gem on the waiver. Finding that one player who helps you win your season, while others over looked him, gives you a real sense of satisfaction. Especially, when you are involved in a trash talking, ultra competitive league. I live for those moments. In saying that, the following players aren't quite ready for a roster spot, but should be placed on your watch list.
Feb 27, 2016; Houston, TX, USA; Houston Rockets guard Patrick Beverley (2) and San Antonio Spurs forward Kawhi Leonard (2) battle for a loose ball during the second quarter at Toyota Center. Mandatory Credit: Troy Taormina-USA TODAY Sports
Patrick Beverley-Hou, PG/SG
The impending return of Beverley will move Eric Gordon to the 6th man role, but how this will impact Gordon's playing time is anyone's guess. Coach D'Antoni has said that Beverley will be in the starting line up for his season debut, which looks to be against the Blazers. Defensively, the Rockets are in dire need of his services, but will this be at the cost of Gordon's offense? Looks like we will just have to wait and see.
Alex Len-Pho, PF/C
With Tyson Chandler out, Alex Len was inserted in the starting line up and went to work. Against Detroit and Brooklyn he put up a double/double, with a few steals, and blocks. Tyson returned to the team, but is considered day to day. An occasional brick of a game is expected, but this is due to changes in the offensive game plan. When the Warriors came to town the Suns went small and Len played only 18 minutes, but was still able to drop 9 points and 6 boards. Keep an eye out to see if Len and Chandler can coexist.
Sam Dekker-Hou, SF
Want your voice heard? Join the Space City Scoop team!
Enjoy the season Red Nation and be sure to stay connected with Space City Scoop as our amazing team of writers keep you abreast of all things Houston Rockets.
More from Space City Scoop
This article originally appeared on
---
---