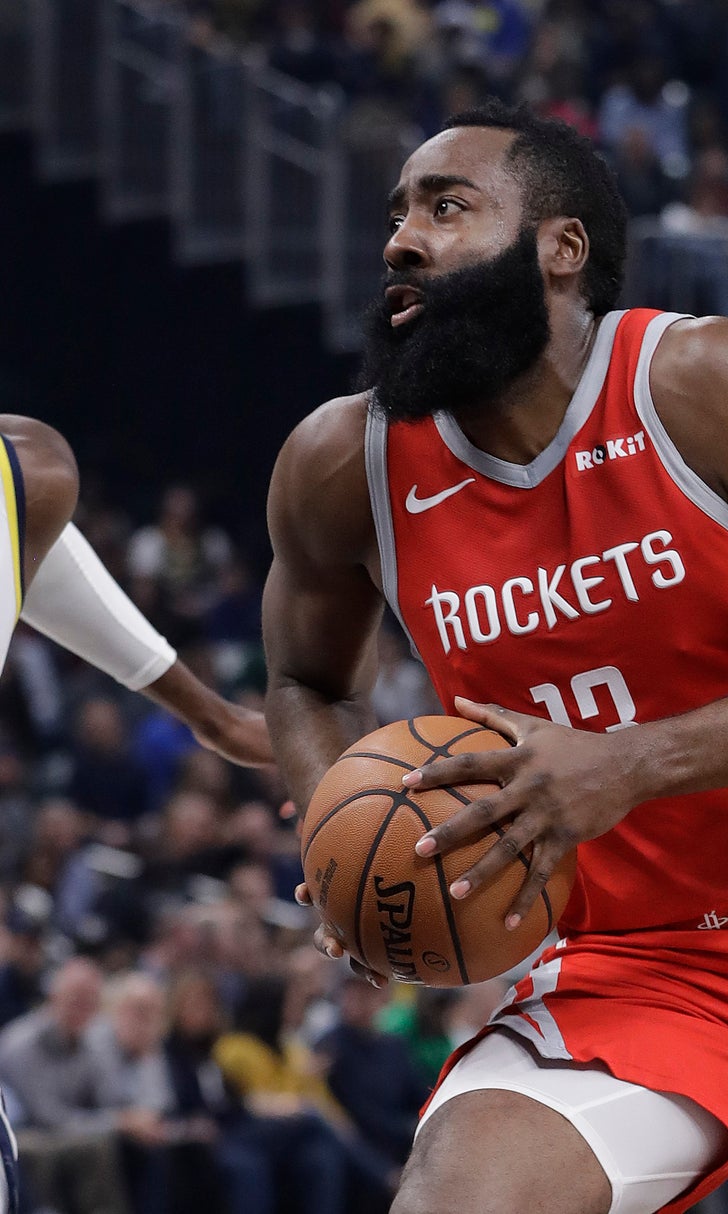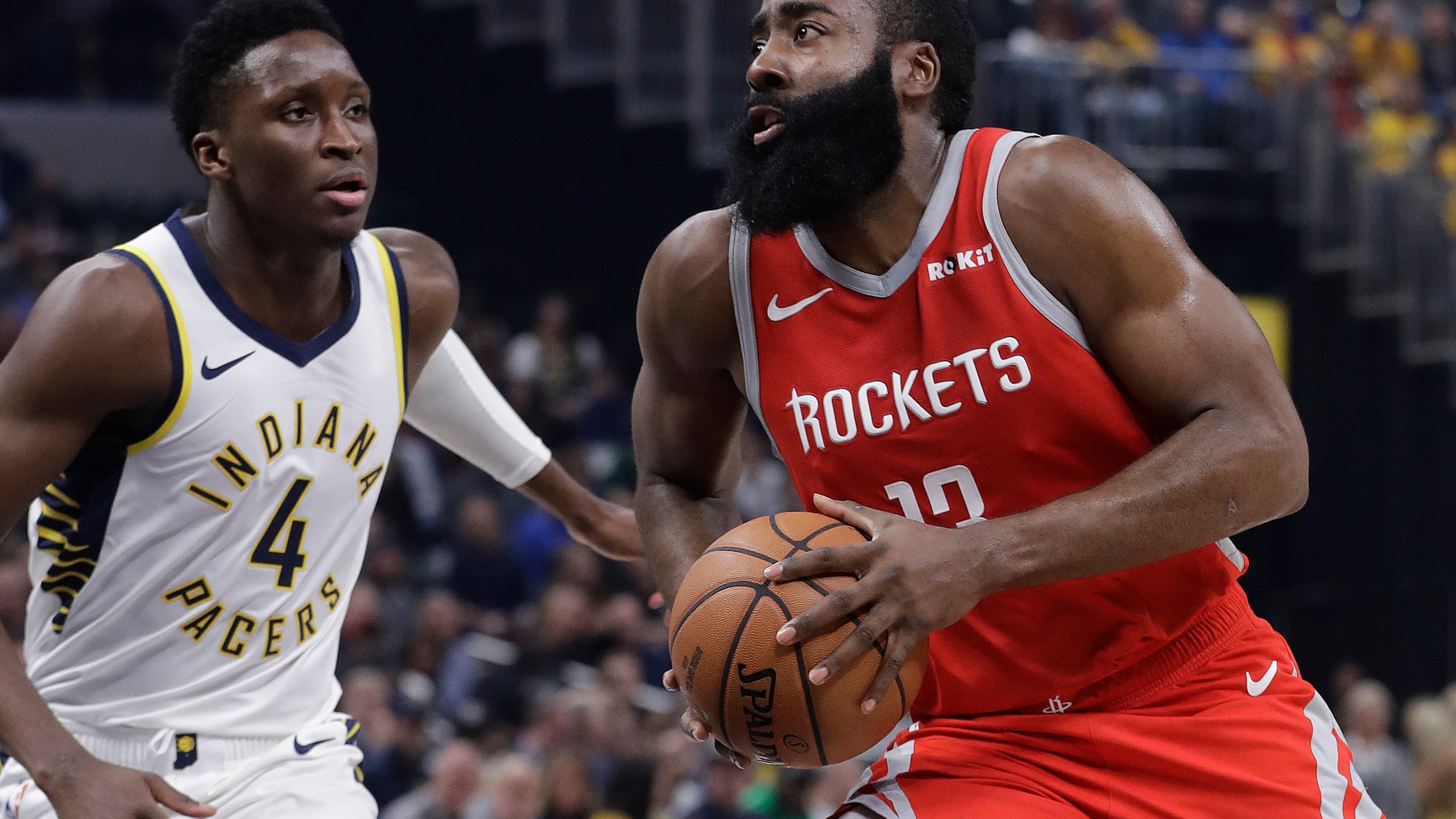 Harden scores 28, hits tiebreaking 3 as Rockets edge Pacers
November 6, 2018
INDIANAPOLIS (AP) — James Harden made a tiebreaking 3-pointer with 34.8 seconds left and then closed out the Houston Rockets' 98-94 victory over the Indiana Pacers by making four straight free throws Monday night.
The reigning MVP scored 28 points as the Rockets won their third straight since starting 1-5. And the victories have been coming in large part because of an improving defense. It's the fourth time in six games the usually high-scoring Rockets failed to hit the 100-point mark.
Victor Oladipo scored 28 points and made two 3s in the final minute to cut the deficit to 94-93, but it wasn't enough as Indiana's three-game winning streak ended.
Clint Capela had 18 points and 10 rebounds for the Rockets, his sixth consecutive double-double. Chris Paul added nine points and 13 assists.
OAKLAND, Calif. (AP) — Klay Thompson scored 27 points, Kevin Durant added 22 points, six rebounds and six assists, and Golden State used a big third quarter to beat Memphis for its eighth straight victory.
Stephen Curry overcame a slow start to score 19, and the Warriors used a 34-15 third quarter to pull away. That marked a season-low scoring total for any quarter by the Grizzlies.
At 10-1, the Warriors are off to the second-best start in franchise history behind the team of three years ago that began 24-0. The 1960-61 Philadelphia Warriors were 9-0 before losing four straight.
Draymond Green was limited to less than 14 minutes because of a bruised right foot. X-rays were negative, coach Steve Kerr said.
Dillon Brooks had 18 points off the bench for the Grizzlies.
DENVER (AP) — Jamal Murray scored a career-high 48 points, including 19 in the fourth quarter, and Denver overcame a sluggish start to beat Boston.
At 9-1, the Nuggets are off to their best start since 1976-77. They are 6-0 at home.
Denver spotted the Celtics an 18-point lead in the first quarter but quickly made up ground behind Murray, who scored 23 in the first half.
Murray hit 19 of 30 shots, including five 3-pointers. Nikola Jokic finished with eight points, 10 rebounds and eight assists.
The Celtics were led by Kyrie Irving, who had 31 points on 13-of-17 shooting.
SALT LAKE CITY (AP) — Kyle Lowry had 17 points and 11 assists to lead Toronto past Utah.
Serge Ibaka, OG Anunoby and Fred VanVleet also scored 17 apiece as the Raptors had six players in double figures while winning their fourth straight game.
The matchup lost some luster — and nearly 49 points per game — when Utah's Donovan Mitchell was ruled out with a left ankle sprain and Toronto's Kawhi Leonard sat out with a sore left ankle as well.
Alec Burks led the Jazz with 22 points and Rudy Gobert had 14 points and 12 rebounds.
The last time the Jazz lost four in a row at home was in the 2013-14 season when they went 25-57.
CLIPPERS 120, TIMBERWOLVES 109
LOS ANGELES (AP) — Tobias Harris scored 22 points, Lou Williams added 20 and Los Angeles dropped Minnesota to 0-6 on the road.
Led by Jimmy Butler and Derrick Rose, the Timberwolves rallied in the fourth quarter when the duo combined to score 22 of the team's 25 points. Rose finished with 21 points and Butler had 16 of his 20 in the final period.
Karl-Anthony Towns added 20 points and 12 rebounds for the Wolves, who twice got within one. Los Angeles answered both times, with Williams' bucket and Montrezl Harrell making consecutive baskets for a 98-93 lead.
Danilo Gallinari scored 22 for the Clippers.
THUNDER 122, PELICANS 116
OKLAHOMA CITY (AP) — The Oklahoma City Thunder won their fifth straight game by beating New Orleans, but they lost star point guard Russell Westbrook to a sprained left ankle.
After coming down hard on the side of his foot, Westbrook pounded the ground in frustration before limping off the court. The Thunder led 84-77 when he exited with 4:25 left in the third quarter.
Oklahoma City went on a run without him and led 100-86 at the end of the period.
The Pelicans closed within a point in the final minute, but Dennis Schroder made two free throws with 20.5 seconds left and Paul George made a pair with 11.8 seconds to play to clinch the win for the Thunder.
George scored 23 points, and Schroder had 22. Westbrook finished with 17 points, nine assists and seven rebounds.
Julius Randle scored 28 points and made all 10 of his shots for the Pelicans. Anthony Davis had 20 points on 7-of-20 shooting. It was the sixth straight loss for New Orleans after opening the season with four wins.
NEW YORK (AP) — Zach LaVine scored a career-high 41 points, including the game-winning free throw with 0.2 seconds left, as Chicago beat New York in double overtime.
Antonio Blakeney scored 17 points, Jabari Parker had 15 and Wendell Carter Jr. added 11 points and 13 rebounds for the Bulls.
Enes Kanter led the Knicks with 23 points and 24 rebounds. Allonzo Trier scored 21.
Emmanuel Mudiay's coast-to-coast layup tied the score with 2.7 seconds left. Lavine, who scored all eight of Chicago's points in the second OT, was then fouled by Mudiay and made the first free throw.
ORLANDO, Fla. (AP) — Evan Fournier hit a 22-foot jumper at the final horn and Orlando came back from a five-point deficit in the last 24 seconds, taking advantage of a late collapse by struggling Cleveland.
Fournier took an inbounds pass with 1.8 seconds left after Nikola Vucevic blocked George Hill's shot at the other end, and the ball went out of bounds off Hill.
J.R. Smith's 3-pointer with 41.9 seconds remaining had given the Cavaliers a 100-95 lead until Aaron Gordon scored after an offensive rebound for the Magic with 23.8 seconds to go. D.J. Augustin made a steal and two free throws with 18.7 seconds left to trim the deficit to one.
Kyle Korver then lost the ball to Fournier, who hit one of two free throws with 13 seconds on the clock to tie it at 100.
Gordon scored 23 points for Orlando. Fournier had 15 points and three steals.
Hill scored 11 of his 22 points in the fourth quarter and made 10 of 12 shots for Cleveland (1-9), which remained winless on the road. Tristan Thompson added 19 points and 16 rebounds.
DETROIT (AP) — Josh Richardson scored 27 points to lead short-handed Miami past Detroit in overtime.
Richardson hit four clinching free throws in the final 2.1 seconds, ending Miami's three-game skid. Detroit has dropped five in a row.
The Heat played without center Hassan Whiteside, who is second in the NBA in rebounding (14.6 per game) and blocked shots (2.75). Whiteside missed the game with an injured right knee.
Kelly Olynyk, filling Whiteside's spot on the floor, scored 10 of his 13 points in the second half. Goran Dragic had 21 points and Dwyane Wade contributed 18 off the bench.
Andre Drummond had 25 points for Detroit, and the NBA rebounding leader pulled down 24 boards. Reggie Jackson also scored 25.
Blake Griffin, second in the league in scoring, had 24 points before fouling out in the fourth quarter.
---
---