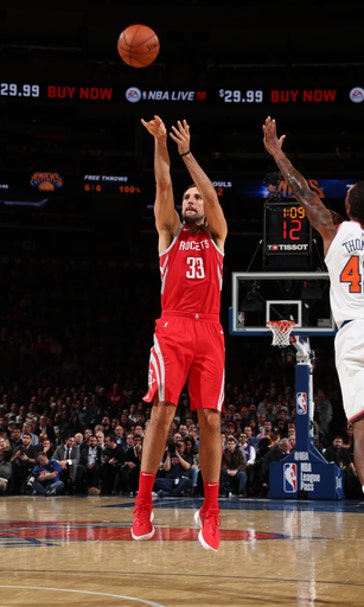 Harden has 31, Rockets win again in NY, 119-97 over Knicks (Nov 01, 2017)
November 1, 2017

NEW YORK (AP) The struggles stopped for the Houston Rockets once they got to New York.
Nothing gets the Rockets right like a game in an arena where they keep on winning.
''You're in the Garden man, you got to bring it,'' James Harden said. ''The lights are on, so guys played well.''
Harden had 31 points and nine assists, and the Rockets had their 3-pointers falling again in a 119-97 victory over the Knicks on Wednesday night.
Harden made six 3-pointers and the Rockets hit 19 to bounce back after two straight losses.
''Well, it's a lot easier to make a 3 when you're up seven instead when you're down seven and you're trying to make every shot that's got to count and you're also giving up points at the other end,'' Houston coach Mike D'Antoni said.
Ryan Anderson added 21 points for the Rockets. They won their eighth straight at Madison Square Garden, a streak that lasts so long that D'Antoni was the Knicks' coach last time they beat Houston at home, back on Jan. 26, 2009.
Tim Hardaway Jr. scored 23 points for the Knicks, but Kristaps Porzingis was held to 19 as their three-game winning streak was snapped. Porzingis had scored 30 in five of the first six games, including a career-high 38 in a victory over Denver on Monday night, and came in third in the league with 29.3 per game.
The Rockets arrived in New York struggling a bit, particularly from long range. Houston had been held below 30 percent from behind the arc already four times, including 28 percent in its loss to Philadelphia on Monday night, and hasn't had a 40 percent night yet.
D'Antoni said the Rockets' data showed they were getting similar 3-point attempts as last season, when they set an NBA record for makes, but they just hadn't been nearly as accurate. They finished at 36.5 percent Wednesday - but only after they cooled off to a 2-for-12 final quarter with the outcome decided.
New York led 30-24 early in the second before Houston ran off 16 straight points to go up by 10, and cruised from there.
''I think they did a really good job of running in transition and creating something for their teammates and then just shooting 3s,'' Porzingis said. ''And that's really hard to stop.''
TIP-INS
Rockets: Houston scored 36 points in the second quarter and 40 in the third. ... Clint Capela finished with 12 points and 13 rebounds. ... Eric Gordon had 17 points and Trevor Ariza 16.
Knicks: The Knicks have three games remaining on a five-game homestand, their longest of the season. ... New York is 0-3 when scoring fewer than 100 points. ... Rookie Frank Ntilikina led the Knicks with eight assists, his season high.
ONE-SIDED RIVALRY
The Rockets beat the Knicks for the 23rd time in the last 25 meetings. Houston has swept the series in 10 of the last 12 seasons.
CHANGE OF PLANS
The Rockets decided to cancel their morning shootaround at Madison Square Garden because of the difficulty of getting to the arena from their hotel. They are staying in Battery Park, near where eight people were killed Tuesday when a man drove his truck onto a bike path, and the investigation was ongoing Wednesday morning. D'Antoni said they had the bus ready to take them and figured it wasn't worth it.
''There was no chance to get here and no use being on the bus for two hours for that,'' he said.
UP NEXT
Rockets: Visit Atlanta on Friday night.
Knicks: Host Phoenix on Friday night.
---
For more NBA coverage: https://apnews.com/tag/NBAbasketball
---
---