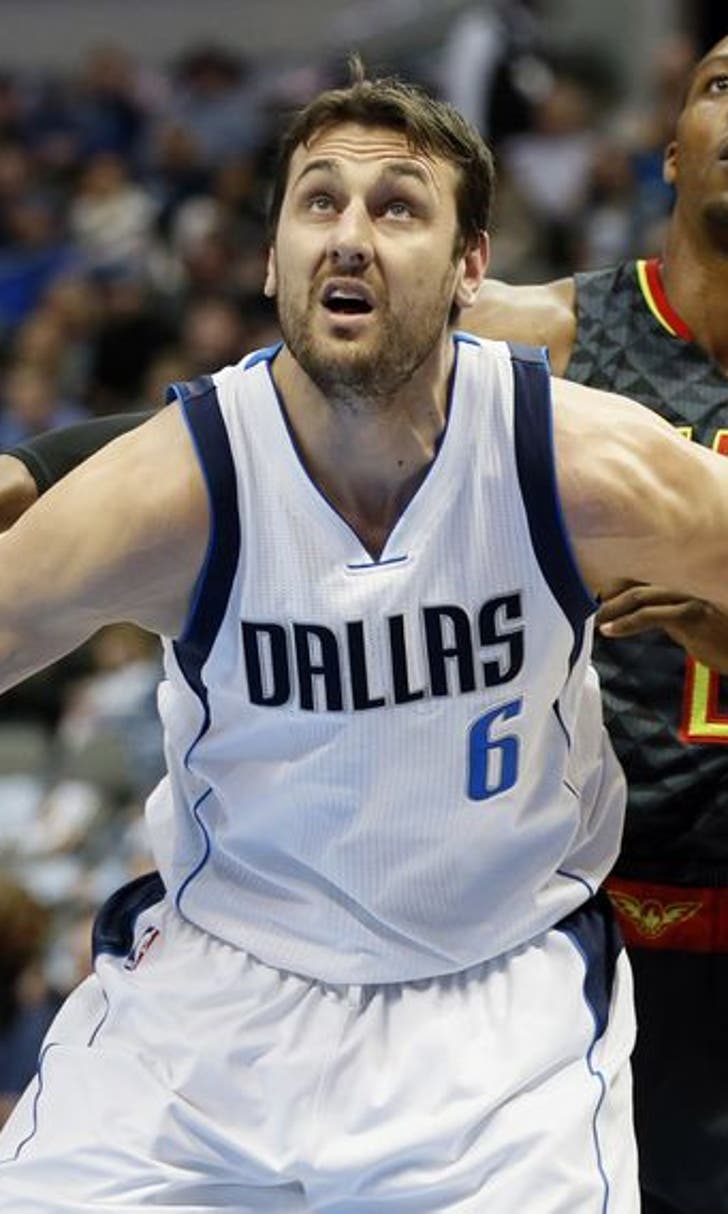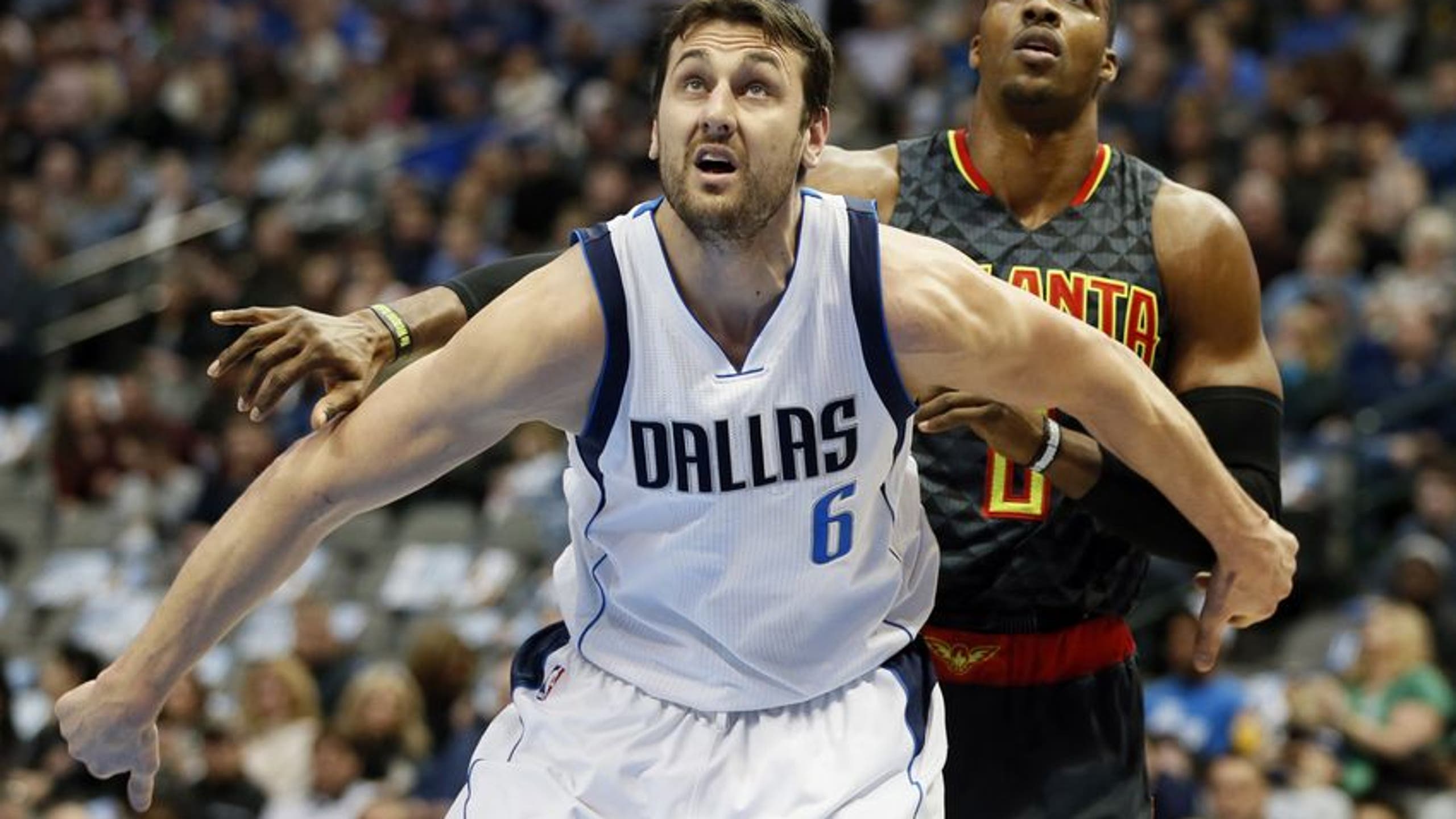 Cleveland Cavaliers: 3 Rim-Protectors the Cavs Should Target
BY Fansided and Nathan Beighle/FanSided via King James Gospel • June 30, 2017
Jan 7, 2017; Dallas, TX, USA; Dallas Mavericks center Andrew Bogut (6) blocks out Atlanta Hawks center Dwight Howard (8) in the first quarter at American Airlines Center. Mandatory Credit: Tim Heitman-USA TODAY Sports
The Cleveland Cavaliers are one of the best team in the NBA but they have holes to fill. Here are three rim-protectors that could fill one hole.
The Cleveland Cavaliers are one of the worst teams at protecting the rim in the NBA, and they could easily invest in a rim protecting center to help bolster their playoff chances. Even though they are widely considered the best team, this club could still use this upgrade. While LeBron James has said they need a point guard, their biggest issue could be the absence of a rim-protector.
In an article that I wrote a couple of weeks ago, I discussed their need for one:
The Cavaliers are for starters blocking just 4.1 shots per game which is 24th best in the NBA. Along with that, the Cavaliers are 22nd in the NBA in opponents second chance points. At 13.8 points given up, it continues to look like the Cleveland Cavaliers could use another big to backup Tristan Thompson.
Want your voice heard? Join the King James Gospel team!
While the stats may be a little off now, the idea is still the game. The Cavaliers will eventually need a rim-protector, and there are several options for them to choose from. My targets are players that are on weaker teams and could easily be on the market.
Obviously the top rim-protectors in the NBA are off-limits, but with the trade deadline approaching, it could be a good time to sell that 2018 first round pick in hopes that they can repeat as world champions.
So, without further ado, let's take a look at which rim-protectors the Cavaliers should target.
Jun 10, 2016; Cleveland, OH, USA; Golden State Warriors center Andrew Bogut (12) blocks a shot by Cleveland Cavaliers center Tristan Thompson (13) during the third quarter in game four of the NBA Finals at Quicken Loans Arena. Mandatory Credit: Bob Donnan-USA TODAY Sports
Andrew Bogut
Unfortunately for Dallas, their trade for Bogut has not worked out like they planned. He went as far to say this, according to ESPN:
"Thankfully, I'm a free agent here, so I only have a couple of months more here and then will most likely move on," Bogut told Sky Sports. "I don't see myself hanging around with everything that's gone on."
If Bogut is going to leave Dallas, they might as well shop him fast so that they can get something back for him, and Bogut would more than likely resign in Cleveland. Bogut has averaged 3.1 points per game and 9.3 rebounds per game.
Bogut's addition to the Cavaliers would be two-fold. For starters, he would be able to help dissect Golden State as he was a part of that team last season. He would add a new dimension to their frontcourt with his size.
Bogut had a stellar 5.1 defensive plus/minus last season, and he could certainly give Tristan Thompson a breather. Bogut is obviously unhappy, and the Cavaliers may be able to use that to prey him for next to nothing. His availability should certainly be something to keep an eye on as the trade deadline approaches.
Jan 3, 2017; Phoenix, AZ, USA; Phoenix Suns center Tyson Chandler (4) handles the ball in the first half of the NBA game against the Miami Heat at Talking Stick Resort Arena. Mandatory Credit: Jennifer Stewart-USA TODAY Sports
Tyson Chandler
I would absolutely love a trade for Tyson Chandler. He is a former Defensive Player of the Year, and he continues to be a force in the paint. Chandler averages 11.7 rebounds per game, and just like Bogut, he is on a team nowhere near the playoff hunt.
Chandler is 34-years-old and is signed through the 2018-2019 season which could be a reason that the Cavaliers shy away from him. When Chandler is on the court, the Suns have a better defensive rating along with a better offensive rating.
His impact would be crucial for this team. Chandler was a 3-time NBA All-Defensive member. Chandler is also nice around the rim. He shoots 68.5% from the field. He has been this solid from around the rim his whole career. His near 70% from the line would also allow the Cavaliers a defensive big to go to when teams decide to hack-a-Thompson.
His Suns sit at 12-26, and with no bigs like Dragan Bender and Alex Len ready to play, they might as well give Chandler to a contender. A trade for Chandler would help both the Suns and Cavaliers. While Thompson is a solid hustle player, Chandler would be a true game-changer for the Cavaliers.
Dec 28, 2016; Orlando, FL, USA; Orlando Magic center Nikola Vucevic (9) holds back Charlotte Hornets center Frank Kaminsky III (44) during the second half of an NBA basketball game at Amway Center.The Hornets won 120-101. Mandatory Credit: Reinhold Matay-USA TODAY Sports
Nikola Vucevic
Nikola Vucevic would improve the Cleveland Cavaliers defense, though it would only be a slight improvement as he averages exactly 1.0 block per game. Nonetheless, his 7-foot-0 frame would give the Cavs added length on defense.
Vucevic is a skilled center known more for his offense. So, while Cleveland certainly doesn't need help scoring, they could most likely use the added skill-set as Vucevic averages 13.2 points per game. The 26-year-old Swiss player has seen success due to his ability to operate in the post, and this could be factor that the Cavaliers could use to exploit smaller teams.
One thing that stands out about Nikola is his involvement on the glass. In particular, his offensive rebounding percentage of 38.6% and his 2.4 offense rebounds per game, both figures that show he would help the Cavaliers keep the up the energy on the offensive end as Tristan Thompson does when he gets the Cavs extra possessions.
This guy is pretty untouchable it seems. But one can dream, right?
The first two shot blockers are reasonable trade options that seem in unhappy scenarios, and Vucevic is just my dream guy. This team doesn't need any other trades but it seems like the Korver deal could be just the first, so watch out in the next couple weeks for a shot-blocker to be on the Cleveland Cavaliers radar.
Who do you think should be the Cleveland Cavaliers new rim-protector? Let us know in the comments section or Twitter @KJG_NBA.
More from King James Gospel
This article originally appeared on
---
---