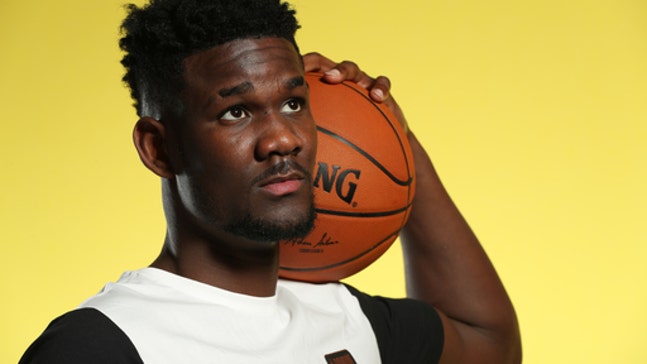 Ayton works out for Suns, says 'I know I'm going No. 1'
Updated
Mar. 4, 2020 3:05 p.m. ET
PHOENIX (AP) Deandre Ayton spent Wednesday with the Phoenix Suns with the feeling that this was the start of a beautiful relationship.
The 7-foot-1, 250-pound center went through what he said would be his only pre-draft workout and expressed supreme confidence that the Suns will use the No. 1 overall pick to select him.
''I know I'm going No. 1,'' he told reporters.
Not that the Suns have assured him of that, he's just that confident that the team won't pass on his combination of size, strength, athleticism and shooting touch.
''Nobody told me,'' he said. ''That's just me. I think I deserve that. I've worked hard.''
It would be a comfortable fit for Ayton, who was born in the Bahamas and moved to the Phoenix area during high school. He said most of his family now lives here. Ayton played his one year of college basketball a couple of hours down Interstate 10 at the University of Arizona.
''Everybody knows us now,'' he said. ''This is our second home so we just feel welcome, and it would be a blessing if I become the No. 1 pick and stay here and make this home.''
Ayton said teaming with young Suns star Devin Booker would be ''Shaq and Kobe 2-point-0.''
''We could really make something happen in Phoenix,'' he said. ''We could really have a spark and start a winning legacy.''
There hasn't been much winning in Phoenix lately. The Suns have missed the playoffs eight years in a row and had the NBA's worst record last season at 21-61, second-worst in franchise history.
But there is a young core of talent and most of those players, including Booker and Josh Jackson, watched what Ayton described as ''a pretty intense'' individual workout.
For nearly an hour, Suns coach Igor Kokoskov and his staff put Ayton through a series of game situations, as much as possible given the fact no other players were on the floor.
''It was everything that we expected form Deandre,'' general manager Ryan McDonough said. ''Obviously we've watched him closely at Arizona and we've scouted him heavily in person in games, at practice and on film. He showed us what we expected to see.''
McDonough said ''it's pretty rare'' to find such a player.
''I think this is my 16th draft in the NBA,'' McDonough said, ''and you can probably count on one hand the number of guys with his size, athleticism, footwork, balance, touch. It's a unique package.''
He was particularly impressed with Ayton's outside shooting touch.
''We knew he was big and strong and athletic and moved well at that size, had good length, had great hands,'' McDonough said, ''but to see him make shot after shot in a workout in different scenarios.''
And he's just 19 years old.
The Suns plan other workouts with candidates for the No. 1 pick later this week. The group won't include Luka Doncic, who is still playing in Europe.
Phoenix is not tipping its hand, but Ayton will be hard to pass up.
''The strength of our team right now are young perimeter players, led by Devin Booker, Josh Jackson and T.J. Warren,'' McDonough said. ''We've been looking for a center to kind of anchor our team offensively and defensively. We think Deandre has that kind of potential. ... He's certainly a unique player and a unique talent that I think would fit in great with the rest of our roster.''
Ayton averaged 20.1 points and 11.6 rebounds in his one season at Arizona. He brushed aside questions about his defense.
''I don't think that's a weakness,'' he said. ''I haven't had the opportunity to really guard any bigs in college. I was always on the perimeter with the guards.''
Still, he pointed out, he averaged 2.3 blocked shots per game.
On offense, Ayton said, ''I can score inside and out.''
''There will be a lot of mismatches because if I guard them they have to guard me at the end of the day,'' he said. ''I can score, I can pick and pop, I can pick and roll, I can put the ball on the ground, rebound, push the ball. It's an open floor now. Nobody is really double-teaming or triple-teaming.''
He said there is no current player on which he patterns his game. But he mentioned two pretty good ones from the past.
''Kevin Garnett, his intensity on both ends of the floor, how he changes the game, rebounding. From offense to defense, him starting the pick and roll, stuff like that,'' Ayton said, ''how he's so vocal with his teammates. And Hakeem Olajuwon, with his footwork down low, I try to really pick up a lot of stuff with those guys.''
Ayton called himself the most competitive player in the draft. He said there's none of the laid-back attitude that's a trademark of his homeland.
''I left at age 12, so I got a little Americanized with the competitive level,'' he said.
Ayton planned to get together with Booker and other Suns players to watch Game 3 of the NBA Finals on Wednesday night.
---
More AP NBA: https://apnews.com/tag/NBAbasketball
---
---