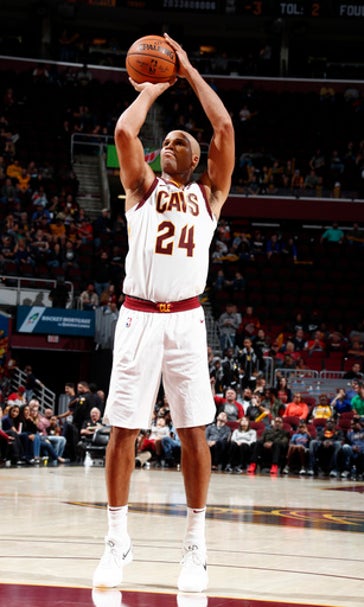 AP source: Richard Jefferson, Nuggets agree to 1-year deal
October 17, 2017

DENVER (AP) Michael Malone knows all about Richard Jefferson. Just not Tuesday, with the deal for the veteran forward still waiting on official word.
''Who's Jefferson?'' the Denver Nuggets coach coyly said after practice.
Jefferson will join the Nuggets on a one-year deal, a person with knowledge of the negotiations confirmed to The Associated Press on condition of anonymity because the agreement hasn't been disclosed by the team. ESPN first reported the deal, which it said is worth $2.3 million.
After weeks of fine-tuning his roster through training camp and the preseason, Malone suddenly has to juggle things around. Not that he minds carving out minutes for a player he can't even name just yet. Jefferson adds another leadership presence to a young, playoff-hopeful roster.
''Teams are always trying to find ways to improve in any way, shape or form,'' said Malone, whose squad opens the season Wednesday in Utah. ''If our front office deemed it necessary to make a move prior to the start of the regular season, that's something I fully support and they have my 1,000 percent belief in what they're trying to do.
''We embrace whoever else comes in and we make the most of it. I don't foresee if any changes are made, there being any negative effects to that.''
The 37-year-old Jefferson spent two seasons with the Cavaliers and played a big role off the bench during the team's 2016 championship season. He appeared in 79 games last season, averaging 5.7 points in 20.4 minutes.
Jefferson also has played for the Nets, San Antonio Spurs, Milwaukee Bucks, Jazz, Golden State Warriors and Dallas Mavericks over his 16-year career.
Malone and Jefferson's paths actually crossed a few years ago when both were with Golden State. Malone has nothing but respect for Jefferson the player.
''He's the consummate professional, stays ready,'' Malone said. ''Anytime you can be around a player that has a resume like Richard does, I think you're better off for it. I wish Richard the best of luck wherever he lands.''
In Denver, Jefferson figures to back up Wilson Chandler at small forward and provide another veteran voice on a Nuggets squad that many predict to be in the playoff race after narrowly missing a spot a year ago. The team hasn't been to the postseason since 2012-13.
''Anytime you come to the season with high expectations, it raises your level of play and intensity,'' said Will Barton, whose ankle has quickly mended after he rolled it during practice Monday. ''With us having high expectations, we all want to prove that we're as good as we think we are. It's a good thing. We don't want to come into the season with people saying we're going to (stink).''
Heading into the season opener, Denver's starting lineup looks like this: Paul Millsap at power forward, Chandler, Nikola Jokic in the middle and Gary Harris at shooting guard.
The point guard situation remains up in the air. ESPN reported that Denver plans to waive veteran Jameer Nelson and he wasn't at practice Tuesday. That leaves youngsters Jamal Murray and Emmanuel Mudiay to play the position.
The only hint Malone would provide about who would start at the point was that his last name began with ''M'' and ''U.''
Hmm - not all that helpful.
As for Nelson, Malone didn't talk about the possible release of his veteran floor leader, only what he's meant to the team.
''His ability to mentor and help young players is something that people didn't hear enough about,'' Malone said. ''Jameer has a great basketball mind and passion for the game.''
Asked if this sort of move signals a growing faith in Mudiay, Malone played it coy.
''I'm not going to speak to anything,'' Malone said. ''I love our team and trust (the front office) to do whatever they feel is in our best interest to have our best team possible.''
---
AP Basketball Writer Jon Krawczynski contributed to this report.
---
More NBA basketball: https://apnews.com/tag/NBAbasketball
---
---