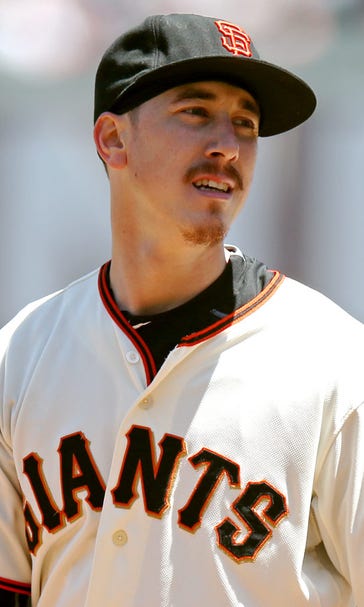 Will pending free agent Lincecum pitch for the Giants again?
BY foxsports • September 4, 2015
Tim Lincecum has pitched his entire nine-year major-league career in San Francisco, has won two Cy Young Awards and three World Series titles with the Giants, and will forever hold a special place in Giants fans' hearts as the lovable "Freak."
Yet, as he underwent season-ending hip surgery on Thursday, Lincecum's career in San Fran might be done for good.
The 31-year-old quirky right-hander's two-year, $35-million contract expires after the season, making him a free agent.
With plenty of uncertainty surrounding not just Lincecum's future with the Giants, but more importantly his future in baseball in general amid his recent struggles with injuries, Lincecum might have very well hurled his last pitch in a Giants uniform.
If it were up to manager Bruce Bochy, however, there would be no question as to whether he'd re-sign Lincecum to continue his career in San Francisco.
"My door will always be open for Tim Lincecum. That's how much I think of him," Bochy told the San Francisco Chronicle. "That's a decision that's made on the baseball side obviously with everybody. I certainly appreciate what he's done and the time I've had to this point with him. It doesn't mean that won't continue. I can't answer that right now."
Lincecum was a game-changer for the Giants in his first five seasons with the team.
In 156 games (155 starts) from 2007 to 2011, the 5-foot-11, 170-pound 2006 first-round draft pick went 69-41 with a 2.98 ERA and 1,127 strikeouts in 1,028 innings pitched, winning back-to-back Cy Young Awards in 2008 and 2009.
"Everyone knows how much Tim has meant to this organization and our fans and front office, and that goes without saying," general manager Bobby Evans said.
However, despite his early success, Lincecum has struggled since 2011.
In the past four seasons, he has held a 39-42 record with a 4.68 ERA. His strikeout total has dipped significantly (577 in 615 2/3 innings), and his walks (267) have spiked considerably during that span.
Now, the Giants have a major decision to make.
Re-sign Lincecum with the hope that his arthroscopic hip surgery will remedy his rapid attrition, or move on from the Lincecum era and offer him an appreciative salute for the transformative effect he's had on the Giants?
"Our focus right now is just trying to get him ready so he can get back on the mound in 2016," Evans said. "For us, talking about 2016 is hard to do right now because we've got a lot of work to do in 2015. The timing to discuss [Lincecum's future] will have to come later."
At this point, with so much uncertainty about the viability of Lincecum continuing his career riding upon his impending recovery from surgery, the door to his future with the Giants remains cautiously open.
"At this point, no one's ruling anything out," CEO Larry Baer said. "I don't think Timmy is ruling it out, and I don't think we're ruling it out."
(h/t San Francisco Chronicle)
---
---