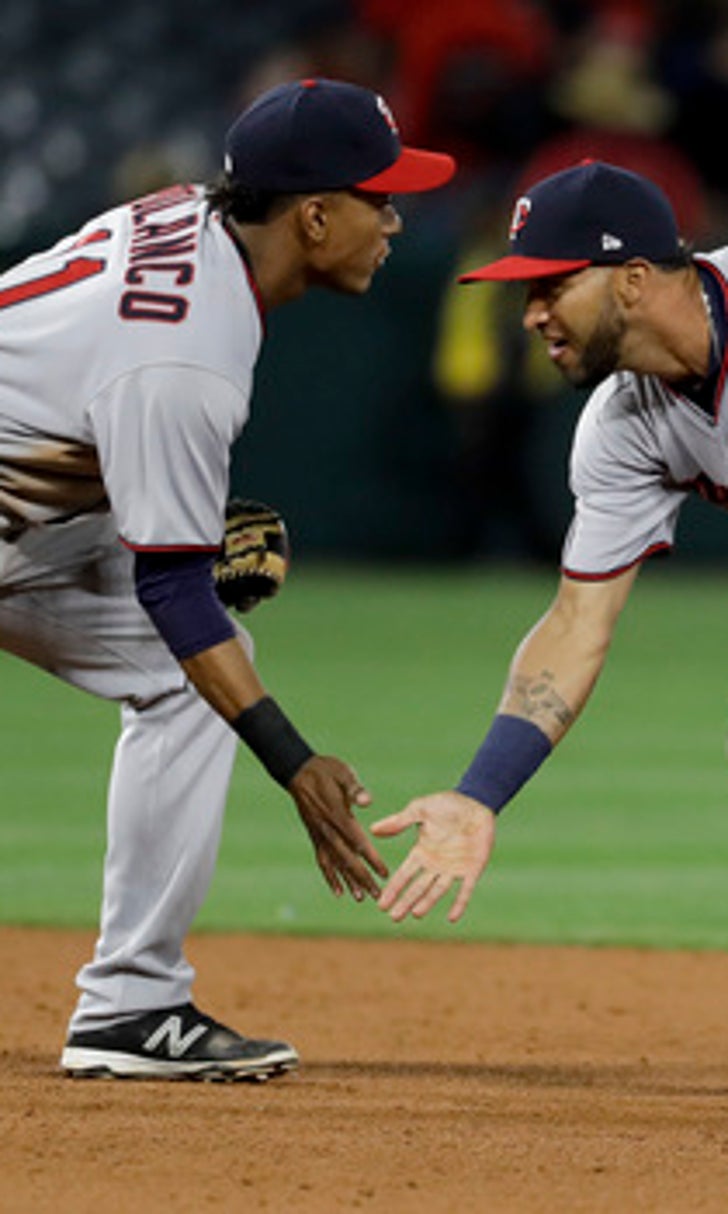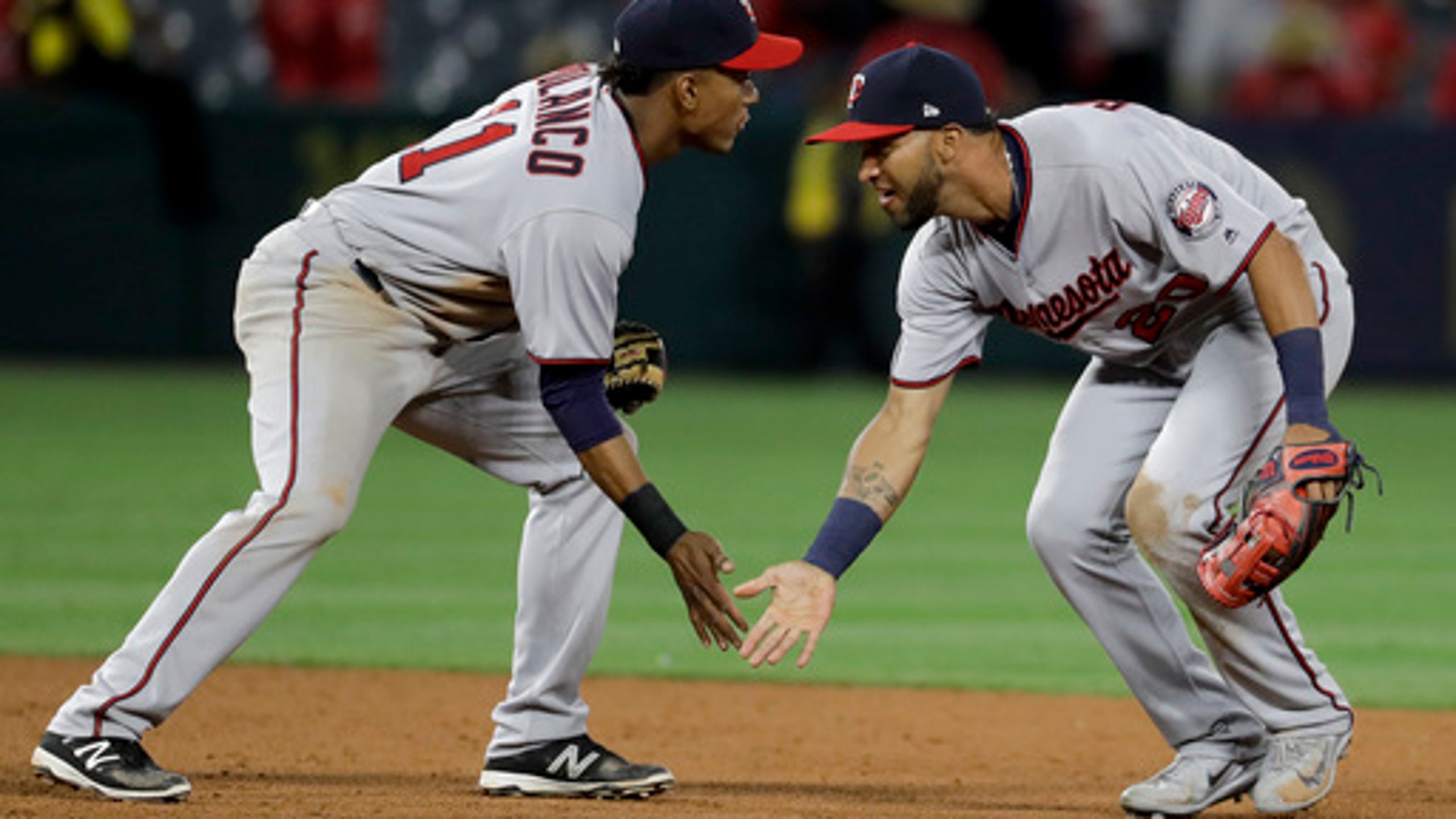 Twins turn triple play, rally in ninth to beat Angels, 4-2 (Jun 01, 2017)
BY AP • June 2, 2017
ANAHEIM, Calif. (AP) Miguel Sano claims he told Minnesota teammates earlier in the day they would turn a triple play Thursday night. The only thing he failed to predict was the Twins rallying in the ninth inning to beat the Los Angeles Angels.
The Twins turned their first triple play in 11 years in the fourth and then scored three in the ninth, taking the lead on Jason Castro's two-run single, to pull out a 4-2 win over the Angels.
Minnesota overcame two solo home runs from Los Angeles' Kole Calhoun, while keeping Albert Pujols stuck at career home-run No.599. Pujols had one single in four at-bats.
The Twins turned the triple play in the fourth, their first since May 27, 2006. After leadoff singles by Pujols and Yunel Escobar, Jefry Marte hit a sharp one-bouncer right to third baseman Sano. Sano stepped on third for the force, fired ahead of the sliding Escobar to Brian Dozier at second, whose relay to first easily beat Marte to complete the first triple play turned against the Angels since 2004.
''I kept thinking about it,'' Sano said. ''I came early this morning and practiced getting the groundballs down the line, touching third and throwing to second. Once the situation came, I just kept saying, `(starter Adalberto) Mejia, just give me the right pitch and I'll get it.'''
Sano and the entire infield leapt in celebration.
''Rumor has it, he called it,'' said Twins manager Paul Molitor. ''I don't know if he was excited about the play or being prophetic.''
Sano had given the Twins a 1-0 lead with his 13th home run of the season in the second off Alex Meyer. However, Calhoun tied it in the sixth with a homer off Mejia and gave the Angels the lead with his second of the game in the eighth off Taylor Rogers (3-1).
Calhoun, who hit just .158 in the month of May, now has seven home runs.
''I've been putting pretty good swings on the ball lately and not getting anything to fall,'' Calhoun said. ''Seems like I'm hitting balls right at people, so it's nice to get a couple tonight.''
The Twins' rally in the ninth against reliever Jose Alvarez (0-2) was aided by a miscue from Marte, who dropped a one-out popup from Jorge Polanco for an error. Eddie Rosario doubled him to third, and after an intentional walk to Byron Buxton, Castro looped his two-run single into left.
''We hung in there and got a little bit of a break on the pop-up,'' Molitor said. ''Jason took a couple fastballs but then dunked one out there to give us the lead.''
Bud Norris walked in a final run.
Minnesota's Brandon Kintzler got the last three outs for his 14th save.
TRAINER'S ROOM
Twins: 3B Sano, who leads Minnesota in home runs (13) and RBIs (40), returned to the lineup in the cleanup spot after missing two games with an illness. He has batted third most of the season.
Angels: Placed OF Cameron Maybin on the 10-day disabled list was a left oblique bruise. Manager Mike Scioscia said they expect him to be ready when he's eligible to come off the DL June 9. ... 3B Escobar (hamstring) was activated and hit fourth. ... Closer Cam Bedrosian (groin strain) is scheduled to start his rehab assignment Friday with Single-A Inland Empire. ... Reliever Huston Street returned from his rehab assignment with right triceps tendinitis.
CLOSER WATCHES
Scioscia stuck with Alvarez in the ninth, even though he had Norris and his 10 saves warming up in the bullpen. Scioscia said Norris is still recovering from a minor knee injury. ''I don't know if we've ordained anybody as a closer,'' the manager said. ''Bud has got the lion's share of them, but with him coming off the tweak (to his knee) that he had in Miami, I think we felt very comfortable with Jose matching up in the ninth.''
UP NEXT
Twins: RHP Kyle Gibson tries to get his season on track Friday against the Angels. Gibson started the season 0-4 and an ERA that ballooned to 8.62, but allowed a season-low two earned runs in his last start against Tampa Bay.
Angels: RHP JC Ramirez looks to continue his strong turnaround as a starting pitcher. He has pitched at least six innings in his last five starts posting a 2.67 ERA. He will be making his 10th start after opening the season with three relief appearances.
---
https://apnews.com/tag/MLBbaseball
---
---