Detroit Tigers
Detroit Tigers
Tigers look to stay perfect versus White Sox (May 25, 2018)
Published
May. 25, 2018 11:47 p.m. ET
DETROIT -- If the Detroit Tigers continue their scrappy play, it won't be long before they'll be known as the "surprising Detroit Tigers."
Detroit (22-28) stunned the Chicago White Sox (15-33) with a late rally Friday night to earn a 5-4 victory, their second in a row following a five-game losing streak.
"A lot of people had some pretty bad expectations," right-handed closer Shane Greene said Thursday during the 13th annual Detroit Economic Club luncheon that featured the team. "We have proven some people wrong, but we still have some more we have to prove wrong."
Greene claimed his 12th save Friday with a scoreless ninth inning.
Chicago, 0-4 in games with Detroit this season, will pitch left-hander Hector Santiago (0-2, 5.17 ERA) on Saturday against Tigers left-hander Francisco Liriano (3-1, 3.42).
Santiago worked 2 1/3 innings of scoreless relief in the White Sox' first series against the Tigers. He is 3-6 with a 3.42 ERA in 20 career games (12 starts) against Detroit.
Liriano has yet to pitch against Chicago this season but over his career the left-hander is 6-4 with a 4.39 ERA in 18 games (12 starts).
Infielder/DH Matt Davidson was not in the starting lineup for a third straight game Friday because of lingering back stiffness.
"He's doing better, and we'll continue to see how he goes through the rest of his day as they're treating him," White Sox manager Rick Renteria said. "Back spasms are tricky. You don't want to create or cause them to happen again. But he's starting to feel better again."
Davidson provides Chicago with some power. He is batting .243 with 11 home runs through 42 games.
"Thankfully, we have a group of men that want to keep pushing, and we do have to stop them. That's actually a good thing. Not necessarily a bad thing," Renteria said. "But we have to be mindful of where they're at, and what they're doing, and make sure that we take care of them."
Detroit got an injured player back Friday as third baseman Jeimer Candelario (left wrist tendinitis) activated from a two-game rehab assignment. The Tigers optioned outfielder Mikie Mahtook back to Triple-A Toledo to create a roster space.
The Tigers could have lopped Victor Reyes from the roster but have committed themselves to keeping the Rule 5 pick all season. Reyes has three hits in 31 at-bats and has been used almost exclusively as a pinch-runner.
"We've got (Reyes) on the roster to keep him here," manager Ron Gardenhire said. "We talked about it after the last road trip. We've got to do a better job of getting him in ballgames. He's got to play and he's got to get at-bats."
Detroit also could have returned veteran infielder Pete Kozma to Toledo, but Gardenhire said he wanted to keep two extra infielders -- Kozma and Niko Goodrum -- in case Candelario's wrist problems come back.
"We need our infielders," Gardenhire said. "Goody has been playing all over the place. And we've got Reyes. Mikie was the only place we could go because of the situation with our roster.
"Mikie doesn't need to sit up here and watch Jonesy play," Gardenhire said, referencing starting left fielder JaCoby Jones. "He needs to hit. He needs to get his swings and keep swinging. Because there will be a time, we know it's going to happen, when he'll be back up here and he'll be playing.
"But right now we have to see if (center fielder Leonys) Martin can get back to himself and see if Jonesy can maintain. But Mikie needs to get at-bats. He doesn't need to sit here and watch."
---
---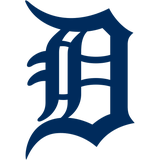 Get more from Detroit Tigers
Follow your favorites to get information about games, news and more
---