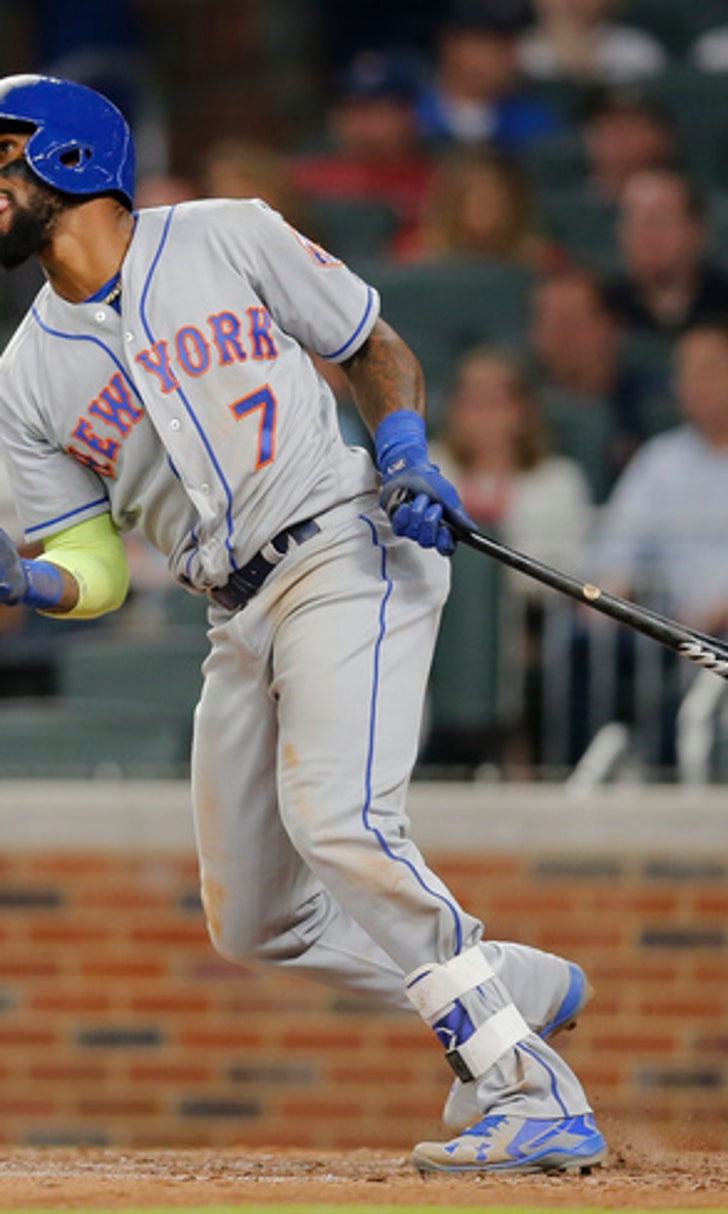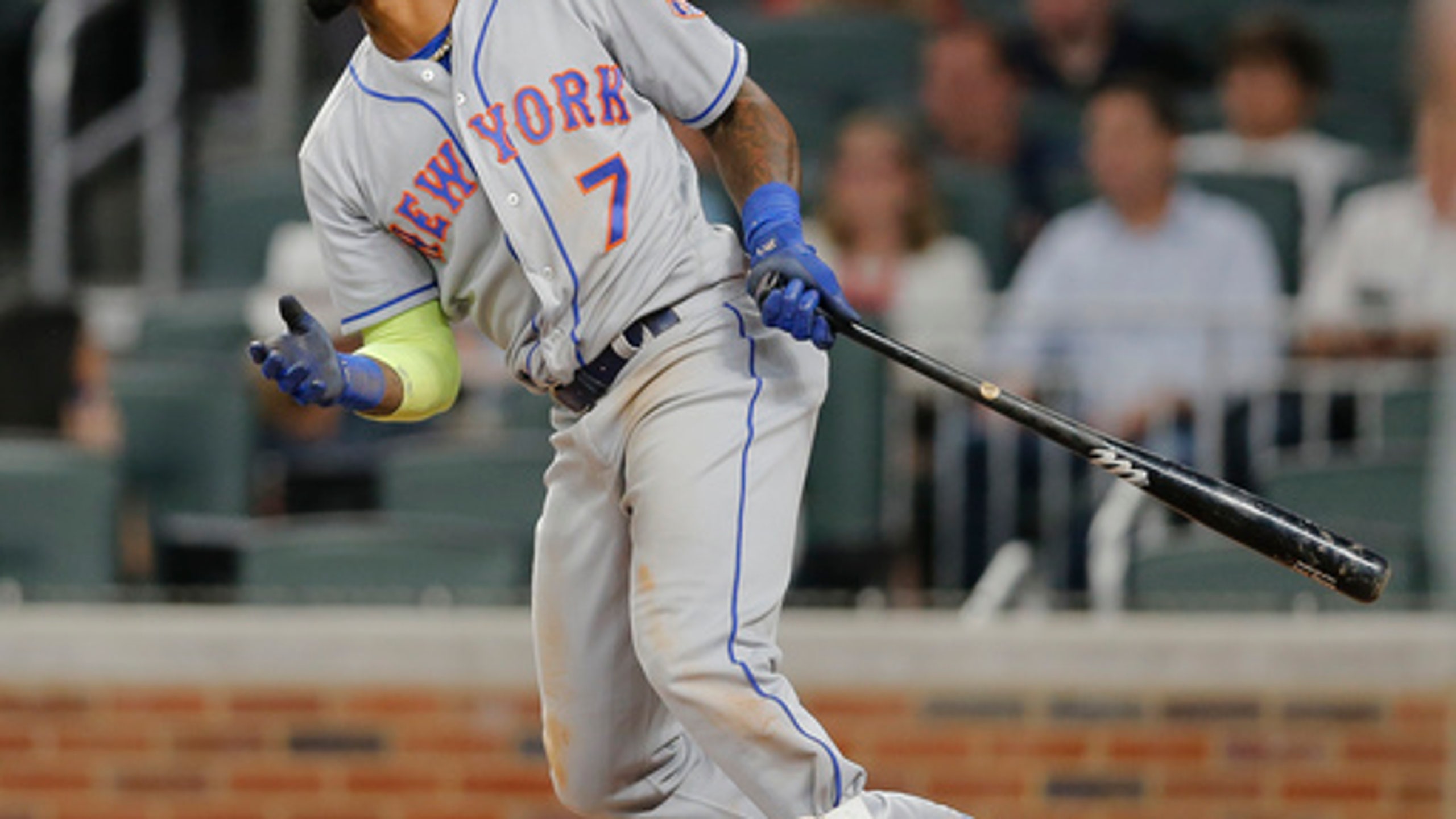 Reyes has 5 RBIs, Mets pound 20 hits off Braves in 16-5 rout (May 03, 2017)
BY AP • May 4, 2017
ATLANTA (AP) Early on, the New York Mets made two silly base-running mistakes, both resulting in double plays.
By the end of the night, it hardly mattered.
Jose Reyes matched a career high with five RBIs and the Mets pounded out 20 hits, cruising to a 16-5 rout of the Atlanta Braves on Wednesday.
''You're starting to see better at-bats, better pitch selection,'' manager Terry Collins said. ''That's the big difference right now.''
Rene Rivera drove in three runs, while Michael Conforto and even pitcher Jacob deGrom had two RBIs apiece.
Reyes had a run-scoring single in the third, a sacrifice fly in the fifth and finished off the Braves with a three-run double in the eighth.
DeGrom (2-1) struggled on the mound, surrendering eight hits, walking five and giving up five runs. He threw 109 pitches before being lifted after five innings, just long enough to qualify for the win.
''The outing is frustrating for me,'' he said. ''What did I walk? Five guys? I feel good early on and don't know what's happening later in the game. I don't know if I'm trying to do too much or something and lose control.''
The Mets jumped all over former teammate Bartolo Colon (1-3), who spent the last three seasons in New York. The 43-year-old lasted just four innings, giving up five runs, seven hits and two walks.
Colon was much more effective in his first start of the season against the Mets - a six-inning stint on April 5 at New York in which he allowed only two hits and a run. This time, he fell behind 5-0 by the third.
''He's getting too much of the plate,'' Braves manager Brian Snitker said. ''A lot of his pitches are right down the middle. It's about location for him.''
Colon's sinker is especially worrisome.
''I feel like I'm missing by big margins,'' he said through a translator. ''Honestly, it doesn't feel like it's sinking lately. When you do that, good teams are going to hit you.''
The Braves closed the deficit to 5-3 before the Mets scored four runs in the fifth off reliever Josh Collmenter, including a two-out, two-run single by deGrom.
The right-hander did his best to keep Atlanta in the game, giving up two runs in the bottom half. But the New York bullpen shut down the Braves the rest of the way, and the Mets turned it into a laugher by equaling a season high for hits, including nine doubles - one off the franchise record.
Eric O'Flaherty and Matt Wisler were pounded for seven runs in the eighth, an outing that apparently earned Wisler a trip back to the minors. He was packing his bag after the game, though the Braves did not immediately announce a roster move.
''You've got to throw up some zeros to give yourself a chance to get back in it,'' Snitker said.
Jace Peterson and Emilio Bonifacio had two RBIs apiece for Atlanta.
FAILING ON THE BASES
The Mets prevailed despite a pair of Little League-like mistakes.
In the first, after already scoring two runs, New York had runners at second and third with only one out when Reyes popped out to the shortstop. Neil Walker took off running from second base, apparently thinking there were two outs. Just before he got to third, teammate Jay Bruce frantically waved him back. It was too late. Dansby Swanson flipped to second in plenty of time to double off Walker, ending the inning.
In the third, it was Reyes who got caught off second on a routine fly ball to right. He lollygagged back to the bag, Nick Markakis fired the ball back to the infield and a surprised Reyes was tagged by Swanson for another needless double play.
TRAINER'S ROOM
Mets: C Travis d'Arnaud was out after leaving Tuesday's game because of a sore right wrist. With d'Arnaud sidelined, New York hastily recalled IF Wilmer Flores, who had missed two weeks with a staph infection in his right knee, from Triple-A Las Vegas.
Braves: 2B Brandon Phillips rested his sore left groin after playing the last four games, including three starts.
UP NEXT
Mets: RHP Zack Wheeler (1-2) brings a career record of 4-2 with a 2.94 ERA in eight starts against his hometown team. He is a native of Smyrna, which is only about 3 miles from SunTrust Park.
Braves: LHP Jaime Garcia (1-1) will make his sixth start of the season. He is 2-4 with a 3.06 ERA in eight career starts against the Mets.
---
Follow Paul Newberry on Twitter at www.twitter.com/pnewberry1963. His work can be found at http://bigstory.ap.org/content/paul-newberry.
---
For more AP baseball coverage: https://apnews.com/tag/MLBbaseball
---
---