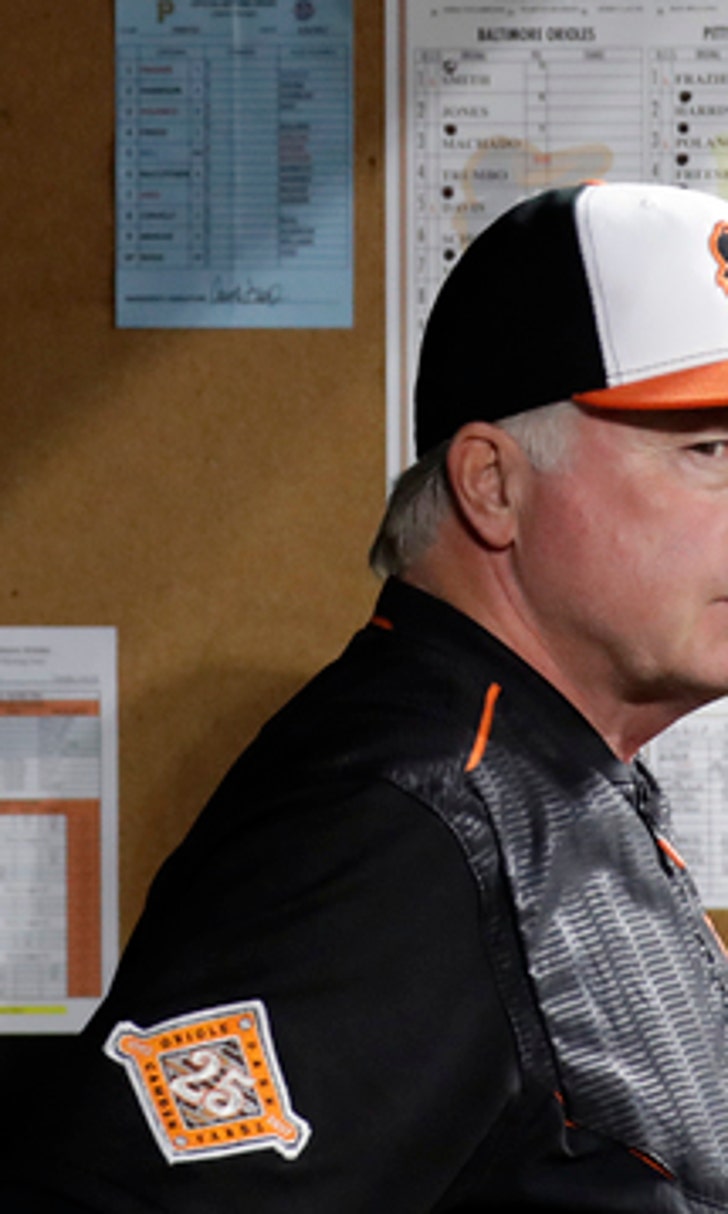 Orioles put reliever O'Day on DL; Machado out again
BY AP • June 10, 2017
NEW YORK (AP) Darren O'Day was placed on the 10-day disabled list Friday with a right shoulder strain, a significant blow to the Baltimore Orioles' bullpen just before a three-game series against the AL East-rival Yankees.
The move was made retroactive to Wednesday. Right-hander Stefan Crichton was recalled from Triple-A Norfolk and gave up two runs in 1 1/3 innings during an 8-2 loss to New York.
''I've been feeling great, pitching good. This came out of nowhere,'' O'Day said. ''I wish I knew, try to figure it out. This is something I've had to deal with. I've had a torn labrum since 2009, so it's happened a few times in my career. It's just part of it. It's not natural to throw as much as we do. We'll try to figure it out and try to stay on top of it.''
In addition, All-Star third baseman Manny Machado sat out for the second consecutive game. He injured his left hand and wrist when he was spiked by Pittsburgh star Andrew McCutchen on a double steal Wednesday.
Orioles manager Buck Showalter said Machado was feeling a little better but still a bit sore. Showalter said the team will soon need to decide whether to put Machado on the DL.
''I would think it'd be sooner than later,'' Showalter said.
The slumping Machado was batting .213 with 12 homers and 27 RBIs.
Baltimore catcher Welington Castillo went 0 for 3 in a rehab game for Double-A Bowie at Trenton and was expected to be activated before Saturday night's game at Yankee Stadium. Castillo has been on the 10-day DL since May 31 with a testicular injury.
All-Star center fielder Adam Jones was feeling better and back in the lineup after receiving a rest Thursday night against Washington.
O'Day, one of the team's primary setup men, is 1-1 with a 3.86 ERA and two saves in 24 appearances this season. The submarine right-hander has 29 strikeouts in 23 1/3 innings.
''I think it's pretty similar to what I had early in the season,'' O'Day said, referring to his sore shoulder. ''I felt it Tuesday night against the Pirates. Really, there's no explanation for why it happened. It started hurting me, so Buck was able to stay away from me the past couple of nights and then I had to make a decision today. I felt like if I pitched tonight it would probably make it worse and be out for longer, so I made the decision.''
''Early in the season it took me probably seven days for it to start feeling a lot better and then I felt great. Pitched good for six weeks, whatever, so hopefully that's the case again,'' the reliever added. ''I'm optimistic that it's just going to be the tenure of the deal because I went through it earlier in the season, kind of have an idea of what's going to happen.''
Baltimore also is missing All-Star closer Zach Britton, on the DL since May 5 with a left forearm strain. He's thrown two full bullpens and is scheduled for one more before pitching batting practice.
''So everything's progressing well there,'' Showalter said.
Backup infielder and utilityman Ryan Flaherty (right shoulder strain) was cleared by a doctor to begin throwing at the team's facility in Sarasota, Florida.
Crichton made his major league debut this season and has a 7.45 ERA in six relief outings with the Orioles. He's allowed 20 hits in 9 2/3 innings.
The Orioles are third in the AL East, 4 1/2 games behind the first-place Yankees.
---
More AP baseball coverage: https://apnews.com/tag/MLBbaseball
---
---