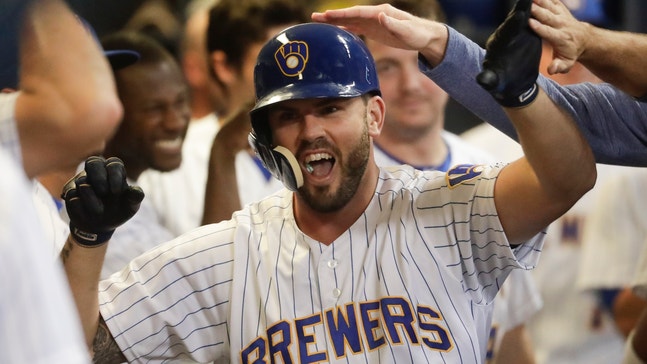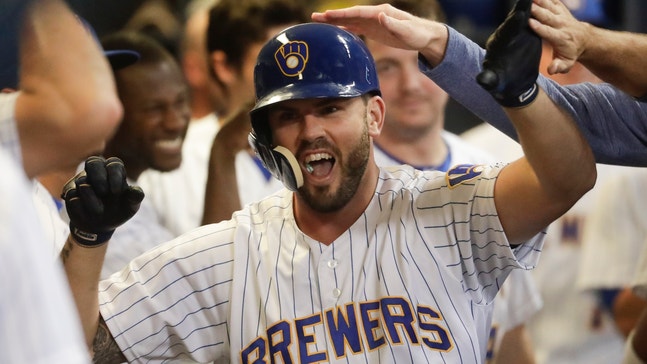 Moose is loose from Brewers; Soria also elects free agency
Updated
Mar. 5, 2020 12:51 a.m. ET
MILWAUKEE (AP) — Milwaukee Brewers third baseman Mike Moustakas is becoming a free agent again, and so is reliever Joakim Soria.
In addition, the Brewers exercised a $3,175,000 option on All-Star right-hander Jeremy Jeffress, who would have been eligible for salary arbitration if it had been declined.
Moustakas declined a $15 million mutual option Tuesday.
He rejected a $17.4 million qualifying offer and left Kansas City after the 2017 season but was unable to find a long-term deal he liked. He returned to the Royals in mid-March for a one-year contract that included a guaranteed $6.5 million: a $5.5 million salary and $1 million option buyout. Moustakas earned an additional $2.2 million in performance bonuses based on plate appearances, raising his total earnings for 2018 to $8.7 million.
A 30-year-old left-handed hitter, Moustakas had a .251 average with 28 homers and 95 RBIs. He hit .256 with eight homers and 33 RBIs in 54 games for Milwaukee, which acquired him from the last-place Royals on July 27.
"I think he provided our team with what we were looking for when we acquired him: a powerful left-handed bat, he played a really quality third base and we had a guy who'd been there before contributing to our clubhouse culture," general manager David Stearns said last week.
Soria declined a $10 million mutual option and gets a $1 million buyout, completing a $25 million, three-year contract he agreed to with the Royals in December 2015. The right-hander was acquired from the Chicago White Sox on July 26 and was 3-1 with a 4.09 ERA in 26 games with the Brewers.
Soria had an 18.00 ERA without a decision in two innings over four appearances in the NL Championship Series against the Dodgers. He was 1-0 and allowed just a hit and no runs in 2 2/3 innings in the Division Series sweep over the Rockies, appearing in all three games.
Moustakas and Soria follow left-handed starters Gio Gonzalez and Wade Miley, along with veteran outfielder Curtis Granderson, in Brewers who became free agents this week. Gonzalez and Granderson were also acquired in separate deals to bolster the Brewers for the stretch run.
Jeffress was 8-1 with a 1.29 ERA and 15 saves. He had a $1.7 million base salary as part of a deal that included a $50,000 signing bonus and earned $550,000 in performance bonuses. Milwaukee has a $4.3 million for 2020.
---
---