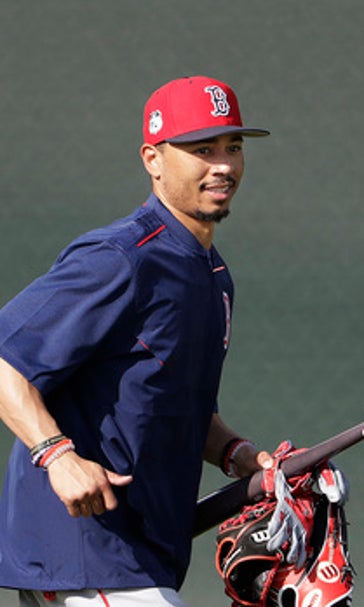 Mookie Betts still relaxed coming off near-MVP season
February 18, 2017

FORT MYERS, Fla. (AP) Mookie Betts isn't about to get caught up in the hype coming off his near-MVP season.
If you mention NBA star Stephen Curry, his eyes light up and he'll chat about how much he loves Curry's game and watching his Golden State Warriors.
Talk to him about his own play, and Betts just shrugs it off as hard work.
Last year, the 24-year-old became a major league star in his second full season, batting .318 with 31 homers and 113 RBIs to finish second behind Mike Trout of the Los Angeles Angels in the AL's MVP balloting.
He's relying on his steady demeanor to guide him again this season.
''Yeah, I did pretty well last year, so obviously there's going to be added expectations and added pressure from the outside,'' he said when asked if he was reminded about his stellar 2016 a lot when he was home during the offseason. ''But, I know from the inside, I've just got to be able to continue to work hard and just let whatever happened happen.''
The right fielder joined elite company in Red Sox history last year. He had two three-homer games, matching Hall of Famer Ted Williams as the only two Red Sox players in more than 100 years with a pair in the same season.
Betts always looks relaxed on the field, after using his quick, smooth swing, solid defensive skills and easygoing attitude to rise rapidly through Boston's system. Red Sox catcher Blake Swihart played with him during two stops in the minors and knows how laid-back he is most of the time.
''He's been that way since I met him,'' said Swihart, who played with Betts in Single and Double-A. ''He's got a lot of confidence in himself and he's going out there every day and he's proving it. That's what made him get to the big leagues so quickly and that's what made him stay for a long time.''
Coming off his first All-Star berth and Gold Glove in 2016, Betts had a simple answer for his success.
''You just know that you have to work. What got me to where I was last year? That's just hard work,'' he said, standing at his locker at the team's spring training complex. ''That's pretty much what I'm going to continue to do.''
Manager John Farrell doesn't think last season's success will have any effect either.
''That's always going to be case by case, but in Mookie's situation, he's such an attentive person,'' Farrell said. ''His aptitude is some of the best I've been around in the game. He's that bright, he's that advanced as far as him processing information and applying it in a moment.
''We're talking about the elite in the game, and the driven and motivated. I don't think Mookie's putting added pressure on himself where he has to hit x-number of extra base hits. It's more he has the ability to stay focused on today.''
Betts knows a lot is expected of him again, now that David Ortiz is retired, and he's taking it all in stride.
''I've just got to try and find a way to do it,'' he said. ''That's the only way.''
NOTES: The team held what Farrell called a ''crisp workout'' and worked on fundamentals in the second full-squad day. . Every position player took BP, with Hanley Ramirez, Pablo Sandoval and Dustin Pedroia drawing the biggest crowds on a back field. . Farrell explained that due to the reporting date, there was an extra day built into the schedule and that the team ''took the advantage to keep all the pitchers off the mound.'' They'll return to live BP, with pitchers throwing Sunday.
---
---