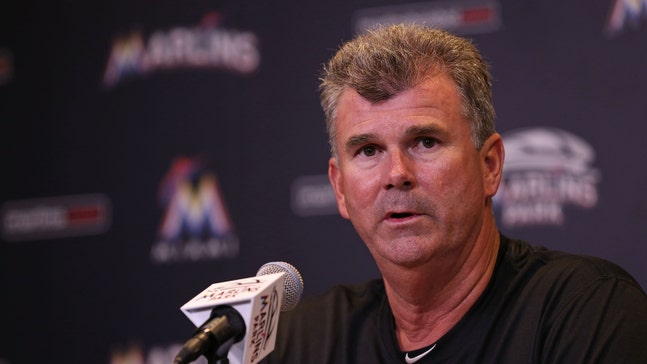 Marlins lose grievance in dispute over Dan Jennings' salary with Nationals
Published
Mar. 15, 2016 7:56 p.m. ET

A temporary truce exists in the dispute over what the Nationals will pay former Marlins manager and executive Dan Jennings.
The commissioner's office ruled against the Marlins after the team filed a grievance objecting to Jennings' salary with the Nationals, major-league sources confirmed.
Jennings will earn approximately $115,000 on a one-year contract, including benefits, as a special assistant to general manager Mike Rizzo, sources said. The Marlins are obligated to pay the balance of the $1.5 million that Jennings is owed in 2016, according to the Miami Herald.
However, the Marlins can renew their objection over the amount the Nationals will pay Jennings if his duties prove more significant than the Nats originally portrayed, sources said.
The Herald first reported the dispute on Monday. The decision by the commissioner's office came prior to spring training, as first reported by the Washington Post.
A team that signs a player who is released under a guaranteed contract owes that player only a prorated portion of the $507,500 major-league minimum salary, with his original team responsible for paying him the rest.
The policies on "off-sets" for executives is different, according to sources, due to the wide range of roles that a club official can fulfill upon joining his or her new team.
The salary the Nationals are paying Jennings is based upon the notion that he will serve primarily as a scout in Florida and Alabama, sources said. The Marlins protested, believing that Jennings will fulfill a position of greater responsibility.
Jennings, in a move that stunned the baseball world, shifted from Marlins GM to manager last May. The Marlins then fired him when they restructured their front office in October.
The agreement between the Marlins and Jennings runs through 2018. The extent of the team's commitment will hinge on whether Jennings continues working for another team — and the nature of the duties that he performs for that club.
---
---