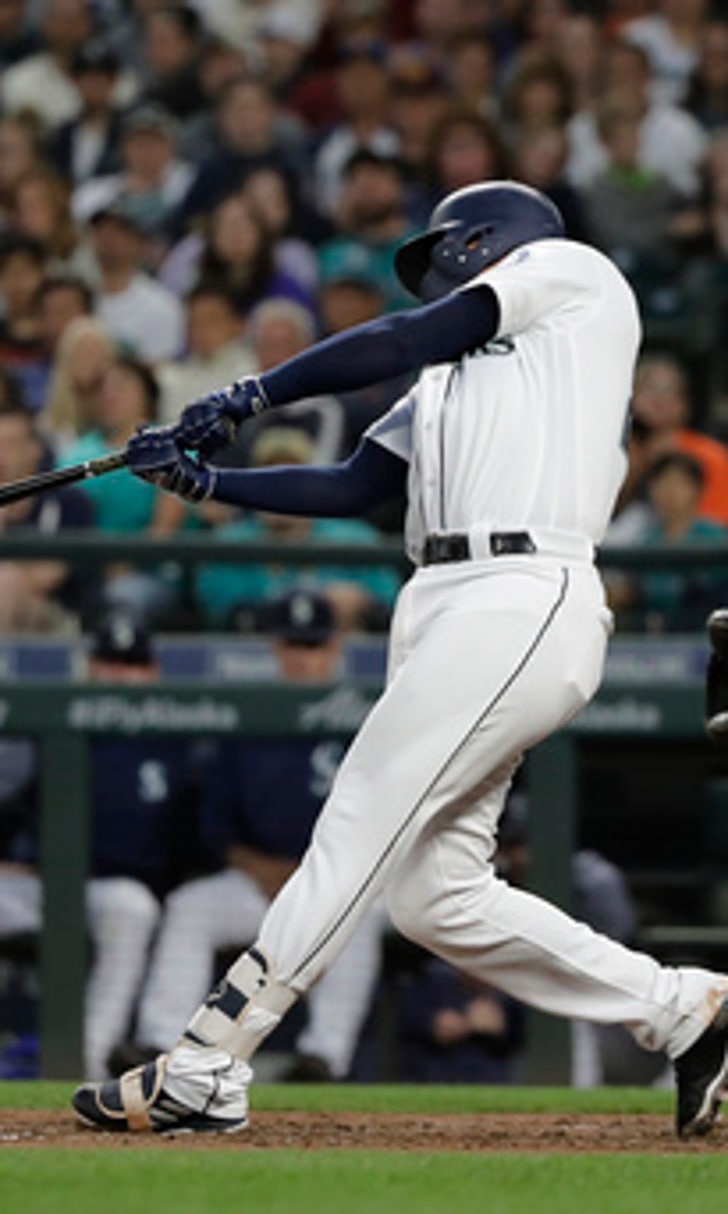 Marco Gonzales keeps rolling as Mariners top Rays 3-1
June 3, 2018
SEATTLE (AP) Marco Gonzales was angry and disappointed, walking off the mound so quickly there was little time to appreciate the standing ovation the Mariners lefty was receiving for another excellent start.
After the way he has pitched the past month, the standard for Gonzales has changed.
''I think the only disappointing thing in his mind tonight was he didn't finish off the seventh inning,'' Seattle manager Scott Servais said. Everything else we were looking for, he's been awesome. He really has.''
Gonzales continued his run of outstanding starts by pitching into the seventh inning and allowing just one run, and the Mariners beat the Tampa Bay Rays 3-1 on Saturday night. Seattle moved into a tie with Houston atop the AL West after winning for the 12th time in 15 games.
Gonzales (6-3) ran his consecutive scoreless innings streak to 24 1/3 before finally giving up an earned run in the sixth inning. It was the only hiccup in another impressive performance by the left-hander who is quickly developing into one of the more reliable arms in Seattle's rotation. Gonzales gave up five hits and struck out six, and was on the verge of getting through the seventh inning before a two-out walk to Christian Arroyo.
That walk, his second of the game, was why Gonzales was so irritated. He also recognized the streak he's been on. In his past four starts, Gonzales has allowed one earned run over 26 innings pitched and struck out 18. Gonzales had not allowed an earned run since his May 12 start against Detroit.
''I earn trust when I can prove myself in those situations and I'm trying to do that,'' Gonzales said.
Ryon Healy homered leading off the sixth inning for Seattle. His ninth home run was a towering shot and the sixth allowed this season by Tampa Bay reliever Wilmer Font. Seattle also got an RBI single from Nelson Cruz and an RBI double from Kyle Seager in the third inning to take a 2-0 lead against Chris Archer. Fireworks normally reserved for home runs at Safeco Field were inadvertently set off for Seager's double that hopped off the wall.
Archer (3-4) allowed two runs in five innings, his shortest outing since going only four innings on April 14 against Philadelphia. Archer left the game early because of tightness in his groin.
''It was a little tight and has been a little tight. I wish I could have given the team a little bit more length, especially coming off a 13-inning game,'' Archer said. ''But from a precautionary standpoint, I think it was smart.''
Gonzales saw his scoreless inning streak end with one out in the sixth as Matt Duffy scored from first on Wilson Ramos' double that hit the top of the wall in left-center, but instead of bouncing over fell back into the field of play.
Alex Colome pitched the eighth and Edwin Diaz worked the ninth for his 20th save. Diaz had struggled in his last two outing, but worked a perfect ninth.
LATE NIGHT
Dee Gordon got some unexpected attention when reporters caught him hitting off a tee on the field around 12:30 a.m. early Saturday morning well after Seattle's 13-inning victory had wrapped up. Gordon was 0 for 6 in the game and spent time hitting in the cage before taking to the field.
Gordon didn't like the attention the extra hitting session received and was reluctant to talk much about it.
''I just needed it,'' Gordon said. ''I've been out for a while. I've got a lot going on, switching positions and everything. I wanted to hit.''
Gordon led off Saturday's game with a single.
BLUNDERS ON BASES
Tampa Bay manager Kevin Cash was still upset Saturday about a pair of base-running errors made by the Rays in Friday's extra-innings loss.
''Look, our guys understand we have to do some better things and some smarter decision-making on the bases. Last night, it showed up and it was ugly,'' Cash said.
It wasn't any prettier Saturday, although there were fewer baserunners. The one notable blunder came when Rob Refsnyder was caught leaning and picked off by Gonzales at first base in the fifth.
UP NEXT
Rays: Lefty Blake Snell (7-3) makes his first career start in his hometown. Snell graduated from nearby Shorewood High School and still lives in the area in the offseason. Snell has not allowed an earned run in his past two starts.
Mariners: Felix Hernandez (5-4) will again try and solve his early inning woes. Hernandez has a 12.00 ERA in the first inning, allowing 16 of the 43 earned runs he's allowed this season.
---
More AP baseball: https://apnews.com/tag/MLBbaseball
---
---