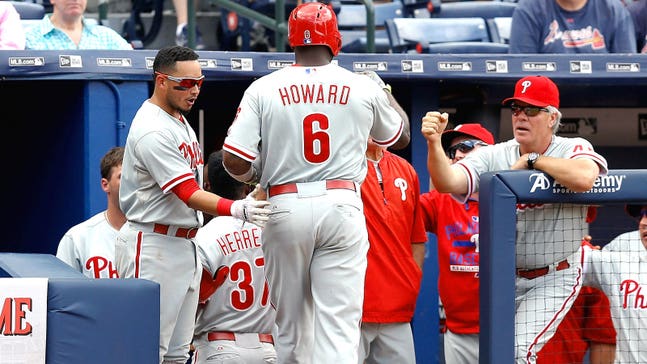 Mackanin admires Phillies' work ethic amid catastrophic season
Published
Jul. 6, 2015 4:09 a.m. EDT

The Philadelphia Phillies are mired in one of the worst seasons in franchise history, but the meager total in their win column isn't indicative of the effort they've exerted this season.
"Everybody works here; moreso than any other team I've ever been on," interim manager Pete Mackanin said.
As they near the All-Star break, the Phillies are an abominable 28-56. For a franchise that is used to winning records, winning is now hard to come by for Philadelphia.
The club has won just two games out of its last 12.
Still, Mackanin assures that the players are pulling their weight.
"Everybody's into a certain program, and, to be honest with you, the guys are working," he said. "My job is to ease the transition to a new manager [next season]. If I feel like we're going backward, or we're stagnant, or giving up, then I would have a meeting. I don't feel that way. I like everything they're doing."
Taking over a team swerving towards a brick wall, Mackanin is looking forward to refreshing during the All-Star break.
"After the All-Star break, once everything is beyond us, we're going to basically start new," Mackanin said. "There might be a few things I might address. Maybe."
(h/t Philadelphia Daily News)

---
---