Aroldis Chapman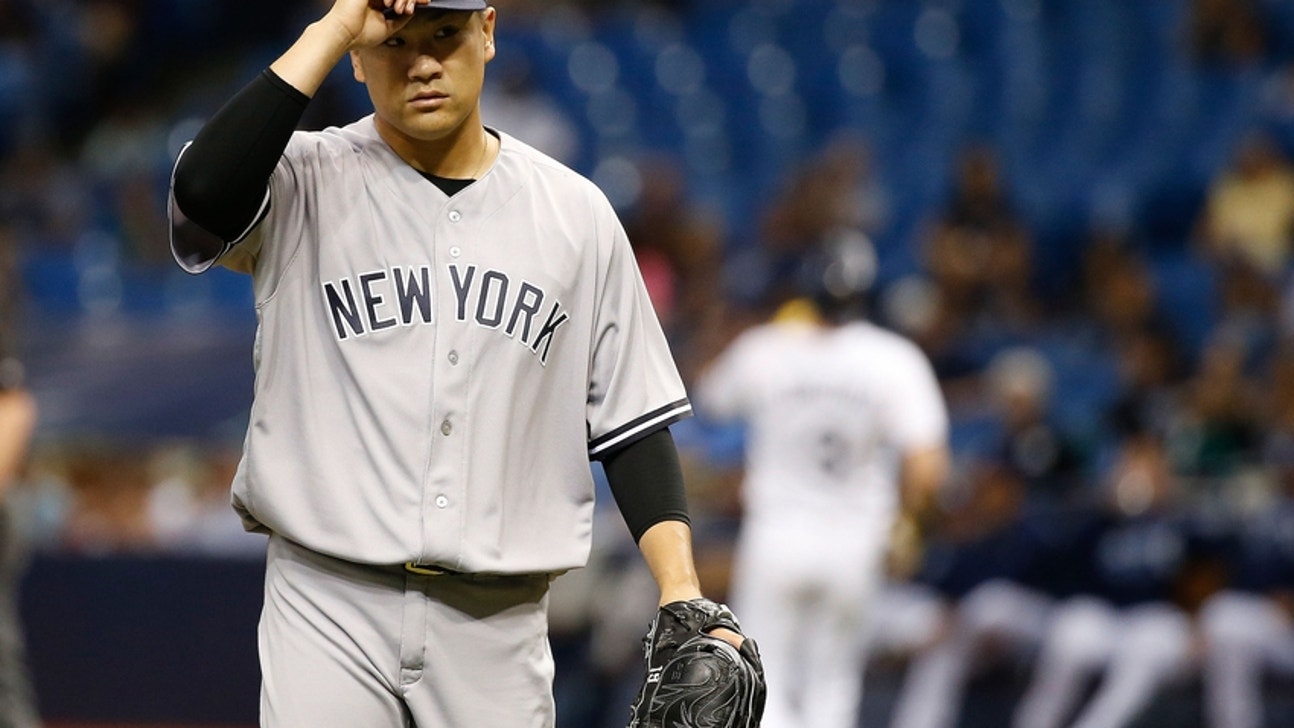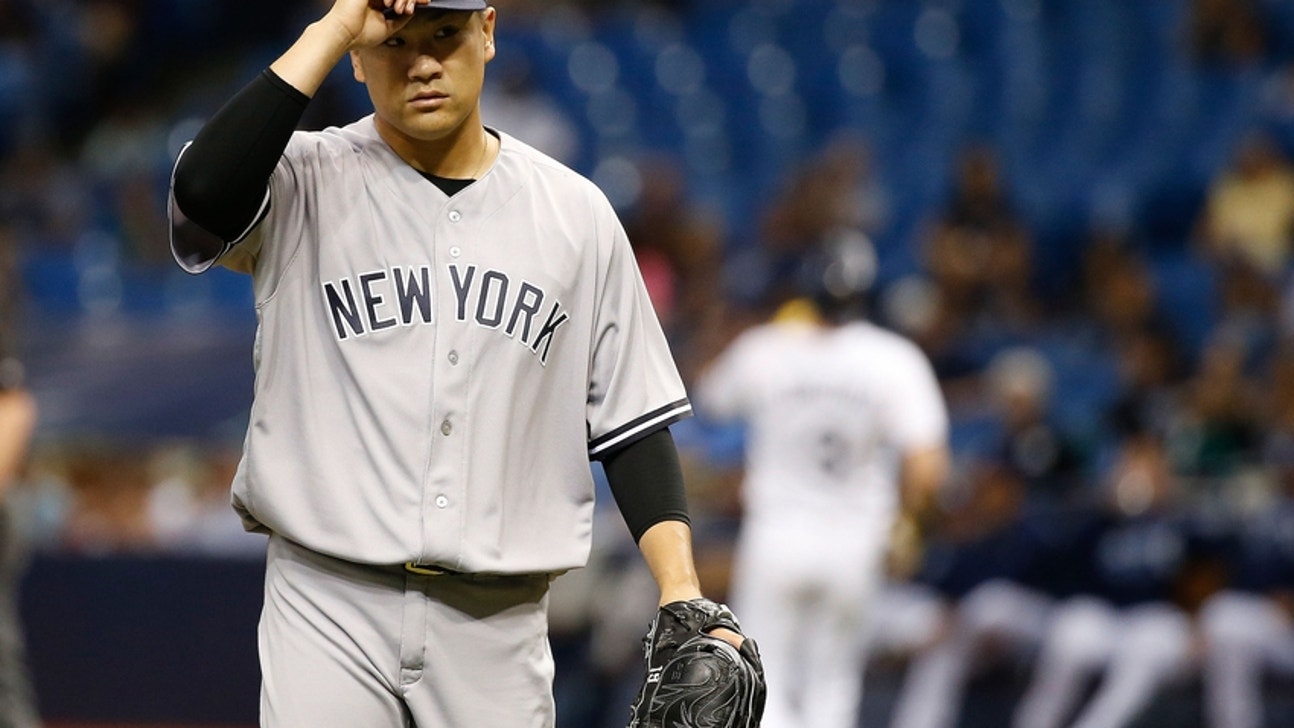 Aroldis Chapman
Looking Ahead to the Next Potential Yankees Fire Sale
Updated
Mar. 4, 2020 4:23 p.m. ET

Fansided, Evan Halpine-Berger/FanSided via Yanks Go Yard
Nov 8, 2016; Scottsdale, AZ, USA; Scottsdale Scorpions infielder Gleyber Torres of the New York Yankees against the Glendale Desert Dogs during an Arizona Fall League game at Scottsdale Stadium. Mandatory Credit: Mark J. Rebilas-USA TODAY Sports
If the New York Yankees under-perform again in 2017, it wouldn't be a surprise to see them sell for the second consecutive year at the August 1st trade deadline.
The Yankees decision to sell at the 2016 August 1st trade deadline was unprecedented and has completely changed the outlook of the  franchise over the next few years. With four trades, general manager Brian Cashman brought a huge influx of talent into the organization, 12 legitimate prospects and as well as beloved MLB swingman Adam Warren.
According to MLB Pipeline, the top two current prospects in the organization, shortstop Gleyber Torres and outfielder Clint Frazier, came over to New York at the deadline, as did five from their top 20 overall. Those acquisitions put them over the top as the game's best farm system and set them up to be sustainable contenders again as soon as 2018-2019
This offseason,New York's front office continues to try and straddle the line between contending and rebuilding. Signing Aroldis Chapman is a clear win-now move. Trading away Brian McCann and possibly Brett Gardner? Not so much.
I don't mind that approach as long as the Yankees would be once again willing to sell off their short-term assets at the deadline next year if they are five or six games out from the second Wild Card in July. That's not being a contender.
If anything, this year's team is even more stocked with attractive trade chips on expiring deals that they could cash in for even more young talent. Let's take a look at which big names the Yankees could shop next summer if things go south in 2017.
Jul 22, 2016; Bronx, NY, USA; New York Yankees starting pitcher Masahiro Tanaka (19) pitches during the fourth inning of an inter-league baseball game against the San Francisco Giants at Yankee Stadium. Mandatory Credit: Adam Hunger-USA TODAY Sports
While I would much prefer the Yankees explore an extension with their best player this offseason, there's no denying that Masahiro Tanaka would bring an enormous return next summer if the club made him available. What contender couldn't use an extra front-of-the-rotation arm?
The 28-year-old ace put up his first full, healthy season as a major leaguer in 2016, pitching to a 3.07 ERA and 3.51 FIP in 199.2 IP (31 GS), striking out 20.5% of the batters he faced (8.1 K/9), walking 4.5% (1.6 BB/9). He was also much better about keeping the ball in the park (1.0 HR/9), something that was an Achilles heel his previous season (1.5 HR/9). He was worth 5.4 wins above replacement according to Baseball-Reference.
It's hard to imagine that a half-season of Tanaka would net the Yankees less than a half-season of Aroldis Chapman last year, so one top 20 prospect, another top 100 guy, plus secondary pieces seems like a good starting point. It seems like a good opportunity for the front office to finally find the long-term rotation building block they've been looking for.
The best starters dealt at last year's trade deadline were Drew Pomeranz and Rich Hill, neither of whom have anywhere near Tanaka's track record. The 2015 David Price deal is probably closer, where Detroit acquired 40% of their 2016 rotation in Daniel Norris and Matt Boyd, as well as promising minor league lefty Jairo Labourt.
Frontline starters in their prime are not easy to come by, so I'd much rather see New York try and build around Tanaka for the next few years, but if they know he's going to opt out and aren't going to pony up the money to keep him, they might as well get what they can for him.
Sep 14, 2016; Bronx, NY, USA; New York Yankees relief pitcher Dellin Betances (68) reacts after committing a throwing error during the ninth inning against the Los Angeles Dodgers at Yankee Stadium. Mandatory Credit: Adam Hunger-USA TODAY Sports
Trading away one of the team's most popular homegrown stars would not be easy, but there are many reasons that trading away Betances at next year's trade deadline might be a smart business decision.
The big righty will turn 29 before Opening Day next year and has thrown more innings (247) than any other reliever in baseball since breaking into the big leagues in 2014.
That workload may be beginning to catch up with him, as Betances's struggles with control have become more frequent of late, and while his peripheral stats were right in line with his career norms, his 3.08 ERA was more than double the marks he had posted the previous two seasons.
Betances's WHIP has steadily increased over his three big league seasons. Even when he got the job done in 2016, his appearances were regularly an adventure because of the rate at which he now allows baserunners.
Relievers typically don't have a long shelf life, so the Yankees may want to cash out on Betances sooner rather than later. As long as he has a strong first half, New York should be able to ask for a similar return to what they got for Andrew Miller at last year's trade deadline because both are elite relievers with multiple years of team control.
As with Tanaka, basically every contender would have interest in Betances next summer. The fact that he's not s pure rental could open up his market even further.
Sep 27, 2016; Bronx, NY, USA; New York Yankees relief pitcher Tyler Clippard (29) reacts after the final out against the Boston Red Sox at Yankee Stadium. Mandatory Credit: Adam Hunger-USA TODAY Sports
All Expiring Contracts
The front office's primary focus at last year's trade deadline seemed to be getting something in return for all of their impending free agents. The only player on an expiring contract they did not deal away was first baseman Mark Teixeira, who was hitting below the Mendoza line, had a full no trade clause, and was planning on calling it a career after the season.
Next year's Yankees club has even more attractive rentals when August 1st rolls around, with four key contributors in the last season of their contracts.
More from Yanks Go Yard
If 37-year-old Matt Holliday returns to his previous form as New York's everyday designated hitter in the first half, it's not a stretch to think he could fetch a similar return to what Carlos Beltran got from Texas last year.
As with Tanaka, I'd like to see the Yankees explore a contract extension with Michael Pineda because of how hard it is to find quality starting pitching. As frustrating as he can be, Big Mike is still just 27 and led all of baseball in strikeouts per nine (10.6 K/9) last year and at his worst is still a solid back-of-the-rotation option.
If Pineda gets hot at the right time next year, he could bring back a nice return from a club in need of starting depth. Drew Pomeranz last July is a good example of that.
Want your voice heard? Join the Yanks Go Yard team!
CC Sabathia reportedly drew interest at last year's deadline, so the Yankees shouldn't have trouble finding a taker for the remainder of his 2017 contract at the very least. If they're willing to eat a little money, a quality prospect or two isn't out of the question.
Relief help is always in high demand at the deadline as well, so it would not be at all surprising to see setup man Tyler Clippard change hands at his third straight trade deadline. He brought back a talented young arm in Vicente Campos for Arizona last year.
---
---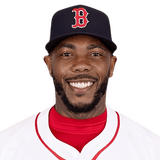 Get more from Aroldis Chapman
Follow your favorites to get information about games, news and more
---