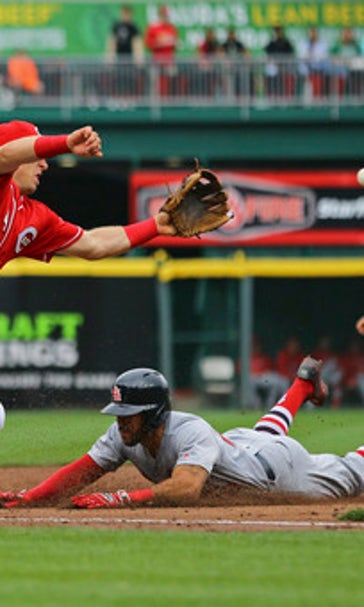 LEADING OFF: Wintry weather, Verlander vs Colon, Reds skid
April 15, 2018
A look at what's happening all around the majors Sunday:
OHTANI UP
Shohei Ohtani makes his third major league start on the mound for the Los Angeles Angels, who have won seven in a row. The two-way sensation from Japan pitches at Kansas City, where the forecast calls for temperatures in the 30s and winds of 20 mph. ''Playing a game like that, I don't know if I've ever experienced that cold,'' Ohtani said through a translator.
Ohtani has twice faced the A's, going 2-0 with a 2.08 ERA in 13 innings, allowing just four hits and striking out 18. He's not expected to bat - he's hitting .367 with three home runs and 11 RBIs in 30 at-bats, mostly starting as a designated hitter.
WICKED WEATHER
Snow is possible at Fenway Park, rain is likely at Citi Field and cold conditions are in the forecast at Wrigley Field, raising the possibility of more postponements in a season already beset by wintry weather. The White Sox-Twins game at Target Field has already been called off - for the third straight day - with snow piling up. Rain is predicted in Detroit, Cleveland, Cincinnati and Washington, putting those matchups in jeopardy.
The Cubs beat the Braves 14-10 on Saturday at Wrigley, where it was 38 degrees with a 24 mph wind and steady mist at the start. The conditions worsened as the game went on, but this was Atlanta's only visit to Chicago this season, so they finished.
''Baseball is not necessarily designed for this,'' Cubs manager Joe Maddon said. ''I don't know to what extent in the future, maybe, they can talk about when even if it's not actually physically snowing or raining, there might be elements that are not conducive to playing a legitimate game of baseball.''
V FOR VICTORY
Astros ace Justin Verlander has won nine straight regular-season games. He's 2-0 with a 1.45 ERA in three starts this year going into Sunday night, when Houston hosts Texas. Bartolo Colon will make his second start for the Rangers - the 44-year-old has a 1.64 ERA in three games so far.
NOAH'S ARM
With rain in the chilly forecast, Noah Syndergaard (2-0) tries to keep the Mets rolling against visiting Milwaukee. Syndergaard is 2-0 with a 0.69 ERA in two career outings vs. the Brewers, both at home. He has struck out 16 and walked one in 13 innings. Rookie catcher Tomas Nido will get his third big league start and first this season, manager Mickey Callaway said. Jhoulys Chacin (0-1) is scheduled to make his fourth start for Milwaukee. Opponents are hitting .333 with three homers against Chacin, who signed a $15.5 million, two-year contract after going 13-10 with a 3.89 ERA for San Diego last season. He is 2-5 with a 6.10 ERA vs. the Mets, including an 8.38 mark in five outings at Citi Field.
CHECK HIM
Red Sox outfielder Mookie Betts bruised his left foot in a collision with Baltimore catcher Chance Sisco's left shin guard when he scored Saturday, and came out a few innings later. Boston manager Alex Cora said Betts will likely have the day off. ... Washington third baseman Anthony Rendon was out of the starting lineup Saturday for the first time this season. He left Friday night's game after fouling a ball off his left big toe. X-rays were negative, and Nationals manager Dave Martinez says Rendon is day to day.
REDS FEELING BLUE
The Reds are off to their worst start since 1931 with a 2-12 record that's puts them at the bottom of the major league standings. Cincinnati has lost at least 94 games in each of its last three seasons. The Reds try to end a seven-game skid when Homer Bailey pitches against Carlos Martinez and the visiting Cardinals.
JACKIE ROBINSON SALUTE
All players, managers, coaches and umpires will wear No. 42 as part of Jackie Robinson Day, when Major League Baseball pays tribute to the anniversary of the day the Brooklyn Dodgers great broke the color barrier on April 15, 1947. His wife, Rachel, and daughter, Sharon, are scheduled to be at the ballpark when the New York Mets host Milwaukee. At Dodger Stadium, fans will get Robinson jerseys at the game between Los Angeles and Arizona.
---
---