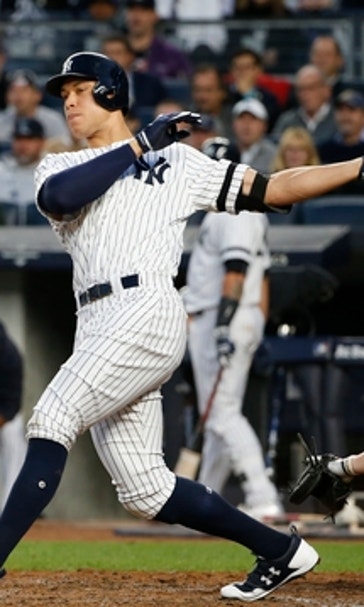 LEADING OFF: Verlander, Astros try to force Game 7 vs Yanks
October 20, 2017

A look at what's happening all around the majors today:
---
TRUST IN JUSTIN
Justin Verlander and the Astros try to stave off elimination and force a decisive Game 7 in the AL Championship Series when they host the New York Yankees at Minute Maid Park (8:08 p.m. EDT). Verlander has won all eight outings with Houston since arriving in an Aug. 31 trade, including his first career relief appearance during the Division Series clincher at Boston. The 2011 AL MVP is 10-5 with a 3.18 ERA in his postseason career, and an 11th win would tie him with Greg Maddux and Curt Schilling for fifth place all-time. Young ace Luis Severino starts for New York in a rematch of Game 2, when Verlander struck out 13 in a complete game and threw a season-high 124 pitches for a 2-1 victory. The Yankees have shown they can adjust, though. Houston's other Cy Young Award winner, Dallas Keuchel, dominated Game 1 before taking a 5-0 loss in Game 5.
ROAD TO PARADISE
The wild-card Yankees have two chances to win one game in Houston for their record 41st trip to the World Series and first since 2009. After going 51-30 at home during the regular season, the AL's best mark, New York is 6-0 at Yankee Stadium in these playoffs but only 1-4 on the road. Didi Gregorius and the Yankees did win a decisive Game 5 in Cleveland to take that Division Series, but the home team has won all five games in the ALCS so far. New York just outscored the Astros 19-5 in three straight victories at home but was beaten 2-1 in each of the first two games at Minute Maid Park.
RIGHT BACK TO WORK
Clayton Kershaw is already scheduled to pitch the World Series opener on regular rest Tuesday night, which means he has work to do. The Dodgers' ace will begin prepping for the Yankees or Astros a day after Los Angeles eliminated the defending champion Cubs in Game 5 of the NL Championship Series for its first pennant since 1988. Kershaw tossed six smooth innings in the 11-1 win and is excited for his first World Series. ''It's been a long time coming for this team,'' he said before entering a booze-soaked clubhouse at Wrigley Field.
GETTING HEALTHY
All-Star shortstop Corey Seager is expected to return for the Los Angeles Dodgers in the World Series after missing the NLCS because of back pain. Seager watched from home as the Dodgers eliminated the defending champion Chicago Cubs in Game 5 on Thursday night. Los Angeles manager Dave Roberts said Seager is ''doing everything he can to get healthy'' and the Dodgers ''expect him back for Game 1.''
JUDGEMENT DAY
The Yankees' top hitters are heating up as October wears on. Once mired in a postseason slump, Aaron Judge is batting .313 with two homers in the ALCS. Gary Sanchez and Didi Gregorius each had two hits in Game 5. Sanchez was hitless in the series before ripping a go-ahead, two-run double in the eighth inning of a 6-4 win in Game 4. On the flip side, Judge has 24 strikeouts, two shy of the Yankees' Alfonso Soriano in 2003 for the most in a single postseason.
NEW SHERRIFF IN TOWN?
The Detroit Tigers could be close to hiring a manager. The team was in talks Thursday with former Minnesota skipper Ron Gardenhire, according to a person with knowledge of the discussions. The person spoke on condition of anonymity because no announcement had been made. Gardenhire was the bench coach this season for the Arizona Diamondbacks. He managed the Twins from 2002-14. The Tigers are replacing Brad Ausmus after four seasons at the helm. Detroit finished tied for the worst record in the majors this year at 64-98 and faces what figures to be a tough rebuilding process.
---
More AP baseball: https://apnews.com/tag/MLBbaseball
---
---