How two men brought hope back to the Chicago Cubs
BY Alex Rodriguez • October 23, 2016
I'll never forget the last walk I took around Wrigley Field as a player.

It was the summer of 2011. As I walked from the first-base dugout toward the batting cage behind the right-field wall, I stopped to take in the ivy. How could you not? The ivy was perfect and so obviously well cared for. It seemed like the only thing in Wrigley with growth potential.

In those days, like the stadium they played in, the Chicago Cubs were run down. They had a limited major-league roster, a second-rate farm system, and no plan for the future. Wrigley Field's facilities were small, dark and old. The ceilings were so low I remember I had to bend over to walk through the tunnel to the dugout.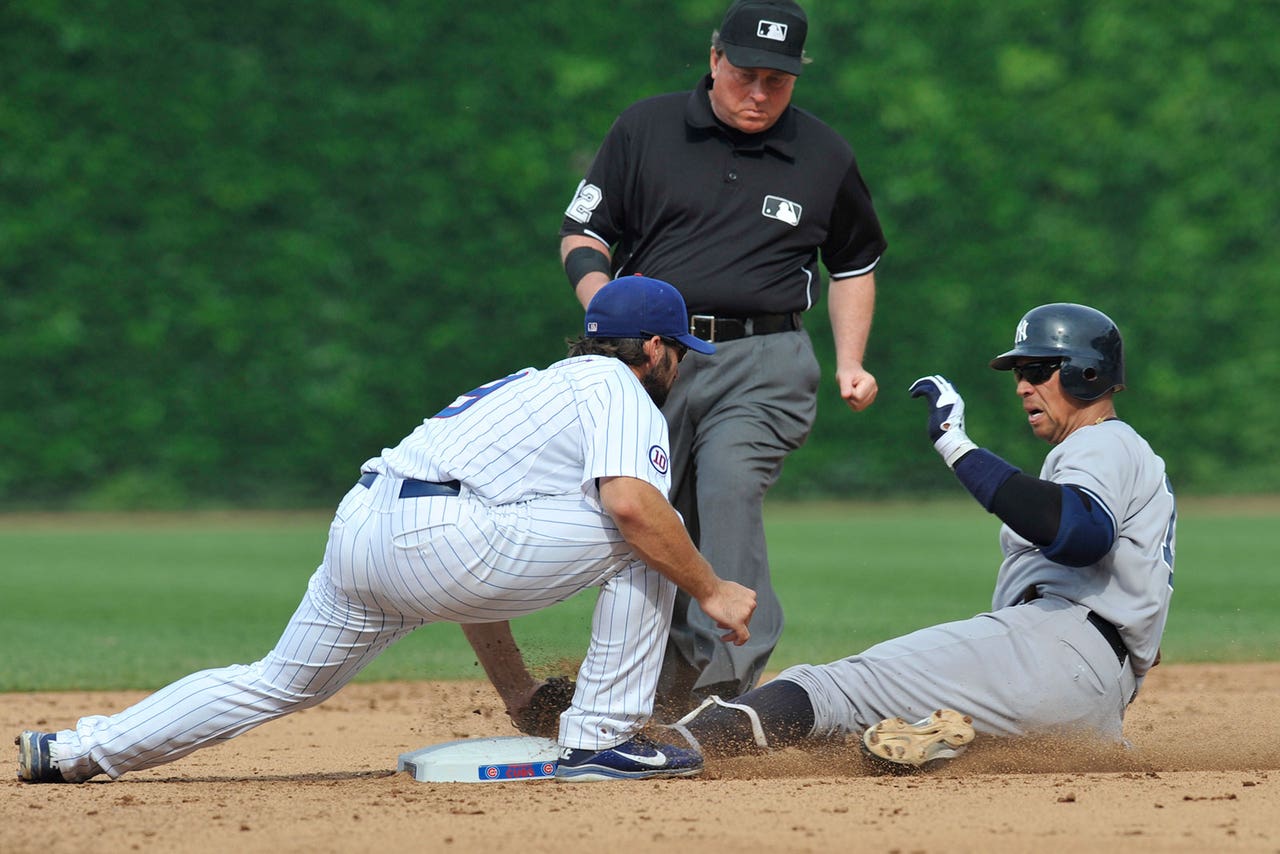 Alex Rodriguez, during his final series at Wrigley Field

It had been 103 years since the team had won a World Series, and as I disappeared into the ivy's green perfection, I couldn't help but think to myself that it would probably take another 103 years for them to win again.

Never in my wildest dreams would I have imagined they'd make it to a World Series five years later.

The turnaround of the Chicago Cubs is a case study in how to bring a team or a business back to life. It all comes down to Tom Ricketts' willingness to invest in the Cubs for long term growth and his ability to both identify top managers and give them true autonomy.

Earlier this month, I sat in Ricketts's office and listened as he told me about his life before and after the Cubs. When Ricketts discusses the team, it's clear he isn't just talking about an investment. A lifelong fan, he talks about the Cubs like they're family. His connection to the city of Chicago, to the fans, and to the stadium is obvious.

Ricketts spent his first year as owner observing his surroundings quietly. He'd taken on a club with a passionate fan base and an iconic brand, but it wasn't hard to spot problems. Team employees worked in construction trailers outside of Wrigley because there wasn't space inside the park. The infrastructure of the stadium, invisible to most fans, was badly in need of repair.

Ricketts is the son of T.D. Ameritrade founder Joseph Ricketts (who founded the company when Tom was 8 years old). He grew up in Omaha, Neb., which is also the home of Warren Buffett — a man with whom he shares a belief in long-term value investing.

Ricketts decided to invest heavily in the Cubs. According to public reports, he purchased the Cubs for $875 million in 2009 and, by the time it's finished, likely will have invested an additional $700 million-plus in improvements to the stadium and surrounding neighborhood.

Ricketts led me around Wrigley, pointing out different improvements he's already made — some massive, some subtle, all important. He renovated the players' clubhouse, adding a state-of-the-art weight room, new batting cages, a video room. He even built a green juice bar and hired a full-time chef to provide organic and gluten-free nutrition options. He moved the Cubs' staff into a suitable office nearby and construction on a brand new facility is underway. He's added better restrooms, two new scoreboards — which were met with some controversy by the neighborhood — two new batting cages, and better concession stands.

These changes did more than improve the Wrigley Field experience. They signaled to the baseball world that Ricketts was invested emotionally and financially in making the Cubs a winning team. Those commitments helped him attract top talent to lead the turnaround.

His next move: hiring the best executive in baseball.

When Ricketts took over the Cubs, he started a search for the ideal president to lead his team. The response was almost unanimous: Theo Epstein was the man for the job.

Every baseball fan knows Theo Epstein as the manager who, with support of committed ownership, broke the Boston Red Sox curse. What sets Epstein apart isn't his undergrad degree from Yale or his law degree from the University of San Diego, or even his World Series rings. It's his exceptional attention to detail. He's focused on every element that touches his team whether it's selecting managers and players, or choosing the chefs in the clubhouse, the food on the menu, even the weights in the weight room.

The year before the Red Sox ended the curse, I got a chance to see Theo Epstein at work when he tried to bring me to Boston. I remember that experience well. Epstein, Red Sox assistant manager Jed Hoyer, and I all flew to New York and holed up in a suite at the Four Seasons for a secret negotiation.

The commissioner's office and Players Association had given us special permission to talk, but only a 72-hour window to strike a deal. We worked all night and agreed I would take a major pay cut to be part of what Jed and Theo were building. In the end, the deal we negotiated wasn't approved.

What I remember best about that time was watching Theo furiously scribbling out the Red Sox lineup for the upcoming season on a room-service napkin. That's when I saw Theo's baseball mind at work. I saw he had a passion for the game, a depth of knowledge, and a thirst to be great. Theo's passion was contagious. We were three 20-somethings convinced we were about to turn baseball upside down together. Though I never got a chance to work with Theo, I knew then that he was going to be a force.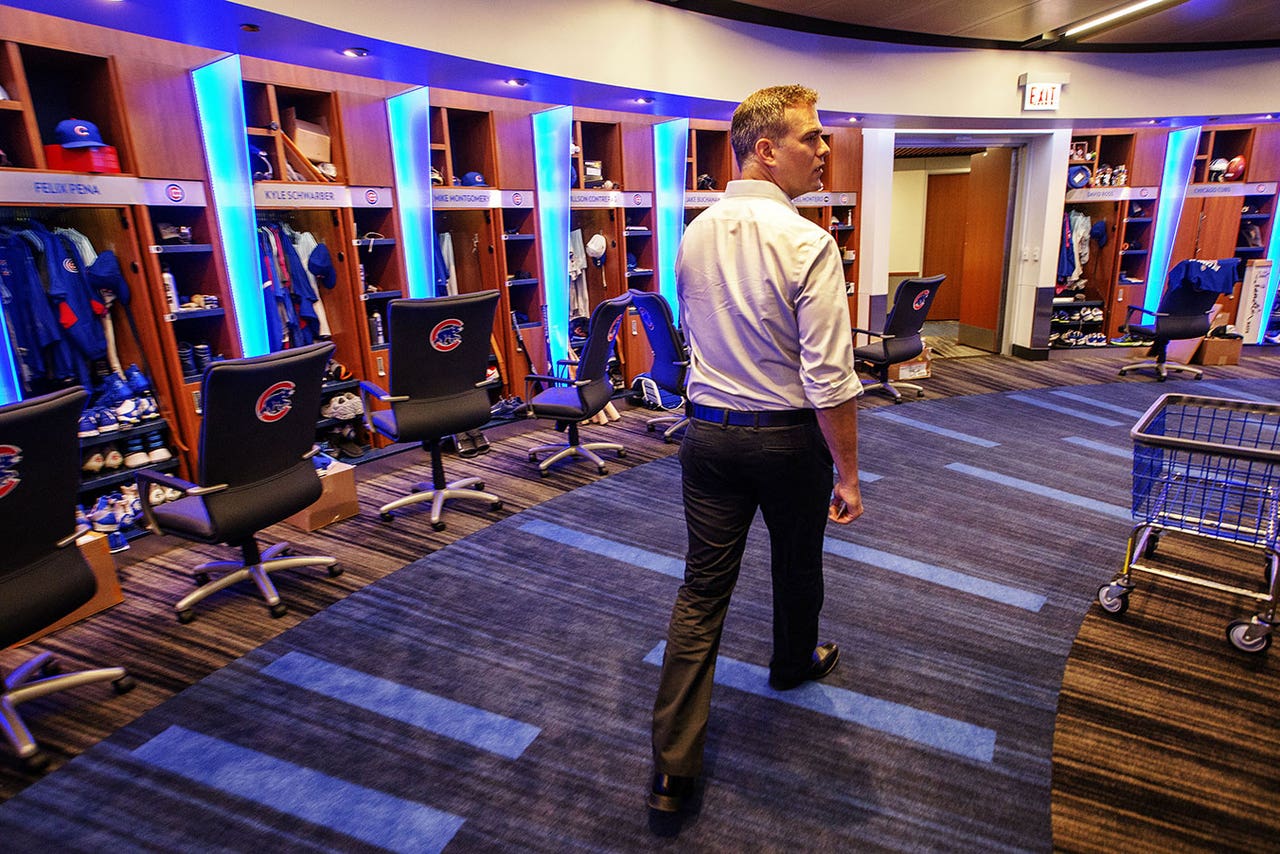 Theo Epstein, touring the new Cubs locker room

Tom Ricketts understood that too.

Not only did Ricketts hire Epstein — at a price that made critics howl — he gave him true autonomy to work his magic. Epstein earned his salary, by changing the culture of the Cubs in five short years.

How did he do it?

You've probably read that Epstein walked to Fenway Park each day when he was with the Red Sox. Maybe you saw him sitting in the outfield bleachers at Wrigley earlier this year. It isn't an act.

People in the organization tell me he regularly puts in 18-hour work days. During spring training, if you get to the gym at 5 a.m., you'll find Theo already done working out, showered, and heading to his office. On road trips, he's often up at 6 a.m. playing basketball. That work ethic sets the standard for everyone around him.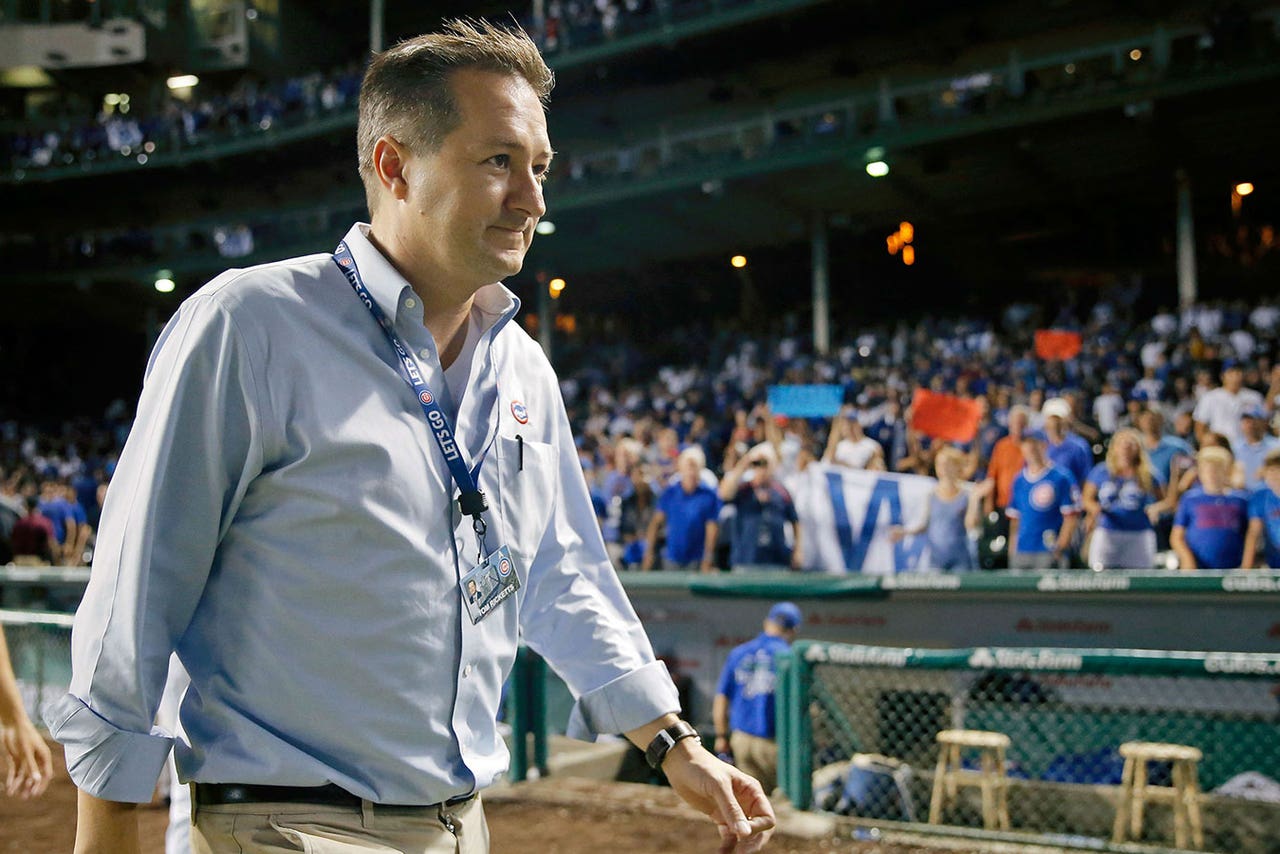 Tom Ricketts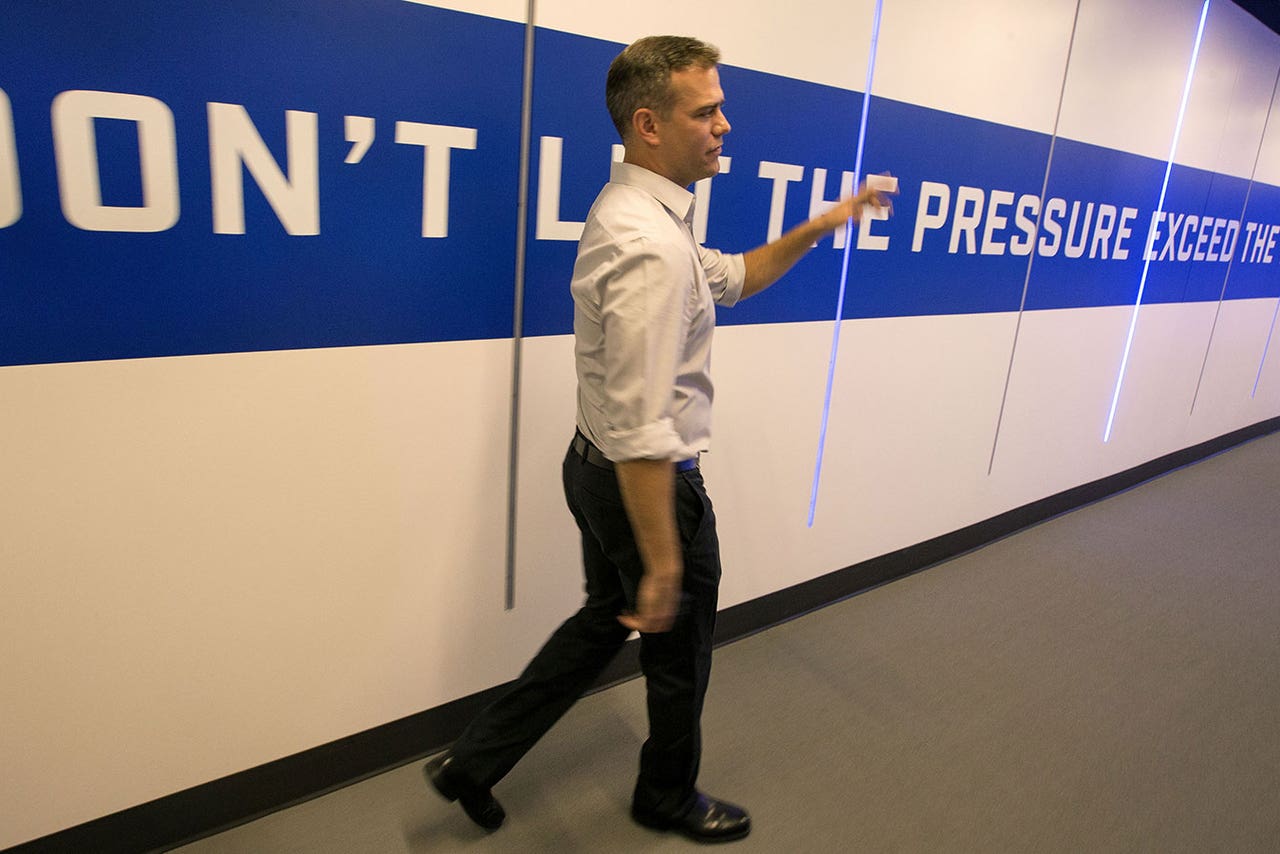 Theo Epstein, in the new Cubs clubhouse

Players describe Epstein as a guy who is never satisfied. He cares about everything from who's pitching the World Series to what kind of kale is available for the clubhouse juice bar. Staff at all levels of the organization say he's highly approachable, always asking for input from people throughout the Cubs family. He regularly calls meetings with players to take the pulse of the team and hear firsthand about any issues or areas for improvement.

Epstein even instituted new programs to improve quality of life for the players' wives. The club offers tours of Chicago, special arts teachers for kids in daycare, and a role in charity organizations in the Chicago community. To a sports fan, all of this might sound irrelevant. But those quality of life factors make the Cubs a team top players want to join and feel reluctant to leave.

Soon after he was hired, Epstein set about rebuilding the farm system. It wasn't just an issue at the MLB level. From Tennessee to the Dominican Republic, the farm system was struggling and needed Epstein's attention. His ability to spot talent is evident in the 2016 World Series roster which is a combination of great draft picks like Kris Bryant, trades like Anthony Rizzo, and free agent signings like Jon Lester, David Ross, and Ben Zobrist.

The Lester-Ross duo is a great example of Epstein's approach. Signing Lester, a number one pitcher with two championships under his belt, signaled to baseball that the Cubs were in it to win, now. That one move was pivotal. But he didn't stop there.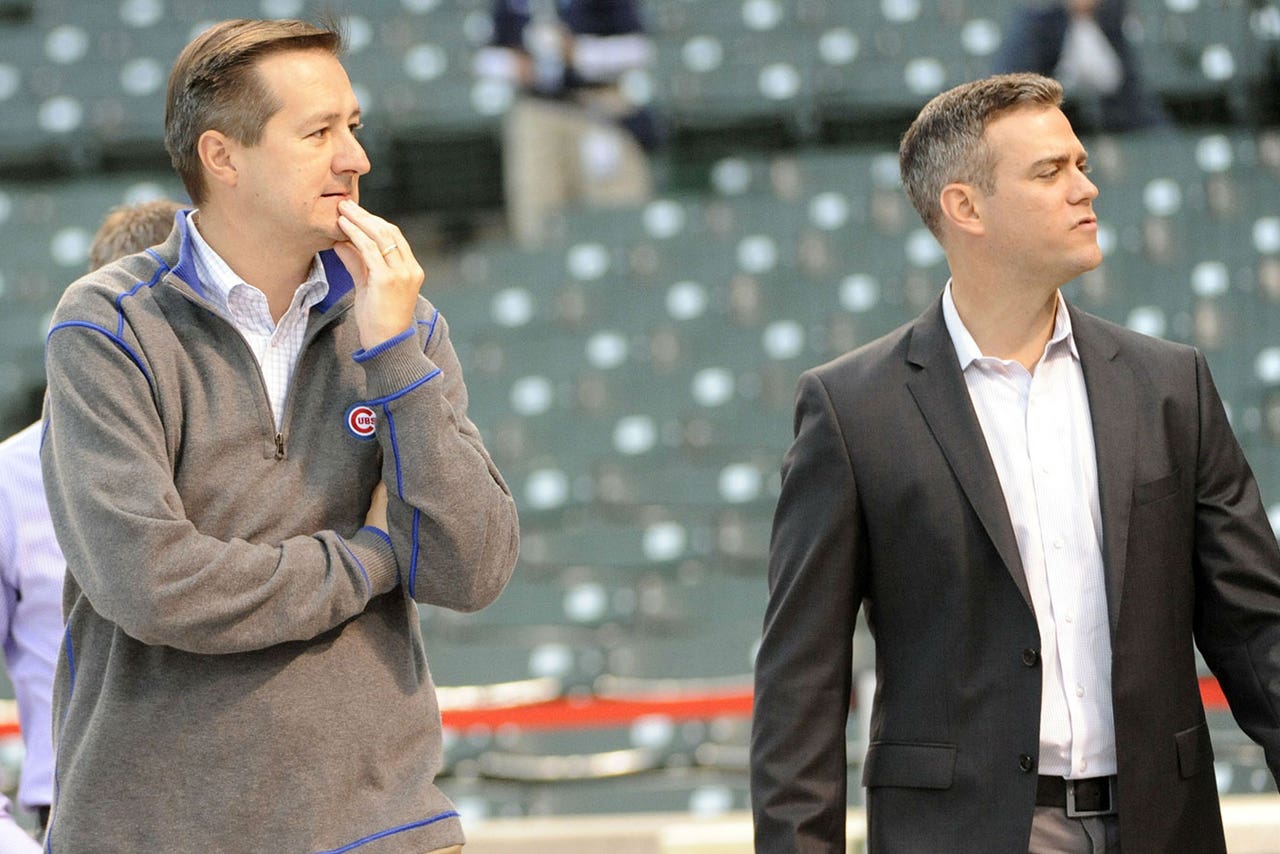 Tom Ricketts and Theo Epstein

Epstein made sure he also brought over David Ross. That's not just because Ross is Lester's personal catcher but also because he's a senior leader who acts as a mentor to a clubhouse full of youth and potential Hall of Fame talent. For Epstein, talent on the field isn't enough, he looks for players with that extra something — character.

That leads directly to the other secret of Epstein's approach.

Epstein is famous for his mastery of sabermetrics. Few executives have managed to use sabermetrics to their advantage with as much success as Theo. But while most teams use only five tools to appraise players — running, arm strength, hitting for average, hitting for power, and fielding — Epstein uses six. The sixth is character. He looks for players who have a winning attitude and values that build a positive culture in the clubhouse. Epstein understands sabermetrics don't measure passion or heart and he corrects for that by evaluating the human element in every player.

Epstein has done it all with the support of Crane Kenney, the Cubs' President of Business Operations and the only senior member from the previous ownership group to remain with the team. Theirs is a rare structure: two co-presidents — one on the business end and one on the baseball operations end — who work together side by side.

It's all possible because Tom Ricketts approached his rebuild with a sense of urgency and trust in his team. His investment is already paying off. Forbes values the Cubs at $2.2 billion. I suspect that number is low.

Consider in 2011 Forbes valued the Los Angeles Dodgers at $800 million but in March of 2012, the team was purchased for $2.15 billion. With that in mind, I wouldn't be surprised if the Cubs fetched upwards of $3 billion if they were sold on an open market today. Though Ricketts doesn't sound like an owner looking to sell. He sounds like an investor in this for the long haul.

Together, Ricketts and Epstein have built one of the greatest franchises in baseball and transformed 1060 W. Addison St. It's a task that no one could quite get right for a hundred years. While four more wins would put a giant exclamation point on five years of focused work and determination, I won't worry if this team doesn't win the World Series in the next nine days.
---
---