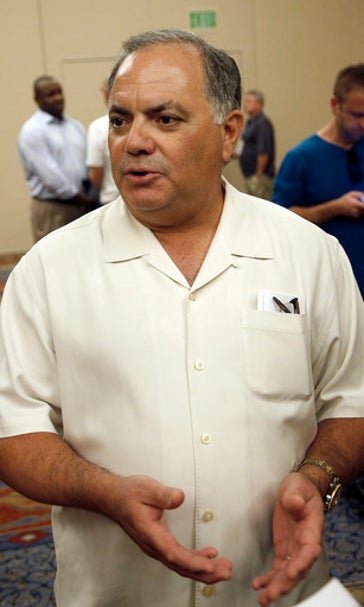 Detroit Tigers hold off on significant cost cutting for now
February 10, 2017

DETROIT (AP) The Detroit Tigers were willing to cut payroll. They just didn't want to face the dire consequences of gutting their roster.
That was general manager Al Avila's explanation for why his team's offseason became such a quiet one.
''Let's say we would have moved two or three players,'' Avila said. ''If you don't get the right players back where you can plug in and still be competitive, then you're crippling the club.''
Instead of making major changes and starting a rebuilding process, Detroit kept its roster largely intact this offseason. After falling just short of a postseason berth in 2016, the Tigers return with their usual core led by Justin Verlander, Miguel Cabrera and Victor Martinez. It's a roster that's talented enough to succeed, but it's also expensive enough that if Detroit plays poorly at the outset, there could be some significant changes.
Detroit has team options for 2018 on second baseman Ian Kinsler and right-hander Anibal Sanchez - and outfielder J.D. Martinez and closer Francisco Rodriguez can become free agents. So the clock is ticking .
Verlander is coming off a fine season in which he nearly won the American League Cy Young Award , and right-hander Michael Fulmer won Rookie of the Year honors . Cabrera had another terrific year with the bat. A lot went right for the Tigers in 2016, but injuries to pitchers Jordan Zimmermann and Daniel Norris limited the rotation.
The health of those two could go a long way toward determining whether this year's team can make a run at the AL Central title. If the Tigers return to the playoffs for the first time since 2014, Avila will probably be glad he held off on any major deals this offseason. If Detroit misses the postseason again, those big changes will likely come soon enough.
Some other things to watch as spring training begins:
NEW LOOK
The biggest addition for Detroit isn't really all that new. Catcher Alex Avila, who had spent his whole big league career with the Tigers before joining the Chicago White Sox before last season, is back with Detroit. Avila provides a left-handed bat and could be a good platoon partner for James McCann behind the plate.
ROOKIES TO WATCH
Joe Jimenez went 3-3 with a 1.51 ERA and 30 saves across three minor league levels last year. That included 17 appearances at Triple-A Toledo in which opponents hit only .164 off the right-hander. Jimenez, who turned 22 last month, could be a welcome addition for a Detroit team that has had constant issues in the bullpen in recent years. Outfielder JaCoby Jones made his big league debut last year, playing 13 games. He could be a candidate to fill the team's hole in center.
THEY'RE SET
Detroit's core of veterans hasn't changed much. Verlander, Cabrera, Kinsler, Victor Martinez, Justin Upton and J.D. Martinez will be a big part of the team's plans this season as long as they're healthy.
THEY'RE NOT
The Tigers traded Cameron Maybin early in the offseason, leaving themselves with no obvious candidate to play center field. Jones and Tyler Collins are among the possibilities, and Detroit acquired another option when it traded for Mikie Mahtook in January.
ON DECK
The rotation is likely to be a big issue in spring training. Verlander is the headliner, and Fulmer will have a chance to build on his fine rookie season. The Tigers are hoping Zimmermann can come back strong after neck problems derailed his 2016 campaign, but it's hard to say who the five starters will be when the season starts. Detroit has younger options (Norris and Matt Boyd) and pricey veterans (Sanchez and Mike Pelfrey) who could all be in the mix.
---
Follow Noah Trister at www.Twitter.com/noahtrister
---
---