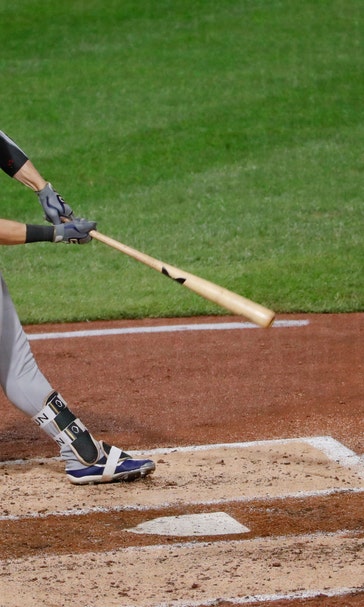 Brewers use home run barrage to gain ground in NL Central
September 22, 2018
PITTSBURGH (AP) — A long rain delay did not dampen the Milwaukee Brewers' hopes of catching the Chicago Cubs in the NL Central.
Travis Shaw, Mike Moustakas and Erik Kratz homered during a six-run sixth inning, and the Brewers rallied for an 8-3 victory over the Pittsburgh Pirates on Friday night. Milwaukee trailed 3-1 in the top of the fifth inning when rain stopped play for two hours and 14 minutes.
The Brewers drew within 1½ games of the division-leading Cubs, who lost 10-4 to the crosstown White Sox. Milwaukee leads the NL wild-card standings by three games over the St. Louis Cardinals.
"It's challenging when you (restart) a game at 10:30 at night," Brewers manager Craig Counsell said. "For us right now, we know these are important games so it's easier to get locked in. There was energy in the dugout. This is the time of year you've got to use what's going for you to your advantage."
Shaw's two-run home run, his 30th, followed Jesus Aguilar's RBI double and put the Brewers ahead 4-3. After Ryan Braun walked, Moustakas and Kratz hit back-to-back homers. Kratz's drive cleared the 410-foot sign in left-center, the deepest part of the park.
"Once that momentum gets rolling, it's contagious," Shaw said. "It was a good win for us."
The Brewers insist they are not obsessively watching the scoreboard, though.
"We're just taking care of our business each day," outfielder Christian Yelich said. "It's been working for us that way."
Pittsburgh had its five-game winning streak end. The Pirates fell 5½ games behind the Colorado Rockies for the second NL wild card.
Keon Broxton added a solo homer in the eighth for the Brewers.
"They have a high-octane offense," Pirates manager Clint Hurdle said of the Brewers. "They can do it a lot of different ways. They shrunk our ballpark tonight, which doesn't happen very often."
Corbin Burnes (6-0) pitched a scoreless fifth. Edgar Santana (3-4) allowed three runs in the sixth and failed to retire any of the three batters he faced.
The Pirates' Corey Dickerson hit a two-run homer in the fourth — his 12th of the season but first since July 22, a span of 147 plate appearances — and tripled.
Josh Bell's homer gave Pittsburgh a 1-0 lead in the first and Braun tied it with an RBI single in the fourth.
Neither starting pitcher returned after the delay. Jhoulys Chacin allowed three runs in four innings while remaining winless in six starts against Pittsburgh this season, and Ivan Nova gave up one run in 4 1/3 innings.
TRAINER'S ROOM
Brewers: CF Lorenzo Cain (strained right ribcage) missed his second straight game and there is no timetable for his return. ... Braun returned after sitting out three games with back discomfort.
Pirates: C Francisco Cervelli (gastrointestinal illness) and Santana (right forearm/elbow discomfort) left in the sixth. ... RF Gregory Polanco (left shoulder surgery) will begin his rehab this weekend at the Pirates' spring training facility in Bradenton, Florida.
HADER BREAKS A RECORD
Josh Hader struck out three of the four batters he faced to break the major league single-season record for strikeouts by a left-handed reliever. He has 136 in 77 innings.
John Hiller had held the record since 1974, when he had 134 strikeouts in 150 innings for Detroit.
"It's quite an accomplishment," Hader said. "I've just tried to be consistent with the fastball-slider combination all season."
YELICH'S BIGGEST FAN
Yelich's MVP candidacy got a potential boost from Cleveland Browns rookie quarterback Baker Mayfield on Thursday night.
Mayfield was wearing a signed Yelich journey when he arrived at the stadium for the Browns' 21-17 over the New York Jets that ended Cleveland's 19-game winless streak. Mayfield and Yelich worked out together over the winter in the Los Angeles area.
After shining in his NFL debut in relief of injured Tyrod Taylor, Mayfield ended his postgame press conference by saying, "Yelich for MVP."
"That was really cool," Yelich said.
Yelich did not wear a Mayfield jersey to the ballpark Friday.
"I have one hanging in my locker in Milwaukee," Yelich said. "I should have packed it. Bad timing on my part."
THINKING OF BANISTER
Hurdle was in contact with Jeff Banister, who was fired as the Texas Rangers' manager Friday. Banister was Hurdle's bench coach from 2011-14.
"Jeff Banister is a good man, a good father and a good husband and that's the most important thing," Hurdle said.
AWARDS SEASON
CF Starling Marte was selected as the Roberto Clemente Award winner, given to the Pirates' MVP by the Pittsburgh chapter of the Baseball Writers Association of America. RHP Trevor Williams won the Steve Blass Award for top pitcher and RHP Jameson Taillon won the Chuck Tanner Award for media cooperation.
Meanwhile, the Pirates honored 3B Ke'Bryan Hayes and RHP JT Brubaker as their top minor league player and pitcher before the game. Hayes hit .293 in 117 games for Double-A Altoona with seven home runs, 47 RBIs and 12 stolen bases, while Brubaker was a combined 10-6 with a 2.81 ERA in 28 starts with Altoona and Triple-A Indianapolis.
UP NEXT
Brewers: RHP Zach Davies (2-6, 4.66 ERA) pitches Saturday night. He is 0-1 with a 3.00 ERA in three starts since being out from May 30-Sept. 2 with rotator cuff inflammation in his right shoulder.
Pirates: Williams (13-9, 3.16) has allowed just eight runs over 65 2/3 innings in his last 11 starts for a 1.51 ERA.
---
---