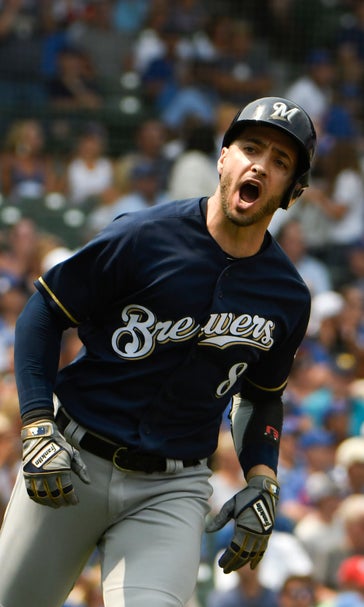 Braun hits 2 HRs, Chacin goes 7 as Brewers beat Cubs 7-0
August 14, 2018
CHICAGO (AP) — Ryan Braun supplied the power at the plate and Jhoulys Chacin dominated on the mound to give the Milwaukee Brewers the lift they needed to tighten the NL Central race.
Braun hit two of Milwaukee's four homers, Chacin struck out a season-high 10 in seven innings and the Brewers cut into Chicago's division lead with a 7-0 victory over the Cubs on Tuesday.
Lorenzo Cain homered on Jose Quintana's second pitch . Braun hit two-run drives in the first and third. Erik Kratz added a solo homer in the sixth and an RBI double in the eighth.
Chacin (12-4) allowed three hits and walked two. The right-hander is 6-1 in his past eight outings.
The Brewers pulled within two games of the Cubs after dropping eight of 11 against them. Milwaukee will try to complete a two-game sweep on Wednesday.
"Pretty close to a must-win," Braun said. "If you want to stay in the division race, you had to win one of two."
Cubs manager Joe Maddon got ejected for the second time in four games when plate umpire Phil Cuzzi called Ben Zobrist out on strikes in the sixth. And Zobrist got tossed for the first time this season after the eighth when he told Cuzzi the players want an electronic strike zone.
He was waiting on deck when Javier Baez struck out to end the inning. Zobrist decided to let Cuzzi know "calmly" that he didn't appreciate being told to "be quiet" after getting called out in the sixth on a pitch he thought was clearly a ball. He wanted assurances that the umpire would look over the play and "make an adjustment."
"He didn't want me to tell him that," Zobrist said. "I just basically said, 'Well, that's why we want an electronic strike zone.' And that's what obviously got me tossed."
The Cubs have been shut out nine times this season. They didn't score in their previous game until pinch-hitter David Bote launched a grand slam with two outs in the ninth to give them a 4-3 victory over Washington on Sunday night.
Quintana (10-9) got tagged for five runs and six hits in five innings after dominating the Brewers over seven previous starts. He came in with a 0.92 career ERA against the Brewers and held them without a run in two of their first three meetings this season.
But Milwaukee needed just nine pitches to grab a 3-0 lead.
EARLY STRIKE
Cain hit his third career leadoff homer and second this season. Braun followed Jesus Aguilar's one-out single with a drive to left-center, and he hit a long one to left for his 35th career homer against the Cubs after Aguilar led off with a walk. A fan in the back row of the bleachers caught the ball, preventing it from going to the street.
"It was something that was needed," manager Craig Counsell said. "It felt like something that was coming. We got it done in an important game."
TRAINER'S ROOM
Brewers: LHP Zach Davies (inflamed right rotator cuff, tight lower back) is back with the Brewers after a rehab outing for Double-A Biloxi on Saturday. He was to throw a side session before making a start for Triple-A Colorado Springs on Thursday. Davies is 2-5 with a 5.23 ERA in eight starts after winning 17 games last season. ... RHP Taylor Williams (sore right elbow) was reinstated from the disabled list. ... RHP Matt Albers (strained left hamstring) was scheduled to pitch Tuesday on a rehab assignment for Biloxi.
Cubs: RHP Yu Darvish (triceps and elbow injuries) is expected to go on a minor league rehab assignment, assuming he experiences no setbacks after pitching a simulated game on Tuesday. President of baseball operations Theo Epstein said Darvish is "just about ready for the next step." ... Maddon said Brandon Morrow (right biceps inflammation) is getting better after being sidelined the past month, but he didn't have a timeline on his return. "It sounds like it's moving in the right direction," he said.
UP NEXT
Brewers: RHP Junior Guerra (6-7, 3.40 ERA) has a 1.74 ERA in five career starts and eight appearances against the Cubs.
Cubs: RHP Kyle Hendricks (8-9, 4.02 ERA) is 2-0 in his past three starts — all wins for the Cubs.
---
---