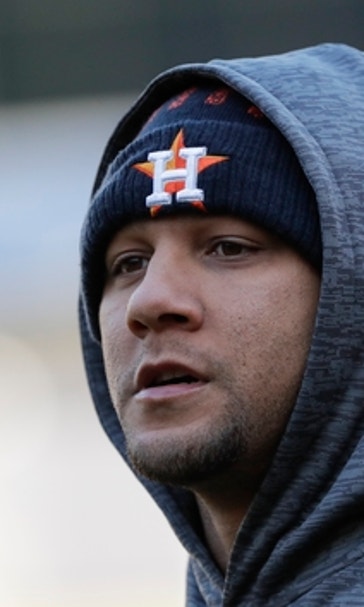 Astros' Gurriel goes from Cuban star to World Series hopeful
October 20, 2017

HOUSTON (AP) Yuli Gurriel is savoring his place with the Houston Astros as they chase their second trip to the World Series.
Still, there's a part of him that yearns for the country he left behind for his shot in the majors as a 30-something rookie. Each time he buttons up his Astros jersey, he carries the weight of the four letters he wore across his chest for so many years.
''I know that in one way or another I am representing them, representing Cuba,'' Gurriel told The Associated Press.
Gurriel signed a five-year, $47.5 million contract with the Astros in July 2016 following a 15-year career in Cuba, where he starred professionally and helped the national team win gold medals at the 2004 Olympics and the World Cup in 2003 and 2005.
For boys in many countries, playing in a World Series is a lifelong dream. That wasn't the case for Gurriel growing up.
''In Cuba, the focus was different: represent the nation,'' he said. ''Every time we would travel abroad, go for the gold. Silver was not acceptable. It's that demanding. (Starting) at 9 years old, for me it was huge.''
Gurriel was under the spotlight in elementary school because his father was a national superstar - Lourdes Gurriel helped Cuba win a gold medal at the Barcelona Olympics and six more golds at the World Cup from 1980-1994.
''You see it as a shadow,'' Yuli Gurriel said. ''People over there see you as him, and they expect that much more of you. They don't see you as the (player) that you are but how your dad was, and they demand a lot. It was very difficult in the beginning. When I would go play in Cuba, folks would say: `This is Gurriel's son.' And that made me uncomfortable at first.''
The younger Gurriel became a star on his own merits soon enough, and that eased the burden of his father's accomplishments. Gurriel said his father played baseball with him as a youngster but never pushed him into the sport. Lourdes did, however, offer advice on how to approach the sport when he chose to pursue a career.
''That if I was going to play baseball, to play it with my all, with all my love. Leave it all on the field,'' Gurriel said. ''I have carried that with me since. That's what I have always tried to do.''
Gurriel's sense of pride and responsibility to Cuba kept him from considering a move elsewhere, even though he was widely regarded as Cuba's best player. A move to the major leagues would have required him to defect first, and he was approached about absconding during various international trips as early as 17 years old. As he traveled more, it became increasingly difficult to deal with those trying to lure him away.
There was even a false news report in 2006 that he defected to Colombia. There was a passage in the Bogota Times in July of that year that read: ''One of the members of the Cuban team who deserted is star second baseman Yulieski Gurriel, considered as one of the best in the world at his position. It appears that his next destination would the New York Yankees.''
''Dealing with those was tough in Cuba at the time,'' he said. ''I always had to deal with these things, people who would approach you in indirect ways about deserting, and that's a very delicate issue for Cuba.''
Handling those rumors and those who tried to get him to leave was difficult. And simply ignoring the issue didn't make things any better.
''The team was always well guarded, but people would find a way to get the message to you,'' he said. ''And if you refrained from answering or stayed quiet, they might take it as a sign that you were considering deserting. It would distract you, mentally, and affect your play.''
He insists that for years, he never thought about leaving, but eventually a handful of factors began to shift his thinking. The first came when he left Cuba to play in the Japan league in 2014, where he hit .305 with 11 homers and 30 RBIs in 62 games. It was around that time that relations between Cuba and the United States began to improve. Also on his mind was the future of his younger brother Lourdes Jr., who was starting to show talent that could earn him a shot in the majors.
Gurriel's performance in Japan made him wonder if he could make the jump to the majors, and since he was already over 30, he knew his window was quickly closing.
''I said: `Well, this doubt will stay with me for the rest of my life, whether I could play in the U.S., whether I had the ... (talent) to achieve a (good) result,''' he said. ''So I said: `That's it. I'm 31 years old, and I still have a chance.' So it was a tough decision, but we came here.''
Gurriel and his brother left in February of 2016 after playing in the Caribbean Series in the Dominican Republic. After Gurriel signed with the Astros in July, Lourdes Jr. inked a seven-year, $22 million deal with Toronto in November.
Gurriel spent some time in the minors before debuting with the Astros on Aug. 21, 2016, and he hit .262 in 32 games last season. Since he played so few games last year, Gurriel maintained his rookie status this season despite being 33 years old.
He was one of many reasons for Houston's success in the regular season, when he hit .299 with 18 homers and 75 RBIs. Gurriel was also important in providing consistency at first base after the Astros had struggled to find production there.
Though this is his first trip to the postseason, Gurriel has played like the seasoned veteran that he is. He's tied with teammate Jose Altuve for first in the majors with 13 hits this postseason and his .382 average is second on the team to Altuve.
''His ability to handle the stress and anxiety that comes with the situations is not surprising,'' manager A.J. Hinch said. ''He's been on the international stage. He's been the central sports figure of a country where baseball is beloved, so I think his personality that has come out this year, his exuberance (and) his overall consistent play has been something we've expected. It's nice to see it play out.''
And the Astros hope it continues on Friday when they host the New York Yankees in Game 6 of the AL Championship Series, looking to avoid elimination and move within one win of reaching the World Series.
---
AP freelancer Bernardo Fallas contributed to this report.
---
More AP baseball: https://apnews.com/tag/MLBbaseball
---
---