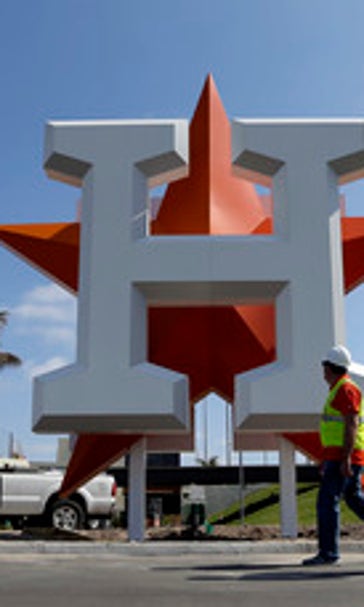 Astros build team, and new complex, for the future
February 15, 2017

WEST PALM BEACH, Fla. (AP) Getting to the Houston Astros' clubhouse at the new Ballpark of the Palm Beaches can be a spring workout in itself.
There are dirt roads to traverse, stray nuts and bolts to avoid and paper signs taped to ceilings telling interlopers which corridors they may not take.
Once there, though, it's easy to see why the Astros are so excited to have ended their 30-plus year stay in Kissimmee.
The half-full clubhouse was oddly quiet Wednesday for the first day of workouts for pitchers and catchers until a member of the construction crew walked with one of the Astros clubhouse managers to the audio/video control unit mounted on one of the walls.
Suddenly Queen's ''Bicycle Race'' blared from the ceiling-mounted speakers.
Check another item off the list.
''It's more than we need,'' catcher Brian McCann said. ''It's first class in all sense of the word.''
The clubhouse itself is at least the size of the Astros' locker room at Minute Maid Park, if not bigger. On Wednesday, all of the 10 large flat-screen televisions were either dark or displayed an internal setup menu.
Perhaps the most important upgrade? The three-hour Grapefruit League bus trips are now a rarity.
They share the complex with the Nationals, are a 20-minute drive from the site used by the Cardinals and Marlins, and are 45 minutes from the Mets.
The Astros' side of the $150 million Ballpark of the Palm Beaches features six full practice fields, an additional turf infield, two batting structures with 10 cages each and a new video room, which may or may not be functional at the moment.
''We've got cameras everywhere,'' Houston manager A.J. Hinch said before pausing. ''Maybe not now. I'm not sure what's completely done. I ask for patience from our guys.''
Hinch made the remarks while standing at home plate of the artificial turf infield, some of his words rendered almost unintelligible by the buzz saw being operated a few dozen feet away.
That shouldn't pose much of a distraction considering they are accustomed to tens of thousands of boisterous fans once the season starts. When complete, the complex will allow the Astros to operate more efficiently, Hinch hopes, thereby helping them live up to the lofty expectations for this season.
''We're going to embrace them,'' Hinch said. ''It's not being arrogant or cocky or not respecting the rest of the league. It's just an admittance that we have a pretty good group and we've played some pretty good baseball.''
Dallas Keuchel and Lance McCullers, both of whom missed time last season, lead a talented pitching staff that under-performed last season. Both proclaimed their arms healthy.
''I wasn't the first manager to name the opening day starter - I'm very disappointed,'' Hinch joked. ''I want to see them on the mound and I want to see them healthy. I think right now distinctions like that are very premature on our particular team.''
Hinch plans to push Keuchel, McCullers and crew early in camp.
''We're not going to kill them, but we've got to get them sore,'' Hinch said. ''We've got to get them tired. Their legs are going to be heavy. Same way with the position players when they get here. This is a training six weeks. We're not going to tip-toe and be careful.''
With the complex still technically a construction site, fans won't be allowed to watch the workouts in person until Saturday. The ballpark will host its first game when its two tenants take the field on Feb. 28.
Upon arrival, those unfamiliar with the area will have a tough time discerning that before hosting a spring training complex, the site was once a landfill.
''It smells of something a little funny coming in, but we can make due with that if that means a little bit nicer things,'' Keuchel cracked. ''Not to say anything bad about Kissimmee, because Kissimmee was nice for 30-something years, but we're now in the 21st century with some of this nice stuff and a little bit better locker room and facility.''
NOTES: The Astros plans to put additional netting at Minute Maid Park and also at Whataburger Field, home of the Double-A Corpus Christi Hooks. The expanded netting will go from dugout to dugout and reach a top height of 32 feet at the backstop. The netting will be raised when the Astros are taking batting practice to let fans get closer to the players.
The new netting is scheduled to be in place for college games in Houston starting on March 3.
---
---