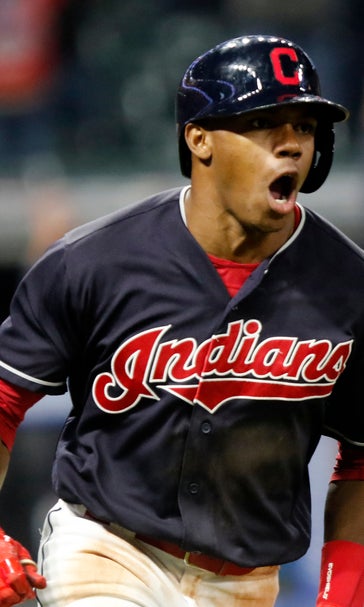 Allen's RBI single in 11th leads Indians past Red Sox, 4-3
September 24, 2018
CLEVELAND (AP) — The Boston Red Sox are trying to make history. The Cleveland Indians keep getting in the way.
And after a highly competitive three-game series, the teams could see each other again next month with even more at stake.
Greg Allen singled with one out and the bases loaded in the 11th inning and Cleveland defeated the Red Sox 4-3 on Sunday night to deny Boston's bid for a club-record 106th victory for the second straight game.
Allen singled through the left side on a 3-2 pitch from Robby Scott to give Cleveland an 11th inning win for the second night in a row.
"If that game was in a couple of weeks, that'd be one for the ages," manager Terry Francona said. "It's going to be a late night, but it was a fun game."
William Cuevas (0-2) walked leadoff man Jose Ramirez, who moved to second on Rajai Davis' sacrifice. Shortstop Tzu-Wei Lin, who replaced the injured Xander Bogaerts in the seventh, booted Erik Gonzalez's ground ball, sending Ramirez to third.
Yandy Diaz, batting for Yonder Alonso, was intentionally walked to load the bases and set the stage for Allen's winning hit. Michael Brantley's bases-loaded single gave the AL Central winners a 5-4 victory in the 11th on Saturday night.
Allen raced toward the outfield after he rounded first to avoid getting pounded by his teammates, a strategy that was unsuccessful.
"I don't think there's any getting away from that," he said. "In a time like that, when it's celebratory, I really don't want to get away from it. It was definitely fun."
Josh Tomlin (2-5) pitched two scoreless innings for the Indians, who won the after a 7-5 loss Friday.
Mookie Betts homered and had four hits in his return to the lineup, but the Red Sox will also have to wait at least one more day before wrapping the home-field advantage throughout the postseason.
Betts, who didn't play Friday and Saturday, hit his 31st homer in the fifth to tie the game after Cleveland scored three times in the fourth. He had four hits, a three-run homer and five RBIs on Thursday against the New York Yankees when Boston clinched the AL East.
Betts, who leads the majors with a .343 batting average, started the game with a double off the wall in left. He singled in the third and doubled again in the seventh.
Betts played right field for the first time in a week. He's been dealing with soreness in his left side and was the DH twice last week.
"Hitting was never really the issue, it was just throwing," Betts said. "Fortunately, I didn't have to many any long throws, so today was a really good day."
Edwin Encarnacion got his 100th RBI of the season with a fourth-inning single, reaching the century mark for the fourth straight year.
Melky Cabrera's two-run double off Steven Wright put Cleveland ahead 3-2.
Bogaerts was removed during his at-bat in the seventh inning because of a sore left shoulder. He fouled off a pitch and was visited by manager Alex Cora and a team trainer. Bogaerts walked to the dugout after a lengthy conversation and is listed as day to day.
"I felt a pinch after I took an awkward swing, the last two swings actually," he said. "It's nothing now. I'm fine. There's nothing wrong."
Right-hander Hector Velazquez started for Boston and gave up two runs in 3 1/3 innings.
Cleveland starter Adam Plutko allowed three runs in six innings.
SLUMPING
Ramirez went 0 for 3 and is batting .174 (12 for 69) with one home run this month.
NEARING THE END
Boston also fell one win short of a club record for road victories with 51. The Red Sox finish with six games at Fenway Park beginning Monday against Baltimore. Boston hosts the Yankees for the final three games and will be at home to begin the Division Series.
"We need to get home," Cora said. "We're going to be home for two weeks now, so it's going to be fun."
Cleveland plays its final seven games on the road. The Indians begin a three-game series against the Chicago White Sox on Monday and play the last four in Kansas City.
MOUND RETURN
Francona said Cody Allen will pitch Monday in Chicago. Allen hasn't been in a game since Cleveland clinched the division Sept. 15 to rest in preparation for the postseason. He threw a bullpen session Saturday.
TRAINER'S ROOM
Indians: C Roberto Perez was removed from the game in the fifth with a bruised right shoulder.
UP NEXT
Red Sox: RHP Nathan Eovaldi (5-7, 3.98 ERA) takes on Orioles RHP Dylan Bundy (8-15, 5.37 ERA) in the three-game series opener in Boston.
Indians: RHP Corey Kluber (19-7, 2.93 ERA) goes for his career-high 20th win of the season. RHP Dylan Covey (5-13, 5.33 ERA) starts for the White Sox.
---
---