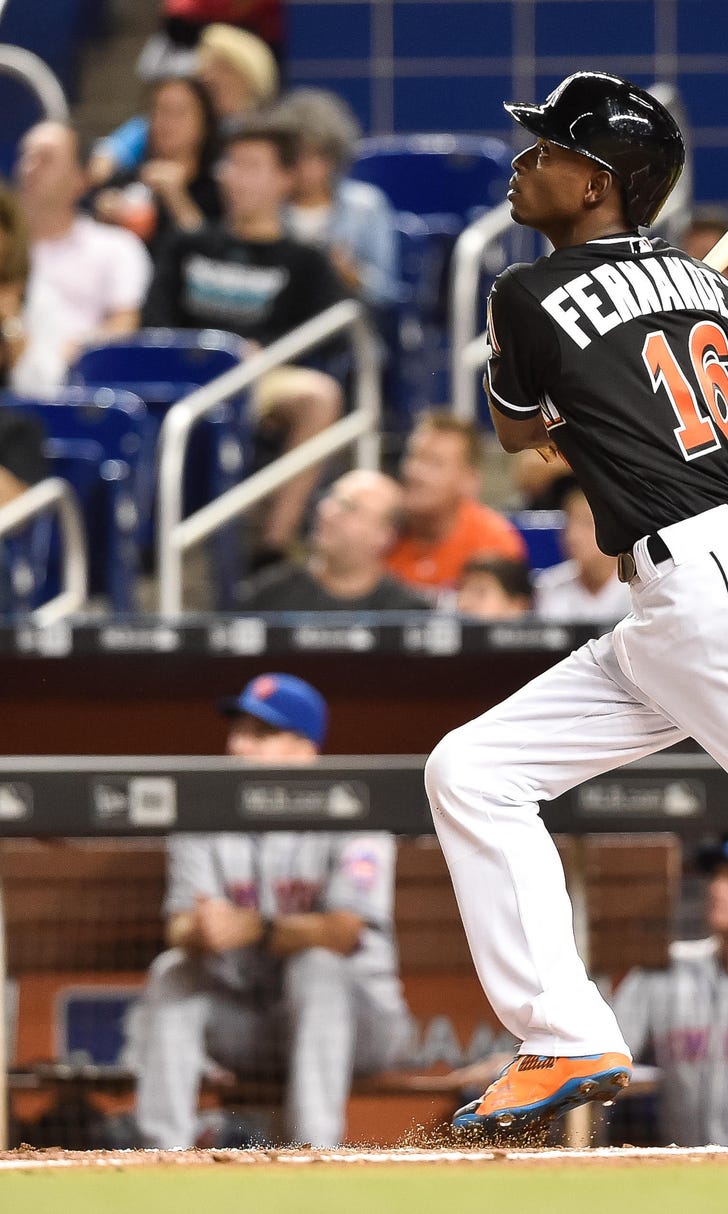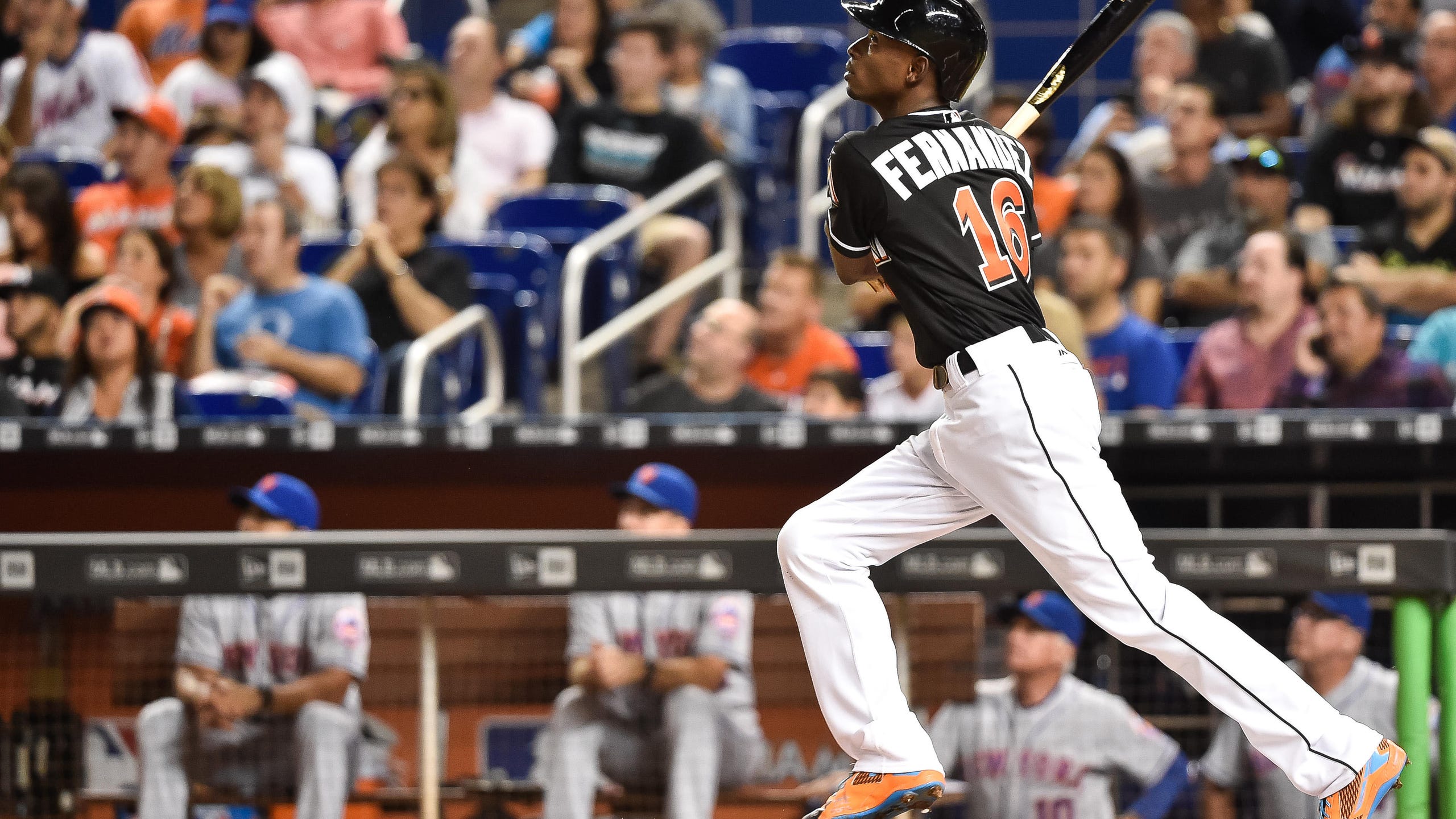 After tragedy, the Marlins honor Jose Fernandez in a pitch-perfect way
BY Dieter Kurtenbach • November 15, 2016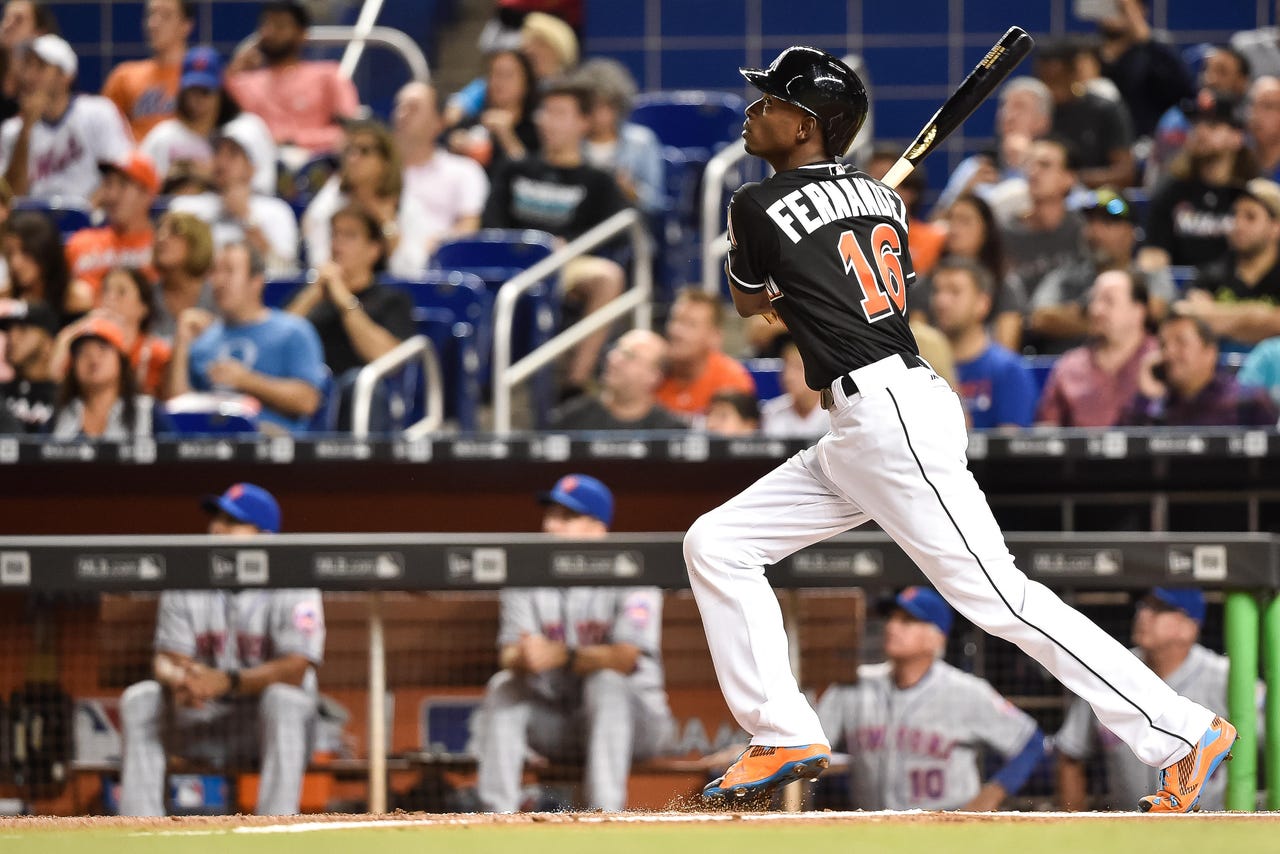 How on earth do you play a game after something like that happens?
How do you keep it together?
How do you hit a baseball, throw a baseball or catch a baseball when emotions are that raw and the pain that deep?
You do it the way the Miami Marlins did it Monday night.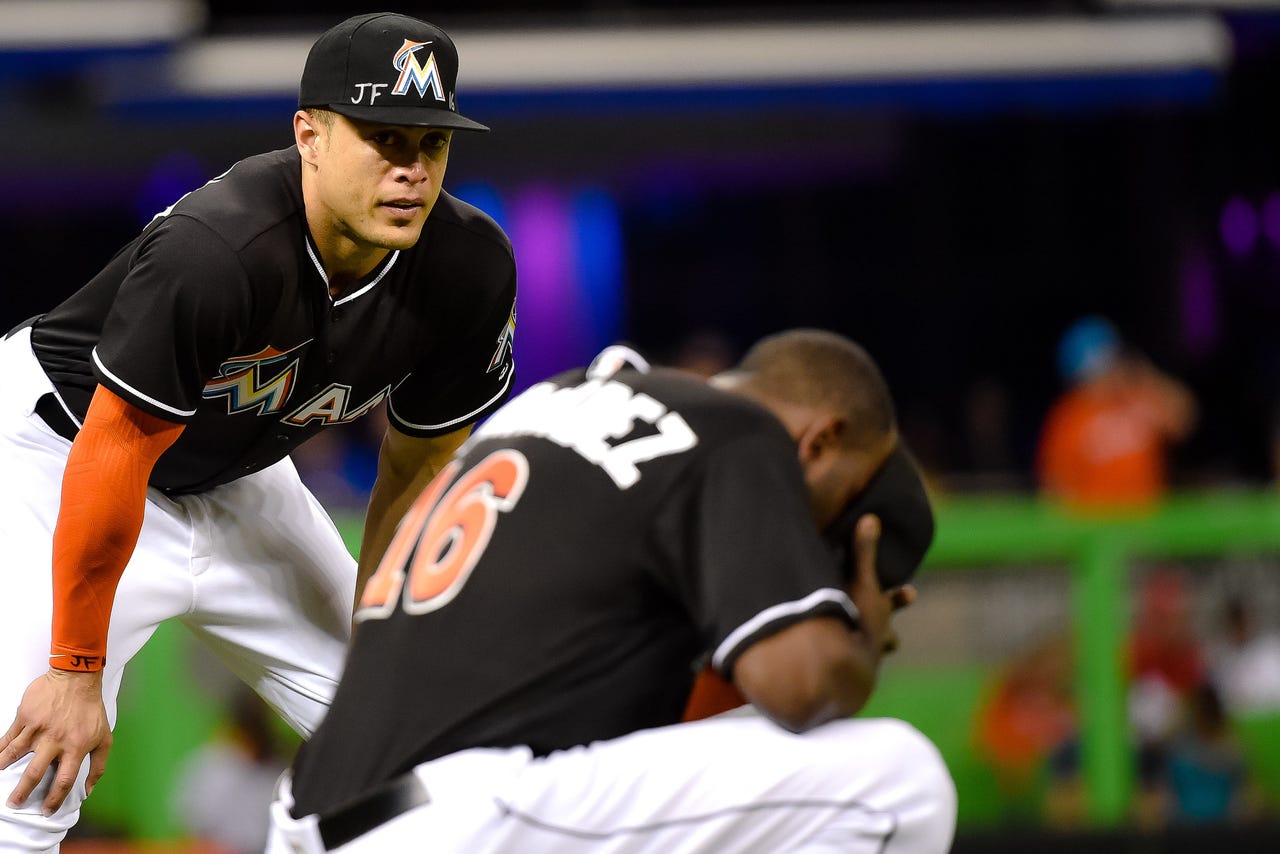 Giancarlo Stanton keeps waiting for the big reveal — the moment where Jose Fernandez, his friend and teammate, walks through the door and lets everyone know that he got them good.
But it's not an elaborate prank. It's just the cruel reality. Jose Fernandez — with his superstar pitching career, even brighter future, and radiant personality is gone. He was only 24 years old.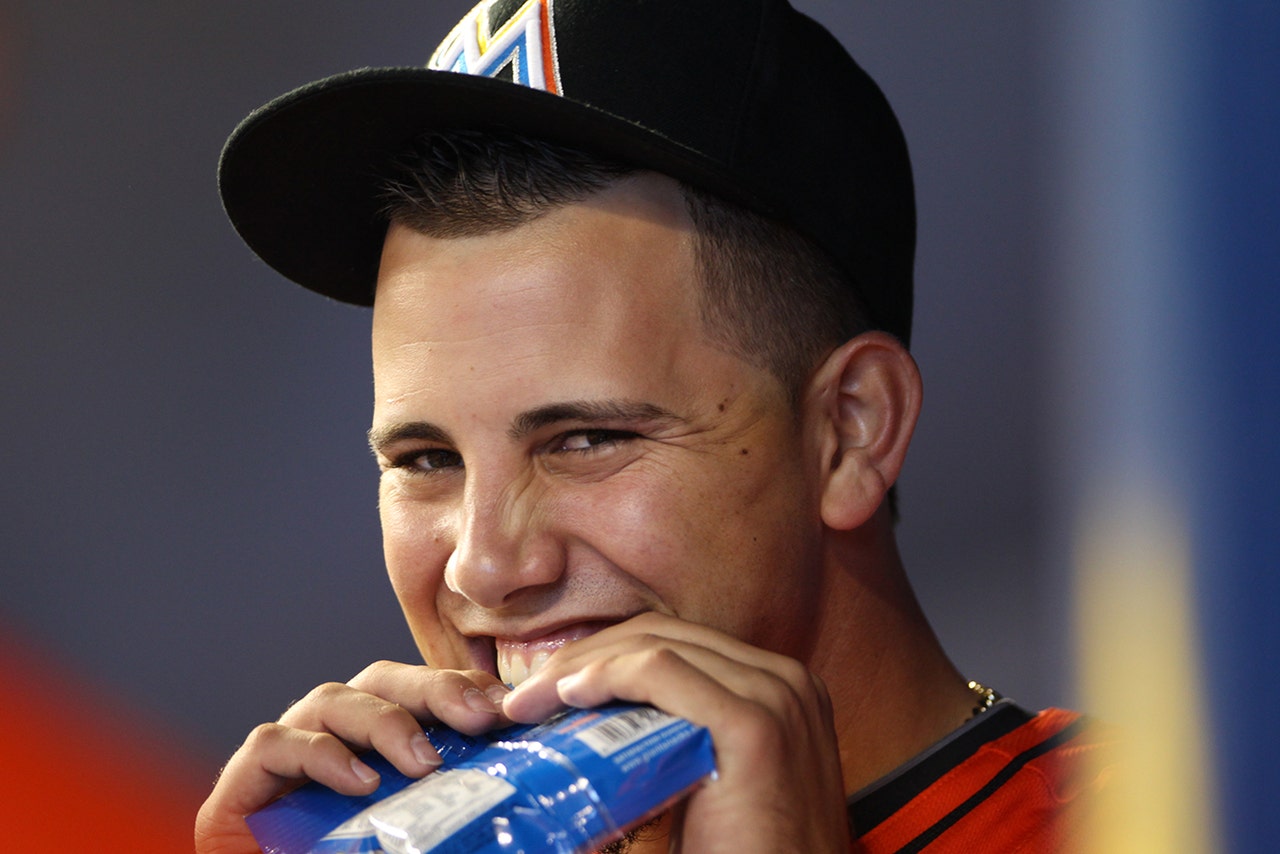 The Marlins cancelled their Sunday game after news of Fernandez's death in a boating accident broke. No one questioned the cancellation for a second.
But the Mets came to town for a three-game set Monday, and with New York in the thick of the playoff run, a cancellation wouldn't have been fair. No one knew how they were going to play — the Marlins hadn't slept much or eaten much since they found out their teammate was gone — but they knew they had to. The refrain was ubiquitous: it's what Jose would have wanted.
Jose Fernandez was scheduled to pitch Monday night at Marlins Park. In South Florida, when No. 16 starts, it's known as Jose Day.
No. 16 did take to the mound Monday.
No. 16 hit a leadoff home run in the bottom of the first inning, his first shot of the year, too, only to break down in tears as he rounded the bases.
No. 16 won 7-3 Monday night, and the Marlins celebrated the win just as Jose Fernandez would have — with joy and happiness.
Fernandez might not have been in the ballpark Monday, but it was still Jose Day in South Florida.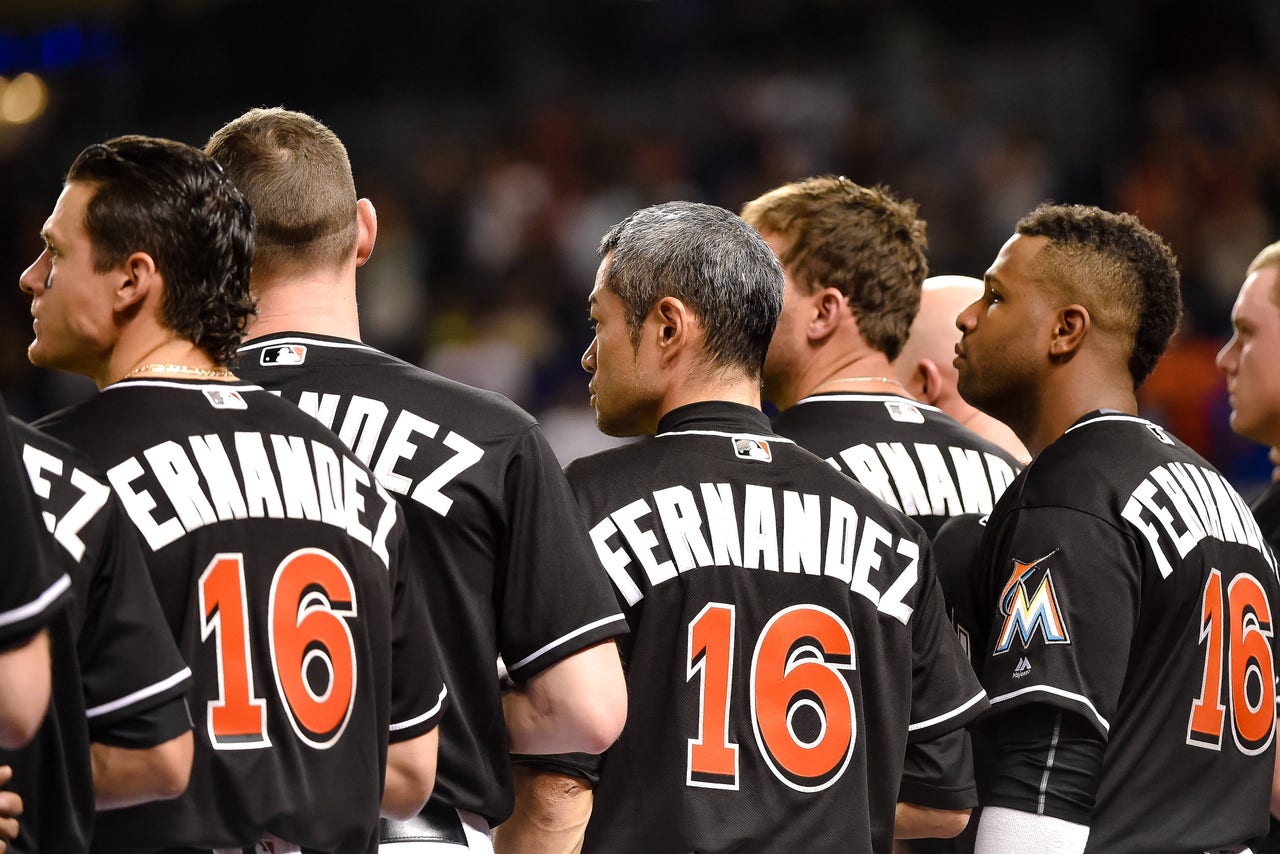 The Marlins honored Fernandez with a pitch-perfect pregame ceremony that continued through the 27th out. It was unscripted and authentic, just like the man himself.
The Marlins all wore No. 16 "Fernandez" jerseys — the folks at Majestic, bless them, stayed up all night making them — for Monday's game, and Stanton admitted to catching some teammates out of the corner of his eye and thinking they were Jose.
The two ballplayers were close — superstars on a team of rotating characters. They were both wowed by each others' prodigious talent, which was not an easy thing to do. When Stanton re-signed with the Marlins, one of the reasons he did so was because he firmly believed he and Fernandez could take the team far.
Stanton addressed the team before the game and after it. He fought through "pure hurt" and "pure sorrow" to do that and play the game.
"I don't think it will sink in for a while. It'll take time," Stanton said. "We all dug as deep as we could and we gave all that we had."
The game was highlighted by Dee Gordon's first homer of the year, which came on the third pitch a Marlin saw Monday night.
Gordon, one of baseball's fastest players, said he tried to run around the bases as fast as he could after hitting the homer — "I've never even hit one that far in batting practice" — but he just couldn't move. Before he could cross home plate, the tears streamed down his face. He broke down even further in the arms of his teammates after he touched home and pointed to the sky.
Gordon recalled after the game how much Fernandez loved hitting. Indeed, if you were to ask the pitcher about his career highlights, he would tell you they were, without a doubt or hesitation, his home runs — both of them. So Gordon, a left-handed hitter, started his first at-bat in the right-handed batter's box, wearing a helmet inscribed with No. 16.
Gordon had a hard time seeing Bartolo Colon's first pitch.
"We were hitting balls underwater," Stanton joked.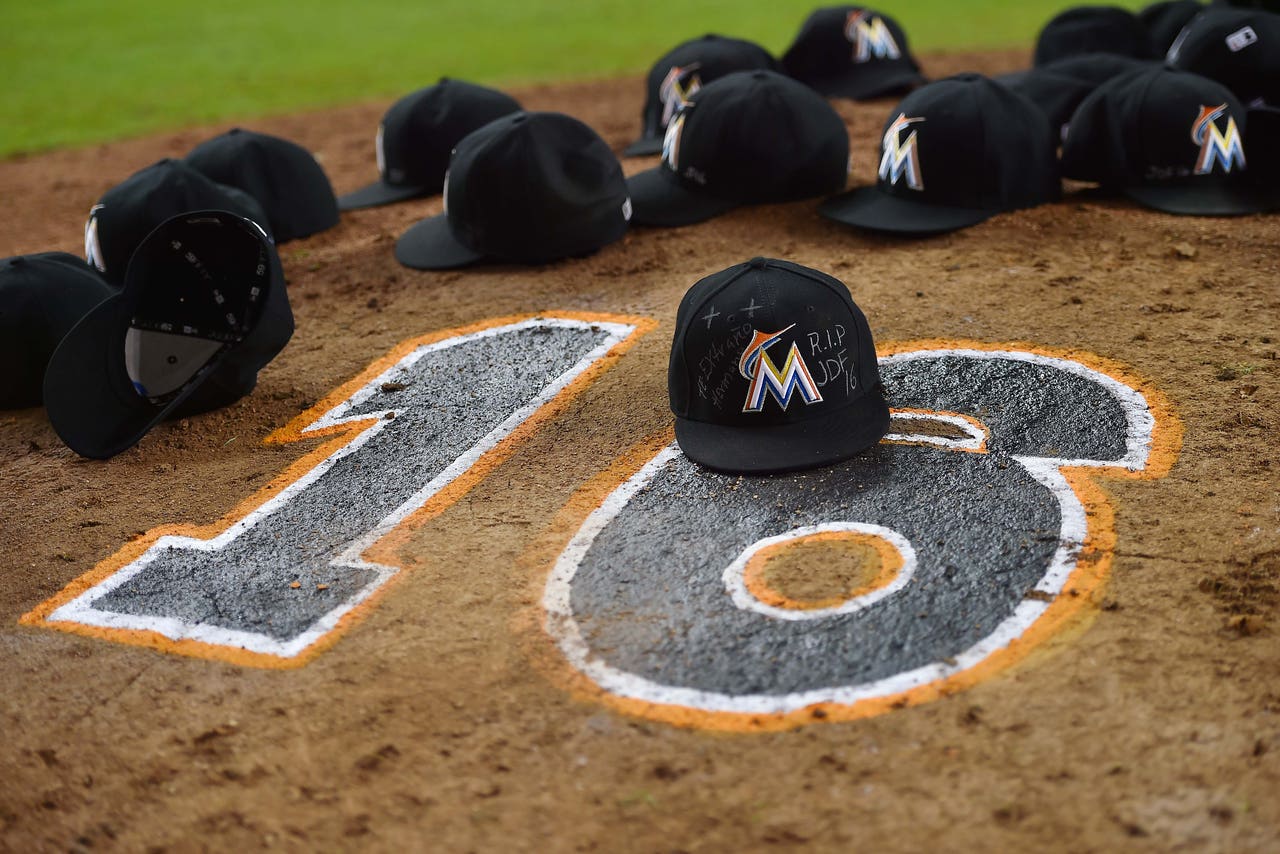 When the game was over, the Marlins circled the mound, where Fernandez's No. 16 was painted, and cried with arms interlocked, just as they had cried in the arms of the Mets players, who came out to hug each and every Marlin, before the game.
Then, the Marlins covered the mound with their hats, and manager Don Mattingly kissed the rubber.
The game provided a moment of catharsis, but once it was over, the pain and sadness came rushing back. The Marlins have five more games to play this year and it's going to take a lot longer than that to come to grips with the new, cruel reality. There are still bus rides and flights to take, Stanton said, and Fernandez won't be on them.
But for one night, at least, Fernandez was there, in a way.
How do you play a game after what happened?
How do you not?
It was Jose Day, and you can't miss that.
---
---