6 of the worst punches ever thrown in baseball brawls
May 16, 2016

However many games or dollars the Jose Bautista punch costs Rougned Odor, the Texas Rangers second baseman will have gotten his money's worth.
Odor landed a clean, unobstructed right hook that connected with Bautista's jaw and knocked the sunglasses and helmet off Joey Bats' head.
"I was pretty surprised," Bautista said. "I mean, obviously, that's the only reason that he got me and he got me pretty good, so I have to give him that. It takes a little bit bigger man to knock me down."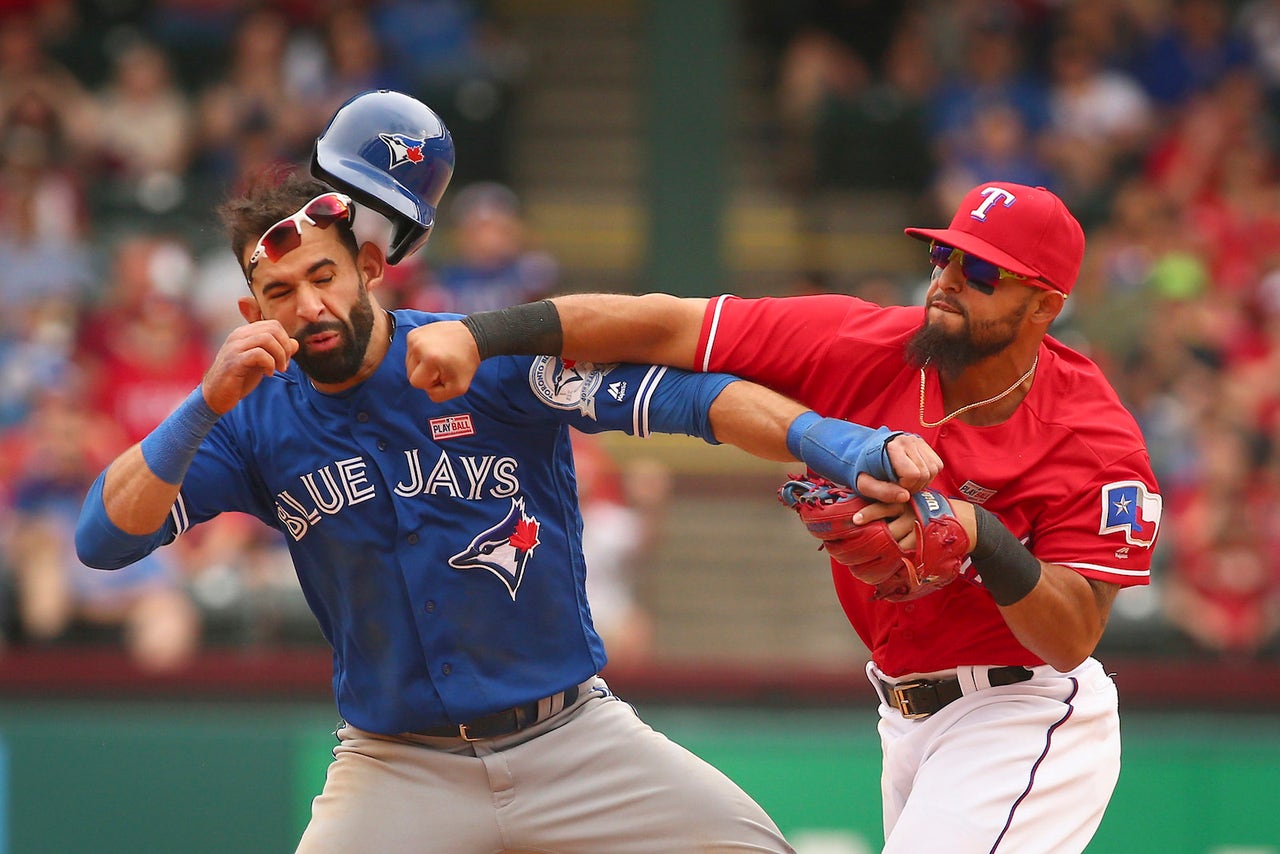 Fair enough, Bautista. It felt like calculated and postponed payback for Bautista's controversial ALDS Game 5 bat flip. But it wasn't a cheap shot, and the MMA-loving pugilist that I am -- I really enjoyed the whole thing, especially considering that most basebrawls consist of bluster and tough talk, not real fisticuffs.
Baseball players are professional athletes, but few of them are skilled fighters. To prove that point, let's take a tour of some of the worst punch attempts in MLB basebrawls.
Bad blood started brewing between two AL East teams in June 2008 after some hard slides involving Red Sox outfielder Coco Crisp and Tampa Bay Rays infielders Jason Bartlett and Akinori Iwamura. Tensions boiled over when Rays starter James Shields drilled Crisp with a pitch in the thigh. Crisp charged. That's when Shields uncorked a wild hammer-style punch that badly missed Crisp and Crisp fired back and caught air, too. (Full video here).
Red Sox pitcher Sele threw the ball up and in at White Sox slugger George Bell and on the next pitch, went further inside with a pitch that rung Bell's bell. So Bell charged, Sele braced and then Sele ducked as Bell fired a wild roundhouse that completely missed. Next thing Bell knew, Mo Vaughn tackled him for a loss of three yards on the pitcher's mound. (Full video here.)
After Kansas City Royals righty Yordano Ventura sparked an April 2015 brawl with the Chicago White Sox, Royals third base coach Mike Jirschele tried to prevent Sox pitcher Jeff Samardzija from landing a punch when Royals pitcher Volquez went after Samardzija. Volquez missed, pretty badly, spinning himself one full revolution as he came up empty handed. (Full video here.)
This was a wild swingfest that combined players on both sides trying to play peacemaker, while others wanted to forget the niceties and decide their differences with a fight. We focus on Orioles relief pitcher Armando Benitez who started it all by firing a fastball at Tino Martinez's back. After the benches emptied, 6-foot-7 Australian reliever Graeme Lloyd came flying from the Yankees bullpen ready to unleash on Benitez. It was a fine effort but only some flailing and misdirected swatting ensued from Benitez and Lloyd, who was being held up a bit. (Full video here.)
Two large men (Young is 6-foot-10, Lee is 6-foot-5), two swings, two misses. This one really could have been something if their teammates let the two have at it unimpeded.
This one pits a young Pedro Martinez (during his Expos days) against Phillies pitcher Mike Williams. Earlier in the game, Martinez plunked Phillies infielder Greg Jefferies. During Pedro's next at-bat, Phils pitcher Williams threw at/behind him when Pedro decided to charge the mound. Using his batting helmet as a weapon, Martinez fired far wide and immediately got locked up and put on the ground. (Full video here.)
The Blue Jays and Rangers won't see each other again this season unless they meet in the playoffs. We may not witness such an effective baseball haymaker like Odor's again for a while, so let's end this post with one more look:
---
---