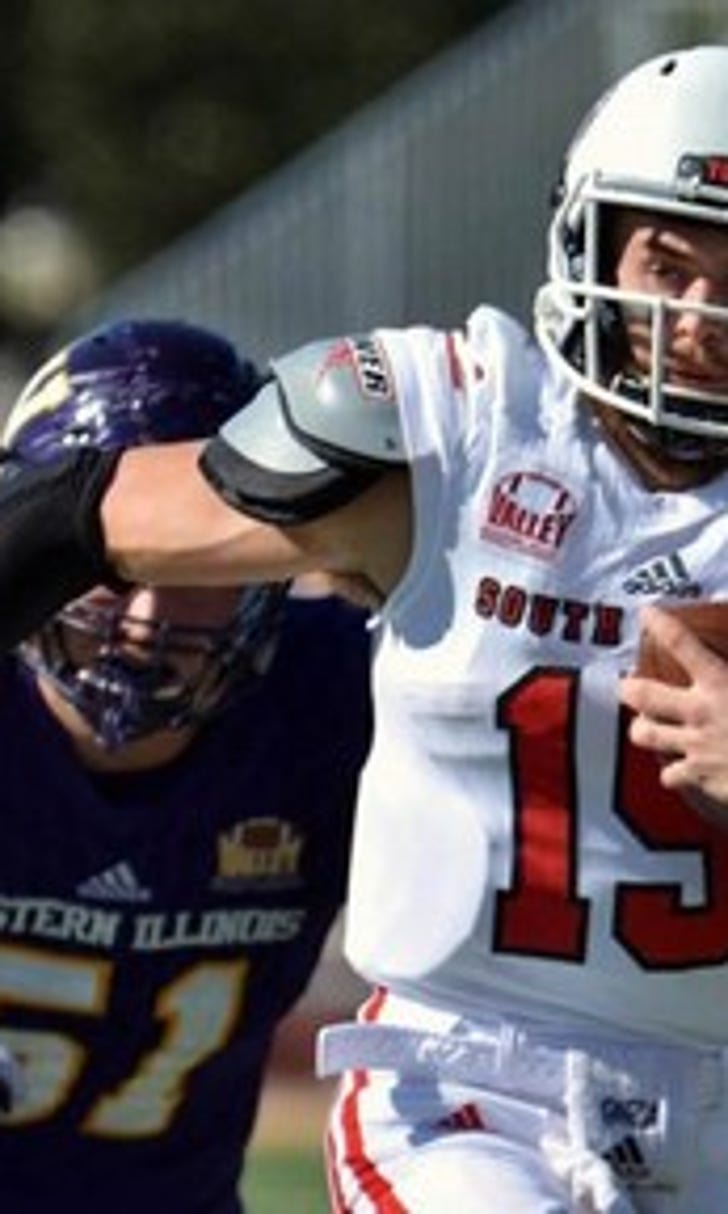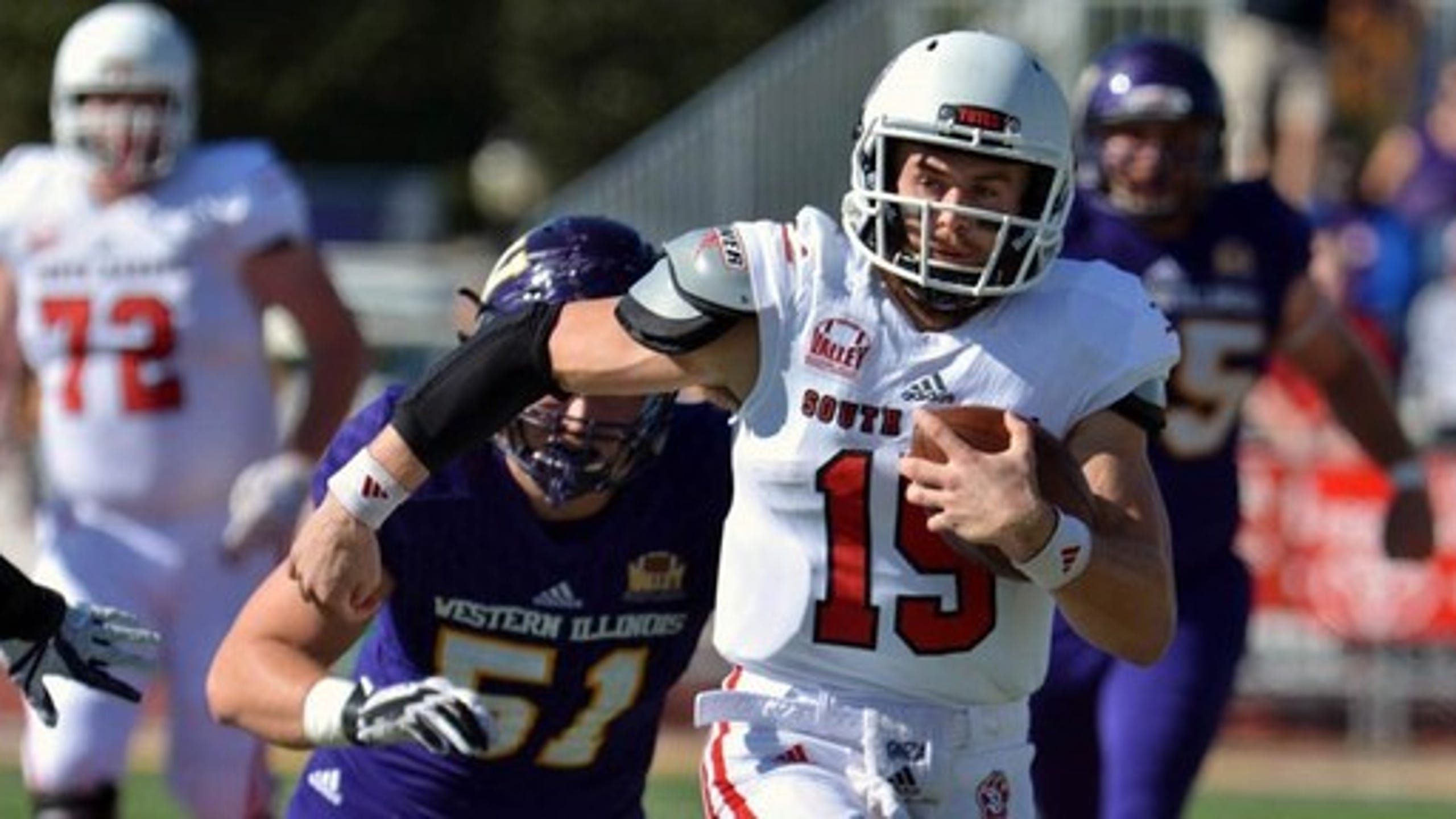 Top offenses in FCS, Payton finalists square off in S. Dakota-Sam Houston
BY AP • November 30, 2017
(STATS) - A week after traveling about 1,000 miles for a playoff matchup against a Southland Conference foe, South Dakota has to do it again.
This trip is a whole lot more daunting.
It comes against the only FCS team ranked ahead of the Coyotes in total offense, and it's on a Sam Houston State campus where the powerhouse Bearkats are 11-0 in the playoffs and haven't lost any game in well over two years. Plus, SHSU is coming off a bye week as the No. 6 seed while South Dakota only escaped the first round - in its FCS playoff debut - after a late fumble recovery in the end zone preserved a 38-31 victory at Nicholls.
That same Nicholls team was annihilated by the Bearkats back in September, 66-17. Yet, this second-round showdown of the subdivision's top offenses - and STATS FCS Walter Payton Award finalists Jeremiah Briscoe of Sam Houston and Chris Streveler of South Dakota - has been posted as just a pick 'em by the oddsmakers.
That has something to do with the fact that the Coyotes made the playoffs after navigating the gauntlet of the Missouri Valley Football Conference while SHSU, which was humiliated 65-7 by James Madison in last year's playoff quarterfinals, was far from dominant in the inferior Southland despite finishing 10-1.
"I've played teams in this conference before, and they're always physical teams," Bearkats coach K.C. Keeler said of the MVFC. "They usually have some great length to them. And that's South Dakota. They're a long, physical team that'll bang you up. ... There's a reason why they're still playing."
The biggest reason is an offense that averages 514.2 total yards. Sam Houston State is at 544.6, and no other team in the FCS even tops 485. The Bearkats put up a nation-best 45.9 points per game and South Dakota isn't far behind at 37.8.
"Both teams play with tempo, both teams are gonna try to take big shots downfield, both teams are gonna try to be balanced with run-pass," Coyotes coach Bob Nielson said. "Probably the biggest difference is both teams have great quarterbacks but they're a little different in style."
Streveler is a dual threat who leads the FCS in total offense with 4,283 yards, including 378 through the air in the first round. His four touchdown passes gave him 37 total TDs, second in the FCS behind Briscoe's 40.
What Streveler has over Briscoe, the reigning Payton Award winner, is he can beat you with his legs just as easily with his arm. Streveler has rushed for 669 yards and 10 scores.
"He plays angry. It's like the more competitive the game, the more hits he takes, the angrier he plays," Keeler said of Streveler. "To go along with that, he's fast. I mean, north and south, he might be the fastest player on the field."
Briscoe is more of a finesse guy but moves well in the pocket, having been sacked just 10 times in 11 games. Now he'll face a Coyotes defense that racked up 38 sacks, tied for fifth-most in the FCS. Sophomore Darin Greenfield is an all-MVFC first-team pick who has a conference-leading 18 1/2 tackles for loss, including eight sacks.
Briscoe is looking to atone for his performance in the James Madison loss, when he completed just 13 of 44 passes for 143 yards with no TDs and two INTs. However, Keeler says Briscoe shouldn't have even played that day due to injury, and it came in very cold conditions on the road. The temperature should be in the low 70s on Saturday afternoon in Huntsville, Texas, where Briscoe has led the Bearkats to 18 straight wins since a loss to Lamar on Sept. 19, 2015.
"If we don't throw a touchdown pass on Saturday and we win, that's all that matters to him," Keeler said. "He just really does not care about anything other than winning."
Nielson knows his team won't have a chance to win if it doesn't play a much cleaner ballgame than it did a week ago, when it committed 12 penalties for 202 yards. The Coyotes badly lost the time of possession battle as they had a season-low 74 rushing yards on 28 carries, and they allowed at least 31 points for the fourth straight game.
"It's gonna be a game where every stop is gonna be important and every offensive possession is gonna be important," Nielson said. "It's a game where you're gonna have to play close to the vest. ... We're gonna have to take care of the little things and play really disciplined football."
---
---