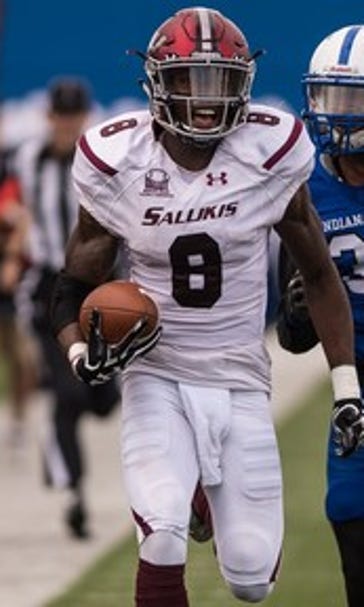 Missouri Valley is so deep it produce surprises
July 30, 2018
(STATS) - For the third straight year of his coaching tenure at Southern Illinois, Nick Hill watched as his team was picked eighth in the Missouri Valley Football Conference's preseason poll on Monday.
Salukis players won't want to blink during preseason camp or they'll miss a topic that will quickly become a non-issue.
"We'll probably address it one time just because everybody sees it online," Hill said on an MVFC preseason teleconference. "It doesn't matter. Maybe my first year, when I was 30 years old, I maybe looked at it for maybe a second longer than I do now. But it's all about the process and our guys have to dive into. We still have to line up against those guys and go out and play. And when we get into the middle of Week 7 and are competing and are trying to grind out a win in the Missouri Valley, nobody is going to remember where they picked us. We have to go out there and earn it every day."
It's easy to be unfazed by the MVFC preseason poll. There's such quality depth in the 10-team conference that a low spot in the poll doesn't necessarily reflect the talent of a team.
Somebody has to be saddled to the lower end while the likes of defending FCS champion North Dakota State, which has won the last seven MVFC titles, sit up top. The Bison were a unanimous No. 1 followed by FCS semifinalist South Dakota State second and Northern Iowa third.
"You're gonna see teams in this conference each and every year that maybe don't make the playoffs that could beat a lot of teams that make the playoffs," said Youngstown State coach Bo Pelini.
Bo knows. In 2016, his team was picked fifth in the MVFC preseason poll and not only made the FCS playoffs for the first time in 10 years, but it went on to reach the national championship game.
South Dakota made the FCS playoffs for the first time last season after being seventh in the preseason poll. Western Illinois was eighth in 2015 yet reached the second season.
Eight MVFC teams likely have a realistic chance to make the playoffs this season, although attrition will settle in to silence dreams and no conference has ever had more than five qualifiers. Only Missouri State, which should be more competitive in coach Dave Steckel's fourth season, and Indiana State don't appear strong enough at this point of their rebuilding process.
"The team that's able to play and stay away from the injury bug and hit on all cylinders and stays away from all the drama that can get involved in a season," Illinois State coach Brock Spack said, "I think that's the team that's going to win."
Southern Illinois, which finished 4-7 last season with two MVFC wins, has pieces to possibly fit together for a surprising season. Hill said he likes his roster a lot, which includes 15 starters, and a healthier Sam Straub returns from injury to lead the way in a quarterback-heavy conference.
So, no, nobody's moving backward in the MVFC.
"Each week you get challenged," Pelini said. "I think in the end that competition, from a coaching standpoint, knowing what you're going to face each week, develops a sense of urgency on your football team that's going to make your program better in the end. You've got to keep developing your program to kind of move into the upper echelon of this conference."
---=
KEY CONFERENCE GAMES=
Spotlight Game: South Dakota State at North Dakota State (Sept. 29)
In NDSU's glorious seven-year run (a record-tying six national titles), the Jackrabbits are the only team to beat the Bison twice - in each of the last two regular seasons.
Four More: Youngstown State at Western Illinois (Sept. 29), North Dakota State at Northern Iowa (Oct. 6), Western Illinois at Illinois State (Oct. 26) and South Dakota at South Dakota State (Nov. 17)
---=
MISSOURI VALLEY FOOTBALL CONFERENCE PRESEASON POLL=
Head Coaches, Media and Sports Information Directors Poll
1. North Dakota State (39 first-place votes), 390 points
2. South Dakota State, 340
3. Northern Iowa, 270
4. Youngstown State, 258
5. Illinois State, 248
6. South Dakota, 206
7. Western Illinois, 163
8. Southern Illinois, 139
9. Missouri State, 90
10. Indiana State, 41
---
---