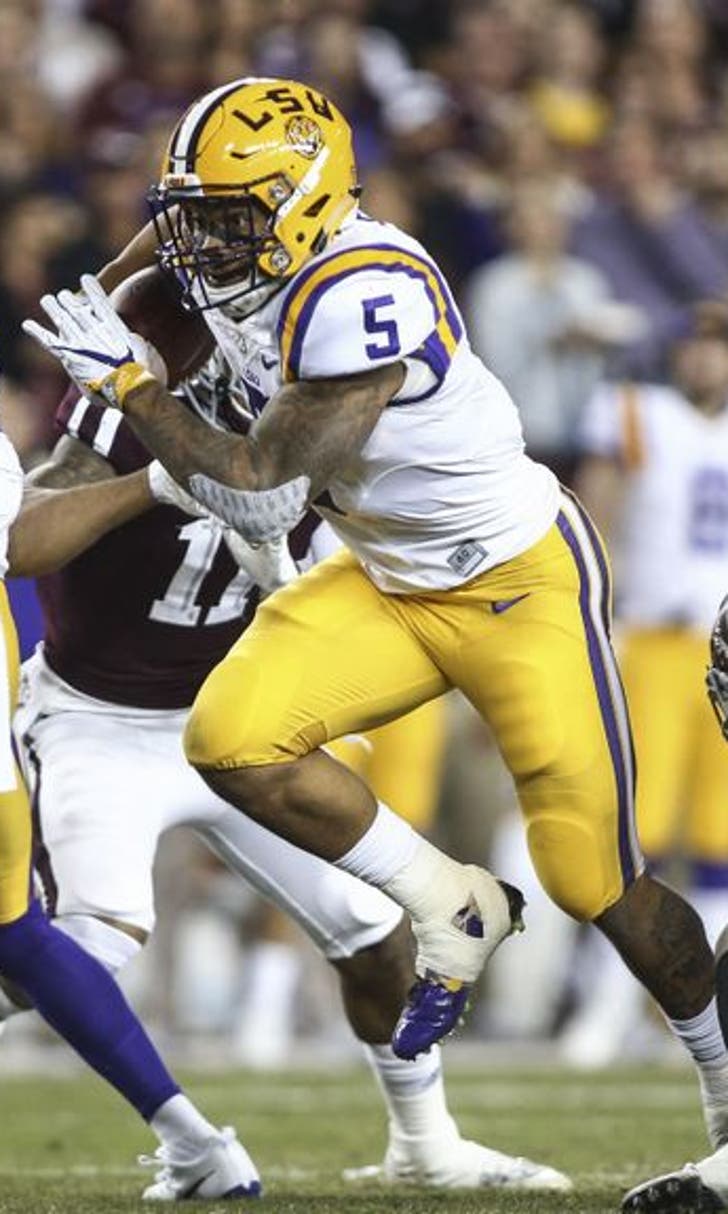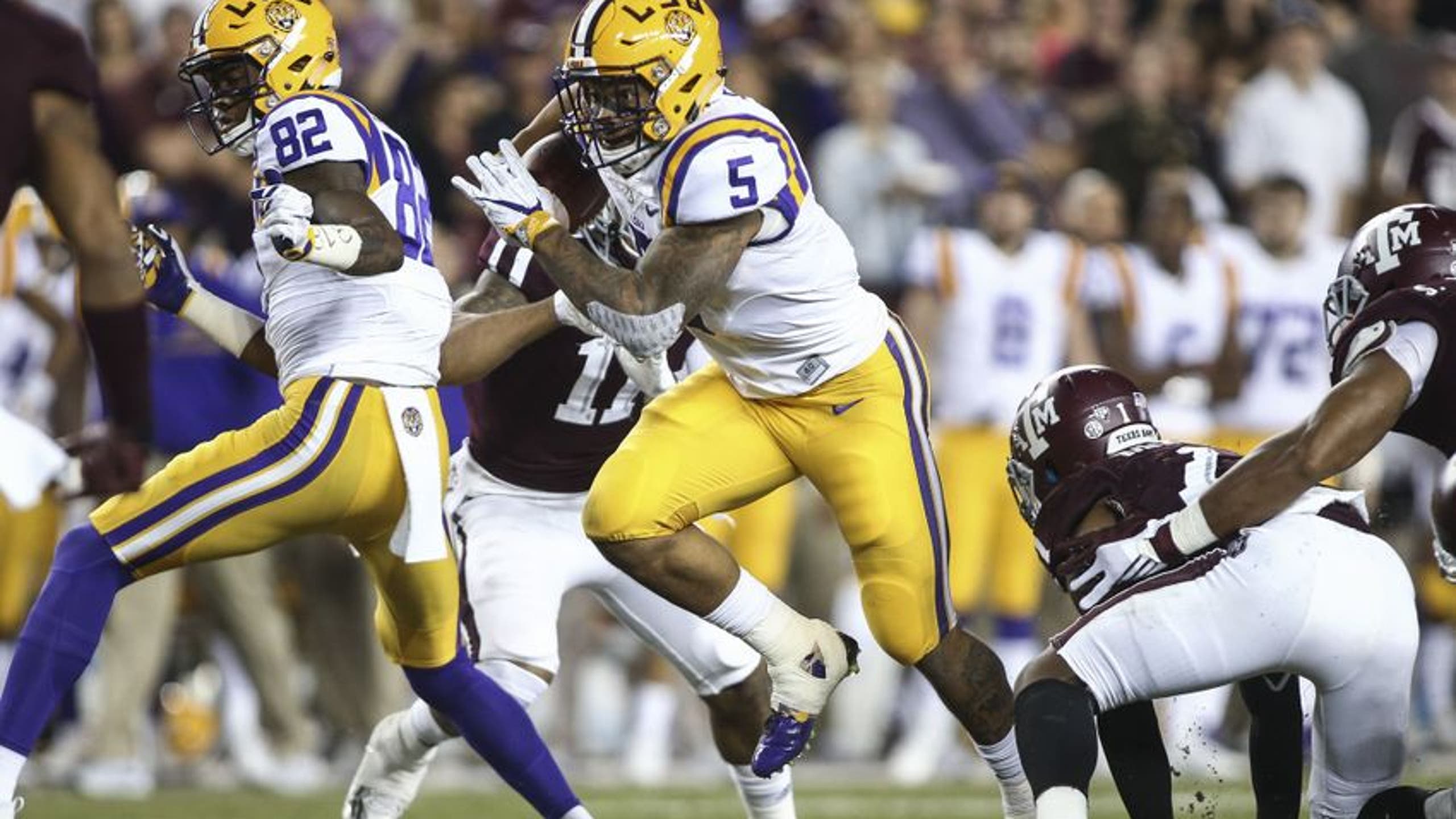 Louisville Football: 5 Stats You Need To Know About LSU
BY Fansided and Derek Snyder/FanSided via Big Red Louie • December 29, 2016
We take a closer look at Louisville football's next opponent and the five statistics that you need to know about LSU in 2016.
The Louisville football team has a very important game coming up against LSU on Saturday. This 2016 Citrus Bowl match-up will surely be one of the best games of the weekend, as it will feature the SEC's best running back (Derrius Guice) and the 2016 Heisman Winner (Lamar Jackson).
However, the true test will be which team's defense will have the best game against these offensive super-stars.
With that being said, let's take a closer look at LSU and 5 statistics you need to know about them, according to Sport Source Analytics:
Nov 24, 2016; College Station, TX, USA; LSU Tigers running back Derrius Guice (5) rushes for a touchdown during the first quarter against the Texas A&M Aggies at Kyle Field. Mandatory Credit: Troy Taormina-USA TODAY Sports
5. Derrius Guice Ended The Regular Season As The SEC's Leading Rusher
The fact that Leonard Fournette is not playing in this game has zero implications on how the Cards have to prepare for LSU's rushing attack. What you may not realize is that their back-up, Derrius Guice, played most of the season in Fournette's absence and became the Southeastern Conference's leading rusher.
According to Sport Source Analytics, Guice rushed for 1,249 yards and 14 touchdowns in the eleven games he appeared in this year. Not to mention, he is coming off a huge game over Texas A&M where he ran for 285 yards and four touchdowns.
I think it goes without saying that Louisville's defensive-front must be ready to act like they are going up against Dalvin Cook on Saturday afternoon.
Other than Wayne Gallman from Clemson, Cook is the only running back the Cards faced in 2016 that is near the level of Derrius Guice (obviously Cook is still better).
Nov 19, 2016; Baton Rouge, LA, USA; The Florida Gators defense faces off against the LSU Tigers offense during the first quarter at Tiger Stadium. Mandatory Credit: Jerome Miron-USA TODAY Sports
4. LSU's Offense Has A 43.7 Conversion Percentage On Third Down
LSU is one of the best team's in America in converting on third down. They aren't going to put themselves into too many third-and-long situations because they know quarterback Danny Etling can't lead them to victory with his arm in those scenarios.
The Tigers are going to run the football a lot against Louisville on Saturday.
The Cards will see a lot of Danny Etling handing the ball off to Derrius Guice and hoping that he can move the chains.
The good news for Louisville is that they have the ability to keep Derius Guice quiet, but they have to tackle well on first and second down in order to be successful on third down against LSU this weekend.
Nov 24, 2016; College Station, TX, USA; LSU Tigers head coach Ed Orgeron watches from the sideline during the second quarter against the Texas A&M Aggies at Kyle Field. Mandatory Credit: Troy Taormina-USA TODAY Sports
3. LSU Is Currently At Zero In Turnover Margin
Frankly, LSU's defense doesn't force a lot of turnovers and at the same time, their offense doesn't put the football on the ground either. They are the complete opposite of what Louisville has done all season long.
The Cards can force turnovers, but have problems with fumbling the football.
I truly believe that Louisville is going to be in trouble if they can't protect the football again on Saturday. The Tigers aren't going to put themselves into too many situations where they are turnover-prone. They will just run the football and play keep-away if they have a lead.
Therefore, the Cards must play disciplined football if they want to come out as the 2016 Citrus Bowl champs.
With that being said, it'll be interesting to see if the game does indeed turn because of a interception or fumble.
Heck, maybe even Louisville can get a turnover that results in actually winning this game?
Nov 24, 2016; College Station, TX, USA; LSU Tigers quarterback Danny Etling (16) attempts a pass during the second quarter against the Texas A&M Aggies at Kyle Field. Mandatory Credit: Troy Taormina-USA TODAY Sports
2. LSU Has The 101st Ranked Passing Offense In The Country
If there is one part of this LSU team that is super un-impressive, it's Danny Etling and their passing offense. With that being said, Derrius Guice has been so good and their defense is so legit that Etling and company didn't have to score a ton of points to win every weekend in 2016.
The good news for Louisville, is that they can load the box against this football team. If Etling beats the Cards through the air, then good for him, but I don't foresee that happening whatsoever.
Hopefully this three-week break for the Cardinals will help some of their secondary players get healthy. Again, Louisville's defensive coordinator, Todd Grantham, needs his guys on the back-end of the Cards' defense to tackle well and help out the front seven in the running game.
I doubt that Etling has a "Stephen Johnson-like" performance in his future.
Dec 29, 2015; Houston, TX, USA; LSU Tigers defensive end Arden Key (49) and safety Jamal Adams (33) play defense against the Texas Tech Red Raiders at NRG Stadium. LSU won 56 to 27. Mandatory Credit: Thomas B. Shea-USA TODAY Sports
1. LSU's Defense Only Gives Up 16.4 Points Per Game
I am a firm believer that the "total defense" statistic means a whole lot less than "points given up per game". LSU has been anemic on offense at times, but their defense has been one of the main reasons why they are playing in the Citrus Bowl this season.
With that being said, the Cardinals' offensive line is the biggest X-factor in this football game on Saturday, without a doubt in my mind. These guys up front have to be on the same page and have four solid quarters against LSU's front seven.
The Tigers will get their plays, but Louisville's O-line must have a short-memory and not let the crowd noise become a factor in this bowl game, assuming that LSU's fans will travel well.
That means limiting pre-snap penalties and keeping Lamar Jackson on his feet. If they can make that happen, they those five guys will be our MVP's for this 2016 Citrus Bowl.
More from Big Red Louie
This article originally appeared on
---
---