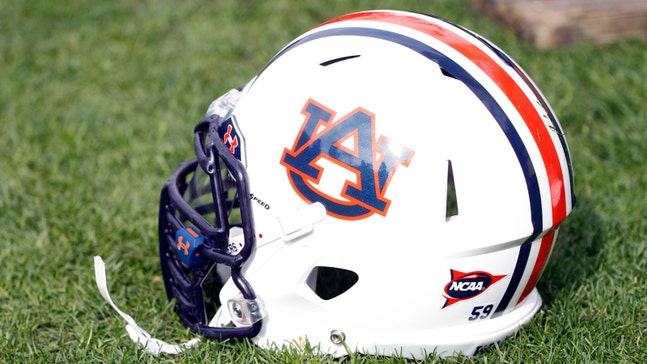 Auburn recruit battling leukemia delivers special prom invite
Updated
Mar. 5, 2020 12:02 a.m. ET

An Auburn football recruit who was recently diagnosed with cancer surprised his girlfriend with a one-of-a-kind "promposal" on Monday ...€" and she said yes.
Tashawn Manning, a senior defensive tackle at Wekiva High School outside Orlando, Fla., committed to play for the Tigers in June 2015. Manning was later diagnosed with acute promyelocytic leukemia on Thanksgiving morning and has been receiving chemotherapy treatments at Florida Hospital in Orlando since.
On Monday, Manning's girlfriend, Victoria Green, thought she was making a routine trip to the hospital to visit with Manning, but when she arrived, she found Manning dressed in full doctor's scrubs holding a sign asking her to Wekiva's April 23 prom. In addition, there was a sign on the door to Manning's room reading, "I'm no doctor, but it appears you're suffering from Promitusisim."
"We were sitting there talking about ideas, and I saw an idea about a doctor theme," Manning told News 13. "I was in the hospital, so I just put two and two together."
Auburn coach Gus Malzahn visited Manning in January and Manning signed with the Tigers in February after receiving a waiver from the NCAA that allowed the 17-year-old to officially commit to the program without counting against the team's scholarship count. After dropping from 270 pounds down to 230, Manning is now reportedly back up to 260, and though he won't be able to play this season, he hopes he'll be able to join the program sooner than later.
"Not being able to go up to Auburn, not being able to start playing football ... you just have to sit back and wait and watch and watch and watch until it's your turn," Manning told the Orlando Sentinel last month. "Now I just try to go through this one day at a time."
---
---