Young Kentucky team gets an unexpected lesson in failure
Published
Mar. 19, 2016 10:22 p.m. ET

DES MOINES, Iowa —€" The future NBA lottery pick was sitting deep inside his cave of a locker, a towel covering his inconsolable head, a dozen cameras focused on his hidden face.
Kentucky freshman guard Jamal Murray had been sobbing. He blamed himself for Kentucky's 73-67 loss to Indiana, the first time in head coach John Calipari's past 10 NCAA tournaments that his team didn't make the Sweet 16. "We all got lazy on defense," the 19-year-old said, barely audible, his lower lip quivering. "And it backfired."
To his right, senior Alex Poythress leaned his back against the wall, tucked his chin to his chest and closed his eyes. It was his final collegiate game. Sophomore point guard Tyler Ulis, who was phenomenal all year and Kentucky's only rock in this game —€" 27 points, including three 3-pointers, plus three assists and a pair of steals —€" was on the other side of the locker room at Wells Fargo Arena. His ankle wraps sat in a heap on the floor. A banana peel was next to his leg. Ulis didn't look as devastated as he did in Kentucky's dead-silent locker room a year ago, when a dream of undefeated came to an end at the Final Four, but he said it was the exact same feeling: A promising season had come to an end.
Freshman Isaiah Briscoe sat stone-faced and stared into his locker. He was asked about watching last year's team nearly make history while still in high school, and whether he had any idea when he came to Kentucky about the feeling of disappointment amidst the forever-enormous expectations. Briscoe bristled at the question. Next door was the Indiana locker room. As Briscoe spoke, you could hear whooping and clapping from the team that just beat his.
"We're not the same team as last year," Briscoe said. "That's not the point. Don't try to compare us to them. We're our own team. We've got our own identity. And we lost in the second round."
Except this is forever the conundrum of playing basketball at the nation's bluest blueblood: When you come to Kentucky, and when you play for Calipari, the expectations are nearly impossible to reach. It's national title or bust every year. And the brilliance of Calipari's reign is that, yes, in fact, every year a national title is possible with a completely new group of players. But the dark side happens when the judgment comes on a team like this that didn't go as far as it could have.
Was it a failure? That's a big word, one that's probably unfair to throw at a bunch of teenage basketball players, but I'm not sure what other way there is to describe how Kentucky's season ended on such a sour note. Yes, you could talk about the unfair NCAA tournament seedings that made this have the feel of a game in which two teams should be playing for a spot in the Final Four, not a game in which two teams were playing for a spot in the Sweet 16. You could talk about how Kentucky completely reinvented its identity since a year ago — a team that was full of giants and historically good defensively turned into a small-ish group dominated by perhaps the best set of guards in college basketball —€" and how incredibly difficult it is to do that. You could talk about how Saturday's game was a barn burner of a game for one of college basketball's best rivalries, and how Kentucky committed an almost unheard-of six offensive fouls, and how the only thing that separated Kentucky from winning it was its shots — its many open shots — did not go down.
"We still got whatever shots that we usually make," Briscoe said. "We weren't making the shots that we've been making. Usually we find a way. Today was just a rough day."
And yet the impossibly thin margin between a Kentucky win and an Indiana win swung the way of Indiana, which was just a little bit better in every way. But at Kentucky, a little bit worse than the opponent is a failure. It is the blessing and the curse of playing in Lexington.
Look at Calipari's March record in seven years as Kentucky's head coach: Elite Eight. Final Four. National champion. A disastrous NIT season, one that Calipari wishes could be stricken from the record. Then national runner-up, another Final Four, and ... this.
There is a sheen of invincibility around Kentucky in March. Be honest: Did any of you really think Kentucky was going to lose Saturday night? I didn't, even though I've been as impressed by this Indiana team, given where it was three months ago, as I've been with any team in college basketball. But this was Kentucky, and this was Calipari, the king of the one-and-done era. This Kentucky team seemed heading in the same trajectory as the 2013-14 team, which had ups and downs during the regular season, then hit its stride in March.
"You don't expect to be out —€" this history of this team, the coaches who've been here," Murray said, the towel still covering his head. "Cal does a great job of changing players into winning players. He's done it with me. I just couldn't bring enough today."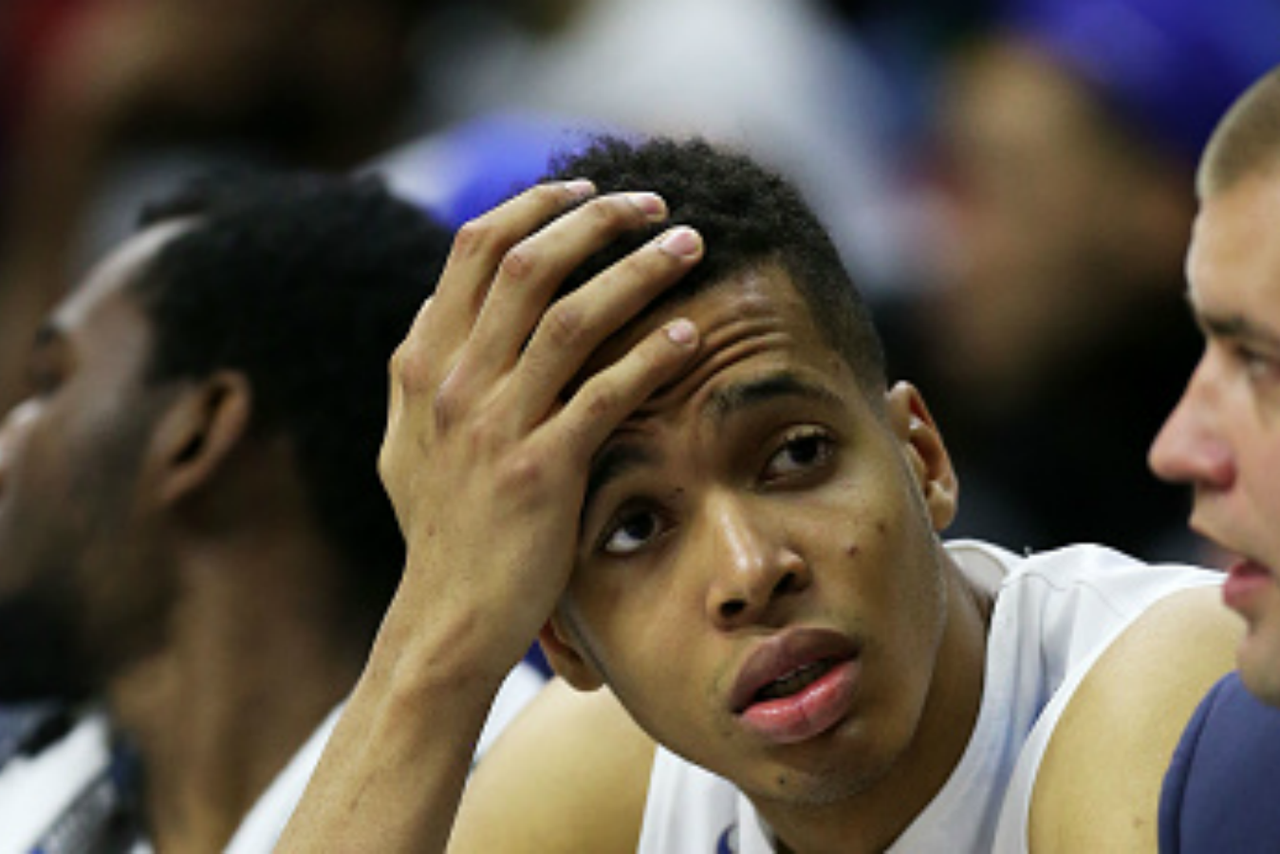 Freshman Skal Labissiere and several other Wildcats could be headed to the NBA.
Down the hall in the arena, past where the school's athletic director and Calipari's wife were standing, Calipari sat at the podium and tried to explain it all. He spoke of the offensive fouls. He spoke of the shots not going down. He didn't blame his players; the promising season was over because of one night that just wasn't their night.
"These kids aren't machines," Calipari said. "They're not computers. Stuff happens and you try to figure it out."
The way Calipari will figure it out won't be to tweak this current group. It'll be to reconvene in summer with a completely new group. Poythress will be gone. One assumes another group of players — certainly Murray and Ulis, perhaps Briscoe as well as freshman Skal Labissiere and junior Marcus Lee — will head to the NBA. Calipari is not one to dwell on what happened in the past. He can't, because the future comes at him quickly, and it looks nothing like the past.
"We got a heck of a group coming in, maybe the best ever that I've had," Calipari said on the podium. "The big picture for us is we're fine. I am sick for my team, though ...
"Big picture of this is we're all right," he said. "Now I'm going to have a brand new team again next year. Surprise!"
Calipari stepped down to the podium and walked toward his team's locker room. Outside the locker room stood Dr. Eli Capilouto, the president of the University of Kentucky. He put a hand on Calipari's shoulder.
"Sorry, Doc," Calipari said. "We didn't get it."
Follow Reid Forgrave on Twitter @reidforgrave or email him at ReidForgrave@gmail.com.
---