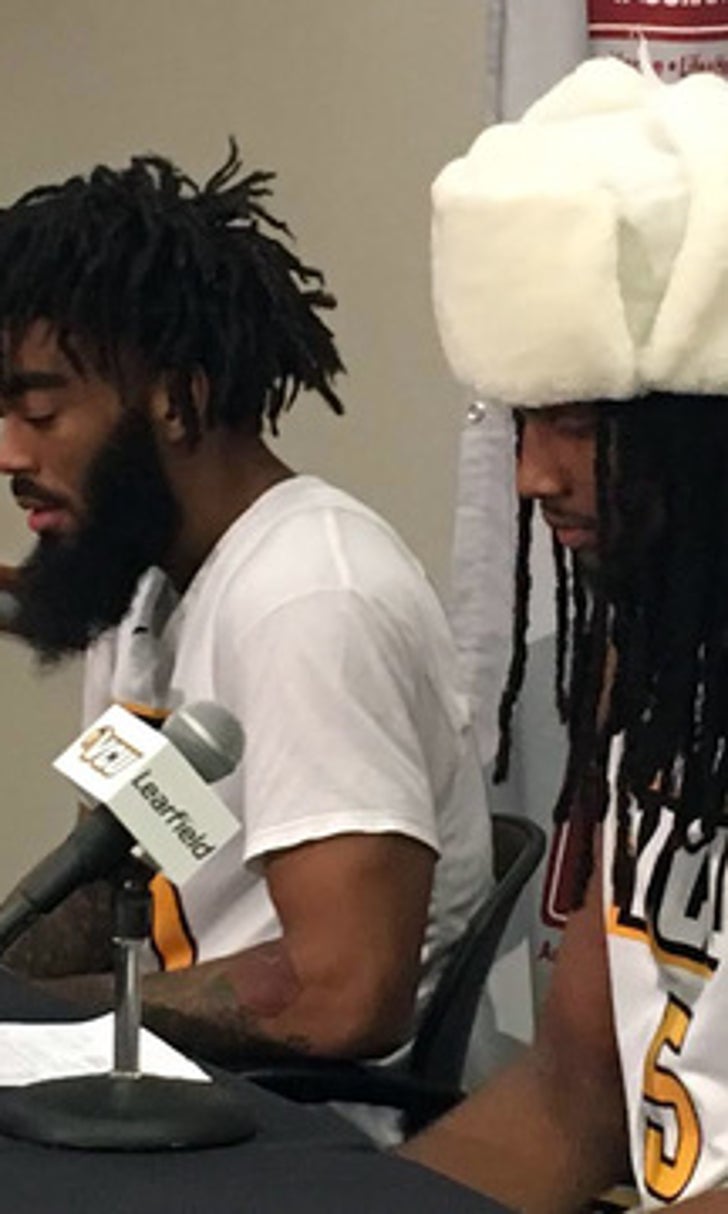 VCU reserve guard Doug Brooks keeps Rams loose with antics
BY AP • January 13, 2017
RICHMOND, Va. (AP) JeQuan Lewis listens to VCU teammate Doug Brooks trying to sound serious and can't help but laugh.
Seated right beside Lewis during a postgame news conference, Brooks donned a huge white hat partially covering his long, thick dreadlocks. He said this is ''my Russian hat I got in Spain.''
It is the kind of thing the Rams have come to expect from their happy-go-lucky reserve guard from Lake Wales, Florida.
''That's Doug,'' Lewis said. ''Ever since the first day he got here, the first day he walked into the gym, he was the same way he is now: super confident, goofy, jokes for days. He's just a super outgoing person and he speaks his mind a lot and we need that (from) Dougie to keep us all loose, clear-minded and stuff.
''When he's like that, I feel like it rubs off on the team.''
But comic relief is far from Brooks' only contribution to the Rams (14-3, 4-0 Atlantic 10), who will take an eight-game winning streak into Saturday's game at Davidson (8-7, 1-3). He's also become a fan favorite for his defensive abilities, and his knack for making big plays when the Rams really need one, whether by making a 3-pointer, a steal or a pass.
He's seventh on the team in minutes played and averages 5.9 points, but is second with 20 3-pointers and 31 steals.
''It's what I do,'' the 6-foot-4 Brooks said. ''It's what I came here for, to make big plays.''
Keeping it fun, he believes, is critical to success.
''When you're put there having fun and playing like you want to play, the game is fun and you tend to win like that, so the more fun the game is for us, the more I feel like VCU has the chance to win,'' he said. ''If you got a burden on your shoulders and its tense, and you're thinking too much, the game is pretty hard.''
Earlier this season, with VCU trailing Louisiana-Monroe by eight at home, Brooks hit five consecutive 3-pointers to help fuel an 18-2 burst as the Rams rallied to win. Brooks also had six assists and four steals in the triumph.
Some of his most impactful contributions have also come on the biggest stages.
Two years ago, his steal and assist doubled VCU's lead over Dayton in the closing minute of the conference championship game, helping the Rams to win their lone championship. Later that year, in the NCAA Tournament, Brooks made four 3-pointers to help keep things close before the Rams lost 75-72 to Ohio State in overtime.
Sometimes, Brooks' penchant for humor helps Lewis get back into the right mindset.
''I get very down on myself or hard on myself because I'm a perfectionist,'' Lewis said. ''I want everything to go perfect and Doug does a good job of getting me out of that. He'll crack a joke and get me out of that zone.''
Wade, in his second season as the Rams' coach, said it took him some time to figure Brooks out.
''You just wish he'd be a little more serious, but I think our guys feed off him being a bit of a wild card,'' he said. ''You don't want everybody to be the same. You want different personalities, and he certainly is that.''
And that, Wade has learned, can help his team, especially in tense situations.
''I've grown to appreciate that and like that about him,'' he said. ''I try to see the good in a lot of what he does. Maybe early on I saw a lot of bad stuff that I wanted to correct, but now (I) choose to see the good.''
---
More AP college basketball: www.collegebasketball.ap.org
---
---