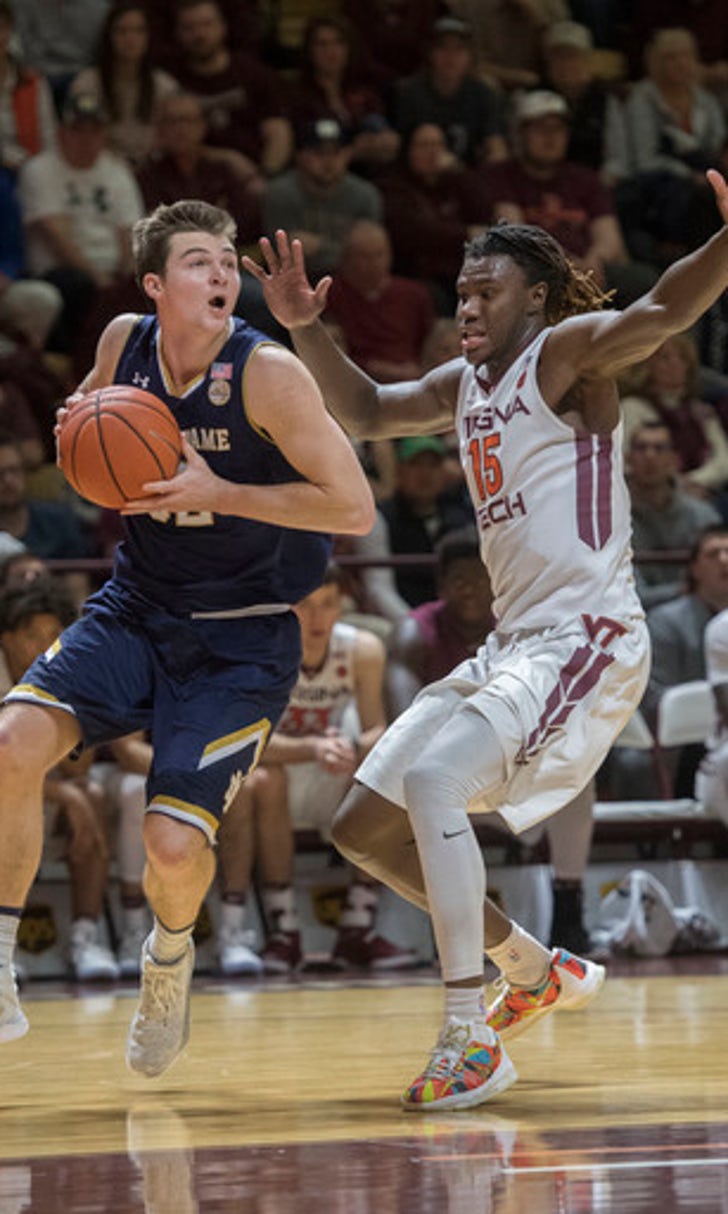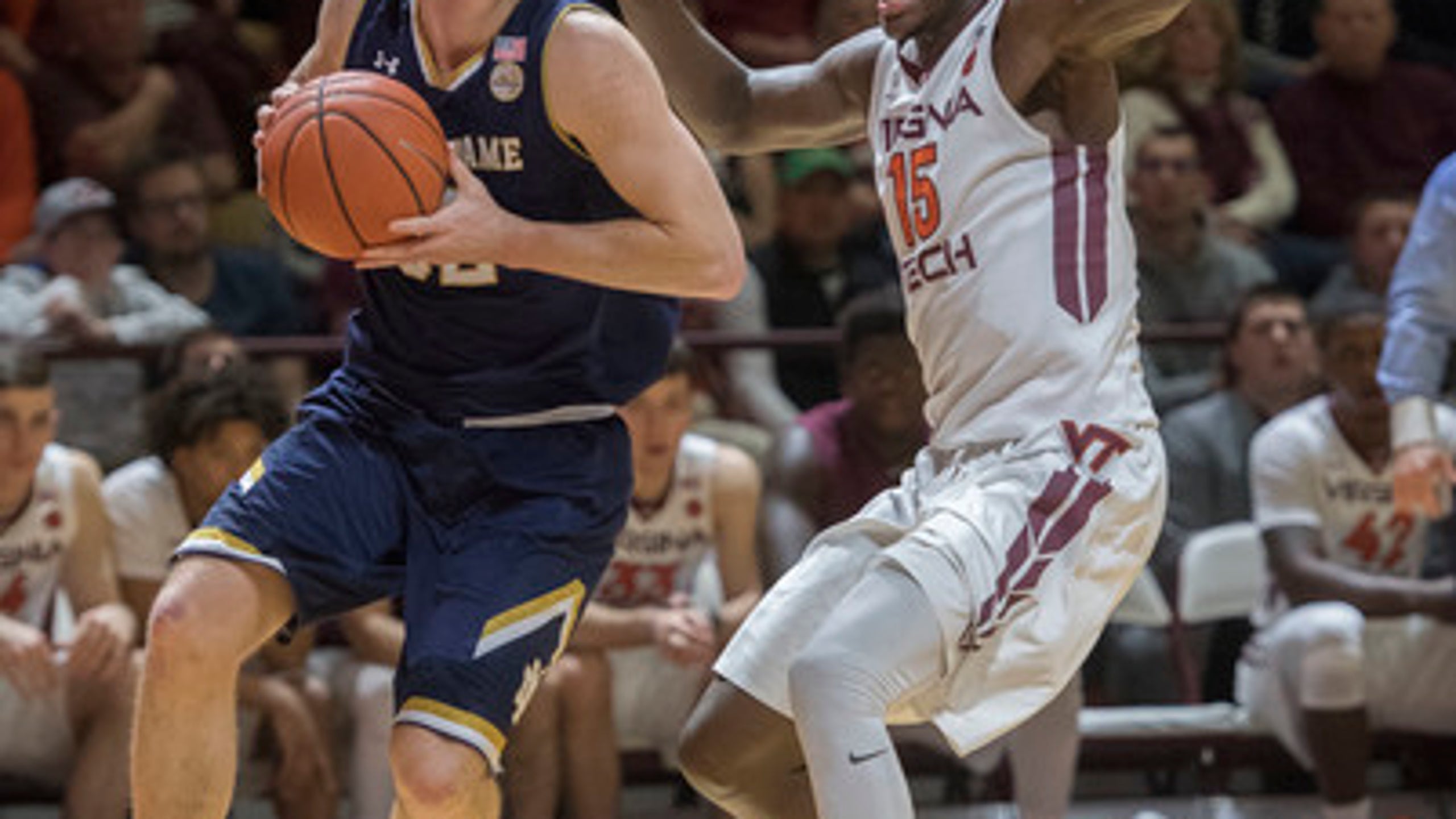 Vasturia leads No. 20 Notre Dame past Virginia Tech 76-71 (Jan 14, 2017)
BY AP • January 14, 2017
BLACKSBURG, Va. (AP) Steve Vasturia and No. 20 Notre Dame are making a habit of playing in close games, and winning them.
The Fighting Irish did it again Saturday, rebounding after blowing all of a 19-point lead to beat Virginia Tech 76-71.
''When you win those type of games, you like those moments and you're not afraid to step up,'' Vasturia said.
Vasturia scored 20 points and Matt Farrell and Bonzie Colson added 14 each for the Fighting Irish (16-2, 5-0 Atlantic Coast Conference), who have won their five conference games by a total of 23 points.
More impressively, three of the wins have come on the road.
''That's five games in a row now in league play where we kind of believe when it gets down the stretch, we've been able to get defensive stops - we did it again tonight - and then make big-time, fearless offensive plays,'' Irish coach Mike Brey said.
''I think now it's a psychological advantage because we've closed out so many games, we kind of believe.''
Virginia Tech had a 15-game home winning streak snapped.
The Hokies (13-4, 2-3) trailed almost throughout, but went ahead 67-66 on a three-point play by Chris Clarke with 1:52 to play. But Farrell scored on a drive and the Hokies turned it over on consecutive possessions and the Irish converted, rebuilding their lead.
The outcome won't be one to dwell on, Clarke said.
''Just let it sting for a little bit so you learn from it and get ready for the next game or the next practice.''
Clark had 21 points, nine rebounds and five assists. Allen added 16 points and Justin Robinson 14 for the Hokies.
Notre Dame made 14 of its first 20 shots, scoring 17 straight at one point and building a 33-14 lead.
BIG PICTURE
Notre Dame: The Irish seem unflustered in tight spots late in games. Vasturia hit huge shots in the first four victories and Farrell, jeered by Hokies fans for much of the day, made the steal and pass inside the final minute that allowed the Irish to go up 72-67.
''He always finishes for us,'' Brey said of Farrell, who also had five assists and three steals. ''Matty and Steve's mental toughness is really the thing that sets us apart as far as wanting to really deliver and feel we can get it done. They make plays that make everyone else believe.''
Virginia Tech: The Hokies had to be delighted to be within 39-31 at halftime even though top scorer Zach LeDay (16.6 ppg) was scoreless and No. 2 scorer Ahmed Hill (15.1 ppg) had just two points. Neither ever really got going, but Allen and Clarke picked up the slack. LeDay scored 10 and grabbed eight rebounds, and Hill finished with just two points.
DIFFERENCE MAKERS
Both teams had 13 turnovers, but Notre Dame scored 22 points off the Hokies' mistakes. The Hokies had just 15 off Irish errors. ... Neither team shot free throws very well, but Virginia Tech was especially bad in the second half, missing eight of its 14 attempts.
ALLENTOWN
Allen turned the game for the Hokies after they fell behind 33-14 with a blistering scoring display. He hit a 3-pointer with 7:32 left in the first half, another with 6:56 to go, a layup with 6:21 left and a final 3-pointer with 4:47 remaining. That's 11 points in 2:45.
UP NEXT
Notre Dame stays on the road and plays at No. 9 Florida State on Wednesday night.
Virginia Tech wraps up a three-game homestand when it hosts Georgia Tech on Wednesday night.
---
More AP college basketball: http://collegebasketball.ap.org
---
Follow Hank on Twitter: www.twitter.com/hankkurzjr
---
---