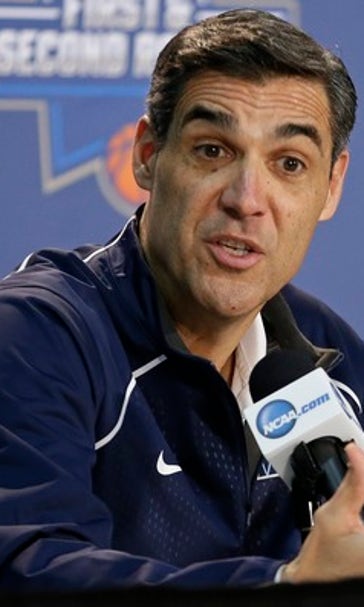 UNC Asheville-Villanova Preview
March 17, 2016

NEW YORK (AP) Everything Villanova has accomplished this season, all the victories and the No. 1 ranking, and all the success coach Jay Wright's program has had in recent years, it all comes with a `Yeah, but ...'
The Wildcats haven't reached the second weekend of the NCAA Tournament since 2009, when they went to the Final Four. Those early departures include three times Villanova lost its second NCAA game as either a one or two seed.
So now the Wildcats (29-5) are back, a No. 2 seed in the South Region facing 15th-seeded UNC Asheville on Friday. Regardless of whether it is fair, the next few days at Barclays Center in Brooklyn will define their season and their program - at least to those outside of the program.
''As soon as we lost to N.C. State last year, it became a big issue, even in the offseason,'' Wright said Thursday. ''And when we started this season, it was the first thing everybody talked about. So we had to talk to the team about it and just say, `OK, this is just something we're going to have to deal with.'''
Wright's message to his players has been to own those postseason failures but do not consider yourselves failures.
''So we spent a lot of time trying to teach our guys that this season does matter to you,'' Wright said. ''And I'm really proud of how our guys handled it, to win a Big East regular season championship, win 29 games, with everyone still saying this doesn't matter.''
Villanova was No. 1 in the country for three weeks this season.
Ryan Arcidiacono has been through all the many ups and few downs, helping the Wildcats win 91 games over the last three seasons. The senior said there is no reason to treat this NCAA Tournament different from the previous ones.
''Just try to do the same thing we've been doing all year and try to just play harder than the other team, play more together, and try to outrebound them,'' he said.
The Big South champion UNC Asheville (22-11) is in the NCAA Tournament for the first time since 2012. The Bulldogs don't have a starter over 6-foot-5, but the Wildcats aren't particularly tall either.
''I think every team here is beatable, but we also know they're a great team,'' Bulldogs guard Dwayne Sutton, one of two freshmen starters.
Seven No. 15 seeds have won first-round games since the tournament expanded to 64 teams in 1985.
''If we didn't have a good season, we wouldn't even be in the NCAA Tournament,'' Wright said. ''So we wouldn't have a chance to get past the first weekend. So now we're finally at the point where we can do something about it. ''
DEFENDING THE 3: Statistically, the Bulldogs defend the 3-point shot better than any team in the country. Opponents are shooting 28.4 percent from 3 against UNC Asheville and defending the arc was key in victories against Georgetown and Tennessee.
FEELING GOOD: A sprained right ankle kept 6-foot-11 center Daniel Ochefu out of the starting lineup for Villanova's last two games in the Big East tournament and he did not play more than 19 minutes in any of the Wildcats' three games. Wright gave him three days off and said Ochefu was 100 percent when the team practiced Thursday.
Ochefu averages 9.7 points and 7.6 rebounds per game.
EXPERIENCE: While none of UNC Asheville's players have been to the NCAA Tournament, coach Nick McDevitt was the associate coach four years ago when the Bulldogs led top-seeded Syracuse with six minutes remaining before falling 72-65.
''We talked about this week that one of the reasons we felt like we were in that game was because of the preparation leading up to the game,'' McDevitt said. ''Our team wasn't ... just happy to be here. They wanted to win and felt like they could win.''
NEXT: The winner faces either No. 7 Iowa or No. 10 Temple.
---