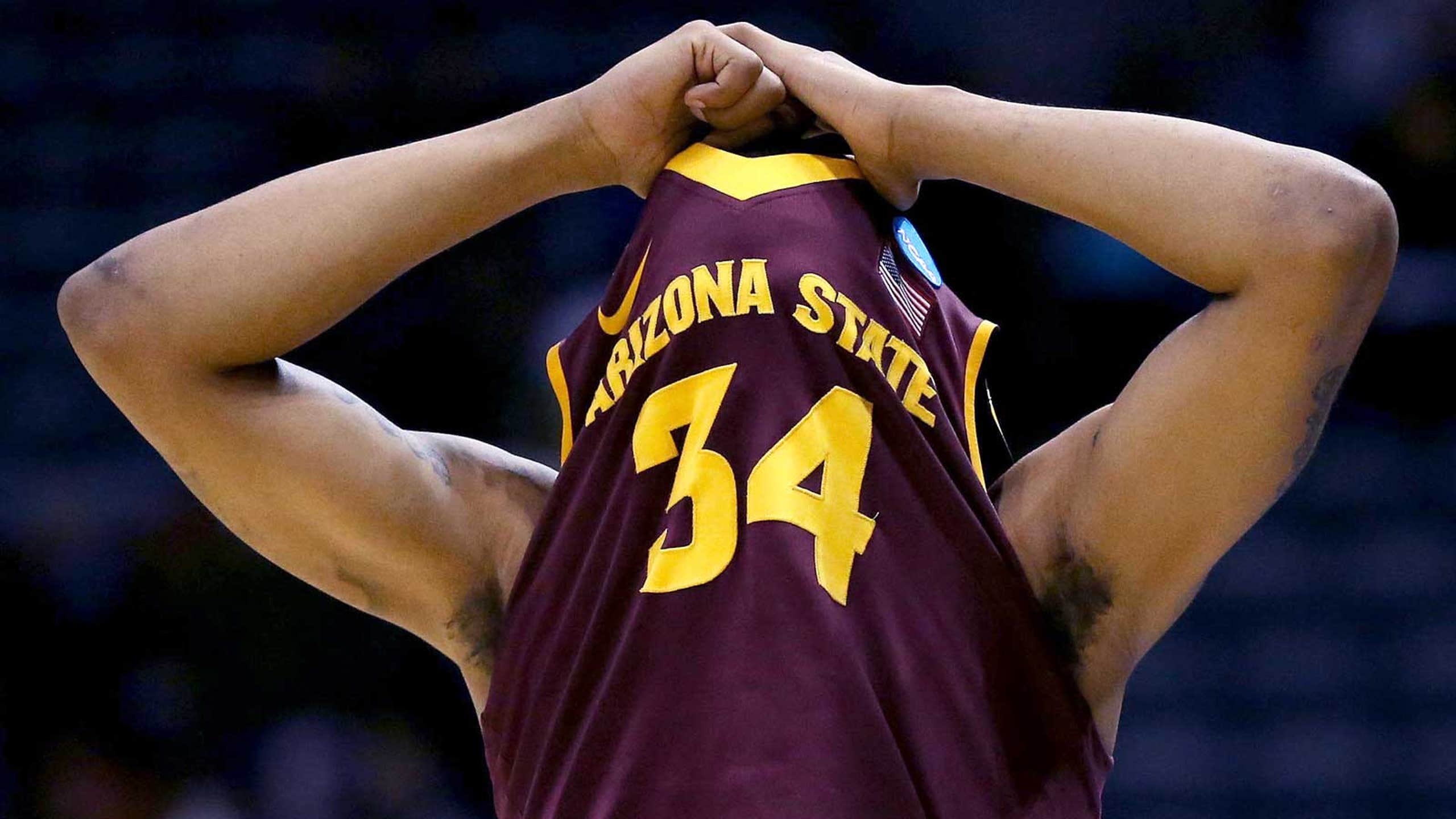 Tourney takeaways: Upsets, buzzer beaters and Payne rule a wild day
BY foxsports • March 21, 2014
Whew. Catch your breath yet?
One day is in the books in the NCAA tourney, and what a start it was. With half of the second-round set, we look back at the day and give you one takeaway from each game.
Dayton threw a wrench into the Ohio hoops landscape
The first game of the day provided one of the day's most thrilling finishes. Vee Sanford's running layup with 3.8 seconds left gave the low-profile Fliers a big win over in-state rival Ohio State.
A No. 11 seed beating a No. 6 in a crazy finish that could've gone either way may not exactly signal a shift in the balance of basketball power in the state, but it did bring an end to the career of three Buckeyes seniors who were used to deep tourney runs, most notably Aaron Craft. He had a chance to win Thursday's game at the horn, but a tough layup attempt just missed. At least he held onto the ball this time.
Check out the wild finish right here:
Wisconsin is going to be a roller-coaster ride
The Badgers have been mostly consistent this season and were in the conversation for a No. 1 seed until losing in the Big Ten tournament. But Thursday's opener against 15th-seeded American swung between extremes.
The Eagles held a 17-10 lead with 9:52 to go in the first half and had some people thinking upset ... but it all went swiftly downhill from there. The Badgers outscored the Patriot League champs 65-18 the rest of the way in a blowout win.
Wisconsin always feels like a hard team to figure out come tourney time, and this year is off to a similar start.
Pitt's getting hot at the right time
The Panthers had a solid regular season, but they also lost most of their marquee matchups against top-tier talent. A win over Big Dance-bound North Carolina and a tight loss to eventual No. 1 seed Virginia in the ACC tournament renewed some confidence. On Thursday, they added an annihilation of Colorado to the resume.
Head coach Jamie Dixon thinks the team is playing it's best ball of the season, thanks largely to the stellar play of Talib Zanna. That's good, because No. 1 seed Florida is up next.
Tommy Amaker's Harvard isn't just an Ivy League gimmick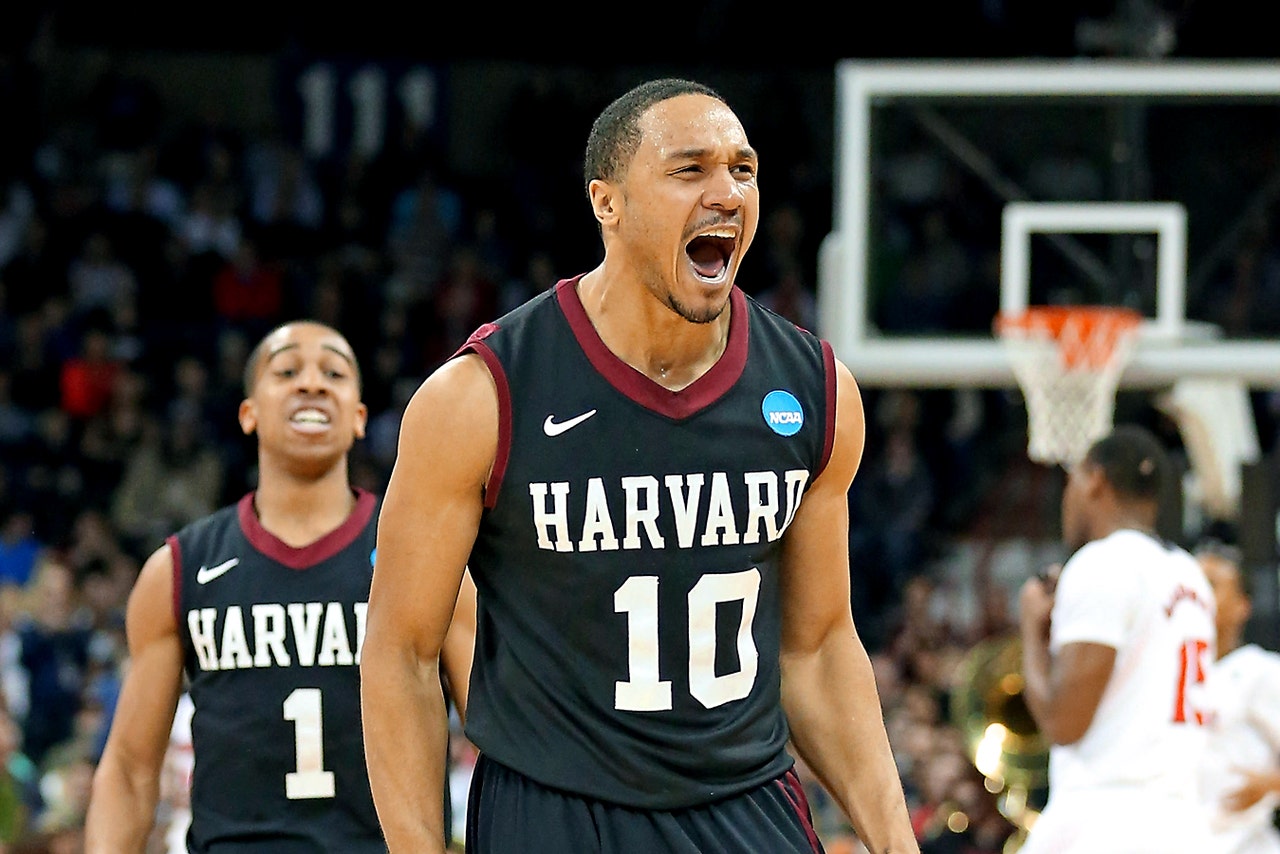 Harvard basketball isn't just happy to be here.
The Ivy champion always attains something of a "darling" status in the NCAA tournament, but head coach Tommy Amaker has now led three consecutive teams into the Big Dance, and the last two have both won as an underdog. The Crimson upset No. 5 seed Cincinnati on Thursday. It's the first time the Ivy League representative has won a game in consecutive years since 1983 and 1984.
Michigan State -- a team many are tabbing as title favorites -- will be a tall order in the next round, but Amaker has turned the darlings into a real factor.
Good Syracuse picked a good day to show up
The Orange were 25-0 and rolling toward the tourney's No. 1 overall seed before a well-documented slump saw them lose five of their last seven games, including two rare and inexplicable home-court losses to Boston College and Georgia Tech.
That skid sent them down to a No. 3 seed for the NCAA tournament and had many scratching their heads about what to do with the Orange in their brackets. Well, Jim Boeheim's crew was back to its old 25-0 self ... at least for one day. With No. 11 seed Dayton up next in the friendly confines of upstate New York, the Orange are tracking well to reach the Sweet Sixteen.
Oregon might be the scary sleeper you were looking for
Remember last year when Dana Altman's 12th-seeded Ducks made a surprise run to the Sweet Sixteen? Well, they're five seeds higher this year and they just wiped the floor with BYU in their opener.
Next up is Wisconsin in what is sure to be a pro-Badger Milwaukee arena, which is no easy feat. But the Ducks have fared pretty well in their tougher tests this season. And one of Oregon's best players is Elgin Cook, who scored 23 points on Thursday, happens to be from Milwaukee, had a pretty vocal rooting section of his own, and delivered this gamer quote after the win:
"(This game was) definitely special to me confidence-wise, but overall it means nothing. We're not satisfied, we haven't won anything yet."
Should be a great game there on Saturday.
You're probably having second thoughts about Florida
The No. 1 overall seed is always an easy one to pencil in to the Final Four in your brackets, but the Gators didn't leave much to feel good about Thursday.
The 16th-seeded Great Danes of Albany proved a worthy opponent, at least for a little while, making 10 of their first 15 shots and hanging with Florida early before the Gators pulled away in the second half. But a 67-55 struggle isn't exactly what Florida supporters had in mind.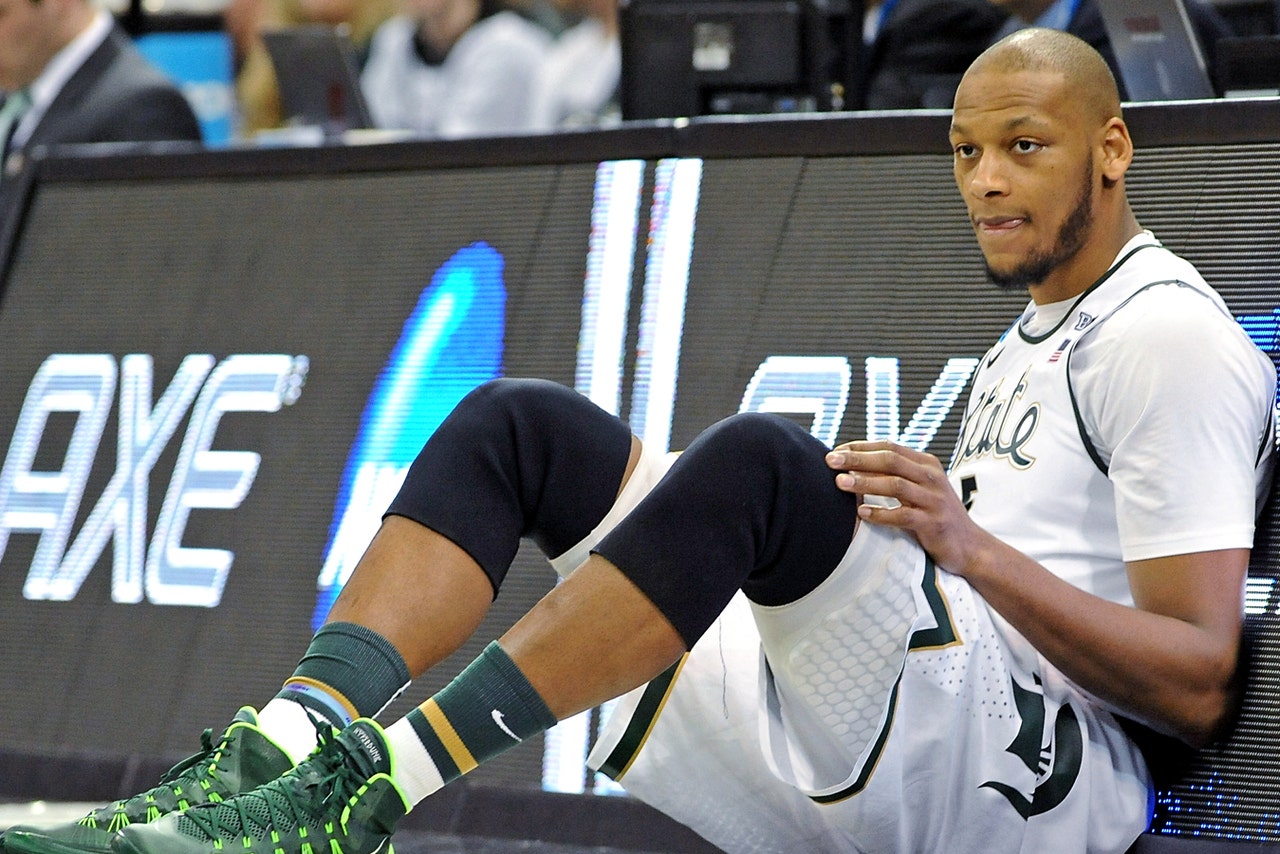 This was the only way to slow down Adreian Payne on Thursday.
Next up is Pitt, which must be riding high off the easy win in their opener. Florida will need to show up with more than they brought against Albany.
Michigan State took the first step to backing up its hype
They were once ranked No. 1, they're healthy again and they just won the conference tournament in a tough Big Ten. It was a perfect recipe for NCAA tournament title talk.
With pundits across the land tabbing them as potential contenders, the fourth-seeded Spartans didn't crack Thursday, putting on an offensive showcase -- fueled by an astounding 41 points from big man Adreian Payne -- and took the first step to earning the plaudits.
Delaware is not a robust barometer, but anyone who followed President Obama's lead and penciled Michigan State in for a deep tourney run is feeling pretty good right now.
Connecticut gets nice start on road to post-Calhoun recovery
In their first tournament game since legendary head coach Jim Calhoun's retirement, the seventh-seeded Huskies needed overtime to shake off St. Joseph's.
With the school's filthy rich hoops history, a struggle of a win over a No. 10 seed won't go down in UConn history books, but for new head coach Kevin Ollie, it's a step in the direction of restoring the program to the glory it knew as recently as 2011.
Michigan has some kinks to work out
The Wolverines went all the way to the championship game a year ago and are one of the favorites to contend again in 2014. They'll need to step it up a bit more than they did Thursday against overmatched Wofford.
Michigan struggled offensively, missing 15 of its first 18 shots in the second half, but the Terriers still couldn't muster much of a challenge. The Wolverines won 57-40. The good news for Michigan? Their defense was stellar, holding Wofford to 1-of-19 shooting behind the arc.
Saint Louis moved on ... and that's good enough
One 12-5 upset many people pegged was this one. NC State -- despite their very selection to the field receiving scrutiny -- was a dangerous matchup for the Billikens.
Down 59-45 in the final five minutes of regulation, the Billikens rallied to force overtime and ultimately overcame 28 points from T.J. Warren to earn their spot in the next round. With all the upset talk swirling around them all week, they'll surely take it.
And Billikens star Rob Loe even got a shout out from that other star Rob Lowe:
North Dakota State is your clubhouse leader for favorite underdog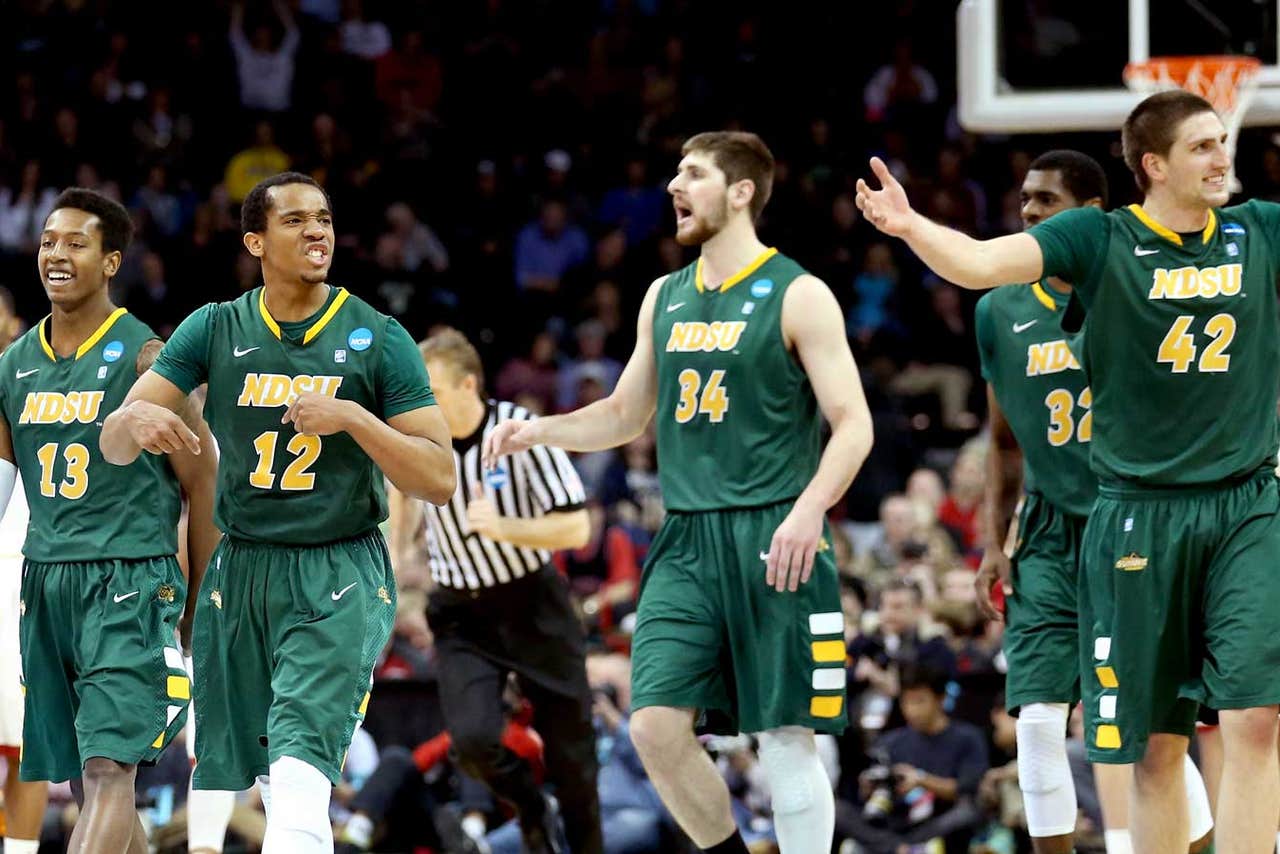 Fear the Bison!
At this point, a No. 12 seed beating a No. 5 is barely an upset. We see it just about every year. But the Bison beating Oklahoma felt a little bigger than Harvard's win earlier in the day.
For one thing, it was the school's first-ever tournament win. Lawrence Alexander raised his game to star level with a 28-point performance. You could see the kids leaving their hearts on the court. Another win and they just might end up "America's Team" in this tournament, especialy with quotes like this:
"I just want to keep coaching this team," NDSU coach Saul Phillips said. "I don't want to have to say goodbye to this locker room."
Villanova gave you no reason to doubt them
We may not know what to make of Villanova for another round or two, but they had no trouble passing their first tourney test. The team that blew a shot at a No. 1 seed in this tournament with a surprising loss to Seton Hall in the quarterfinals of the Big East tournament has been criticized and penalized for a perceived soft schedule.
Well, the Wildcats' final margin of victory Thursday was better than that of No. 1 seed Florida and No. 2 seed Michigan. UW-Milwaukee is not the best benchmark, but hey ... Jay Wright's crew handled their business.
Texas delivered the gut-punch of the tourney so far
Four games went to overtime Thursday. Three were decided by three points or less. None were as glorious -- or painful -- as this.
The Longhorns knocked off Arizona State on a true buzzer beater, when Cameron Ridley barely beat the buzzer with a put-back attempt. Hard to glean much else from a 7-10 game that goes like that, but it certainly sealed this day's place in tourney lore.
It's clear now why Rick Pitino wasn't pleased with Louisville's draw
The Cardinals' head coach was miffed at the thought of having to play his former assistant, who is now the head coach at Manhattan. As a result, the Jaspers play the same style of ball -- on both ends of the floor -- and it caused matchup headaches all night for the defending champs.
Louisville trailed with less than five minutes to play, but Luke Hancock went nuts in the final minutes, spearing a crucial steal and hitting a pair of huge threes, to cinch it and ensure there'd be no upset in the Orlando nightcap.
Proof you should never stop playing -- or turn off your TV -- early
No. 4 seed San Diego State seemed to have it all wrapped up against No. 13 seed New Mexico State in the night's finale. But the Aggies mounted a furious rally, fouling often to extend the game, in the final minutes to force overtime.
The Aztecs regrouped and still managed to win a game that ended about 12:30 a.m. ET Friday, setting up an intriguing third-round showdown with upset-minded North Dakota State.
---