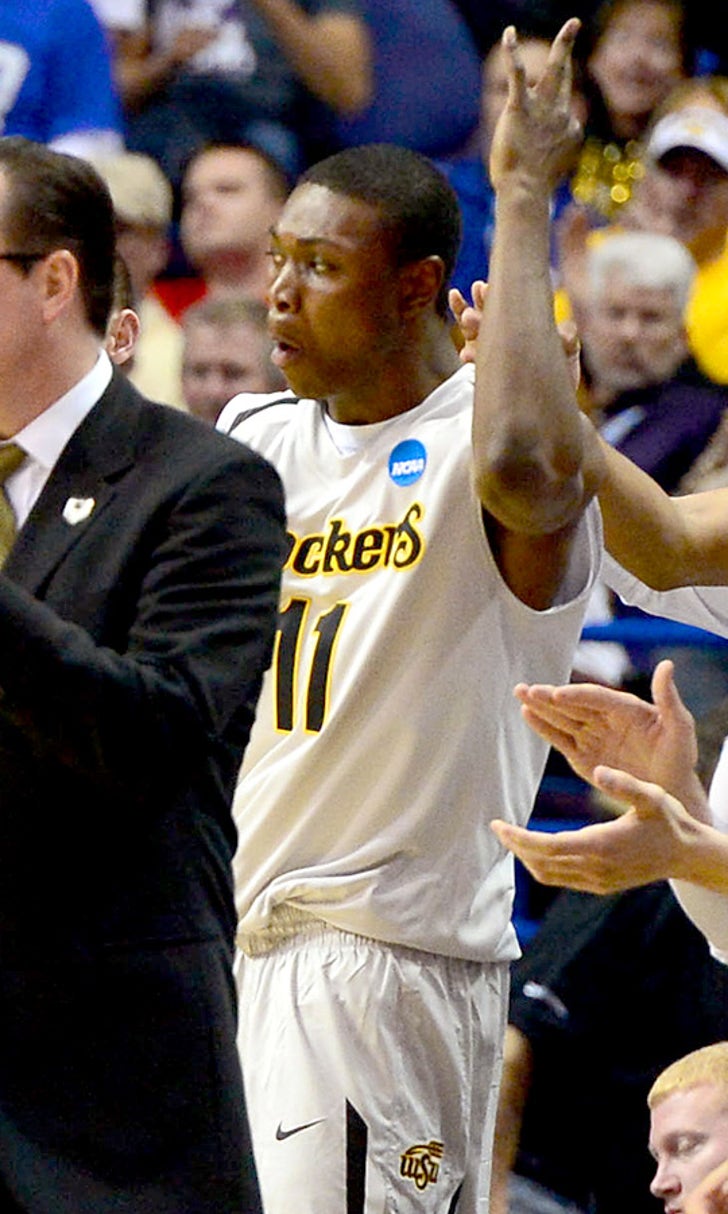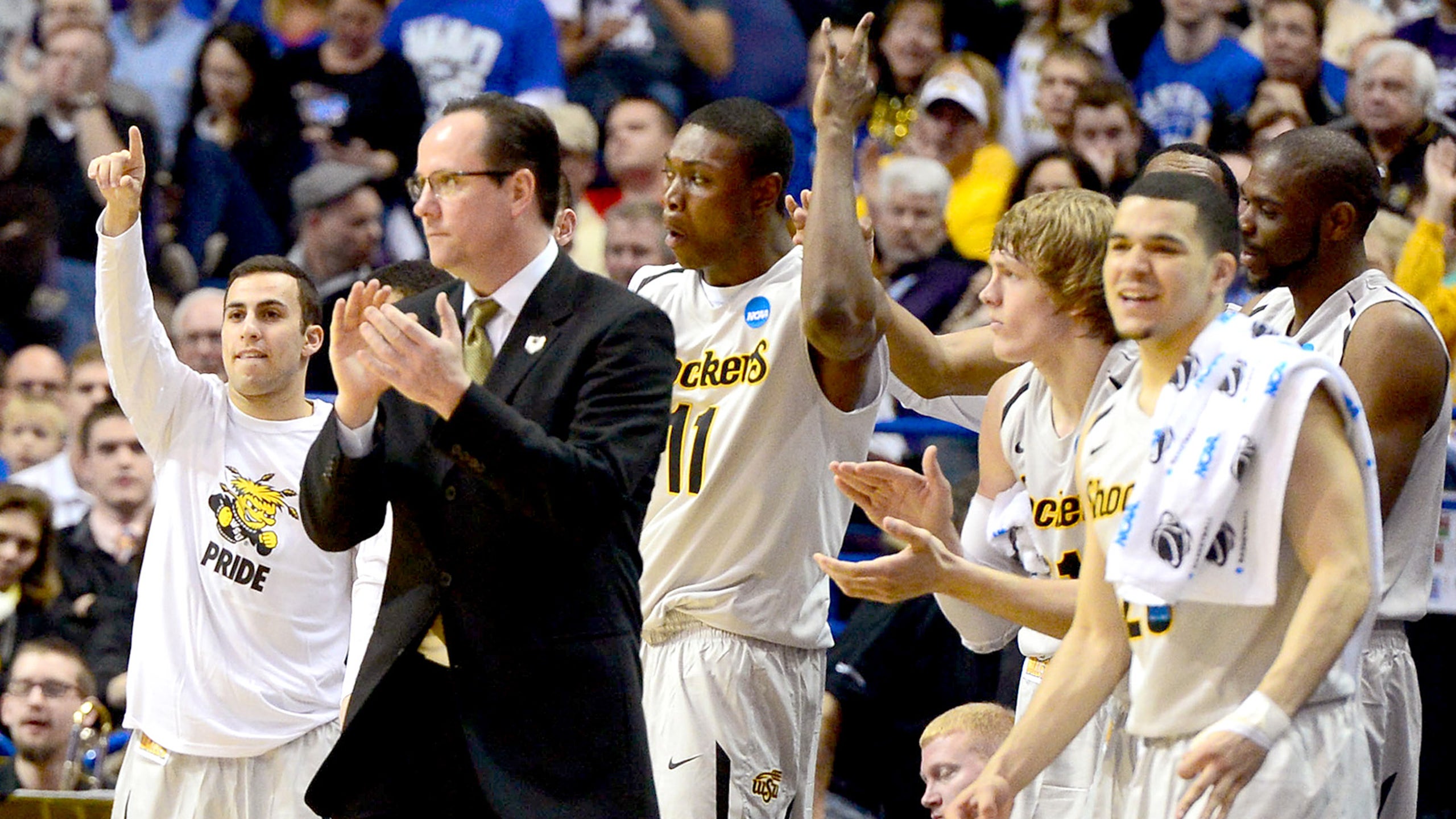 Tourney takeaways: Shockers most impressive top seed (so far)
BY foxsports • March 22, 2014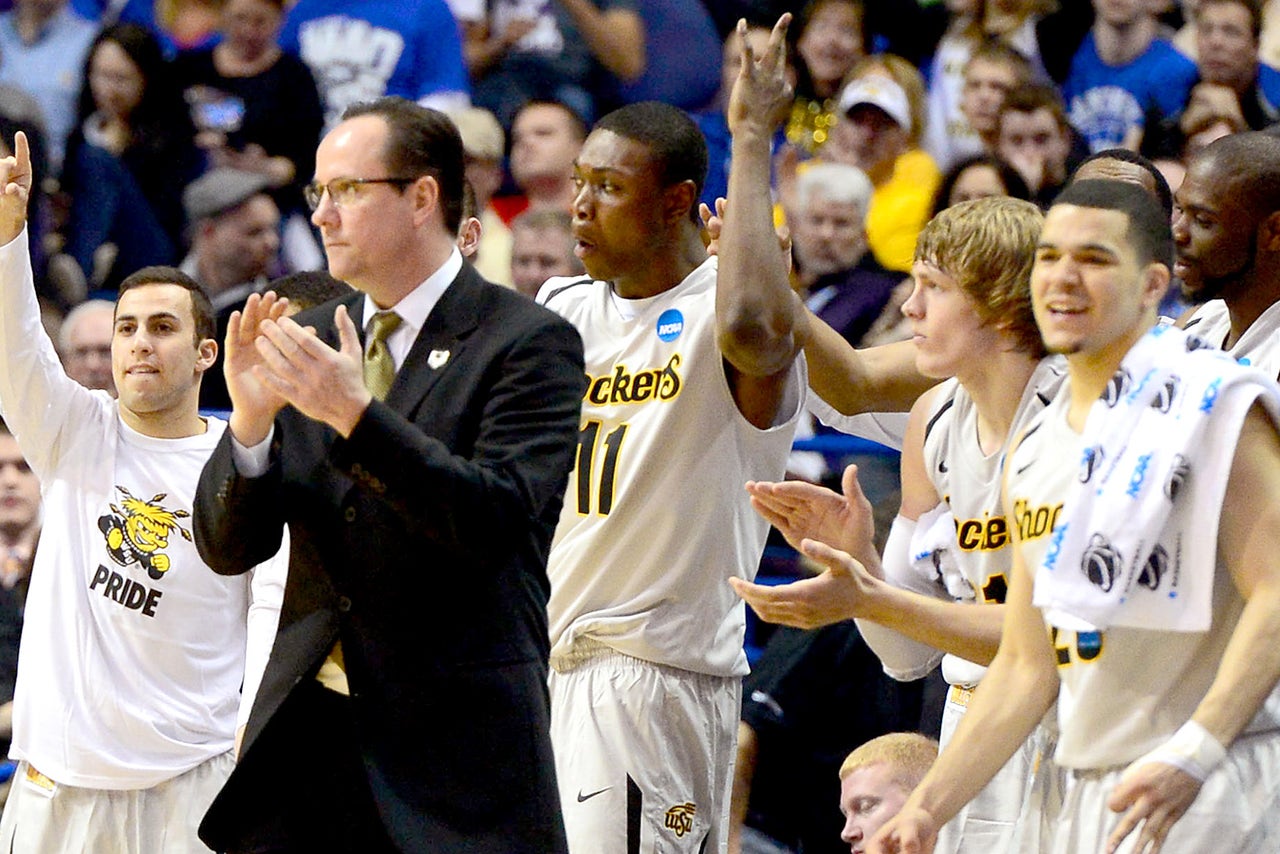 After a whirlwind first day full of overtimes and thrilling games, more upsets and general madness marked the second day of the NCAA tournament.
From Mercer's early stunner to UCLA's victory in the wee hours, we give you one thing to take away from each of Friday's second-round games.
Mercer is the FGCU of 2014
In more ways than one. The Bears stunned No. 3 seed Duke in the first game of the day Friday, giving us a thrilling morning finish for the second day in a row. Duke went cold when it counted most, going without a bucket for almost a four-minute stretch late in the second half. It was the most notable upset of the first round, just like FGCU pulled off last year as a No. 15 seed.
A No. 14 seed, Mercer won the Atlantic Sun Conference tournament. That's the same conference that Florida Gulf Coast plays in. The Eagles stunned No. 2 seed Georgetown and also beat No. 7 seed San Diego State to get all the way to the Sweet Sixteen a year ago.
Duke may not have been a favorite to win the tournament, but it's Duke. The Blue Devils were a No. 3 seed in a loaded Midwest Region. If you can beat them, you can hang with anyone. You can also dance with anyone:
Baylor is making the most of its second chance
The Bears were 2-8 after their first 10 Big 12 games, and NCAA tournament hopes were fading fast. But Baylor has only lost twice since -- a road game at Texas and the Big 12 tournament title game against Iowa State, both tourney teams.
Baylor won rather comfortably in Friday's game against Nebraska, holding a double-digit lead for most of the game. It'll be a tough test for Creighton in the next round.
New Mexico must go back to the drawing board ... again
Two years, two losses as a higher seed for the Lobos. Last year, it was No. 14 seed Harvard pulling off the upset of No. 3 seed New Mexico. This time, Stanford was the benefactor.
A 10-7 upset isn't earth-shattering, but the Lobos are officially snake-bitten in the NCAA tournament. Stanford now gets a crack at a Kansas team that had trouble finding a rhythm in its opener.
Fuel up the Arizona upset chatter
A nine-point win against No. 16 seed Weber State probably isn't what head coach Sean Miller had in mind, but the Wildcats are through to the next round. The less-than-authoritative win, however, won't leave fans feeling too confident.
In a year when it seems like just about anyone is an upset candidate at any time, 'Zona is likely to hear a lot of that talk ahead of Sunday's showdown with No. 8 seed Gonzaga. The Bulldogs looked sharp in dispatching Oklahoma State.
Tennessee might be a sneaky sleeper indeed
One of the last four teams in, the Volunteers needed overtime in their play-in game Wednesday just to get here. But they didn't waste their opportunity in the big bracket. Tennessee owned UMass start to finish en route to an 86-67 victory.
College hoops numbers guru Ken Pomeroy pegged the Vols as significantly better than their seed might indicate. The Minutemen weren't exactly a title contender, but Tennessee passed the test with ease. With No. 14 seed Mercer on deck, Tennessee will be favored to reach the Sweet Sixteen.
Creighton will go as far as Doug McDermott takes them
It wasn't pretty Friday against Louisiana-Lafayette, but the No. 3-seeded Big East beasts ultimately pulled out a 76-66 win. McDermott scored 30 points to lead the way for the Bluejays.
But he went scoreless for a 14-minute stretch in the second half and the Ragin' Cajuns hung around for a long while, even holding a lead at one point in the final 20 minutes. Creighton's third-round game against red-hot Baylor should be very interesting.
Kansas should be very worried, and it has nothing to do with Joel Embiid
How much would the Jayhawks miss Joel Embiid? That was the storyline going into the tournament. And after struggling mightily against No. 15 seed Eastern Kentucky, it's easy to say they already miss him dearly.
But Kansas did just fine on the inside without their big man, dominating the glass to the tune of a 43-19 rebounding edge. They also shot 32-46 from inside the 3-point arc -- they missed all seven of their shots from beyond. Yet the Colonels were still within one shot of tying the game with 3:34 to go.
That means this was just a good, old-fashioned struggle. Not an encouraging sign for the games ahead. Next up is No. 10 seed Stanford as Jayhawks fans feverishly check for Embiid status updates.
Gonzaga has set itself up for a crack at another Gonzaga moment
One of the more intriguing matchups of the second round featured Marcus Smart's Oklahoma State against prototypical tourney Cinderella Gonzaga. The Bulldogs looked sharp in holding off the Cowboys for an 85-77 win, shooting 50 percent overall from the floor, including 9-18 from 3-point land.
An 8-9 matchup typically receives little fanfare, but Gonzaga has positioned itself to make another memory Sunday. They'll face No. 1 seed Arizona, which looked lethargic in its opener and has earned plenty of doubters.
Memphis has a promise to keep
The Tigers struggled in the final games before the tournament, but the Tigers did just enough Friday to fight off George Washington (sorry, Colonials, but Obama was right).
Now they get Virginia, who looked anything but a No. 1 seed for much of their game against No. 16 Coastal Carolina. That's good news for Memphis -- the Tigers' own Geron Johnson said the team would notch two wins in the Big Dance.
Look out, Cavs.
Wichita State looked more like a No. 1 seed than anyone else
The Shockers were 34-0 headed into this tournament, but that wasn't enough to win over the nation. A non-power conference and a brutal crop of other top seeds in their region made them a trendy pick to lose early.
But in a tourney where all three of the other No. 1 seeds looked sluggish, Wichita State absolutely owned Cal Poly from start to finish in a dominating defensive effort for a 64-37 win.
The road gets a lot tougher right away -- Kentucky is up next -- but no other top seed posted this kind of statement in the opener. For now, at least: Advantage, Wichita State.
Bryce Cotton stole the show in a losing effort
North Carolina beat Providence, but the story of the game was Friars guard Bryce Cotton. The little man ripped off 36 points in the losing effort, and left us all yearning for more. He also came up huge in Providence's win in the Big East tournament championship.
The first-round loss might prevent Cotton from getting the attention he deserves, but head coach Ed Cooley summed up it well:
"I've been saying the whole year I think Bryce is one of the top guards in all of America. It's just for whatever reason he didn't get the national love. I think today if there is somebody in this national tournament that does that, they would be considered Superman."
Stephen F. Austin is 32-2, by the way
Yes, they're not playing marquee competition every night. Yes, they needed a furious rally in the final minutes to get past VCU in overtime. (Watch the thrilling game-tying three.) But in an unpredictable, parity-filled tournament, why not believe in the Lumberjacks?
"Well, miracles truly do happen," coach Brad Underwood said.
Sometimes, that's the key to March success. The third No. 12 seed to upset a No. 5 in the tournament, SFA will take its stellar record into the third round to take on No. 4 UCLA.
Virginia figured it out just in time
The No. 16 seed Chanticleers of Coastal Carolina held a double-digit lead in the first half and sent the nation into a frenzy of talk over whether Virginia -- a deserving but unseasoned No. 1 -- was going to be the first-ever top seed to lose its opener.
Then a switch flipped. The Cavaliers finished the game on a 49-28 run for a relatively comfortable end result and avoided being on the dubious end of history. But like Florida and Arizona, Virginia left little reason for those who penciled them in for deep tournament runs to feel too confident.
Kentucky didn't give the Shockers much to be scared about
The big, bad (mostly freshmen) Wildcats are supposed to be a major hurdle for Wichita State on Sunday. That may still be the case, of course, but it was tough to tell from Friday's effort if Kentucky has the chops.
John Calipari's crew won all right, but the 56-49 effort was hardly dominant. And it got off to a bizarre start when Kansas State walk-on Brian Rohleder, who played only 31 minutes all season, earned a technical foul for a pre-game dunk. NCAA rules prohibit dunking with less than 20 minutes until tip, and Rohleder's dunk came with 19:58 showing on the clock. Kentucky made one of its two resulting free throws and led 1-0 before the game even started, really.
Impressive effort or no, Wichita State-Kentucky is still the most intriguing game of the weekend.
Iowa State had the most devastating easy win
Everything about the box score from their easy win over North Carolina Central points toward the Cyclones being the sleeper Final Four contender many had pegged them to be after winning the Big 12 tournament title. Except for one major asterisk.
Star big man Georges Niang fractured a bone in his foot and will miss the remainder of the tournament. Niang, who had scored 24 points in the game before the injury, was one of the Big 12's best players this season. There's just no other way to say it -- it's an enormous loss for the Cyclones.
UCLA looked pretty good, if you stayed up to see it
In the final game of the second round, the Pac-12 tournament champion Bruins backed up their lofty seed with a relatively routine win over Danny Manning's Tulsa squad. They broke a close game open early in the second half and had little trouble from there.
Like Kentucky, UCLA is a team loaded with talent, and with a matchup against another small-conference team in Stephen F. Austin up next, this could be a Sweet Sixteen run in the making.
---