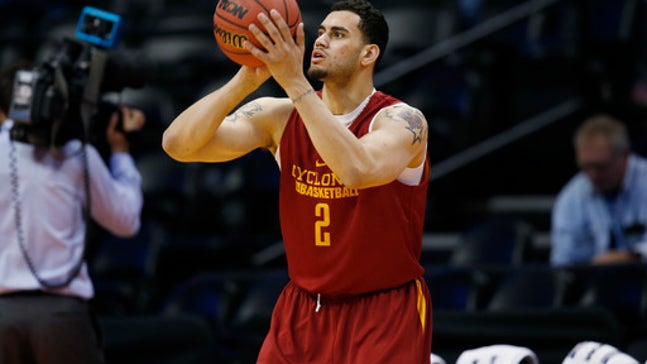 The Latest: Zags lead at halftime, mostly without Wiltjer
Published
Mar. 18, 2016 12:55 a.m. ET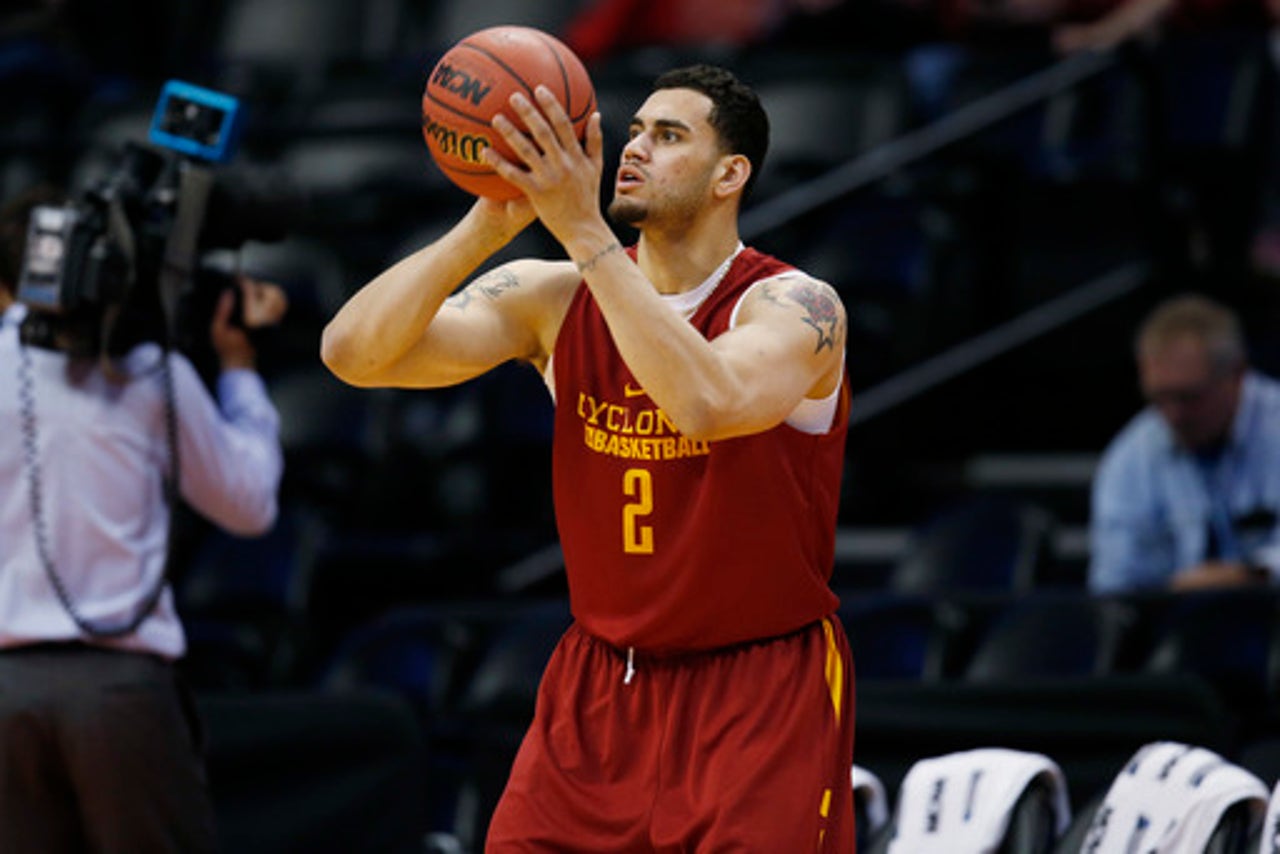 The Latest on the first full day of the men's NCAA Tournament, including games being played in Providence, Rhode Island, Raleigh, North Carolina, Des Moines, Iowa and Denver. (All times EDT):
11:50 p.m.
Thanks to 12 points and six rebounds from Domantas Sabonis, Gonzaga leads Seton Hall 35-25 at halftime.
The Zags have done most of this without their leading scorer, Kyle Wiltjer, who has played only five minutes because of foul trouble.
Gonzaga is in the tournament for the 18th straight time but comes in as an 11 seed.
- Eddie Pells reporting from Denver.
---
11:45 p.m.
Kentucky is taking its disdain for that No. 4 seed out on Stony Brook with an inspired performance on both ends of the floor, taking a 68-38 lead into the TV timeout with 7:52 left in the first-round game.
As usual, Tyler Ulis is leading the way. The 5-foot-9 sophomore has broken John Wall's single-season record for assists, now with 243 and counting. Wall had 241 assists in the 2009-10 season.
- Dave Campbell reporting from Des Moines, Iowa
---
11:10 p.m.
The last game of the night is under way in Denver - Gonzaga vs. Seton Hall.
It's a matchup of the `Zags, making their 18th straight appearance in the NCAA Tournament, and the Pirates, who are fresh off their first Big East Title since 1993.
The winner will play Utah, which beat Fresno State earlier in the evening.
-Eddie Pells reporting from Denver.
---
11 p.m.
It sure looks like the last game in Raleigh, North Carolina, is going to be the tightest one.
Eighth-seeded Southern California rallied to take a 36-35 halftime lead over ninth-seeded Providence in a first-round game in the East Regional.
The first three games here all were decided by double-digit margins.
Jordan McLaughlin has nine points to lead USC. Ben Bentil, the Big East's leading scorer, has 13 for Providence.
- Joedy McCreary reporting from Raleigh, North Carolina.
---
10:45 p.m.
North Carolina ended up doing what No. 1 seeds do: staying perfect against a No. 16 seed. And that secured their coach a milestone win.
The Tar Heels dominated the first part of the second half to turn a one-point edge into an 83-67 win in Thursday's first round. And that gave coach Roy Williams his 65th NCAA Tournament victory, breaking a tie with late mentor Dean Smith for second all-time to Duke's Mike Krzyzewski (87).
- Aaron Beard reporting from Raleigh, North Carolina
---
10:20 p.m.
Ben Bentil is doing it all for Providence.
The Big East's leading scorer had a hand in 14 of their first 16 points scored by the Friars through the first 6 1/2 minutes of their NCAA Tournament opener against Southern California.
Bentil assisted on the Friars' first two baskets, then hit three straight buckets for his team. Then, his free throw with 13:52 put them up 16-13 with 13:52 left in the first half.
Bentil averaged 21.2 points this season.
---
10:10 p.m.
Wichita State's defense is swarming in Providence, Rhode Island.
The Shockers lead Arizona 17-9 in the first half. Wildcats are 3 for 15 and its big three of Ryan Anderson, Gabe York, and Allonzo Trier are a combined 2 for 8. Connor Frankamp of Wichita State leads all scorers with six points, hitting a pair of 3s.
- John Kekis in Providence, Rhode Island
---
9:10 p.m.
Miami has beaten Buffalo 79-72 in the first round of the NCAA Tournament in Providence, Rhode Island. The Hurricanes will play either Wichita State or Arizona on Saturday.
Angel Rodriguez had 24 points and Sheldon McClellan 20 to lead five Miami players in double figures. The duo combined to hit 19 of 24 free throws in the foul-plagued game.
- John Kekis in Providence, Rhode Island
---
9 p.m.
Pretty safe to say Florida Gulf Coast won't be topping its ''Dunk City'' heyday by being the first 16-seed to beat a 1.
After hanging with North Carolina in the first half, FGCU fell off quickly in the second.
The Tar Heels went more than 20 points up midway through the second half.
---
8:50 p.m.
Quote of the day nod may go to Baylor's Taurean Prince after his team's loss to Yale.
A reporter asked: How did Yale out-rebound Baylor?
Prince's response: ''Um, you go up and grab the ball off the rim when it comes off, and then you grab it with two hands, and you come down with it, and that's considered a rebound. So they got more of those than we did.''
---
8:30 p.m.
Could Chattanooga make it 3-0 for the 12 seeds on Thursday?
The Mocs, who won 29 games and the Southern Conference title, trailed 46-37 at halftime against Indiana. But the Hoosiers shot 60 percent in the first half, and that's a tough rate to keep up for 40 minutes. Chattanooga shot 50 percent in the first 20 minutes despite hitting just two of eight 3s.
Indiana was knocked out of the Big Ten tournament in its first game. Should the same fate befall the Hoosiers Thursday, it'll forever mar a season in which they came out of nowhere to win the league title outright.
- Luke Meredith reporting from Des Moines, Iowa
---
8:20 p.m.
The team best known for its ''Dunk City'' run to the Sweet 16 as a 15-seed in 2013 opened its game Thursday trying to top that.
No. 16 seed Florida Gulf Coast took it right to No. 1 seed North Carolina in Thursday's first half, shooting 60 percent (15 of 25) and trailing just 41-40 at halftime. The Tar Heels were coming off a terrific defensive display in winning the Atlantic Coast Conference Tournament, but they struggled to stop penetration and corral Christian Terrell in particular.
It was a half in which those hypothetical scenarios needed for the first 16-over-1 upset happened: UNC shot 41 percent, missed some easy cutaways, missed a few free throws and let an underdog play with free-wheeling confidence.
The trick now is for the Eagles to do it again.
- Aaron Beard reporting from Raleigh, North Carolina
---
8:10 p.m.
Good luck trying to find someone happier about Yale and Little Rock's upsets than one Nevada bettor.
A gambler who wagered $15,000 on each of the No. 12 seeds to win netted $78,000 for his bets at Buffalo Bill's Resort & Casino in Primm, Nevada.
Spokesman Michael Grodsky of William Hill Race & Sports Book says 71 percent of bettors gambling on the money line were backing Yale, while 85 percent of money line bettors took Little Rock.
---
7:40 p.m.
As expected, North Carolina's blue-clad fans have made themselves at home in a rival school's arena.
The Tar Heels opened the NCAA Tournament in nearby Raleigh, roughly 30 minutes from their Chapel Hill campus and home to North Carolina State. And there's plenty of blue in the arena for the start of this one to give UNC a decided edge in crowd noise.
The Tar Heels are 15-4 all-time in PNC Arena, including 13-2 under Roy Williams. That run includes two wins in the 2008 NCAA Tournament on the way to the Final Four.
- Aaron Beard reporting from Raleigh, North Carolina
---
7:35 p.m.
It's finally over in Denver.
Arkansas Little Rock has upset fifth seed Purdue 85-83 in double overtime.
The Boilermakers had a chance to win it when Little Rock's Maurius Hill missed two free throws with 9.8 seconds left and Arkansas-Little Rock ahead 84-83.
But Johnny Hill stumbled as he drove toward the basket and the ball never got to the rim.
Little Rock's Josh Hagins got the rebound and was fouled with 1.3 seconds left.
He sank one free throw, missed the second and Vince Edwards' desperation heave was nowhere near the basket.
-Arnie Stapleton reporting from Denver.
---
7:30 p.m.
Just another 12-5 upset: Little Rock takes down Purdue 85-83 for the second of the day on Thursday.
In Yahoo's bracket game, just 11.2 percent of users picked Little Rock in the first round.
---
7:10 p.m.
So nice, let's do it twice.
Purdue and Little Rock are headed for overtime number two in Denver.
Who tied the game? Who else? Little Rock's Josh Hagins hit a short shot off glass over the outstretched Rapheal Davis to tie it at 75 with 17.8 seconds left.
Purdue's Vince Edwards missed a chance to win it just before the buzzer.
-Eddie Pells reporting from Denver.
---
6:55 p.m.
We're headed to OT in Denver.
Josh Hagins made a 30-footer with less than a second left to send Little Rock to overtime against Purdue, tied at 70.
The Trojans outscored the Boilermakers 18-5 over the final 3:33 of regulation.
- Eddie Pells reporting from Denver
---
6:30 p.m.
Kansas is cruising into the second round of the South Region after little resistance from No. 16 seed Austin Peay. The next game for the No. 1 overall seed Jayhawks promises to be a lot tougher, with UConn waiting on Saturday.
These fellow college basketball blue bloods, interestingly, have never before met in an NCAA Tournament game despite a combined 89 appearances and seven championships, most recently by the Huskies in 2014. Kansas and UConn have played only twice before, nonconference games in 1995 and 1997.
- Dave Campbell reporting from Des Moines, Iowa
---
6:20 p.m.
College basketball fans love picking on the NCAA Tournament selection committee. But one area the committee clearly has a handle on is No. 8 vs. No. 9 games.
Nine seeds won their first two games this March, with Butler beating Texas Tech by 10 and UConn getting past Colorado 74-67. Those victories left 8-9 matchups tied at 63-all since the tournament expanded to 64 teams in 1985.
It turns out that picking the tossup games truly is a tossup.
-- Luke Meredith reporting from Des Moines, Iowa
---
5:40 p.m.
Yale got 31 points from Makai Mason in its 79-75 upset of Baylor.
The Bulldogs will play fourth-seeded Duke in the round of 32 in Providence, Rhode Island on Saturday. The Blue Devils beat UNC Wilmington 93-85 earlier Thursday.
The Bears rallied from 13 points down with 7 minutes to play, a 3 by Taurean Prince bringing them within 76-75 with 12.9 seconds left. But a turnover on a drive in the lane by Baylor's Lester Medford with 2.2 seconds left allowed the Bulldogs to escape.
---
5:35 p.m.
UPSET ALERT: No. 12 seed Yale holds off a final push from fifth-seeded Baylor to pull off an upset, 79-75. Yale gets a win in its first NCAA Tournament game since 1962.
---
5:30 p.m.
Vince Edwards made a 3-pointer at the first-half buzzer to give Purdue a 31-28 lead over Little Rock heading into halftime.
The 12th-seeded Trojans are staying close, and have held Purdue's 7-foot center, A.J. Hammons, to six points.
Little Rock has enjoyed a 16-win improvement this season under first-year coach, Chris Beard, a one-time assistant to Bob Knight.
Beard broke his hand last Sunday, smashing a greaseboard to get a point across at halftime of the Sun Belt Conference final, which Little Rock won to make March Madness.
--Eddie Pells reporting from Denver
---
5:20 p.m.
Nigel Hayes became the poster-boy for Wisconsin's rollicking, care-free quest for the Final Four last year, musing on everything from Super Smash Bros. to the art of transcription during media sessions.
On Thursday, he spent his time on the dais professing his love for former ''Glee'' star Lea Michele.
''I have, like, a celebrity crush,'' the Badgers' leading scorer said. ''So if she's watching, if she hears this - hello. I'm available. You know - call, text, call the Kohl Center, coach (Greg) Gard's number. If you could get this out, tweet this out, maybe send her a poke on Facebook.''
Consider it done.
Oh, one more thing: ''If Ms. Lea has a friend,'' Hayes said, elbowing teammate Bronson Koenig, ''I have a friend. You know, like Biggie said, `Your friend can be my friend and we can be friends.''
- Dave Skretta reporting from St. Louis.
---
5:10 p.m.
California point guard Tyrone Wallace broke a bone in his right hand during a non-contact drill in practice on Wednesday.
Cal coach Cuonzo Martin said Wallace's hand got caught in the shirt of a teammate and suffered the injury. It's the same hand Wallace injured earlier this season, which caused him to miss five games, but a different injury. Wallace is expected to miss 3-to-5 weeks and will be out for the NCAA Tournament.
Wallace did not travel with the fourth-seeded Golden Bears to Spokane. Sam Singer will start in his place on Friday against No. 13 seed Hawaii.
- Tim Booth reporting from Spokane, Washington.
---
5:05 p.m.
UConn is moving on to the second round of the South Region on the heels of a stellar showing at the foul line.
The No. 9 seed Huskies made 22 of 23 free throws to secure their 74-67 first-round victory over Colorado. That's the second-best single-game percentage, 95.7, in UConn history for a minimum of 15 attempts. The program record is 96.2 percent, a 25-for-26 performance in 2003 against Rutgers.
The success should hardly have been a surprise. UConn is the best free-throw shooting team this season in country. The Buffaloes, on the other hand, finished just 19 for 30 from the foul line.
- Dave Campbell reporting from Des Moines, Iowa
---