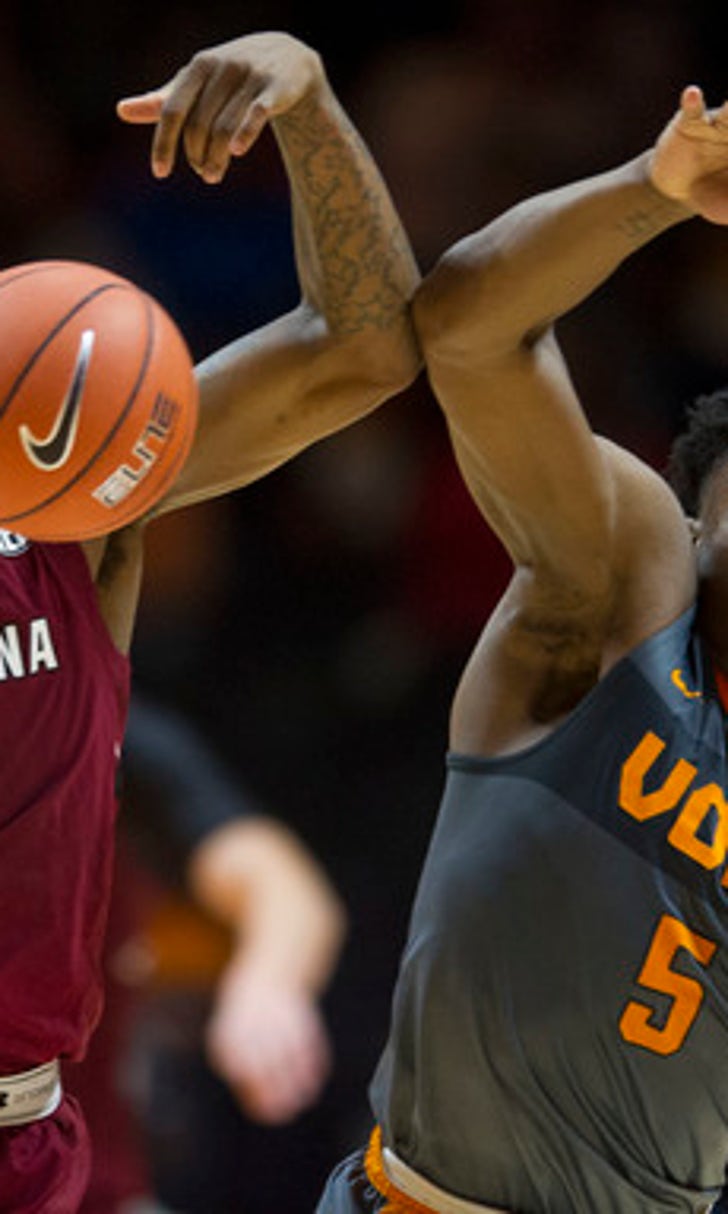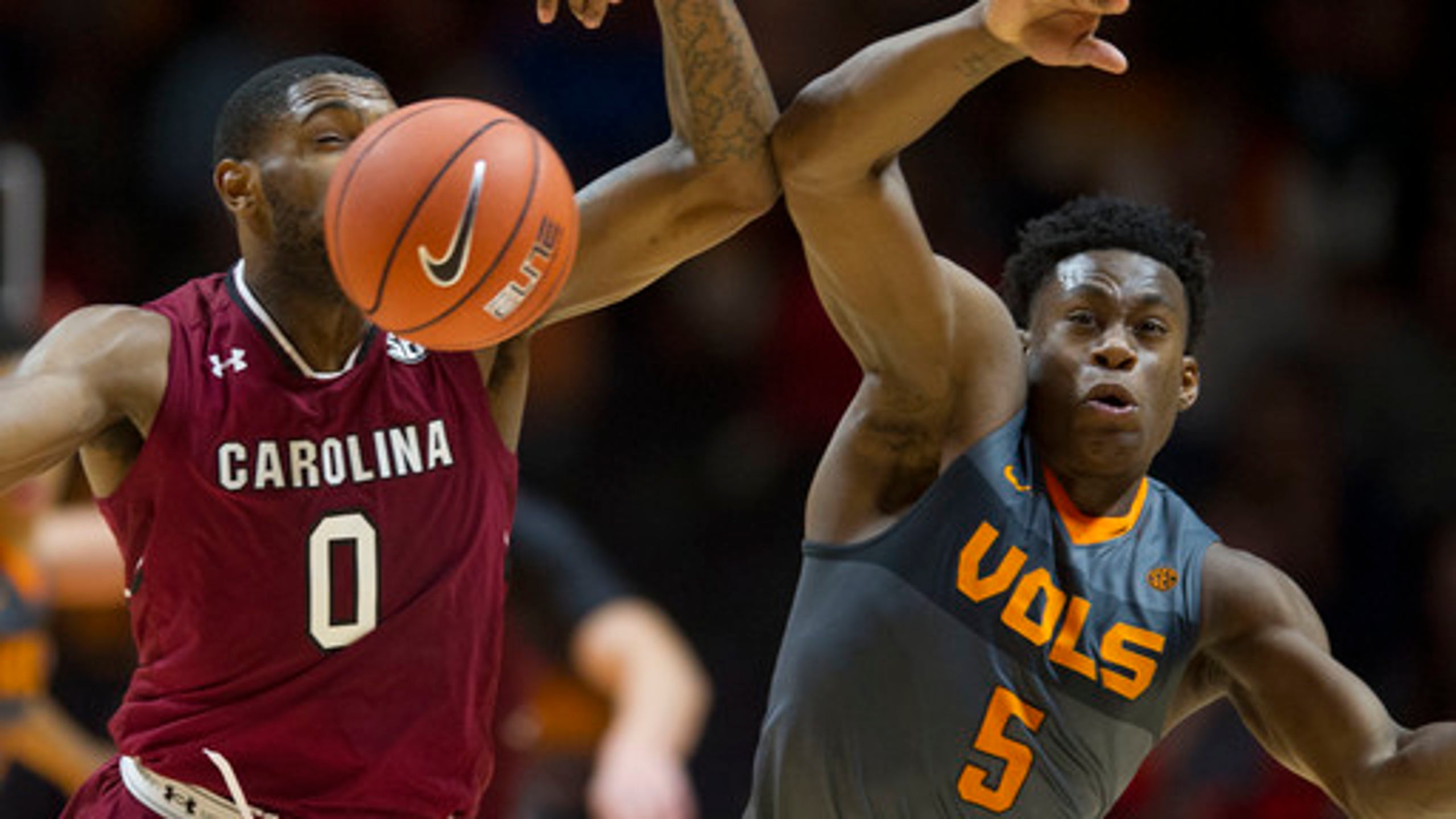 Tennessee, Vanderbilt looking to bounce back
BY AP • January 13, 2017
KNOXVILLE, Tenn. (AP) Tennessee and Vanderbilt are dealing with growing pains that have left both programs in serious need of a victory.
Vanderbilt is adapting to a new coaching staff, while Tennessee is relying heavily on first-year players. The in-state rivals carry .500 records into Saturday's matchup in Nashville.
Tennessee (8-8, 1-3 SEC) has lost three straight. Vanderbilt (8-8, 2-2) has dropped its last two games.
''I wouldn't say it's back-to-the-wall (time), but I would say this could be a big turning point for us,'' Tennessee forward Admiral Schofield said. ''It could go either north or south. But at the same time, with the capabilities of this team, we could turn it around at any moment.''
That goes for both teams, though their struggles shouldn't come as a surprise.
New Vanderbilt coach Bryce Drew inherited a team that had to replace first-round draft picks Wade Baldwin IV and Damian Jones. Tennessee is frequently starting three freshmen and just lost guard Detrick Mostella, who was dismissed from the team Tuesday.
Vanderbilt leads the SEC in 3-pointers per game (10.1) and 3-point percentage (.394), but defense has been an issue. Vanderbilt ranks 13th in the conference in field-goal percentage defense (.431) and blocks (3.8) and is last in the league in steals (4.3).
In their last two games, the Commodores squandered a 14-point lead in a 59-56 loss at Alabama and gave No. 6 Kentucky a scare before falling 87--81 .
''We're not really into moral victories at this point in the season,'' Drew said. ''We want wins.''
Tennessee provided some cause for optimism by winning its SEC opener at Texas A&M, which reached an NCAA regional semifinal and won a share of the league's regular-season title last year. But the Vols haven't won since.
The Volunteers now must find someone to replace the production of Mostella, who was averaging 10.5 points per game and had a team-high 26 3-pointers.
Tennessee coach Rick Barnes said after a 70-60 loss to South Carolina on Wednesday that Mostella was a ''feast or famine'' player who often struggled against the type of pressure the Gamecocks provide. But the Vols' 22 turnovers and 1-of-11 performance from 3-point range in that game showed they need someone to boost the offense.
Schofield noted that Tennessee often shows more energy in practice than in games, which may be a product of the Vols' youth.
''We've got to get our guys I think a little bit more emotional, a bit more involved with each other and not being afraid to say something to their teammate and their teammate accept it, and vice versa if somebody says something back,'' Barnes said. ''I think the best teams are the ones that really talk and communicate and the ones that hold each other to a really high standard on the court.''
Barnes was coaching Clemson in the 1990s when he recruited Drew, who ended up playing for his father at Valparaiso instead.
Although this marks the first time these two coaches have faced off, there's plenty of history between the two rosters. Vanderbilt has won its last three regular-season meetings with Tennessee. But the Vols have eliminated Vanderbilt from the SEC tournament each of the last two years.
Perhaps this rivalry will bring out the best in both teams.
''Besides the records, it's a big game because it's the battle for the state of Tennessee,'' Schofield said. ''We know how important that is for our fans, our boosters and the coaching staff.
''One thing we talked about this week is having pride - we haven't played with much pride on the court - and representing that `T,' that `Power T' as best as we can. This week we're going to try to change the culture around and go out and play with a little bit of swagger and be more aggressive and stop being so passive on the court.''
---
More AP College Basketball: http://collegebasketball.ap.org
---
Follow Steve Megargee at www.twitter.com/stevemegargee
---
---