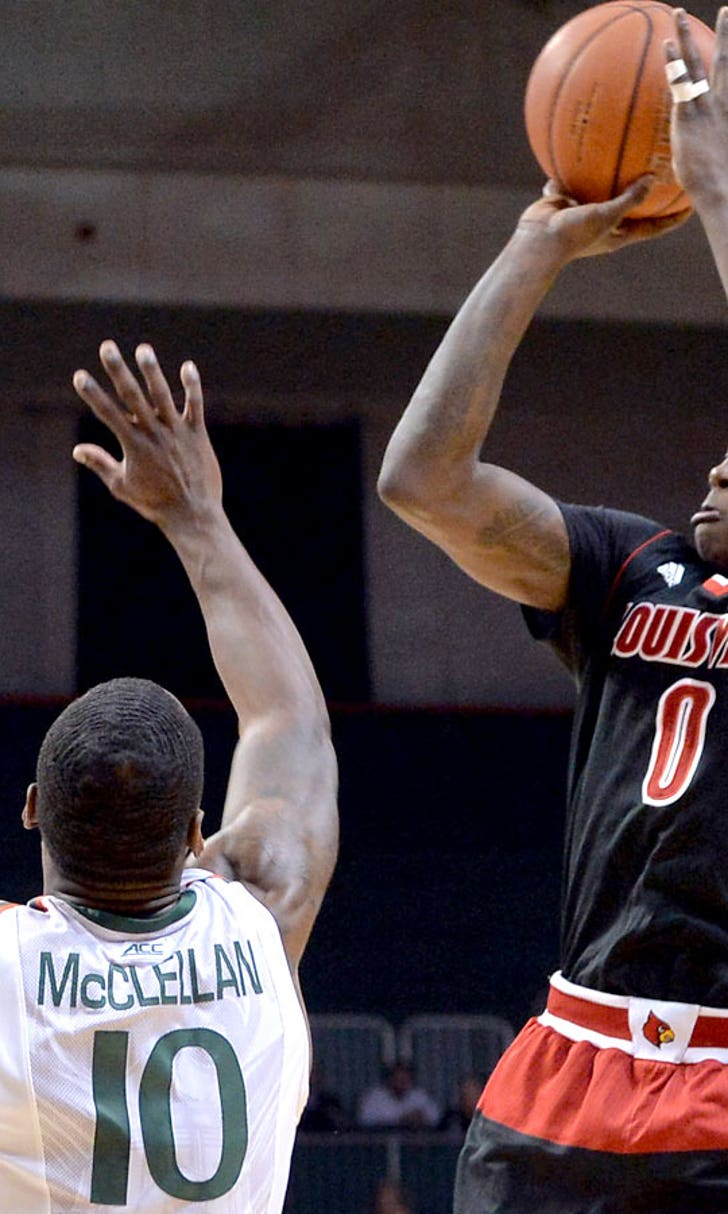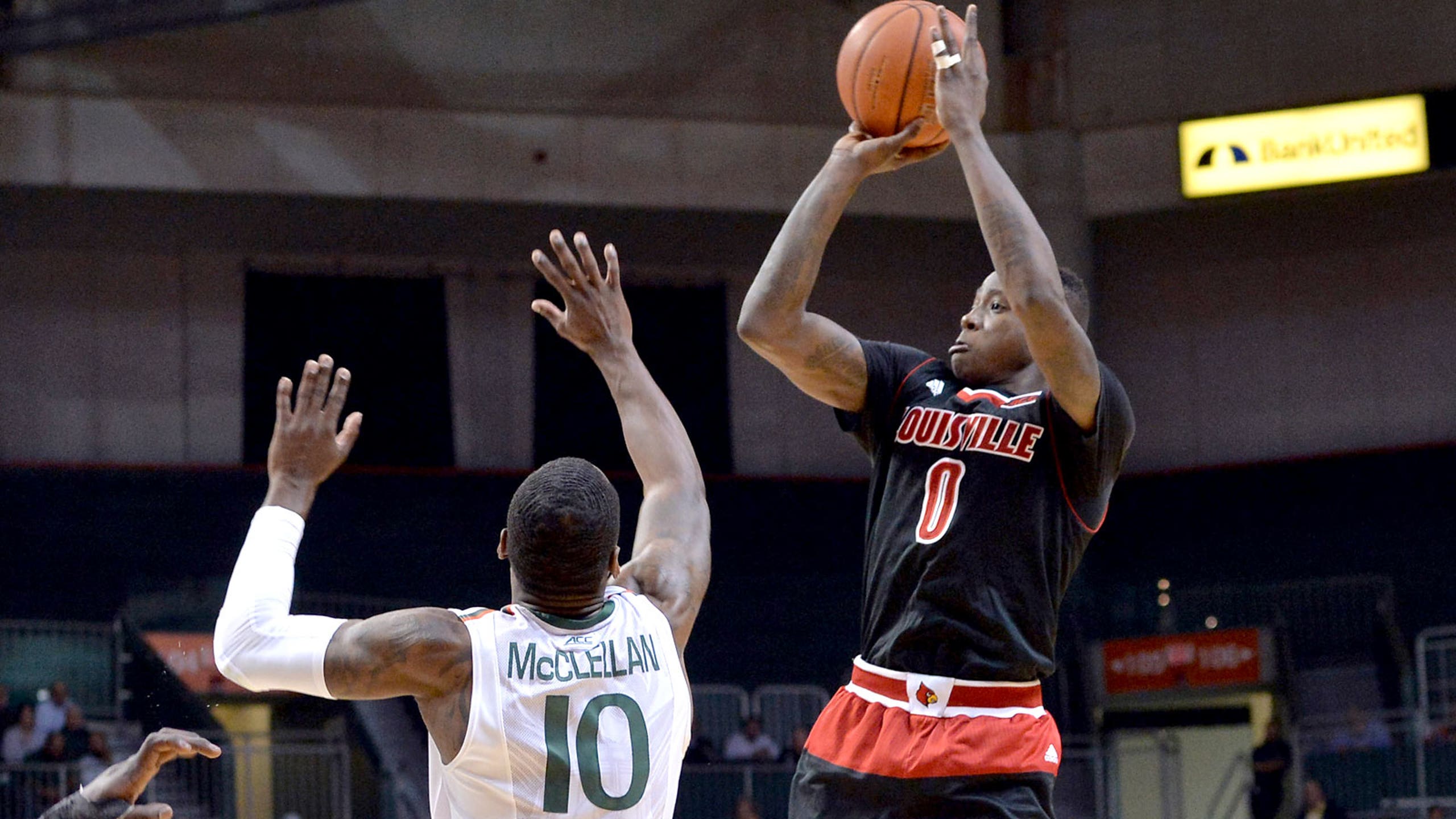 No. 9 Louisville takes care of Miami as Terry Rozier scores 22 points
BY foxsports • February 3, 2015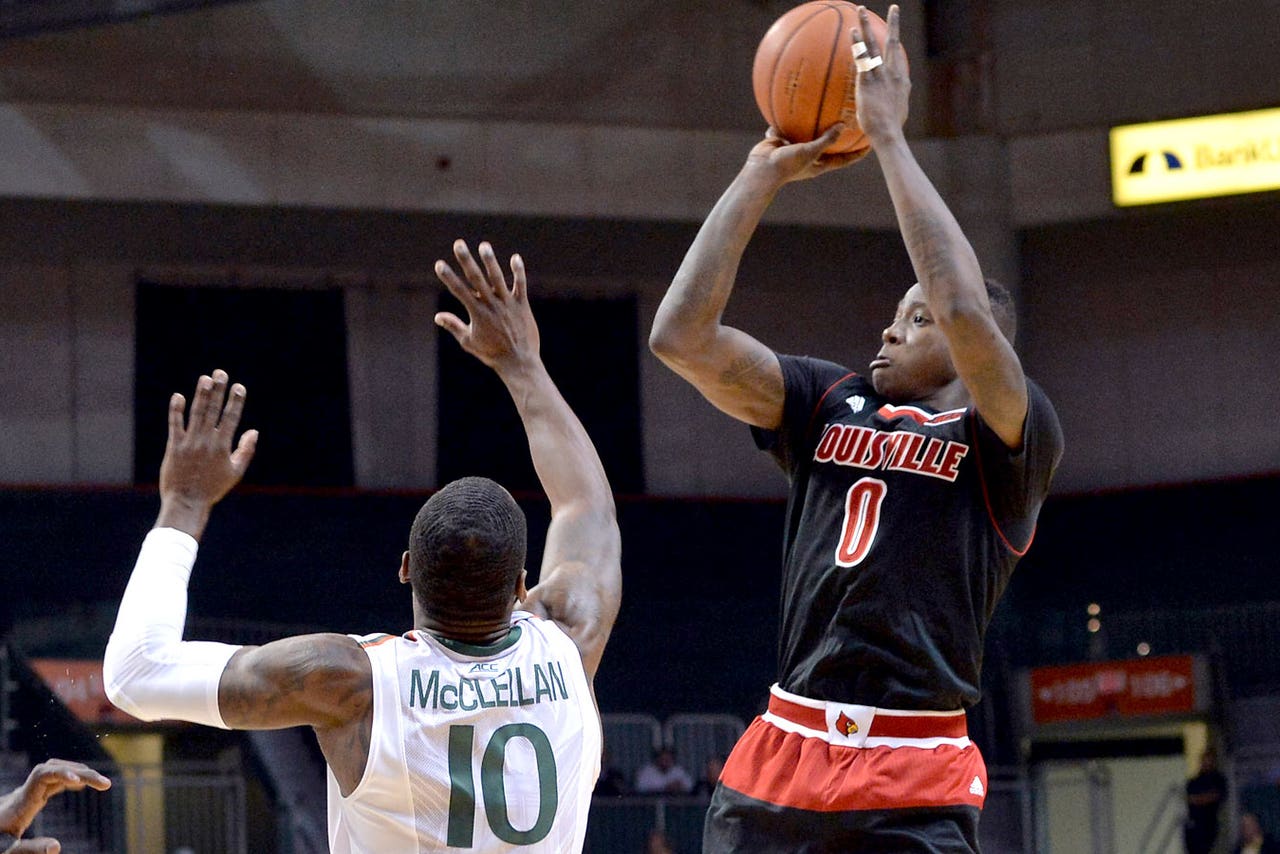 Rick Pitino brought his Louisville Cardinals to Miami a day early for some sand, surf and shopping, and the fun continued when their game began Tuesday.
Led by Terry Rozier and Chris Jones, the No. 9-ranked Cardinals built an early 13-point lead and withstood a comeback bid by the Hurricanes in the second half to win 63-55.
The day off helped, Jones said.
"We did a lot of stuff away from the court," he said. "Coach gave us a lot of time to free our minds and not think about basketball. We took it as a business trip, but also as a vacation. A lot of guys went to the beach and the mall and did a lot of things. Coach believes in us, and we got a victory."
Jones had 16 points, six steals, eight rebounds and five assists, while backcourt mate Rozier scored 22 points. Montrezl Harrell added 18 points and nine rebounds.
It's a good thing they were well-rested, because all three played at least 38 minutes.
"We played a terrific game," Pitino said. "We controlled tempo, and that's what we wanted to do."
The Cardinals (19-3, 7-2 Atlantic Coast Conference) earned their fourth consecutive victory. The Hurricanes (14-8, 4-5) lost their third game in a row and lost for the fifth time at home this season.
Miami sophomore Davon Reed sank five 3-pointers and tied a career high with 19 points. Tonye Jekiri added 10 points and 10 rebounds, but the Hurricanes shot only 34 percent and fell to 3-3 against ranked teams.
Sheldon McClellan and Angel Rodriguez, the Hurricanes' leading scorers this season, both had tough nights. McClellan scored six points and Rodriguez continued a recent shooting slump, going 2 for 9.
"We needed Angel and Sheldon to have big-time games," coach Jim Larranaga said. "Unfortunately they were a combined 4 of 14, and 0 for 4 from 3. We need to shoot the ball better."
Pitino decided against deploying Louisville's smothering full-court press, mindful of Miami's guard-heavy lineup. And because the Hurricanes run a lot of pick and roll, Pitino substituted sparingly.
As a result, only four Cardinals scored. Their bench was outscored by Miami's 30-0, but it didn't matter, in part because Louisville shot 68 percent in the first half.
The attendance-challenged Hurricanes drew a noisy crowd of 6,563, and they were on their feet as the home team mounted its comeback. The Hurricanes trailed 41-28 with 15:30 left, and Reed sank a trio of 3-pointers as they scored nine consecutive points to climb back into the game.
Two free throws by Rodriguez cut Louisville's lead to 53-50 with 2:06 left, but the Cardinals sank eight of 10 free throws in the final 1:12 to seal the win.
DWYANE WADE TRIBUTE
Rozier fooled the Hurricanes with a fake and spin in the post before sinking a floater. He said he stole the move from a certain Miami Heat guard.
"That's 2006 D-Wade," Rozier said. "I'm in the city; it just happened."
OVERSHADOWED
Pitino playfully scolded the media when the first question at his postgame news conference focused on Rozier rather than Jones.
"We all love Terry, because he's the ultimate pro -- D-Wade Jr.," Pitino said. "But you've got to give some love to Chris Jones. He has been awesome."
TIP-INS
Louisville: Chinanu Onuaku didn't take a shot but had three blocks.
Miami: The Hurricanes fell to 0-4 against Pitino. One of those losses came when he coached at Providence. 
---