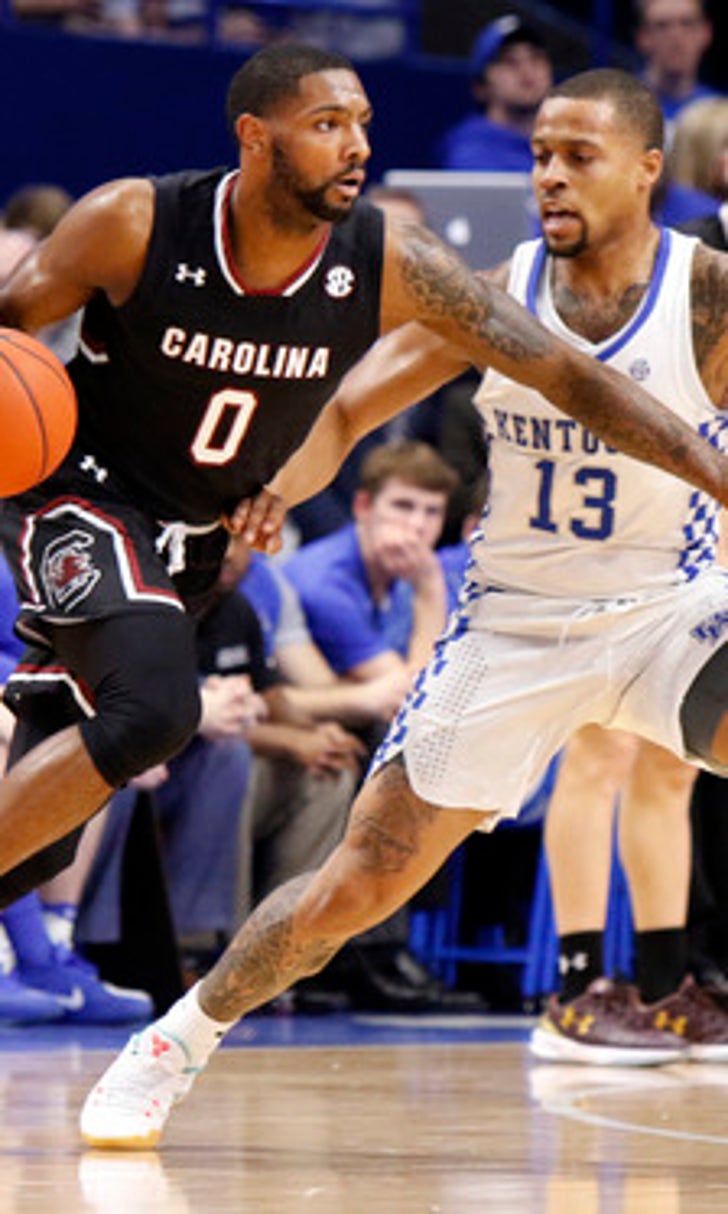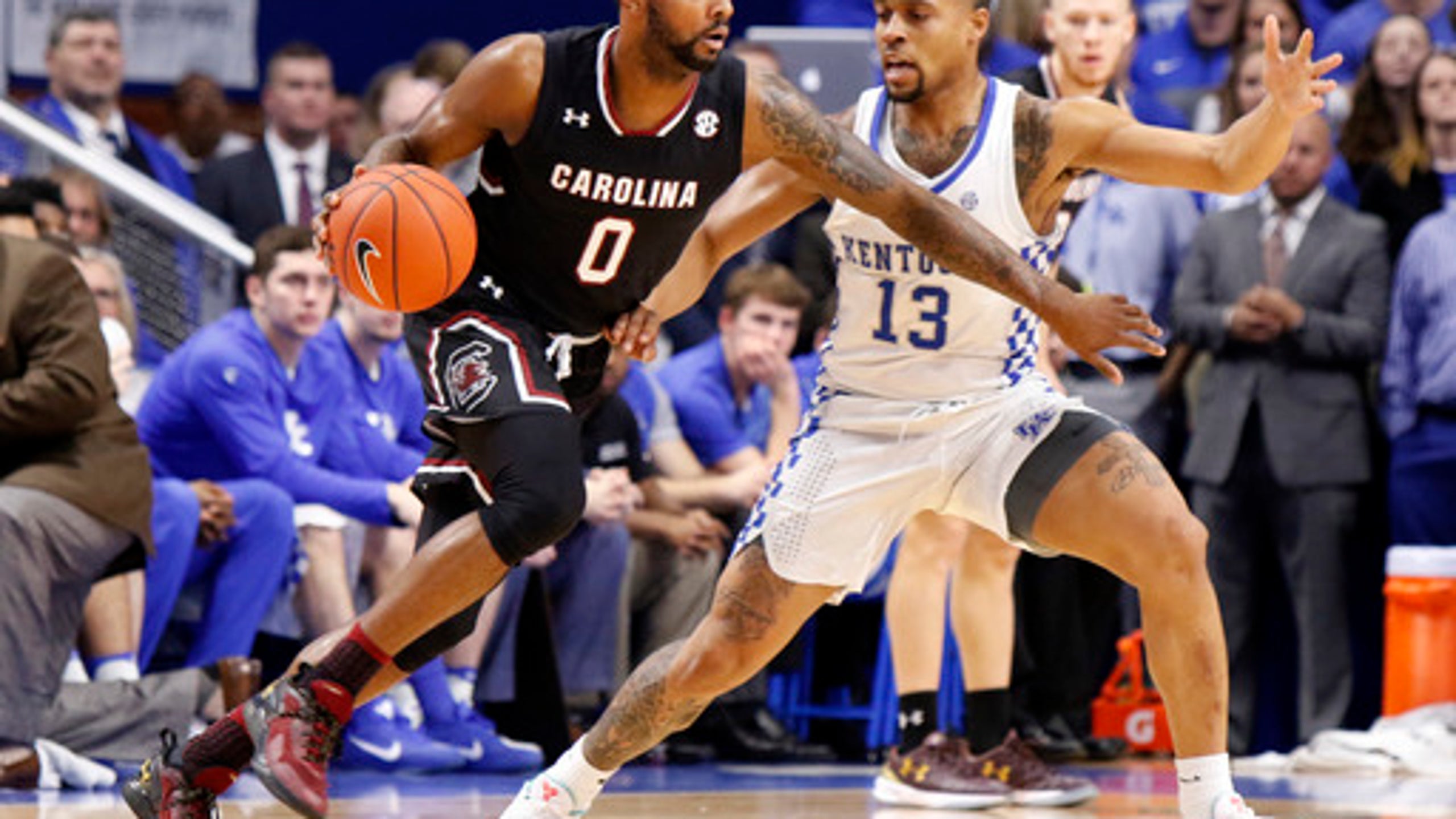 No. 5 Kentucky tops No. 24 South Carolina 85-69 for SEC lead (Jan 21, 2017)
BY AP • January 21, 2017
LEXINGTON, Ky. (AP) Kentucky's latest claim to Southeastern Conference supremacy involved overcoming an injury to its catalyst and uneven stretches that absence created.
The fifth-ranked Wildcats steadily put the pieces together against No. 24 South Carolina because Malik Monk's also shot began falling again.
Monk scored 27 points, Bam Adebayo added 18 and Kentucky overcame a sprained ankle to starting guard De'Aaron Fox to beat South Carolina 85-69 on Saturday and take over first place in the SEC.
The showdown of the SEC's lone unbeaten teams in league play featured a subplot of injuries to key players on both squads. Fox, Kentucky's No. 2 scorer, turned his right ankle midway through the first half; he returned early in the second on crutches with his foot in a protective boot. His injury followed the pregame scratch of Gamecocks guard and No. 2 scorer P.J. Dozier with back spasms.
''It's not swelled,'' he added. ''I think it might've been a stinger, I don't know. Something hit his ankle, so he's in a boot. But they said there's no swelling.''
The Wildcats (17-2, 7-0 SEC) regrouped without Fox and earned the hard-fought victory thanks to Monk, who made 9 of 14 from the field and 5 of 6 free throws after shooting just 5 of 14 at Mississippi State. Adebayo added a series of dunks and Derek Willis added 12 points and 7 rebounds as Kentucky won its seventh straight.
''I was just way more focused than I was in Mississippi,'' Monk said of bouncing back. ''I really can't even tell you (why). I just had to look forward and keep moving on.''
Kentucky led throughout and began pulling away in the final 10 minutes, leading by as many as 23 with 1:27 remaining.
Sindarius Thornwell scored a career-high 34 points and Temarcus Blanton 12 off the bench for South Carolina (15-4, 5-1 SEC), which had won five straight.
THE BIG PICTURE
South Carolina: Losing the 6-foot-6 Dozier beforehand left the Gamecocks scrambling to replace nearly 15 points per game against the nation's No. 3 offense. After initially struggling they recovered to keep it close behind Thornwell, who shot 9 of 23 but hit 14 of 15 free throws. Ultimately, there just wasn't enough offense besides him or rebounding to keep up with Kentucky.
''It is kind of frustrating during the game, but it isn't like those guys didn't try,'' Thornwell said of the lack of support. ''Sometimes shots just didn't fall our way.''
Kentucky: Guard Mychal Mulder's absence because of sickness didn't seem like a big concern depth-wise until Fox got hurt, initially leaving Wildcats looking out of sorts and resulting in sloppy play that allowed the Gamecocks to make it a game.
''It changed a lot because he changes the game as soon as he comes in and as soon as he goes out,'' Monk said of Fox. ''We just have to adjust really fast and just play on without him.''
The Wildcats still looked ragged at times yet adjusted and got welcome contributions from Willis - who had a nasty dunk - Wenyen Gabriel (11 points), Dominique Hawkins (seven assists) and Isaiah Briscoe, who went scoreless but handled point guard duties well. Shooting 58 percent and outrebounding the Gamecocks 32-27 also helped.
DOZIER'S NO-GO
South Carolina coach Frank Martin said that Dozier looked awkward after going for a layup in practice Friday and began having spasms on the flight to Lexington. He said medical personnel worked ''all night, all day'' trying to get him ready before deciding to hold him out.
''I've had seven knee surgeries and I'll take every one of them before I deal with a back spasm,'' Martin said. ''It's an uncomfortable thing. We've got to keep treating it and hope that it kind of cools off and try and get him ready for Tuesday.''
UP NEXT
South Carolina: Hosts Auburn Tuesday night before traveling to Missouri next Saturday.
Kentucky: Visits Tennessee on Tuesday night before hosting No. 2 Kansas next Saturday in the SEC/Big 12 Challenge. The Wildcats are 22-7 against the Jayhawks but lost 90-84 in overtime a year ago in Lawrence in one of last season's most thrilling games.
---
More AP college basketball at http://collegebasketball.ap.org and https://twitter.com/AP-Top25
Follow Gary B. Graves on Twitter: www.twitter.com/GaryBGraves
---
---