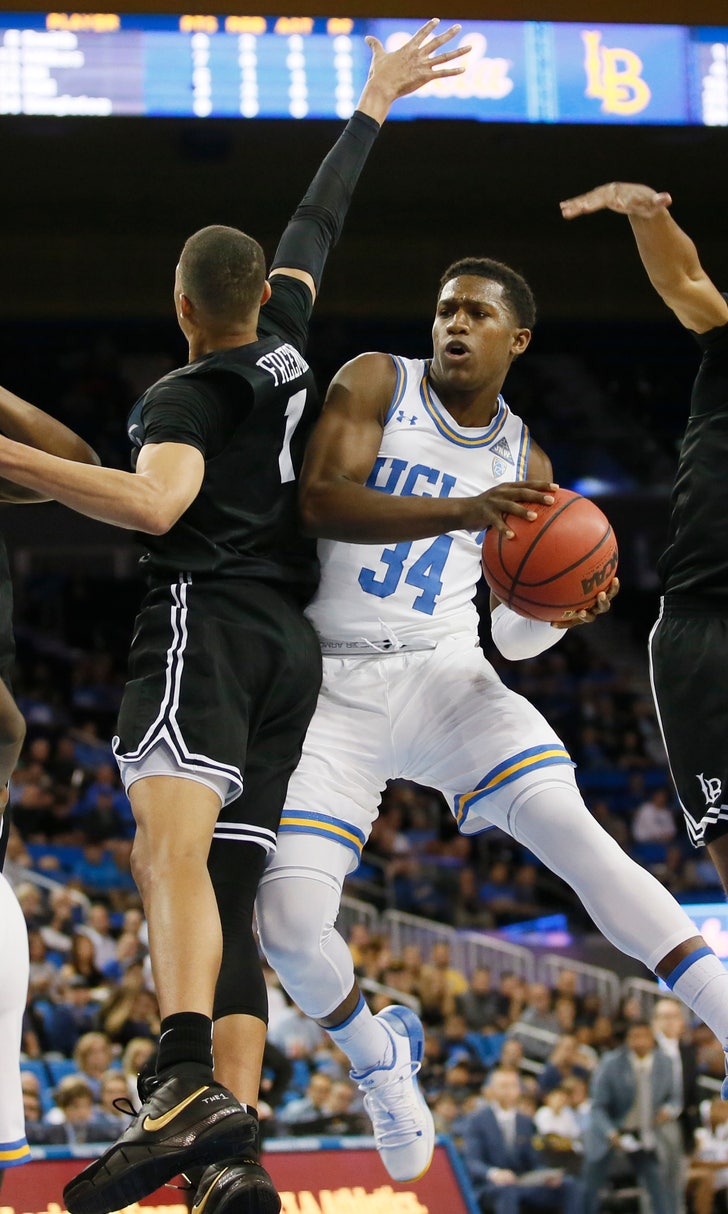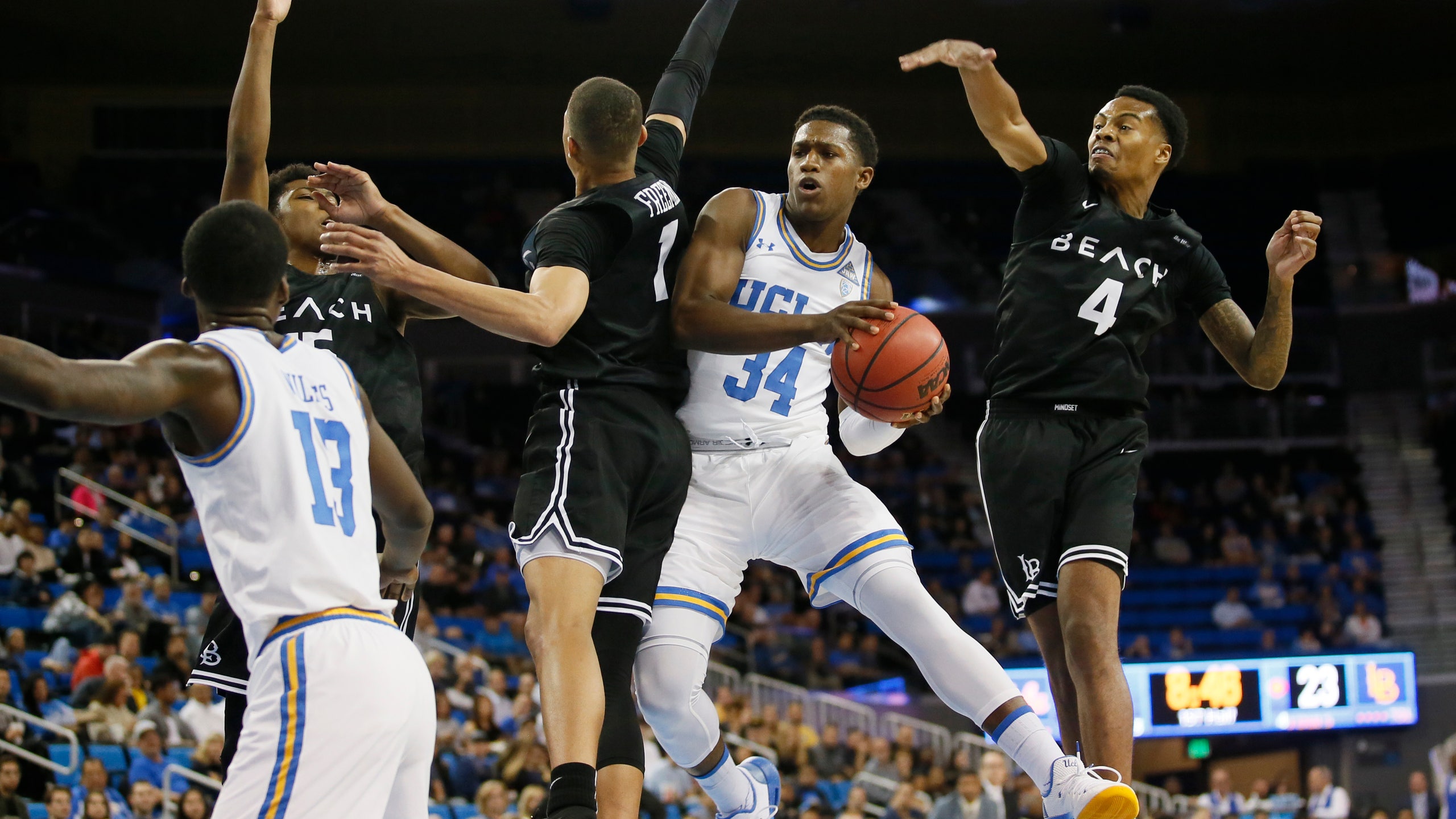 No. 21 UCLA escapes with 91-80 win over Long Beach State
November 10, 2018
LOS ANGELES (AP) — UCLA's bench came up big during an eight-minute stretch in the second half.
The reserves keyed a 23-5 run that turned a one-point deficit into a 91-80 victory over Long Beach State on Friday night.
Moses Brown had 17 points and 10 rebounds for the 7-foot-1 freshman's second straight double-double. Kris Wilkes added 17 points for the 21st-ranked Bruins (2-0).
"I think they did a little bit of scouting to keep me out of the paint," Brown said. "I felt I wasn't doing enough in the first half and in the second half I came out and picked up the intensity a little bit."
So did his teammates.
The 49ers led 59-58 on Deishaun Booker's career-best fifth 3-pointer, but the Bruins took over and appeared on their way to putting the game out of reach.
The backups combined for 28 points that helped UCLA take an 81-64 lead. David Singleton came off the bench to hit two 3s as part of his 10 points in the game.
"They really gave us energy because we got stops," Bruins coach Steve Alford said. "They got us out into transition."
Chris Smith added 10 points and Jules Bernard had eight.
"We always have guys on the bench that are ready to pick up the intensity," Singleton said.
Still, the 49ers weren't done.
They scored 12 unanswered points, getting four straight free throws by KJ Byers and consecutive 3-pointers by Bryan Alberts to pull to 81-76 as UCLA fans groaned.
But then Brown dunked and Smith made a pair of free throws as UCLA kept control over the final 2:21.
"We got together as a group and said we have to finish this game out," Singleton said.
Booker had a career-high 31 points for Long Beach State in its season opener. He made all eight of his free throws.
"My teammates look at me as a leader, so I was fortunate to hit a shot early," Booker said. "It really got us going and gave our guys confidence."
After twice trailing by seven, the Bruins rallied over the final 5:44 of the first half, outscoring Long Beach State 23-11 to lead 45-41 at halftime.
Jaylen Hands had two 3-pointers in the spurt, the last one coming at the buzzer to give UCLA its largest lead of the half.
The 49ers led most of the first half. They shot 48 percent from the floor and controlled the boards 22-14.
POLL IMPLICATIONS
The Bruins finished their first week with two wins — one easy and one closer — and should have no problem staying in the Top 25.
BIG PICTURE
Long Beach State: The 49ers have just two home games this month and a tough road schedule. After UCLA, they play at Arizona State, at No. 18 Mississippi State, host Oregon State and visit Southern California. Last season, they beat Oregon State on a neutral court and beat Stanford at home. The 49ers have six seniors, but four of them have transferred in from the junior college ranks.
UCLA: After winning their opener by 25 points over Fort Wayne in a game they led all the way, the Bruins struggled with their shooting, rebounding and 3-point defense. They have two lesser opponents to improve against before facing No. 10 Michigan State on Nov. 22.
FOUL SITUATION
Temidayo Yussuf and Breyon Jackson each committed flagrant-1 fouls on Brown, who made three of four free throws over the final four minutes.
Byers had a flagrant foul late in the game and the 49ers were assessed an administrative technical, too.
"With the flagrant fouls and a technical, we gave them 10 free throws and we lose by 11, so we will learn from this," Long Beach State coach Dan Monson said.
EVACUATED
Alford and his family had to evacuate their home in Calabasas beginning Thursday because of the wildfire that has destroyed more than 150 homes in an area west of the UCLA campus. He said he has no idea what the status of his house is and has been relying on TV coverage of the fire.
UP NEXT
Long Beach State: Hosts Menlo on Saturday in a game that begins less than 24 hours after its tipoff against the Bruins.
UCLA: The Bruins have a week off before hosting Saint Francis University next Friday.
---
---