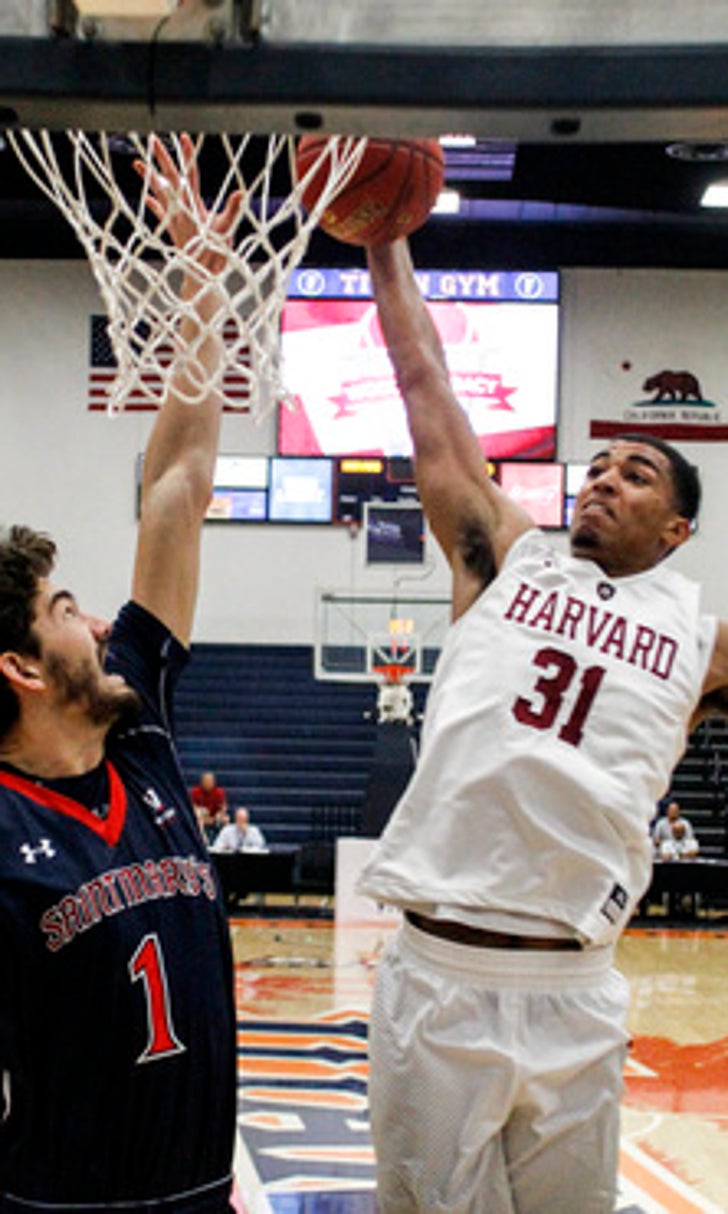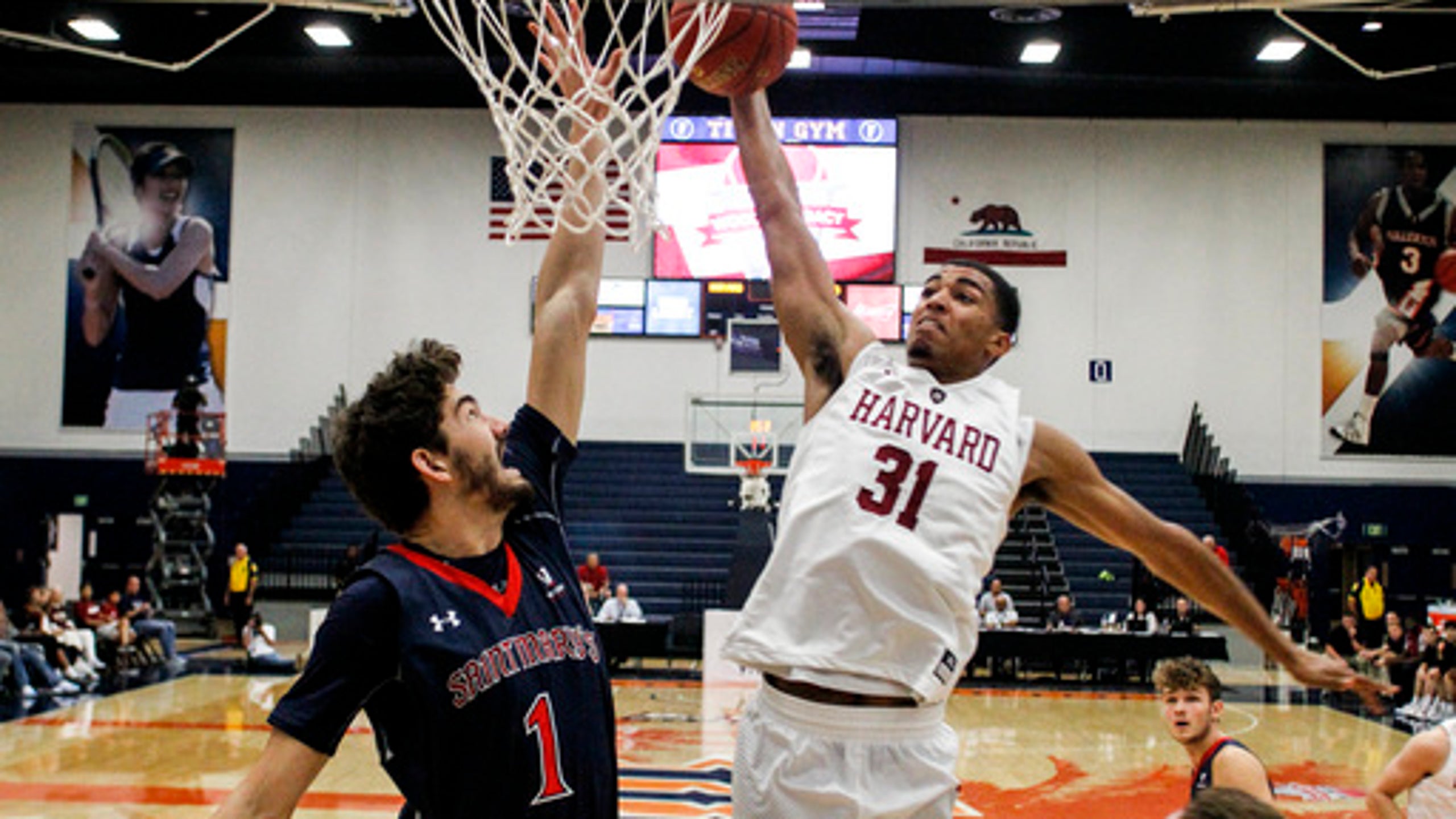 No. 21 Saint Mary's withstands Harvard's rush to win 89-71 (Nov 23, 2017)
BY AP • November 23, 2017
FULLERTON, Calif. (AP) Saint Mary's 26-point halftime lead paid off for the Gaels.
Jock Landale scored 26 points and the 21st-ranked Gaels withstood getting outscored in the second half to beat Harvard 89-71 on Thursday in the opening game of the Wooden Legacy.
Emmett Naar just missed a triple double, finishing with 11 points, a career-high nine rebounds and nine assists for the Gaels (5-0).
''I'm not used to rebounding that much, so it surprised me,'' said Naar, one of six Aussies on the team.
Bryce Aiken led the Crimson (2-3) with 22 points, including 20 in the second half when Harvard outscored Saint Mary's 51-43. Chris Lewis added 18 points.
''They said they were going to feed me the ball inside and that gave me the confidence to do what I did, be able to work inside, pass the ball out, try to make a play for my team,'' Lewis said.
After trailing by 26 points at halftime, Harvard got within 14 thanks to a blistering start in the second half.
''We played our best half of the year in first half and we played about our worst five minutes to start the second half,'' Gaels coach Randy Bennett said.
The Gaels answered with a 17-8 run to extend their lead to 26 points.
Aiken took over for Harvard, scoring 14 of its next 20 points to close the Crimson to 69-60. But the Gaels' experience prevailed as they made 10 of 10 free throws in the closing minutes.
''We put a little pressure on them but certainly not enough,'' Harvard coach Tommy Amaker said.
At 66 percent, Landale is tied for the worst free-throw percentage on the team. But he made 12 of 13. Naar and Cullen Neal were perfect. Naar made all seven of his foul shots and Neal hit all six of his.
It was Harvard's biggest loss since falling by 19 points at Princeton on Feb. 5, 2016.
STUNNING START
Harvard came roaring out of halftime, running off 12 straight points to trail 46-32. Seth Towns and Lewis combined to score 10 of those points. In all, the Crimson shot 7 of 7 before Aiken had their first miss on a 3-point attempt. The Gaels committed six turnovers, including two each by Landale and Evan Fitzner.
''I didn't know they'd come like that,'' Bennett said. ''We didn't match their intensity. They got up and denied things. It bothered us and from that they got easy transition baskets. Then they got excited because they were back in the game. Fortunately, we can learn through a win.''
WOEFUL 3s
The Crimson was just 4 of 21 from 3-point range. Aiken missed 5 of 7 and Towns missed 4 of 5.
''A lot of them were some tough shots early,'' Amaker said. ''We have to be better at it.''
ONE EXTREME TO THE OTHER
Harvard scored just 20 points in the first half, barely missing the tournament low of 17. In the second half, the Crimson scored 51, narrowly missing the tourney record of 54.
CALI DUNKING
The phrase California Dunking is part of the tournament's logo and Landale took it seriously. The 6-foot-11 senior from Australia had at least five jams.
BROTHERS IN THE PAINT
UCLA center Thomas Welsh spent Thanksgiving in the stands wearing a red `H' T-shirt and watching younger brother Henry, a sophomore forward for Harvard. Henry had three fouls in the first half and finished with two points and one rebound. As a freshman, he averaged 3.2 points and 2.6 rebounds. Thomas, a 7-footer who stands a foot taller than his brother, averages 13.2 points and 11 rebounds for the 23rd-ranked Bruins. The brothers from Redondo Beach played one season together at Loyola High in 2013-14, when Thomas was a senior and Henry a sophomore.
BIG PICTURE
With four of five starters back from last season's 29-win team, Saint Mary's is favored to win the West Coast Conference over No. 17 Gonzaga. The Gaels kept a trio of streaks intact dating to last season. They improved to 30-1 when leading at halftime; 33-0 when shooting better from 3-point range than an opponent; and 29-0 when outrebounding an opponent.
Harvard has done well in neutral-site tournaments in recent years, making the title game at the 2015 Diamond Head Classic, and winning the 2013 Great Alaska Shootout and 2011 Battle 4 Atlantis.
UP NEXT
Saint Mary's moves on to the championship bracket.
Harvard plays next in the consolation bracket.
---
More AP college basketball: http://collegebasketball.ap.org and http://www.twitter.com/AP-Top25
---
---