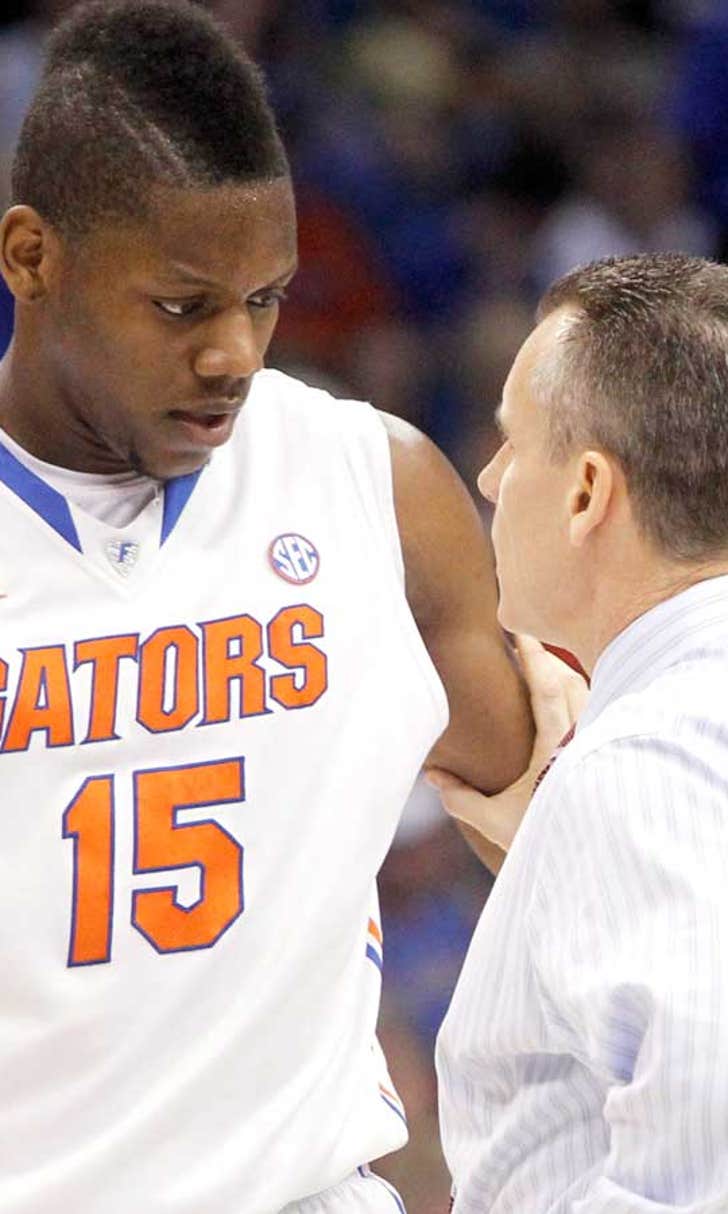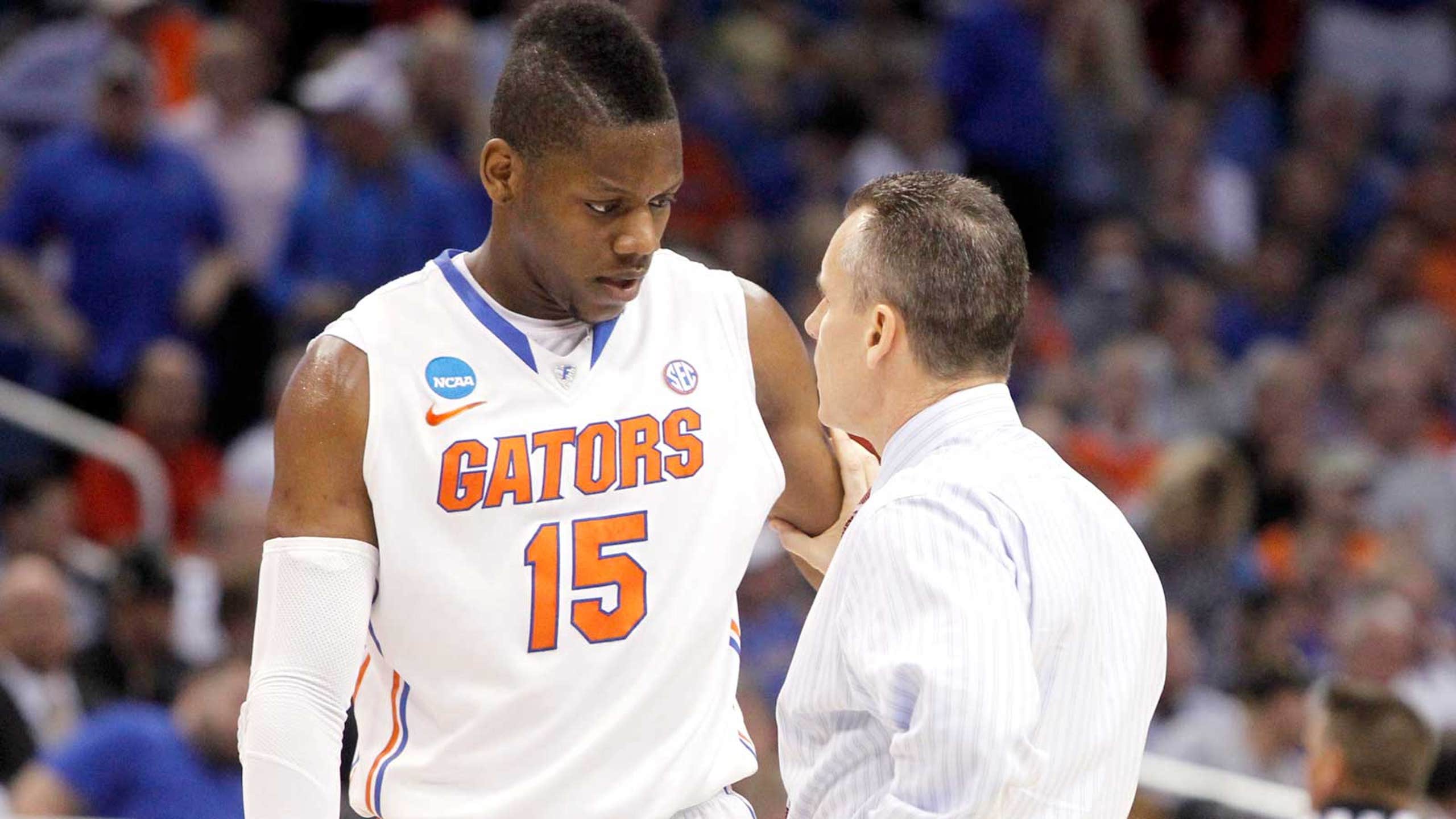 No. 1 Gators get W first and foremost, but learning opportunity too
BY Sam Gardner • March 20, 2014
ORLANDO, Fla. — Florida coach Billy Donovan didn't get the effort he anticipated out of his team in its NCAA tournament opener against 16 seed Albany Thursday, but if Donovan is lucky, the 67-55 scare against a spirited but exhausted Great Danes squad will put the No. 1 Gators on a more focused path toward the national championship.
Florida (33-2) went into the half with just a six-point lead over the Great Danes (19-15), who earned their tournament bid with an America East championship and defeated Mount St. Mary's in a First Four game Tuesday. And with 14:08 to play, the teams were tied at 39, with an overwhelmingly pro-Gators crowd in Orlando watching with bated breath.
A put-back and-1 dunk by Patric Young on the next Florida possession put the Gators back on top for good, but it was hardly an inspiring showing by a UF team that hasn't lost since Dec. 2.
"There was nothing I (could) do about (the fact that we were tied)," said Young, who finished the game with 10 points and 10 rebounds. "I just try and get our team just to get a different mindset, try and lead us, try and be more vocal, just as a whole try and get each guy to give more, give more percent. One more percent can make a huge difference for us, and I think we were able to do that."
If there's a bright side to the Gators' relative dud, it's that they did win the game — though the mood in the locker room didn't necessarily reflect that — and avoided becoming the first No. 1 seed to lose to a 16 in NCAA tournament play. They're also fortunate that they drew a physically inferior team playing its third game in six days, though you won't hear Albany making any excuses for its loss.
"We came here to win," said Albany coach Will Brown. "People think that's coach-talk … (but) if we didn't come here to win, we should have got on that plane in Dayton and went right back to Albany. A 16 is going to beat a 1 at some point, and we wanted to be that team. … I think we ran out of gas, and the best team in the country probably had something to do with it, as well."
"I wouldn't say we felt like we had to play a perfect game, but I just felt like we had to play really well for 40 minutes," added Albany guard D.J. Evans, who led all scorers with 21 points. "I don't think any team plays perfect for 40 minutes because every shot is not going to go in. But you … just have to play hard."
Though the result was closer than Donovan would have liked, it also opened the door for a teaching moment for a coach who has led Florida to three national championship game appearances and two wins in his tenure as coach. Particularly, Donovan used the Gators' close call against Butler in the 2000 first round to motivate his players for their matchup Saturday against the South's No. 9 seed Pitt, which embarrassed Colorado 77-48 Thursday afternoon.
In that 2000 game, Florida, then a No. 5 seed, needed a buzzer-beater from Mike Miller to squeeze past the No. 12 Bulldogs in Winston-Salem, N.C. The Gators then responded with comfortable wins over Illinois, Duke, Oklahoma State and North Carolina before falling to Michigan State in the championship game.
"In 2000 we were dead in the water in a lot of ways against Butler, and it obviously was a couple free throws missed, (Teddy) Dupay (came) down the floor, threw it to Miller, he made a runner and we advanced," Donovan said.
"Through that shot and that play, we had a chance to play for it all that year, and my point (to my players) was that you can't really take anything for granted: A possession, a free throw, nothing. Because sometimes a play here or there can be really, really altering in a lot of ways of you moving on."
On Thursday that play was Young's put-back dunk, and the hope for Donovan is that it instilled some urgency in his team heading into Saturday's game in the round of 32.
"That team (in 2000) was like, 'Wow, this almost ended,' and it actually created a little bit more energy for our team the rest of the tournament," Donovan said. "And the thing I was trying to explain to (this year's) guys is that you've got to be able to take (it) game to game and you've got to be able to put it behind you, get ready and move on to the next one."
Added Young: "It's a blessing we get the opportunity to play another 40 minutes of basketball, but Coach Donovan was saying to us after the game, this isn't going to be enough — enough to keep our season going. … We know that there's more inside of us, more that we need to give, that we didn't have our style of play for 40 minutes, we didn't sustain that, and we're going to have to do that if we're going to hopefully make it on to the Sweet 16."
You can follow Sam Gardner on Twitter or e-mail him at samgardnerfox@gmail.com.
---
---