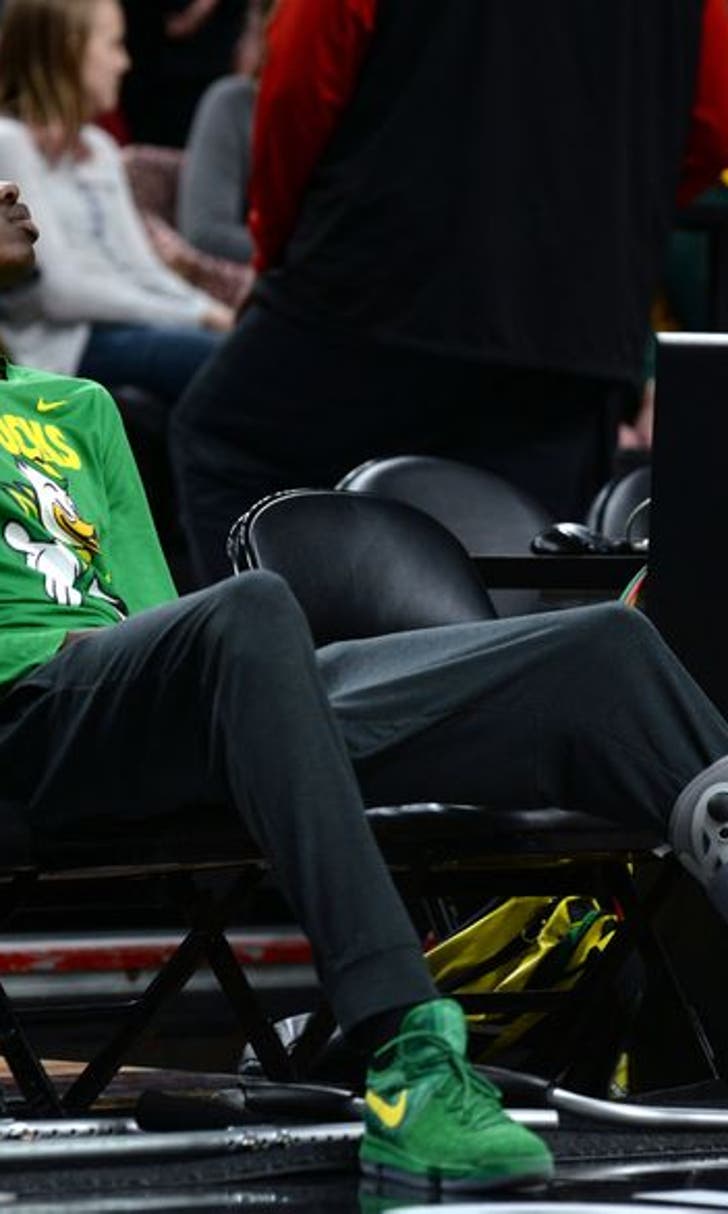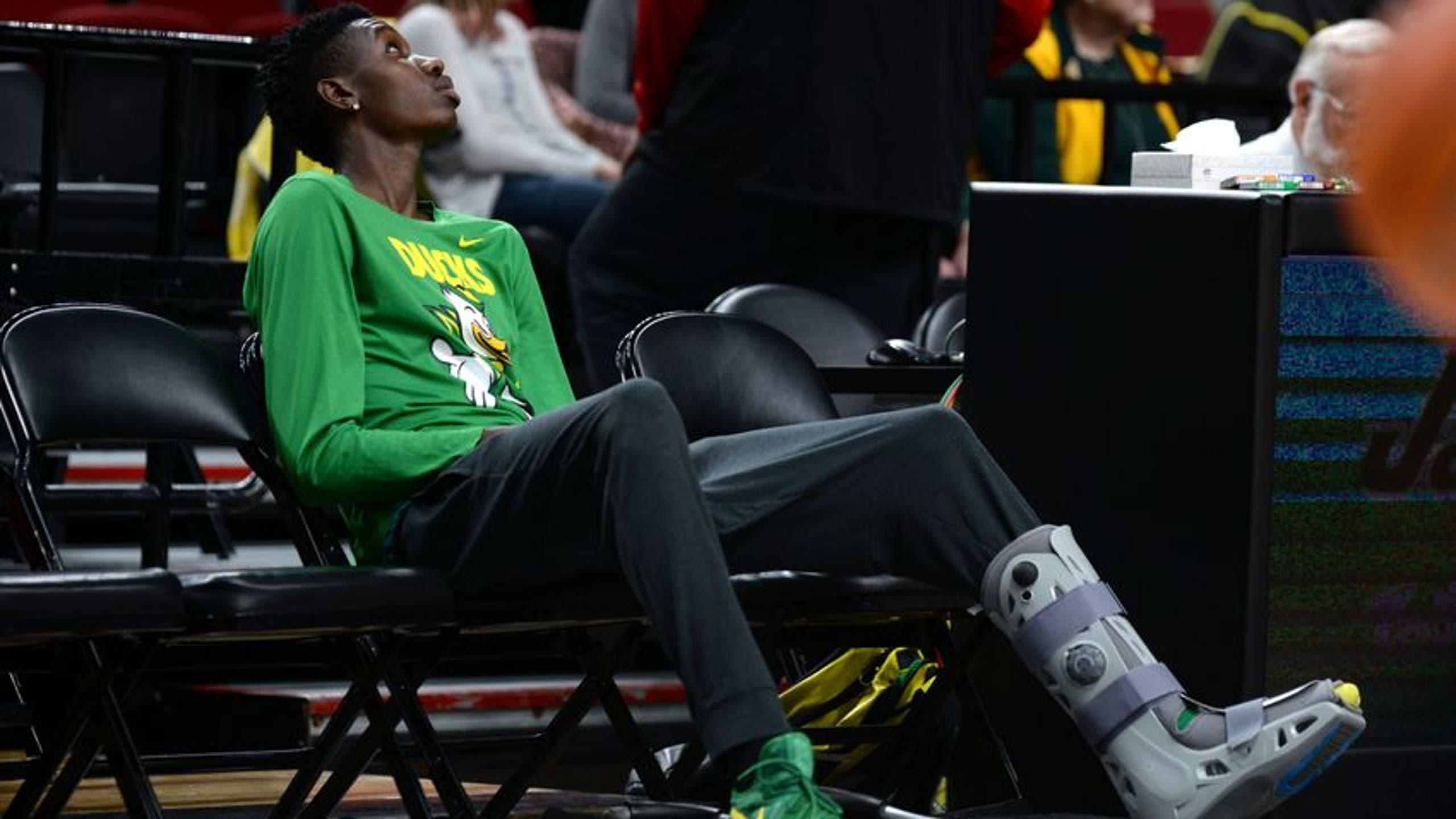 NCAA Basketball: Injury Report (Chris Boucher battling ankle injury)
BY Fansided and Carmine Carcieri/FanSided via Busting Brackets • December 25, 2016
Dec 23, 2016; Hartford, CT, USA; Connecticut Huskies guard Jalen Adams (2) is injured during a play against Auburn Tigers forward Danjel Purifoy (3) (not pictured) in the second half at XL Center. Auburn defeated UConn in overtime 70-67. Mandatory Credit: David Butler II-USA TODAY Sports
Catch up on the latest injury updates before next week's NCAA basketball games.
We are just approaching conference play at the end of the month, but we have already seen significant injuries sweep through the nation.
Ben Carter is out for the season for Michigan State, while Gavin Schilling also suffered a knee injury and may not return until late in the year, if at all. Miles Bridges is also out for the Spartans. Harry Giles just recently returned for the Blue Devils. Ray Smith tore his ACL for the third time in three years for Arizona. And Cal's Kameron Rooks remains out with a knee injury, zapping the Bears of some rim protection and aggressiveness on defense.
These are just some of the injuries that have had a massive impact on certain programs across the country.
Obviously, teams, coaches and players want to avoid injuries at all costs. However, it doesn't always work like that. Some rosters will get ravaged by them, while others will be pristine clean.
Duke was playing with six guys just a few weeks ago, but now the Blue Devils have all three of their freshman back (even though Giles and Marques Bolden are playing limited minutes). Meanwhile, Michigan State has three key players who are currently on the sideline. They are relying on multiple youngsters to carry their team.
This is why it's important to look at the key injuries in college hoops every week. This week, we will continue with three updates.
Dec 23, 2016; Hartford, CT, USA; Connecticut Huskies guard Jalen Adams (2) drives to the basket against Auburn Tigers forward Danjel Purifoy (3) and center Austin Wiley (50) in the first half at XL Center. Mandatory Credit: David Butler II-USA TODAY Sports
Jalen Adams suffers a concussion
After dropping an overtime game at home against Auburn, the UConn Huskies are heading into conference play with an under .500 record. 
While the Huskies have issues with their team personnel (lack of outside shooting and solid bigs), they have also been devastated by injuries. Freshman point guard Alterique Gilbert is out for the season with a torn labrum, VCU transfer Terry Larrier tore his ACL and freshman Mamadou Diarra is also dealing with a season ending knee injury.
UConn received even more bad injury news after Friday's loss as their leading scorer Jalen Adams suffered a concussion.
Adams left Friday's game in the second half after getting a cut on his head. He played 19 minutes against the Tigers, scoring just nine points and dishing out two assists.
On the season, Adams is averaging 16.6 points, 5.5 assists and 4.5 rebounds per game. He is shooting an efficient 49 percent from the field overall and 43 percent from beyond the arc. But Adams is also shooting a poor 69 percent from the free throw line and is turning the ball over three times per game (up from 1.7 per game last year).
It's unknown as to how much time Adams will miss with his head injury. Concussions are very unpredictable injuries that involve numerous steps and protocols that have to be followed before a player is cleared for full contact activities. The good news is the Huskies don't open up conference play until Wednesday afternoon against Houston at the XL Center.
The Huskies are unlikely to make the NCAA Tournament unless they win the AAC's automatic bid. However, they have no shot if they lose any more bodies, especially if that player is their best scorer.
Dec 3, 2016; Providence, RI, USA; Rhode Island Rams forward Hassan Martin (12) dunks the ball during the first half against the Providence Friars at the Dunkin Donuts Center. Mandatory Credit: Brian Fluharty-USA TODAY Sports
Hassan Martin suffering from serious quad injury
Rhode Island senior forward Hassan Martin has missed the last four games with a quad injury.
Previously, Rams head coach Dan Hurley didn't have any true diagnosis on the big man. But after Thursday night's win over William & Mary, Hurley announced that Martin tore two different muscles in his quad during the team's loss to Providence a couple of weeks ago.
"He just didn't say a word about it because the dude's a straight warrior." Hurley said regarding Martin's injury, which happened early on in the Providence game.
Martin actually played 35 minutes during the Rams' loss to the Friars, scoring 14 points and grabbing an outstanding 17 rebounds.
Hurley later added that the Rams are expecting an update on Martin on Monday, and that he believes that the senior will be back soon.
Martin's return is necessary if Rhode Island is going to make their first NCAA Tournament since 1999. The forward is not only one of the team leaders and URI's leading scorer, but he is one of the more elite defenders in the country.
Martin is averaging 16.1 points, 8.1 rebounds, 3.9 blocks (!) and 1.0 steals per game, while shooting 67 percent from the field and 84 percent from the free throw line. If Martin can return soon, the Rams will have their full plethora of weapons to try to win the Atlantic 10 title.
Dec 17, 2016; Portland, OR, USA; Oregon Ducks forward Chris Boucher (25) walks off the court after defeating the UNLV Runnin' Rebels 83-63 at Moda Center. Mandatory Credit: Godofredo Vasquez-USA TODAY Sports
Chris Boucher battling an ankle injury
Oregon senior forward Chris Boucher has missed Oregon's last two games, versus UNLV and Fresno State, due to an ankle injury.
Against UNLV, Boucher sat on the Ducks' bench with a boot on his left foot and crutches. However, three nights later, when Oregon was facing off against the Bulldogs, Boucher shed the boot and crutches, and was looking like a player who was relatively close to a return.
According to Oregon Live, Boucher is expected to return to the Ducks' lineup before Dana Altman's team tips-off conference play against the UCLA Bruins at the end of the month.
And that's huge news because that's a stiff opening test for the Ducks, and they will need all hands on deck in order to shock the number two ranked Bruins in Eugene.
The Ducks have won nine straight games since Dillon Brooks' debut. They have more defined roles, better team chemistry and have built up their confidence without Elgin Cook and Dwayne Benjamin (two graduates and former key pieces to the Ducks).
But the Ducks cannot beat the Bruins and be successful in the long term without the services of Boucher. The 6'10", 200 pound big man from Montreal, Canada is averaging 14.1 points, 7.8 rebounds, 0.6 assists and 3.2 blocks per game. He is also shooting 59 percent from the field, 36 percent from beyond the arc and 61 percent from the free throw line.
There are very few big men in the country that can provide the versatility that Boucher provides for the Ducks. Boucher can block shots, make shots from the perimeter, operate in the high post, rebound and score around the rim.
Brooks is the man that makes everything flow and click on offense, but Boucher is the Ducks' second most valuable player. He creates extra spacing and energy defensively.
More from Busting Brackets
This article originally appeared on
---
---